Driving
Toddler Hermes Rios-Cardona killed in 2nd hit-and-run ped crash on N. Pulaski in 4 days
7:04 PM CDT on October 4, 2022
Content warning: This post includes a description of the death of a child.
Tragically, Chicagoland traffic violence has taken the life of yet another child. 18-month-old Hermes Rios-Cardona, fatally struck by a hit-and-run driver Monday evening in Albany Park, was at least the eighth child in the region to be killed by a driver while on foot, bike, or scooter since June.
The other victims have included Rafi Cardenas, 2; Lily Shambrook, 3; Ja'Lon James, 11; Joshua Avina-Luna, 15; Zain Jaber, 14; and Angela Short, 14; and Julian Medina, 15.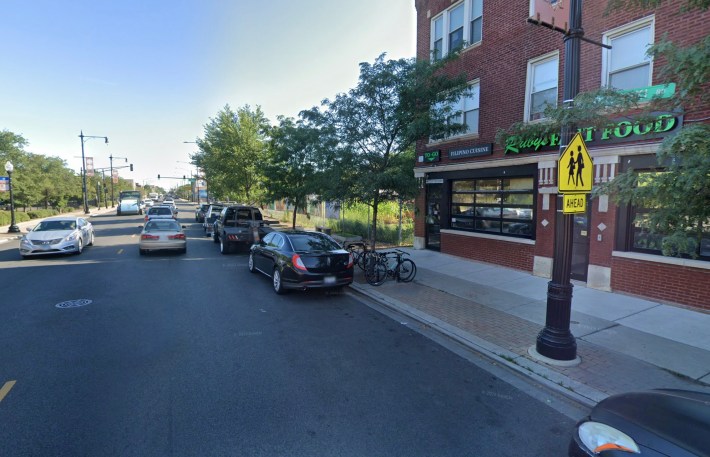 According to police, on Monday, October 3, around 1:30 p.m., Hermes was being placed in a car seat the back of a Toyota Rav 4 compact SUV parked on the east side Pulaski Road (4000 W.) just south of Wilson Avenue (4600 N.) He managed to climb out of the vehicle and stepped into the street. The northbound driver of a dark-colored Ford pickup truck, who had been stopped at a light, ran over the boy and continued north without stopping. Hermes was taken to Lurie children's hospital where he was later pronounced dead.
This afternoon a police spokesperson said the truck has been located but did not mention whether anyone is in custody.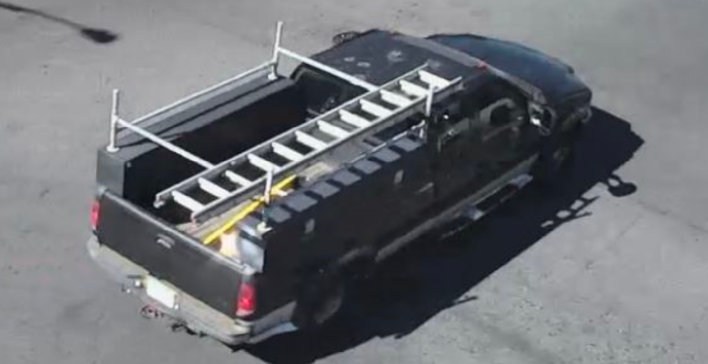 Hermes' mother Jocelyn Rios launched a GoFundMe page to help cover funeral expenses, which has raised more than $3,800.
According to an ABC Chicago report, Hermes' family, which also includes two older brothers and a younger sister, had just finished dinner at nearby Ruby's Fast Food when the driver stuck the boy. "They were waiting on extra food that we ordered, so I took him out to get him in the car," his father Gerardo Cardona said. "I put the stuff in the car and turned around, and he wasn't there."
"I noticed him in front of the truck and I yelled out, 'Hey!' but I realized the guy wasn't paying attention to me because he was more focused on the road," Gerardo Cardona told ABC. "When I got right to the car's bumper, I saw it lump up. That's kind of when my heart dropped."
"It's just like... I've lost hope," Jocelyn Rios told ABC. "Losing a child is losing a part of you that could never be replaced."
The family held a memorial at the crash site this afternoon, the Sun-Times reported. Members of the family called on the driver to turn themself in. They remembered Hermes as being a happy child who was closely bonded with his mother. "There was never a sad day for him," Gerardo Cardona said. "Even if it was raining, he would still be out there getting wet, playing. He enjoyed being alive."
The case has parallels with another recent tragedy. On August 10, 5-year-old Taha Khan, 5, walked out of his house on the 6300 block of North Cicero Avenue in Sauganash and stepped into the four-lane street. A northbound jeep driver struck him and fled the scene, and then a the driver of a Volvo hit him. The boy died from his injuries. The Khan family recently offered a $1,000 reward for information leading to an arrest.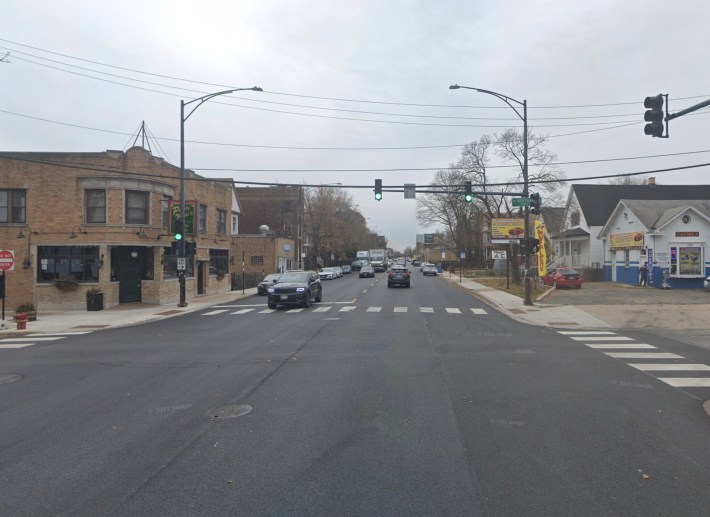 Only four days before Hermes was struck, and just a few blocks south of the crash site on the 4200 block of North Pulaski in the Irving Park neighborhood, another hit-and-run driver injured a man and killed his dog. According to Police News Affairs, on Friday, September 30, around 5:15 p.m., a 31-year-old man was walking his dog on the block when the driver of an unknown vehicle struck them and fled. The man was taken to Swedish Covenant Hospital in stable condition with a leg injury, but the dog did not survive.
All of these cases draw attention to Chicago's epidemic of hit-and-run crashes, and the fact it's rare for the offenders to be brought to justice. According to a CBS report, police data shows that from January to mid-August of 2022 there were 18 hit-and-runs resulting in a death in our city, but only five arrests were made. During that time there were 203 hit-and-run crashes resulting in serious injuries, but a mere six arrests were made.
Fatality Tracker: 2022 Chicago pedestrian and bicyclist deaths on surface streets (including one scooter-on-sidewalk case)
Pedestrian: 24
Bicyclist: 8
Note: Streetsblog Chicago's traffic death numbers represent fatal crashes on Chicago surface streets, based on media reports and/or preliminary Chicago Police Department data.
2022 Chicago pedestrian fatality cases (including one scooter-on-sidewalk case)
On October 3, 2022, a hit-and-run truck driver struck and killed Hermes Rios-Cardona, 1, near Wilson Avenue and Pulaski Road in the Albany Park neighborhood.
On September 12, 2022, a hit-and-run SUV driver fatally struck Eric Ray, 59, at 79th and Martin Luther King Drive in the Chatham neighborhood.
On August 28, 2022, Shawman Meireis was fatally struck by a Corvette driver racing another motorist in a Corvette at 65th Street and Cicero Avenue in the Clearing neighborhood.
On August 10, 2022, Taha Khan, 5, died after he was struck by a hit-and-run Jeep SUV driver at Devon and Cicero avenues in the Sauganash neighborhood, and then hit by a Volvo driver.
On August 5, 2022, Angela Short, 14, was standing at a bus stop when she was killed after a Mercedes driver ran a red at 79th Street and Racine Avenue in Auburn Gresham, striking a Jeep, which careened onto the sidewalk. Three other people were injured in the crash.
On August 2, 2022, Lawrence Ware, 52, died after he was crossing the street in the 4000 block of West 5th Avenue in West Garfield Park when a hit-and-run driver struck him, and another motorist ran over him.
On July 30, 2022, a driver struck and killed Octavio Bahena Urquiza, 38, on the 4500 block of West Diversey Avenue and fled the scene.
On July 4, 2022, a Jeep driver reportedly struck and killed a man on the 3200 block of South Pulaski Road in Little Village and fled the scene.
On June 16, 2022, a hit-and-run driver struck and killed a Ja'lon James, 11, as he crossed the street in the 3300 block of West 16th Street in North Lawndale.
On June 12, 2022, a distracted Nissan Altima sedan driver fatally struck Peter Paquette, 75, at Irving Park Road and Hoyne Avenue in North Center.
On June 2, 2022, an SUV driver struck and killed 2-year-old Raphael "Rafi" Cardenas at Eastwood Avenue and Leavitt Street in Lincoln Square as the toddler rode a mini-scooter into the intersection.
On May 27, 2022, a Honda sedan driver fatally struck Wilberto Rivera, 76, as he crossed North Avenue at Albany Avenue. He died from his injuries two weeks later on June 11.
On May 27, 2022, a hit-and-run SUV driver fatally struck Martha Velazquez, 34, on the 2900 block of West Columbus Avenue in Ashburn.
On May 19, 2022, a motorcyclist fatally struck Timothy Kast, 46, as he crossed the 5300 block of West Irving Park Road in Portage Park.
On May 11, 2022, a BMW sedan driver struck and killed 82-year-old Concepcion Lopez, as she waited at a CTA bus stop on the 2100 block of West Peterson in West Ridge.
On May 10, 2022, a left-turning van driver failed to yield to failed to yield to Berta Arroyo Salgado, 73, as she crossed the street in a crosswalk at Chicago Avenue and Paulina Street in West Town, killing the senior.
On May 6, 2022, a Cadillac sedan driver ran a red light at Roosevelt Road and Damen Avenue on the Near West Side, struck another vehicle, and careened onto the sidewalk, killing a 33-year-old man.
On April 17, 2022, a left-turning sedan driver fatally struck Yehuala Melkama, 44, as she walked in a crosswalk at Hazel and Sunnyside avenues in Uptown.
On March 27, 2022, an SUV driver struck and killed Larry J. Davis, 68, at 3350 S. Kedzie Ave. in Little Village.
On March 17, 2022, a left-turning driver struck and killed Miriam M. Grande, 70, at Grand and Austin avenues in the Belmont Central neighborhood and fled the scene.
On March 15, 2022, a car driver fatally struck Allen Lee Jr., 88, as he attempted to cross Western Avenue at 109th Street in Morgan Park.
On February 8, 2022, a Chicago police officer struck Javion Marquel Johnson, 20, with an SUV after Johnson had been shot multiple times, potentially contributing to his death, at 12111 S. Stewart Avenue in Rosehill.
On January 20, 2022, a hit-and-run driver fatally struck Richard Haljean, 57, as he crossed Touhy Avenue at Oriole Avenue in Edison Park.
On January 15, 2022 Angel Thomas, 35, was walking to her car on the 4300 block of West Jackson Boulevard in West Garfield Park when an SUV driver fatally struck her and fled.
On January 12, 2022, an SUV driver struck and killed Deborah Renee Jones, 67, in the 6800 block of South Stony Island in South Shore.
2022 Chicago bike fatality cases
In addition to editing Streetsblog Chicago, John writes about transportation and other topics for additional local publications. A Chicagoan since 1989, he enjoys exploring the city on foot, bike, bus, and 'L' train.
Stay in touch
Sign up for our free newsletter