Bicycling
How could death of Sam Bell, 2nd cyclist killed on Milwaukee in 2022, have been prevented?
3:46 PM CDT on September 9, 2022
Tragically, Milwaukee Avenue, Chicago's busiest biking street, is also one of the city's deadliest corridors for cyclists. Here's a list of reported bike fatalities on Milwaukee in Chicago from the past two decades.
On July 9, 2003, Rob Heinbockel, 49, was fatally struck by a drunk driver at Milwaukee and Gale Street in the Jefferson Park neighborhood.
On August 16, 2016, Art Institute of Chicago student Lisa Kuivanen, 20, was killed when they were biking on Milwaukee at Racine Avenue in the River West neighborhood and a right-turning flatbed truck driver failed to yield, crushing them.
On November 6, 2019, school guidance counselor Carla Aiello, 37, was riding southeast in the Milwaukee bike lane when a dump truck driver made a right turn in her path at Kilbourn Avenue in the Irving Park neighborhood, crushing her to death.
On July 24, 2021, Thomas "Tommy" Travers, 59, was fatally struck by a minivan driver on the 5300 block of Milwaukee Avenue in the Jefferson Park community. The motorist was not cited.
On May 4, 2022, a hit-and-run driver fatally struck barista Nick Paringayan, 22, on his bike on the 3800 block of Milwaukee Avenue in Irving Park, across the street from where Carla Aiello was killed.
Sadly, a sixth name was added to that list yesterday morning. An elderly driver who failed to yield while making a left turn fatally struck youth mentor Samuel Bell, 44, as he rode an e-bike on Milwaukee at Huron Street in River West. He was the second person biking to be killed on Milwaukee in this part of town since 2016, and the second person killed on the avenue this year.
According to Police News Affairs, on Thursday, September 8, at about 11:45 a.m., Bell was riding an e-bike southeast on Milwaukee towards Huron Street (700 N.) (A person associated with the Divvy bike-share program told Streetsblog they are almost certain the the bicycle Bell rode was not an electric Divvy.)
The southeast-bound bike lane has concrete curb protection at this location, and the spot where the bike lane crosses Huron is highlighted with green paint to remind turning drivers to watch out for bike traffic. Unlike the northwest-bound bike lane, the southeast-bound lane is not located to the right of parked cars here, so there are unobstructed sight lines.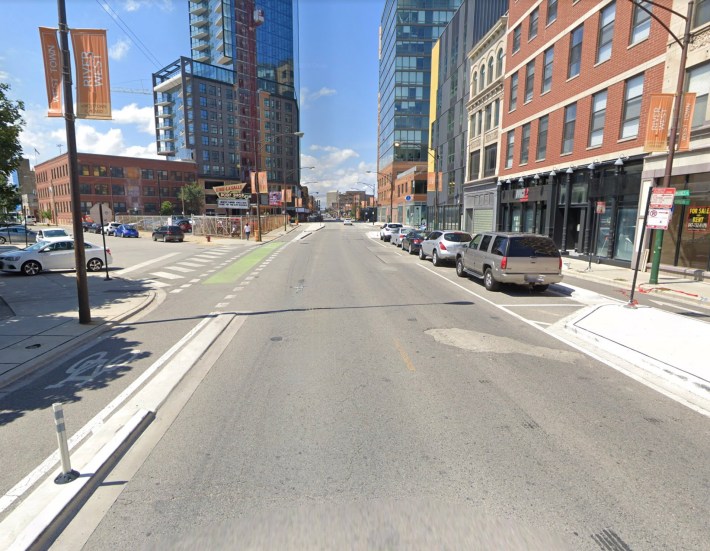 According to police, a 79-year-old man who lives in west-suburban Forest Park was driving a Hyundai Elantra sedan northwest on Milwaukee when he made a westbound left turn onto Huron, striking. Bell. The cyclist suffered head trauma and was taken to Northwestern Hospital, where he was pronounced dead around 12:20 p.m.
The senior was ticketed for failing to yield the right of way while making a left turn, police said.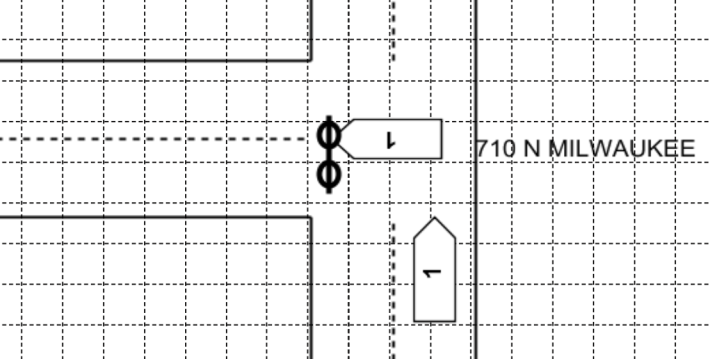 The traffic crash report provides more details on what allegedly happened. The driver told responding officers that Bell "came out of nowhere" and the driver tried to stop in time but failed. Again, the street design gave the motorist plenty of warning that a cyclist might be approaching, and provided a clear view of the bike rider.
According to the report, the driver told police that Bell flew off his bike and landed on top of the vehicle before falling on the ground. The motorist said the bike rider was talking after the collision.
The driver agreed to submit to DUI testing at the University of Illinois at Chicago Hospital and was taken there, the crash report stated. But several nurses told police the facility doesn't do DUI testing. When officers asked the motorist if he would go to Rush Hospital for testing, he refused.
Bell worked at Midtown Educational Foundation which helps low-income youth by providing educational assistance, teaching life skills, and doing outreach to parents. He also served as a board member for the organization. "Sam had some of the most amazing stories [about] these children whose brothers and fathers died due to gang violence," his coworker and friend Kevin Klein told the Sun-Times. "He was able to work with these kids to keep them off the street and keep them on a good path."
"Meeting these kids he mentored as high schoolers or sixth graders as adults, and seeing the impact he had on their lives and the regard that they held him in, was just so amazing," Klein added. "He was so focused on helping others."
Fatality Tracker: 2022 Chicago pedestrian and bicyclist deaths on surface streets (including one scooter-on-sidewalk case)
Pedestrian: 22
Bicyclist: 8
Note: Streetsblog Chicago's traffic death numbers represent fatal crashes on Chicago surface streets, based on media reports and/or preliminary Chicago Police Department data.
2022 Chicago pedestrian fatality cases (including one scooter-on-sidewalk case)
2022 Chicago bike fatality cases
In addition to editing Streetsblog Chicago, John writes about transportation and other topics for additional local publications. A Chicagoan since 1989, he enjoys exploring the city on foot, bike, bus, and 'L' train.
Read More:
Stay in touch
Sign up for our free newsletter