Bike Crashes
Donald Heggemann, 59, killed by drunk driver, was 3rd cyclist killed on Damen N. of Diversey in 14 years
Physically protected bike lanes, which are becoming more common in our city, might have prevented Heggemann's tragic death.
2:49 PM CDT on October 24, 2023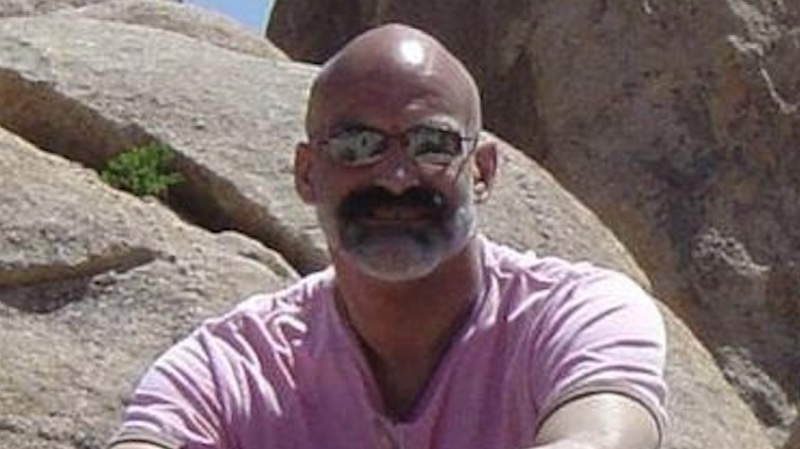 Update 10/26/23, 9:45 AM: ABC7 Chicago reported that the driver who killed Donald Heggemann on his bike, fled the scene, and failed a Breathalyzer was recently released without charges.
A Police News Affairs spokesperson confirmed this information to Streetsblog. "The individual has been released without charging. The investigation is ongoing." 
Update 10/25/23, 1:00 PM: Last night the Chicago Sun-Times published the crash victim's identity, Donald Heggemann, a ceramicist who worked at Northeastern Illinois University, after interviewing friends and coworkers. We've updated our article accordingly.
Dubhe Carreño, a friend of Heggemann's who taught ceramics at NEIU, told the Sun-Times Heggemann, who went by "Don," worked full-time as an administrative assistant at the university's art and design department. "He was a joy to know as an artist, as a co-worker, as a friend."
Kim Ambriz, art and design department chair at NEUI told the Sun-Times Heggemann was an "amazing" front desk administer who was highly organized, but also excellent at making visitors to the office feel welcome. In addition to office work, he assisted with ceramics at the university, including 10-12-hour-long ceramic firings.
Ambriz also told the paper that Heggemann commuted to work by bike on a daily basis, and shared camaraderie with an art history professor who also did so. "They were always talking about biking."
Read more about Heggemann's life, and comments from Bike Lane Uprising's Christina Whitehouse on the case, in the Sun-Times piece.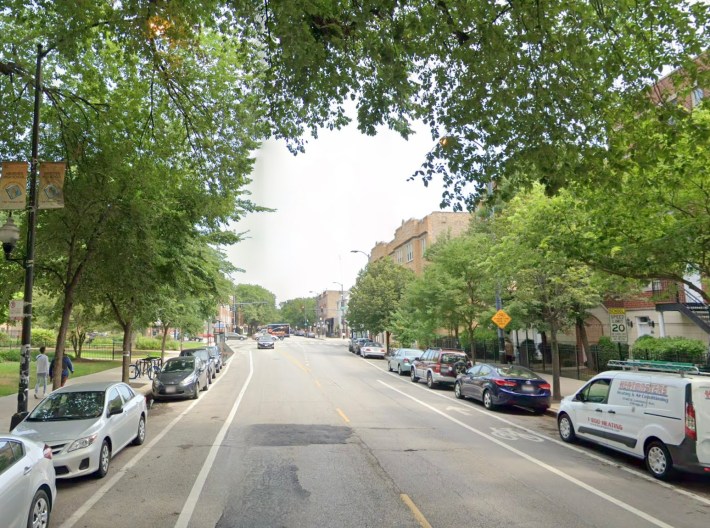 Update 10/24/23, 7:45 PM: According to a Block Club Chicago report, local alderperson Andre Vasquez (50th) mentioned the latest bike fatality in an email to constituents. "This is a devastating loss for our community," he wrote. "Everyone deserves safe streets, and our office is committed to ensuring that we do everything we can to protect bicyclists and pedestrians in our ward."
Sadly, last night an allegedly intoxicated driver fatally struck ceramicist Donald Heggemann, 59, riding a bike in a paint-only lane near Foster (5200 N.) and Damen (2000 W.) avenues. The location is near to Winnemac Park and Amundsen High in the Lincoln Square community area. This was at least the third cycling fatality within 14 years on a three-mile stretch of Damen with non-protected bikeways.
According to the initial police report, at about 7:54 p.m. on Monday, October 23, a driver was heading northbound on the 5100 block of North Damen when they hit Heggemann, who was also traveling northbound, at 5115 North. The victim sustained injuries to his head and body, and was taken to Illinois Masonic hospital in critical condition, and later pronounced dead.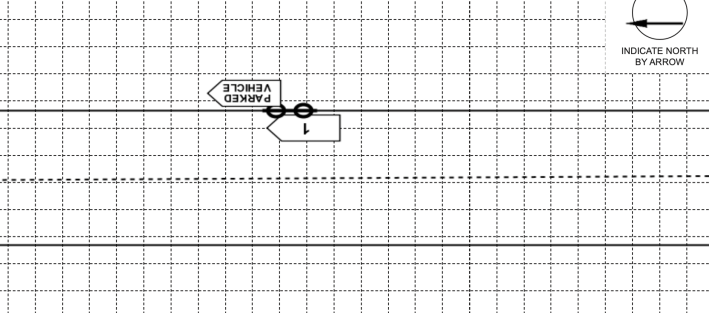 The traffic crash report says the motorist, described as the 30-year-old female driver of 2015 Volvo S60 sedan, fled the collision scene. The crash report also states that the motorist appeared to be intoxicated.
According to the narrative on the report, police officers were flagged down by witnesses who explained that the driver had continued north on Damen after striking Heggemann in the bike lane. Four witnesses are listed on the report. Officers were then able to detain the motorist.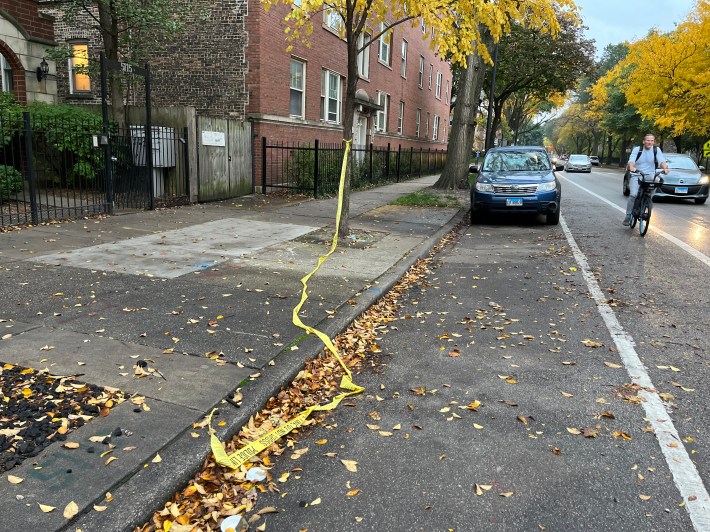 The crash report says Heggemann lived about two miles northeast of the crash site in the Edgewater neighborhood. He was pronounced dead at the hospital at 8:32 p.m.
According to the crash report, the driver, who lives about two miles southwest of the collision site in the North Park community, consented to a Breathalyzer test. It found that she had a 0.20 percent blood alcohol level, more than twice the legal limit of 0.08 percent. She was then taken to Weiss Memorial Hospital for blood and urine analysis, which she refused. After that, she was transported to Area 3 Detective Division for additional processing.
Around noon today, a Police News Affairs spokesperson said, "Charges are pending."

Tragically, there have been at least two other bike fatalities on Damen within three miles of this latest case within the past 14 years. In October 2009, 20-year-old Loyola University student and coffee shop worker Liza Whitacre, 20, was cycling on Damen at Wellington Avenue (3000 N.), next to Hamlin Park, when she was struck and killed by a truck driver.
In September 2016, health coach Anastasia Kondrasheva, 23, was biking to work on Damen when a flatbed truck driver failed to yield while making a right turn onto Addison Street (3600 N.) and fatally struck her.
Damen Avenue, a two-lane street, is a popular bike route, but it's also a hectic driving street. Fortunately, the Chicago Department of Transportation, with the support of local alderpersons, recently built a Neighborhood Greenway on Leavitt Street (2200 W.) two blocks west of Damen. That route runs between Diversey Parkway (2800 N.) and Montrose Avenue (4400 N.), a relatively calm side street with stoplights or four-way stops at all major intersections. The greenway includes new contraflow bike lanes to legalize southbound cycling, plus bike-friendly speed humps. It will eventually run up to Berwyn Avenue (5300 W.)
But this third killing of a bike rider on Damen suggests that this frequently ridden north-south route needs safety upgrades as well. Physically protected bike lanes, which are becoming more common in our city, might have prevented Donald Heggemann's tragic death.
Streetsblog Chicago Fatality Tracker
Pedestrian: 25
Bicyclist: 4
Note: Streetsblog Chicago's traffic death numbers represent fatal crashes on Chicago surface streets, based on media reports and/or preliminary Chicago Police Department data.
2023 Chicago pedestrian fatality cases
On October 6, 2023. a hit-and-run pick-up truck driver fatally struck 55-year-old man on the 1900 block of West Cermak in Pilsen.
On October 5, 2023, An SUV driver fatally struck a man, 70, while making left turn at 57th Street and Pulaski Road in West Elsdon, and a sedan driver also struck the victim.
On October 4, 2023, a turning trucker fatally struck Chauncie J. Lewis while he was lying on the sidewalk at the northeast corner of Congress Parkway and Kostner Avenue in West Rogers Park.
On September 21, 2023, the southbound driver of a white SUV fatally struck Lidia Morales, 46, in the 5900 block of South King Drive, next to Washington Park.
On September 18, 2023, the drivers of a sedan and a crossover SUV crashed at the intersection of Peterson and California avenues in West Ridge, and one of the vehicles veered towards an unidentified man on the sidewalk, killing him.
On September 9, 2023, a hit-and-run sedan driver struck and killed a male pedestrian, 56, on the 500 block of South Independence Boulevard in Garfield Park.
On August 23, 2023, an SUV driver with a suspended license failed to yield while making a turn from Hoyne Avenue onto Cermak Road and fatally struck Irene Celestino Devillino, 48, in the crosswalk.
On August 20, 2023 a hit-and-run sedan driver fatally struck Ulysses Coleman, 38, in the 5200 block of North Avenue in Austin.
On July 25, 2023 a hit-and-run driver killed pedestrian Soyfa Athamanah, 69, in 5100-block of N. Broadway in Uptown.
On July 13, 2023, a man was fatally injured after he was dragged by a driver and he struck another motorist's car at 818 S. Pulaski Rd.
On May 29, 2023, a hit-and-run driver killed Angela R. Mcknight, 49, crossing in the 1200 block of S. Independence Dr.
On April 14, 2023, a Chrysler driver fatally struck a man, 59, on the 8800 block of South Cottage Grove Avenue in Chatham.
On April 8, 2023, a turning sedan driver struck and killed Tracy Burton, 55, crossing the street at Laramie Avenue and Jackson Boulevard in Austin.
On March 29,2023, a sedan driver struck and killed a male pedestrian, 46, on the 2000 block of North Cicero in Belmont Cragin.
On March 25, 2023, a driver ran a stop sign at Washington and Green streets in the West Loop, fatally striking James Robert Thompson and fled the scene.
On March 19, 2023, a left-turning van driver fatally struck Guo Ning Li, 78, in a crosswalk at 24th Street and Wentworth Avenue in Chinatown.
On February 20, 2023, a right-turning FedEx step van driver ran over and killed Marsha Frankel, 72, in a crosswalk at Roosevelt Road and Wabash Avenue in the South Loop.

On February 14, 2023, a CTA bus driver fatally struck Kevin Herrera, 28, at at 47th Street and Ashland Avenue in Back of the Yards.

On February 7, 2023, a driver fatally struck Erik S. Wills, 49, on the 8800 block of South May Street in Gresham.
On February 6, 2023, a motorist struck and killed Stevenson Mays, 59, on the 5600 block of South Racine Avenue in West Englewood and fled the scene.
On January 27, 2023, two drivers collided on the 5000 block of West Washington Street in Austin and fatally struck Jennifer Kelleher, 25, and then both fled the scene.
On January 26, 2023, an SUV driver fatally struck an unidentified woman, 93, on the 300 block of South Laramie Avenue in Austin and fled the scene.
On January 10, 2023, a sedan driver struck and killed an unidentified man, 33, on the 3500 block of West Lake Street in East Garfield Park and fled the scene.
On January 3, 2023, a cargo van driver fatally struck Jaime Cuadra, 47, as he was exiting a vehicle on 87th Street in front of the Red Line station.
On January 2, 2023, a 45-year-old man was crossing Lafayette Avenue at 79th Street in Chatham when a speeding driver ran a red, fatally struck him, and fled the scene on foot.
On January 2, 2023, near 72nd Street and Damen Avenue in West Englewood, Roy Lee, 21, was getting into his car when a driver swerved into oncoming lanes, fatally struck Lee and hit three parked cars, then fled the scene on foot.
2023 Chicago bike fatalities
Did you appreciate this post? Please consider making a tax-deductible donation.
In addition to editing Streetsblog Chicago, John writes about transportation and other topics for additional local publications. A Chicagoan since 1989, he enjoys exploring the city on foot, bike, bus, and 'L' train.
Stay in touch
Sign up for our free newsletter