Streetsblog Chicago
CPD knows owner of car whose driver killed Ulysses Coleman, 38, Sunday in Austin, but hasn't filed charges
Hopefully the police department will use all legal methods available to identify and charge the motorist who killed Coleman.
5:11 PM CDT on August 21, 2023
Tragically, a sedan driver struck and killed pedestrian Ulysses Coleman, 38, near North and Laramie avenues in Austin before the motorist fled the scene. This was at least the 18th person killed by a driver while on foot on Chicago streets this year, and the 11th vulnerable road use fatally struck by a hit-and-run motorist. To make matters worse, the crash report says the Chicago Police Department knows where the owner of the car whose driver fatally stuck Coleman lives, but no charges have been filed.
According to the initial CPD statement, Coleman was struck by the eastbound driver of a silver sedan on the 5200 block of West North Avenue (1600 N.) on Sunday, August 20 at around 12:55 a.m. The motorist stopped momentarily after the crash, but then left the scene.
Coleman suffered body injuries and was taken to Mt. Sinai Hospital, where he was pronounced dead at about 1:35 a.m.
The CPD crash report provides more info on what reportedly happened. "[The] victim was attempting to cross North Avenue southbound outside the crosswalk," it states. It's worth noting the the image suggests Coleman was trying to cross at Latrobe Avenue (5230 W.), and Latrobe jogs east-west here He may have been crossing via the "unmarked crosswalk," where the sidewalk on the west side of Latrobe leads into the street.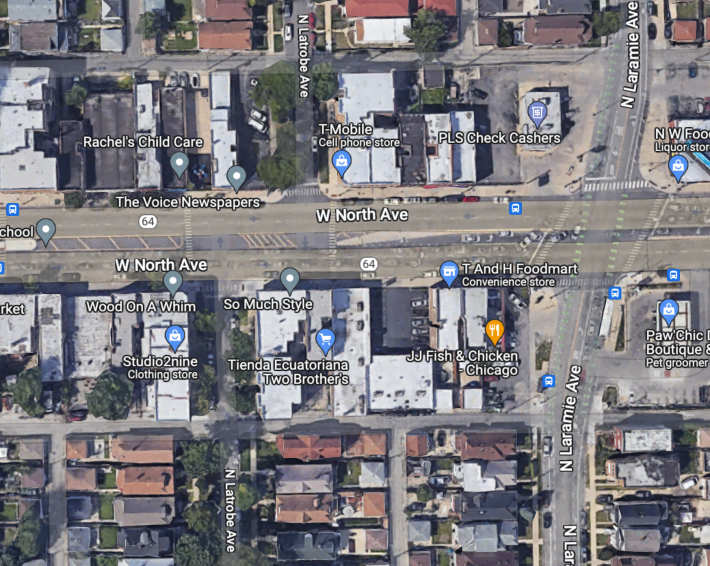 After the driver struck Coleman, "he was forced into the air and flew about 10 feet away from where he was," the report says. It adds that the incident was captured by a Police Observation Device camera.
The report states that one witness, who said she had known Coleman for years, told responding officers she was in an argument with him before the crash, and he was walking away from her at the time of the time of the collision.
Another witness said he saw the crash and provided the driver's license plate number to the officers, according to the report. A second person in his car attempted to perform CPR on Coleman.
The hit-and-run driver is described on the report as a man, 50, wearing an orange reflective vest.
The vehicle's license plate number is listed on the report. It is identified as a silver 2020 Volkswagen Passat sedan, which is not insured. The owner, a woman, is named, and her address is listed as being little over a mile west of the crash site. The name of the male driver who killed Coleman is "unknown."
Despite the police reportedly knowing which car was involved in the crash, and who owns it, no charges have been filed. "There is no one in custody and Area Five Detectives are investigating," a police spokesperson told Streetsblog today.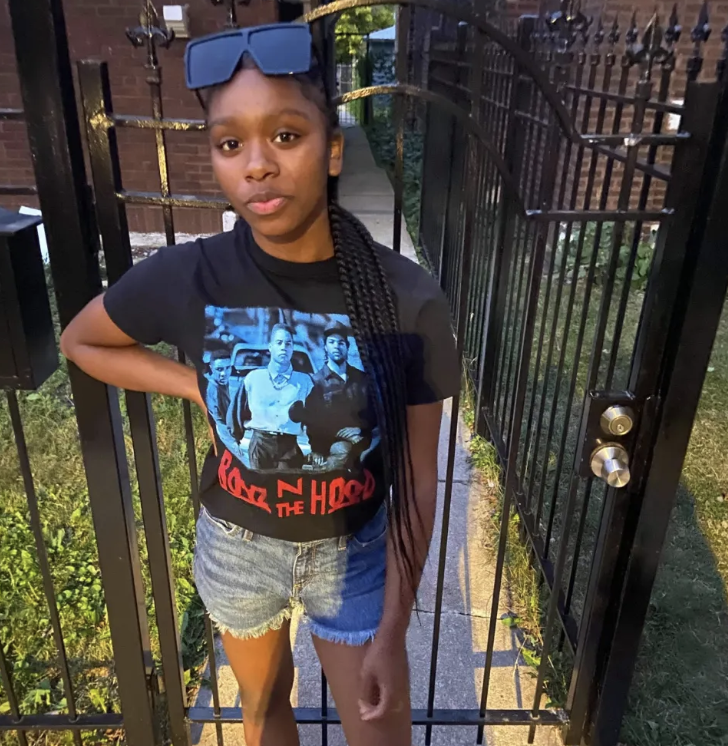 This frustrating situation where police say they know who owns a car whose driver seriously injured or killed a person, but no one has been charged, is not uncommon. Last week, Streetsblog discussed how this happened with the case of Nakari Campbell, 17, who was critically injured by a hit-and-run motorist in Wicker Park on August 4. The crash report states that officers visited the car owner's home, but his mother told them he wouldn't talk with them. No charges have been filed.
"Having the license plate of the vehicle allows the police to easily identify the owner of the vehicle, but the driver could be different than the owner" noted pedestrian and bike injury attorney Michael Keating (a Streetsblog Chicago sponsor.) "Even [if] the police have a clear suspect, just knowing who the owner is may not be enough to charge that person as the driver... This puts the police in a difficult spot. The family [of the victim] and the police truly need the public's help in providing additional video or other information positively identifying the driver."
Is there a way the police can get a warrant to force a car owner to tell them who was driving it the night of a crash? "No," Keating said. "The 5th Amendment to the United States Constitution is explicit that no one has to speak to the police and potentially self-incriminate themselves... But the police could get a warrant to track GPS on the car or on the driver's phone and find out where they were going that night."
Hopefully the Chicago Police Department will use all legal methods available to identify and charge the drivers who killed Ulysses Coleman, and severely injured Nakari Campbell. 
Streetsblog Chicago Fatality Tracker
Pedestrian: 18
Bicyclist: 3
Note: Streetsblog Chicago's traffic death numbers represent fatal crashes on Chicago surface streets, based on media reports and/or preliminary Chicago Police Department data.
2023 Chicago pedestrian fatality cases
On August 20, 2023 a hit-and-run sedan driver fatally struck Ulysses Coleman, 38, in the 5200 block of North Avenue in Austin.
On July 25, 2023 a hit-and-run driver killed pedestrian Soyfa Athamanah, 69, in 5100-block of N. Broadway in Uptown.
On July 13, 2023, a man was fatally injured after he was dragged by a driver and he struck another motorist's car at 818 S. Pulaski Rd.
On May 29, 2023, a hit-and-run driver killed Angela R. Mcknight, 49, crossing in the 1200 block of S. Independence Dr.
On April 14, 2023, a Chrysler driver fatally struck a man, 59, on the 8800 block of South Cottage Grove Avenue in Chatham.
On April 8, 2023, a turning sedan driver struck and killed Tracy Burton, 55, crossing the street at Laramie Avenue and Jackson Boulevard in Austin.
On March 29,2023, a sedan driver struck and killed a male pedestrian, 46, on the 2000 block of North Cicero in Belmont Cragin.
On March 25, 2023, a driver ran a stop sign at Washington and Green streets in the West Loop, fatally striking James Robert Thompson and fled the scene.
On March 19, 2023, a left-turning van driver fatally struck Guo Ning Li, 78, in a crosswalk at 24th Street and Wentworth Avenue in Chinatown.
On February 20, 2023, a right-turning FedEx step van driver ran over and killed Marsha Frankel, 72, in a crosswalk at Roosevelt Road and Wabash Avenue in the South Loop.

On February 14, 2023, a CTA bus driver fatally struck Kevin Herrera, 28, at at 47th Street and Ashland Avenue in Back of the Yards.

On February 7, 2023, a driver fatally struck Erik S. Wills, 49, on the 8800 block of South May Street in Gresham.
On February 6, 2023, a motorist struck and killed Stevenson Mays, 59, on the 5600 block of South Racine Avenue in West Englewood and fled the scene.
On January 27, 2023, two drivers collided on the 5000 block of West Washington Street in Austin and fatally struck Jennifer Kelleher, 25, and then both fled the scene.
On January 26, 2023, an SUV driver fatally struck an unidentified woman, 93, on the 300 block of South Laramie Avenue in Austin and fled the scene.
On January 10, 2023, a sedan driver struck and killed an unidentified man, 33, on the 3500 block of West Lake Street in East Garfield Park and fled the scene.
On January 3, 2023, a cargo van driver fatally struck Jaime Cuadra, 47, as he was exiting a vehicle on 87th Street in front of the Red Line station.
On January 2, 2023, a 45-year-old man was crossing Lafayette Avenue at 79th Street in Chatham when a speeding driver ran a red, fatally struck him, and fled the scene on foot.
On January 2, 2023, near 72nd Street and Damen Avenue in West Englewood, Roy Lee, 21, was getting into his car when a driver swerved into oncoming lanes, fatally struck Lee and hit three parked cars, then fled the scene on foot.
2023 Chicago bike fatalities
On June 24, 2023, a left-turning driver fatally struck Józef Strus, 67, who was riding a bike at 57th Street and Natchez Avenue in Garfield Ridge.
On June 7, 2023, bike rider Ron Mendoza, 43, died from injuries sustained in a July 5 crash with a car driver at Wrightwood Avenue and Pulaski Road in Logan Square.
On May 7, 2023, bike rider Rick Lomas was traveling south on California Avenue in Humboldt Park when he was was fatally struck by a 2005 Pontiac Grand Prix driver who left the scene.
Did you appreciate this post? Please consider making a tax-deductible donation.
In addition to editing Streetsblog Chicago, John writes about transportation and other topics for additional local publications. A Chicagoan since 1989, he enjoys exploring the city on foot, bike, bus, and 'L' train.
Stay in touch
Sign up for our free newsletter