Streetsblog Chicago
Bicycle-friendly politicians showed up in force for Bike Lane Uprising's packed 6th anniversary fundraiser
Lawmakers Kelly Cassidy, Andre Vasquez, and Kam Buckner, plus BLU founder Christina Whitehouse, thanked the advocates present for their efforts to make cycling safer.
5:23 PM CDT on September 29, 2023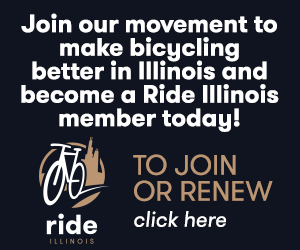 A half hour after the party started, there was a line out the door to the sold-out sixth anniversary shindig for Bike Lane Uprising. It's a Chicago-based civic tech platform that makes it "easy to report cars in bike lanes and hold violators accountable." The event was hosted by Specialized's Fulton Market bike shop, 925 W. Lake St.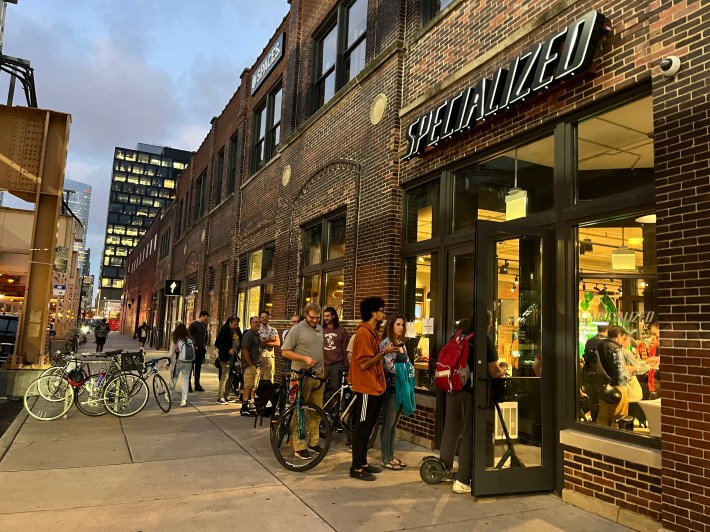 Bike Lane Uprising was founded by product designer Christina Whitehouse in 2017 after she was nearly struck by a commercial vehicle driver who veered into the bike lane she was riding in while making a right turn. Since then, the Bike Lane's mobile app for documenting bikeway obstructions has spread to cities all over the U.S. and Canada.
I'd estimate more than a hundred people showed up for the gathering, which included complimentary food, drinks, live hip-hop from Bad Wolf, and glamor photo shots by "Rick-car-NO." There were also raffle items ranging from a $2,800 Specialized e-cargo bike to an appropriately shaped "California Burrito" handlebar bag. There was even a person dressed as a traffic cone walking around the party obstructing attendees.
The main person behind the Chicago Critical Mass Twitter account, who goes by the handle "Ace Mann," was helping to work the door at the Bike Lane Uprising get-together, wearing his usual "Where's Waldo?"-inspired outfit. He said he's also a "heavy volunteer" for BLU.
"I really like what they do, giving out the free [bike] lights," Mann said. "Christina also coordinates the ghost bike [memorials to fallen cyclists], which is really important to me as a bike rider."
Asked what are the most important campaigns Bike Lane Uprising currently has in the works for keeping Chicago cyclists safe, Mann replied, "Pressuring politicians and holding them responsible. Especially, the app – there's heat maps [of bike lane blockage hot spots] and you can take pictures of where the chronic problem areas are, which can be used to make improvements."
Bike and pedestrian injury attorney Mike Keating, a sponsor of the event (and this site) said the city of Chicago's current plan to upgrade all protected lanes with curbs, and make 85 percent of new bikeways PBLs, is a good step in that direction. He noted that a recent report by StreetLight Data found that the number of Chicago-area bike trips has increased by nearly half since 2019.

"When you consider the rates of ridership were already high, if we're going to continue down this path, it's an absolute necessity that the city of Chicago invest in actual protected bike lanes," Keating said. "For too long, a protected bike lane meant flexi-posts. Now more and more we're seeing [concrete] curbs, which can actually work to physically separate motor vehicle traffic from bicycle traffic. Study after study has shown that concrete, and actual physical delineation between the bike lanes, makes all the difference."
Encouragingly three local politicians who have been supportive of bike safety efforts attended the fundraiser and spoke before the crowd. First up was State Representative Kelly Cassidy, representing the 14th District, which includes Andersonville, Edgewater, and Rogers Park on the Far North Side. She has previously worked with the Active Transportation Alliance to sponsor Illinois legislation requiring convex mirrors for the front of all large Illinois-licensed trucks to help protect people on bikes and foot. (More on that issue here.)
Cassidy, who has also sponsored state bills protecting reproductive healthcare, thanked Bike Lane Uprising for being "fierce allies" of that effort. She discussed a July 2023 incident where protesters at a local abortion clinic had a panel truck with a drop-down stage that obstructed the Desplaines Avenue bike lane.
"The officers that were responding told [the clinic] that they had a permit for it, and I told them there's no such thing," Cassidy said. "So I reached out to Christina and we had some serious old-school activist fun, And I thank you so much for helping us ensure that patients got into the clinic safely, and the city got right on that [issue]. There are signs up marking where [protesters] can and can't be, and that white shirt is in front of that clinic every day because you guys turned out. And I thank you so much for showing up and being the allies that we needed, and I promise that I am always going to be the ally that you need."
Next up was Ald. Andre Vasquez of the Far North Side's 40th Ward, who has been responsive to requests to upgrade the Clark Street protected bike lanes and add more PBLs to Lincoln Avenue. He also praised Bike Lane Uprising's and other bike advocates' work.
"You all have done so much to transform the the city that I don't think y'all get enough credit for it," he said. "You are some of the most hardcore organizers that I have ever seen in the city of Chicago... The reason people know what [Chicago] Bike Grid, Now! is is because y'all turn up, and so you're watching the city build more infrastructure. It's something that we've been doing in the 40th Ward through this past term because of... all the cyclists and urbanists. I learned how to ride a bike at age 42."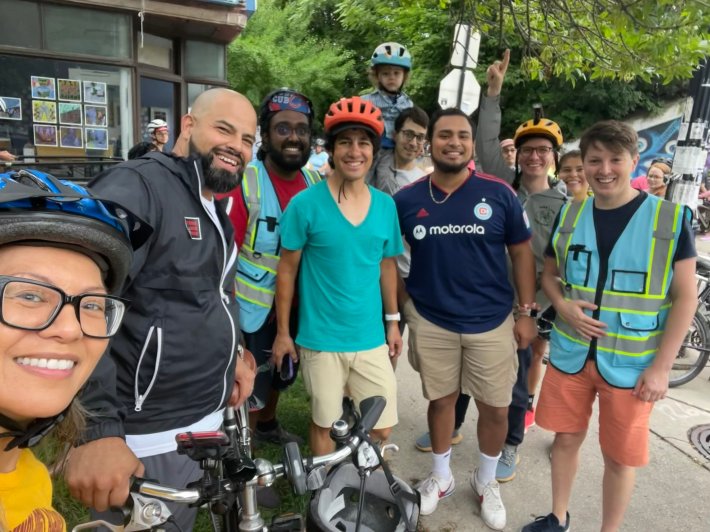 Vasquez noted that such advocacy helped lead to the Smart Streets Pilot Ordinance, which will, in part, lead to camera enforcement of bike lanes. "We don't need people getting hit and passing away out here," he said. "We need people to be able to go from Point A to Point B safely. So I want to thank you because the work that you all do not only makes it safer for folks out there on their bikes, but it also leads to a better environment where people aren't just driving cars everywhere."
Then attendees heard from State Representative Kam Buckner (D-26th), whose district include part or all of many downtown and South Side neighborhoods. He has attended bike safety rallies, and sponsored a state bill for electric bike rebates. He praised the transportation advocacy community for helping to promote safe, efficient mobility as something that all Chicagoans and Illinoisans should be able to enjoy.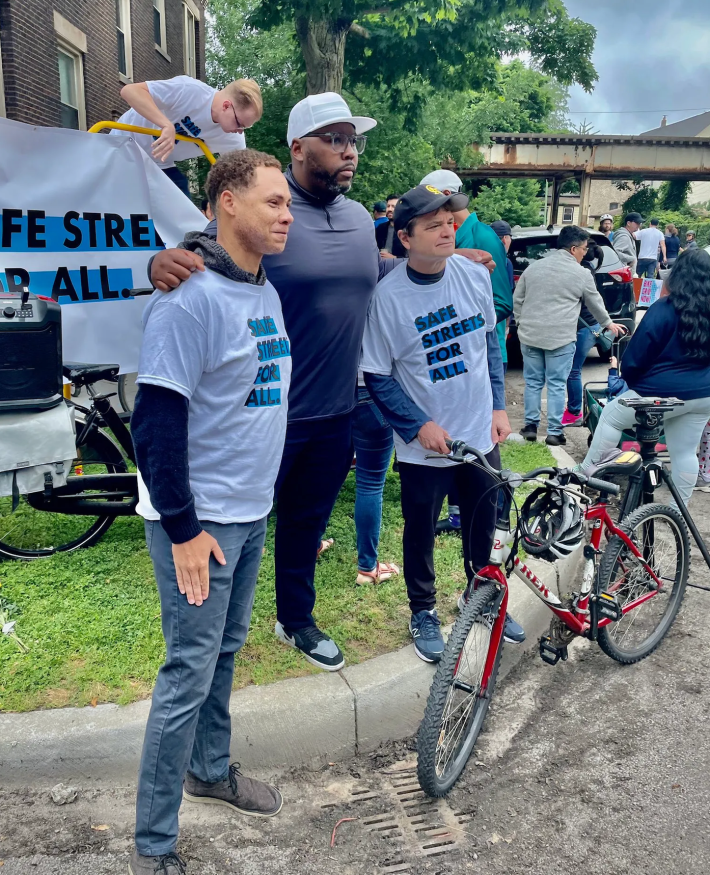 "We're doing that work at the state level and at the city level because of the work that you have done to make it easier to push through in these battles," Buckner said. "And so when I think about this community, I think about what Dr. King said about what a 'Beloved Community' looks like. He said that power without love is reckless and abusive, but love without power is anemic and sentimental. You gotta be able to merge them together... So thank you for the work that you do every single day. The only thing I will implore you is don't keep this movement to yourself. Spread it around."
Finally Bike Lane Uprising's Christina Whitehouse addressed the crowd. She said that part of her goal with the platform was to make urban cycling more accessible to non-athletes like herself. "If you want to bike somewhere, you should be able to do it safely," she said. "Biking really provides access to opportunities. Chicago's one of the most segregated cities in the United States and biking really helps [overcome] transportation segregation."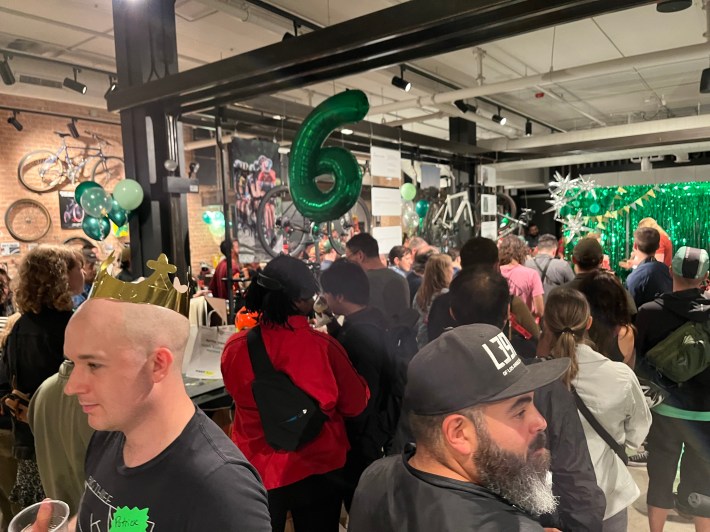 "I had no idea that [Bike Lane Uprising was going to turn into what it has become," Whitehouse added, referencing the international popularity of the platform. She thanked its many volunteers. "We are trying to keep up with it!"
Did you appreciate this post? Please consider making a tax-deductible donation.
In addition to editing Streetsblog Chicago, John writes about transportation and other topics for additional local publications. A Chicagoan since 1989, he enjoys exploring the city on foot, bike, bus, and 'L' train.
Stay in touch
Sign up for our free newsletter