Pedestrian Fatality
Turning SUV driver failed to yield to woman, 48, in Pilsen crosswalk, killing her in front of 25th Ward office
"[This is] even more reason for the alderman to step up and do something about traffic safety in this city," said a Streetsblog reader.
7:11 PM CDT on August 24, 2023
Update 8/28/23: 10:22 AM: This morning Block Club Chicago reported that driver Leonel Maceo Torres, 38, "was arrested and charged with one misdemeanor of driving an uninsured car while causing 'bodily harm' and one misdemeanor of driving with a suspended license, police said. He was also given a citation for not giving a pedestrian the right-of-way."
Update 8/25/23: 5:15 PM: The Cook County medical examiner's office has released the name of the victim: Irene Celestino Devillada.
Update 8/25/23, 10 AM: According to a CBS news report by Sabrina Franza, the victim had just dropped off one of her daughters to karate class when she was struck. Witnesses said the driver was speeding and blew his stop sign.
"This is the most tragic incident we have had, but we have had [problems] along Cermak in particular," Ald. Byron Sigcho-Lopez told CBS. He said that since May he's been talking with city and state officials about conducting a traffic study at Cermak/Hoyne, because he feels the intersection needs more than just stop signs to make it safer.
"With a new mayor, there will be a new commissioner [of transportation]," Sigcho-Lopez said, according to CBS. "And with our state representatives, I do hope that there's more collaboration, so ultimately, we prevent these tragedies."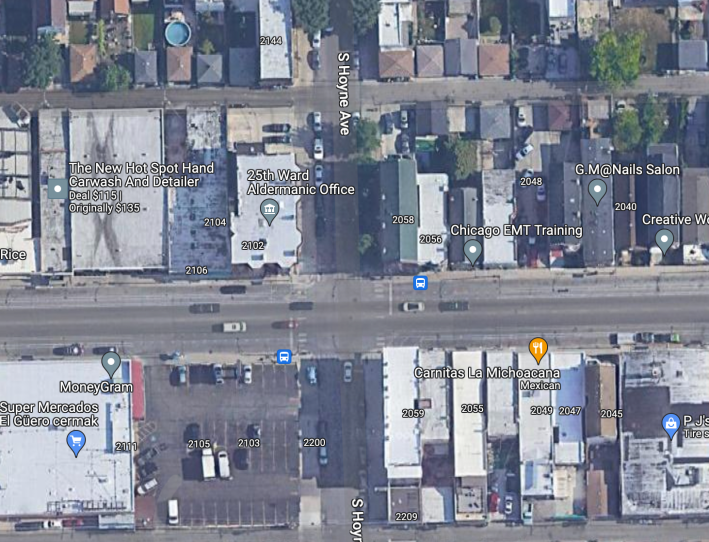 Content warning: This article includes a graphic description of an act of traffic violence.
Tragically, a turning SUV driver with a suspended license failed to yield to a woman, 48, walking in a Pilsen crosswalk and fatally struck her. The crash took place Wednesday evening in Pilsen at Cermak Road (2200 S.) and Hoyne Avenue (2100 W.), directly in front of Ald. Byron Sigcho-Lopez's (25th) office.
According to the initial Chicago Police Department statement, at about 5:33 p.m. on Wednesday, August 23, the woman was crossing Cermak in a crosswalk in the west leg of its intersection with Hoyne. The driver was traveling south on Hoyne and then made a westbound right turn, striking her. The victim was taken to Stroger Hospital, where she was pronounced dead. The motorist stayed on the scene.
As of Thursday afternoon, the victim's identity had not been released, pending notification of kin, according to the Cook County medical examiner's office.
The report says the victim's address was about two blocks from the crash site. The driver is listed at an address about 1.5 miles northeast in Pilsen. (Streetsblog Chicago generally does not publish the names and exact address of people involved in crashes or witnesses if they are listed in crash reports but this info has not been publicized by CPD and/or the medical examiner.)
"Responding officers observed [the driver's vehicle, a 2007 Toyota Highlander] stopped at 2014 W. Cermak Road with a female pedestrian stuck underneath the rear passenger side of the vehicle," the report stated. The officers observed her to be "medically incapacitated, with distorted extremities and bleeding heavily." Chicago Fire Department personnel pulled her out from under the SUV and took her to Stroger.
The driver told police he was suffering from chest pains, and he was transported to St. Anthony Hospital by ambulance, according to the report. He agreed to submit to urine and blood tests. His vehicle was towed to a city of Chicago auto pound for investigation.
After the driver was medically cleared, he was taken to the 12th District police headquarters for processing, the report stated. He was cited for failure to yield to a pedestrian in a crosswalk, driving on a suspended license, and operating an uninsured vehicle.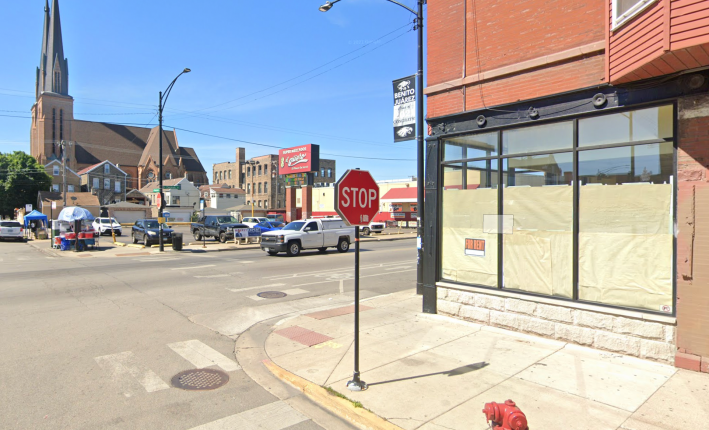 The incident was captured by a Police Observation Device camera and a private surveillance camera, the report said.
Witnesses told officers the turning driver struck the pedestrian in the crosswalk and then dragged her 20-30 feet under his vehicle, before stopping in front of 2104 W. Cermak Rd., just west of the Ald. Sigcho-Lopez's office, according to report.
"[This is] even more reason for the alderman to step up and do something about traffic safety in this city," said a Streetsblog reader who informed us about the incident after reading about it in a Pilsen Facebook discussion group.
The 25th Ward office did not immediately respond to Streetsblog's request for comment, but we will add an update if we hear from them.
Streetsblog Chicago Fatality Tracker
Pedestrian: 19
Bicyclist: 3
Note: Streetsblog Chicago's traffic death numbers represent fatal crashes on Chicago surface streets, based on media reports and/or preliminary Chicago Police Department data.
2023 Chicago pedestrian fatality cases
On August 23, 2023, an SUV driver with a suspended license failed to yield while making a turn from Hoyne Avenue onto Cermak Road and fatally struck a woman, 48, in the crosswalk.
On August 20, 2023 a hit-and-run sedan driver fatally struck Ulysses Coleman, 38, in the 5200 block of North Avenue in Austin.
On July 25, 2023 a hit-and-run driver killed pedestrian Soyfa Athamanah, 69, in 5100-block of N. Broadway in Uptown.
On July 13, 2023, a man was fatally injured after he was dragged by a driver and he struck another motorist's car at 818 S. Pulaski Rd.
On May 29, 2023, a hit-and-run driver killed Angela R. Mcknight, 49, crossing in the 1200 block of S. Independence Dr.
On April 14, 2023, a Chrysler driver fatally struck a man, 59, on the 8800 block of South Cottage Grove Avenue in Chatham.
On April 8, 2023, a turning sedan driver struck and killed Tracy Burton, 55, crossing the street at Laramie Avenue and Jackson Boulevard in Austin.
On March 29,2023, a sedan driver struck and killed a male pedestrian, 46, on the 2000 block of North Cicero in Belmont Cragin.
On March 25, 2023, a driver ran a stop sign at Washington and Green streets in the West Loop, fatally striking James Robert Thompson and fled the scene.
On March 19, 2023, a left-turning van driver fatally struck Guo Ning Li, 78, in a crosswalk at 24th Street and Wentworth Avenue in Chinatown.
On February 20, 2023, a right-turning FedEx step van driver ran over and killed Marsha Frankel, 72, in a crosswalk at Roosevelt Road and Wabash Avenue in the South Loop.

On February 14, 2023, a CTA bus driver fatally struck Kevin Herrera, 28, at at 47th Street and Ashland Avenue in Back of the Yards.

On February 7, 2023, a driver fatally struck Erik S. Wills, 49, on the 8800 block of South May Street in Gresham.
On February 6, 2023, a motorist struck and killed Stevenson Mays, 59, on the 5600 block of South Racine Avenue in West Englewood and fled the scene.
On January 27, 2023, two drivers collided on the 5000 block of West Washington Street in Austin and fatally struck Jennifer Kelleher, 25, and then both fled the scene.
On January 26, 2023, an SUV driver fatally struck an unidentified woman, 93, on the 300 block of South Laramie Avenue in Austin and fled the scene.
On January 10, 2023, a sedan driver struck and killed an unidentified man, 33, on the 3500 block of West Lake Street in East Garfield Park and fled the scene.
On January 3, 2023, a cargo van driver fatally struck Jaime Cuadra, 47, as he was exiting a vehicle on 87th Street in front of the Red Line station.
On January 2, 2023, a 45-year-old man was crossing Lafayette Avenue at 79th Street in Chatham when a speeding driver ran a red, fatally struck him, and fled the scene on foot.
On January 2, 2023, near 72nd Street and Damen Avenue in West Englewood, Roy Lee, 21, was getting into his car when a driver swerved into oncoming lanes, fatally struck Lee and hit three parked cars, then fled the scene on foot.
2023 Chicago bike fatalities
On June 24, 2023, a left-turning driver fatally struck Józef Strus, 67, who was riding a bike at 57th Street and Natchez Avenue in Garfield Ridge.
On June 7, 2023, bike rider Ron Mendoza, 43, died from injuries sustained in a July 5 crash with a car driver at Wrightwood Avenue and Pulaski Road in Logan Square.
On May 7, 2023, bike rider Rick Lomas was traveling south on California Avenue in Humboldt Park when he was was fatally struck by a 2005 Pontiac Grand Prix driver who left the scene.
Did you appreciate this post? Please consider making a tax-deductible donation.
In addition to editing Streetsblog Chicago, John writes about transportation and other topics for additional local publications. A Chicagoan since 1989, he enjoys exploring the city on foot, bike, bus, and 'L' train.
Stay in touch
Sign up for our free newsletter