Bus Transit
What are agencies doing to ease Kennedy lane closure pain, and what should they do?
9:06 PM CDT on April 10, 2023
On March 20 the Illinois Department of Transportation started the three-year, $150 million Kennedy Expressway Bridge Rehabilitation Project, along a 7.5-mile stretch of I-90/I-94. IDOT says the work includes "rehabilitating 36 bridge structures and the Reversible Lane Access Control (REVLAC) system, replacing overhead sign-structures, installing new signage and modernized LED lights, pavement patching and structural painting."
The highway, originally opened in 1960, carries an average of 275,000 vehicles daily, or 100,375,000 vehicles a year. IDOT says the goal of the project is "to increase safety, reduce maintenance costs and improve traffic flow." The work is project to last at least through fall 2025, and while it has several phases, there will be lane closures for the duration of the project, significantly reducing capacity for driving. We'll discuss what how various local transportation agencies are responding to that challenge in a bit, but first here's a quick overview of what's planned.
Stage I – Inbound Kennedy
During the current phase, two mainline inbound lanes will be closed at a time. While the reversible inbound express lanes will remain open for southbound drivers, they won't be able to exit the the lanes before Armitage Avenue. This stage is expected to wrap up by fall 2023.
Stage II – Reversible Express Lanes
During this stage the reversible express lanes will be shut down to allow for rehabbing the REVLAC system and bridge structures, plus pavement repair. Regular lane closures will also occur between Ohio and Lake streets to allow for painting and light replacement in Hubbard's Cave, the viaduct on this stretch. This work is slated to take place between spring and fall 2024.
Stage III – Outbound Kennedy
This phase is basically the opposite of Stage I: The two mainline outbound lanes will be closed and the reversible express lanes will be open. There will also be some lane shifts and nighttime lane closures, and more painting and light installation will happen in Hubbard's Cave. This is scheduled to happen from spring 2025 to late fall 2025.
One might assume that fewer lanes for drivers on the Kennedy will mean much slower car trips on the expressway, and/or more traffic on parallel surface roads like Elston and Milwaukee avenues. But that overlooks the phenomenon of "traffic evaporation," the principal that when less road capacity is provided for driving, people tend to avoid unnecessary trips and replace car commutes with transit or other modes. Therefore fears of carmaggedon during major highway construction projects and other road closures tend to be overblown.
But to their credit, IDOT and other local transportation agencies are taking steps to address the challenges this project may pose for people commuting by both cars and more sustainable modes – without encouraging motorists to use surface streets as an alternative route.
IDOT spokesperson Maria Castaneda told Streetsblog that before the project was even announced the department held meetings with the three local transit agencies and city of Chicago officials to plan and promote transit service during the construction. IDOT, the Chicago Department of Transportation, and the CTA have also been "coordinating messaging" on social media, she said. "Among the messages we have relayed are people can expect some longer travel times if driving and should consider alternate routes, travel during non-peak periods, and transit as an option."
To get the word out, IDOT spoke with multiple traffic reporters in the weeks leading up to construction, along with sending out email newsletters and posting info about the project on the highway's digital message signs. You can also find fact sheets about the project on this webpage under the "Resources" tab.
Meanwhile, as April 3 Metra has beefed up service on its Union Pacific Northwest line, which hugs the Kennedy for much of its route through the city. "Metra has been monitoring ridership as well as customer feedback, and these schedule changes respond to ridership trends and increase capacity and convenience by expanding peak period as well as off-peak service," said CEO Jim Derwinski in a statement prior to the launch of construction. "This new schedule allows Metra to provide more commuters with a viable and much less stressful alternative to driving."
The new schedule added 12 trains to weekday service, which is greater than the pre-pandemic levels. "Outbound service in the early evening rush is expanded with three new trains departing Chicago between 3 p.m. and 5 p.m., including a 3:22 p.m. departure to McHenry that riders have requested," Metra stated in a news release. "Arlington Heights riders will also have more express service in the morning and the evening rush hours with a new 7:25 a.m. inbound train and a 5:07 p.m. outbound train. The new schedule adds a reverse commute option for students at St. Viator High School in Arlington Heights, with a new 6:35 a.m. departure from Chicago."
CDOT's statement to Streetsblog about its construction mitigation plans was brief. "CDOT has been coordinating with IDOT in anticipation of new traffic patterns, including improving traffic signal timing and developing detour timings for work that will require select ramp closures," said spokesperson Erica Schroeder. "CDOT will continue to work with IDOT to ensure the success of the project and help minimize the impact of traffic delays in Chicago."
As for the CTA, a spokesperson pointed to the recent addition of two more AM rush trains on the O'Hare branch of the Blue Line, which runs in the median of the highway for much of its route. "CTA anticipates a small uptick in riders switching to the Blue Line during this three-year project. Those considering switching to CTA are encouraged to travel outside of peak travel hours.  CTA typically sees heavier ridership demand along the O'Hare branch Tuesdays through Thursdays, 6-9:30 a.m. and 3-6 p.m., respectively, with peak ridership levels typically seen between 7:45 and 8:45 a.m."
The CTA is also suggesting that Kennedy commuter use the Rosemont and Cumberland Park & Ride lots and do the rest of their trip by train.
Unfortunately the Kennedy work overlaps with a track replacement project currently taking place on the Blue Line on weekends through late May, which requires riders to switch to a shuttle bus between the Addison and Western stations. But obviously that won't affect weekday commutes.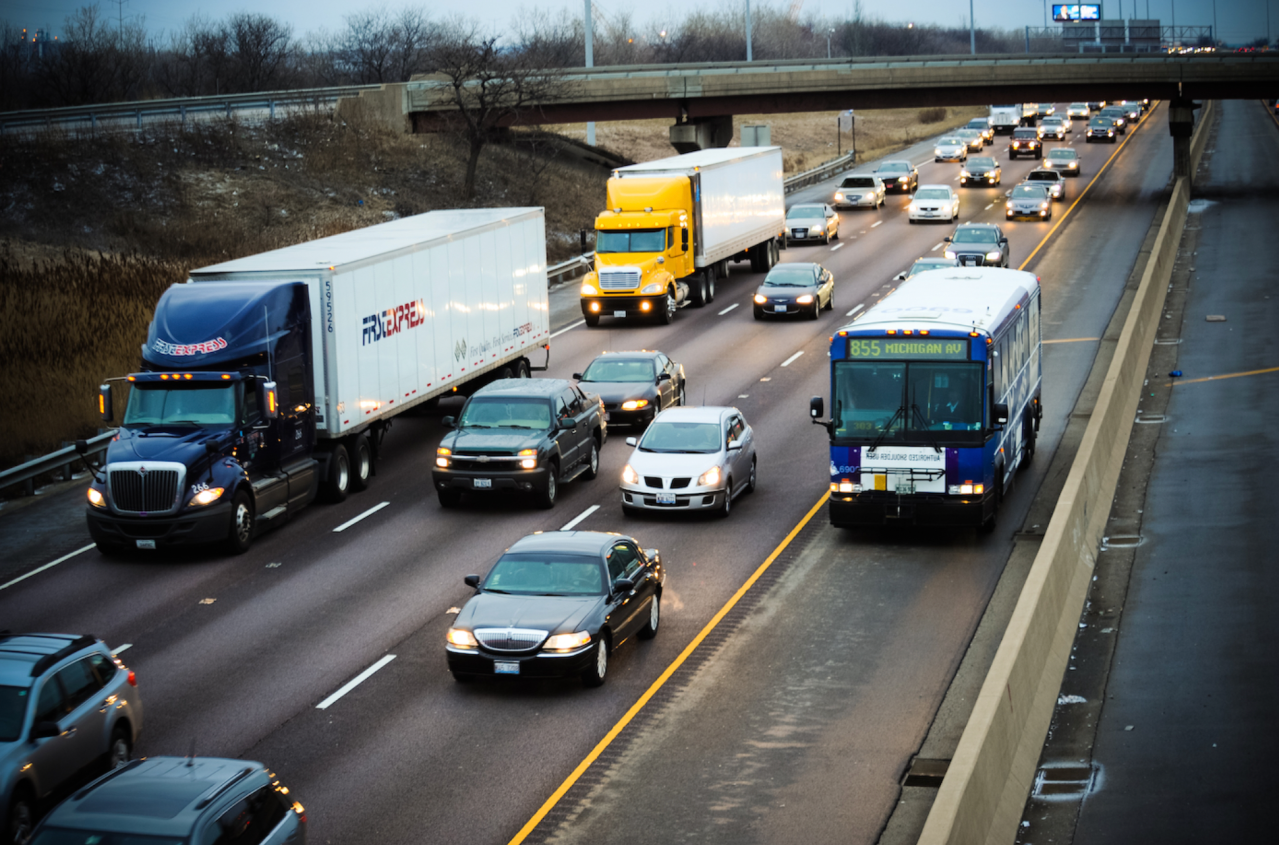 A Pace press release encouraging car commuters to look into replacing their trips with transit noted that the suburban bus system's bus-on-shoulder service on the Jane Addams Memorial Tollway (I-90), Edens Expressway (I-94), and Stevenson Expressway (I-55), is unaffected by traffic jams, and many Pace routes connect with Metra's UP-NW, Milwaukee District North, and North Central Service lines, which are all alternatives to the Kennedy. Pace also serves the Blue Line at Rosemont, Cumberland, Harlem, and Jefferson Park. The agency also noted that the Regional Connect Pass allows Metra Monthly Pass holders to take unlimited free rides on Pace and CTA.
So what else could local authorities do to ease any commute pain from the Kennedy work? Certainly long-suffering Blue Line riders would appreciate adding still more runs, since scheduled Blue service is still down about 39 percent from 2019 levels, according to the advocacy group Commuters Take Action, which analyzes the schedules. Or how about thinking big and converting two of the remaining  lanes of the Kennedy to express bus-only lanes? Local motorists would freak out at that ideas, of course, but if large numbers of them chose to switch modes, the lanes could potentially save time for everyone.
Do you have any other proposals for what should be done to mitigate impacts from the project? Let us know in the comments.
Stay in touch
Sign up for our free newsletter