Chicago
In CTA's First-Ever TOD Plan, Too Much Parking is Proposed Adjacent to 'L' Stations
4:48 PM CDT on April 18, 2018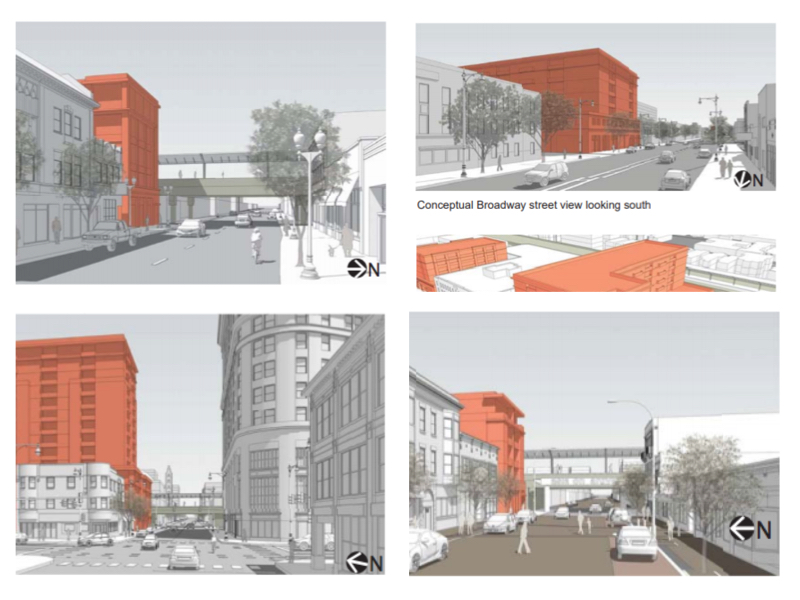 The Chicago Transit Authority has been planning a major infrastructure improvement program for northern portion of the Red and Purple Lines since 2011. Phase one of the Red Purple Modernization, or RPM, focuses on the Red/Purple Bypass near Belmont Ave, as well as replacing tracks and stations between Lawrence Ave and Bryn Mawr.
The Belmont flyover project is necessary to increase capacity because ridership on the Red Line has grown over the past few years, and the CTA cannot currently add more trains during peak periods. By eliminating the Belmont junction where the northbound Brown Line tracks currently cross the Red and Purple tracks at the same grade, the CTA can run more trains on the Red Line to accommodate more riders.
At the same time, stations from Lawrence to Bryn Mawr will be completely demolished and rebuilt with wider platforms for easier boarding, and will include elevators to make them wheelchair accessible for the first time. New track, bridges, and viaducts will also be built to keep this portion of the Red Line's infrastructure working for years to come.
As a part of the project, CTA is also creating a transit-oriented development plan to guide development near the affected stations. Neighborhood development planning is a new endeavor for CTA, which is partnering with the city's Department of Planning and Development as well as several neighborhood groups and consultants for the plan. The stated goal is to promote redevelopment that "promotes a transit-rich lifestyle".
The draft plan presented last November lists five lots near the stations that will need to be redeveloped. These lots will be used as staging areas for construction during RPM phase one and to accommodate realigned track and station structures. Because these lots will be redeveloped after the project is complete, there is a great opportunity to ensure that these developments are dense, transit-oriented developments that capitalize on this $957 million investment in infrastructure.
The opportunity for redevelopment is shown with details about the proposed uses for each site (map), including a recommended mix of residential units and retail, as well as recommended accommodations for personal cars. The renderings are meant to show the size and siting of possible developments, not architectural designs.
Most of the existing development around these stations are currently low-intensity, one-story buildings and strip malls that currently line Broadway, half a block west of the stations. These, however, are outside the scope of CTA's plan but are good candidates for buildings that house more people and attract fewer cars.
The exhibits below, presented at the last meeting, include details on transit-oriented development and why it is important. The true cost of a parking space is plainly displayed along with a note stating that a single parking space in a rental building adds 12.5 percent to the cost of rent. Furthermore, the size of a parking space and its aisle is compared with a two-bedroom apartment, demonstrating just how much space even a single parking spot occupies. Finally, a statistic about parking provisions versus actual use is presented, showing that roughly half the parking built in a residential development near high-quality transit is unused.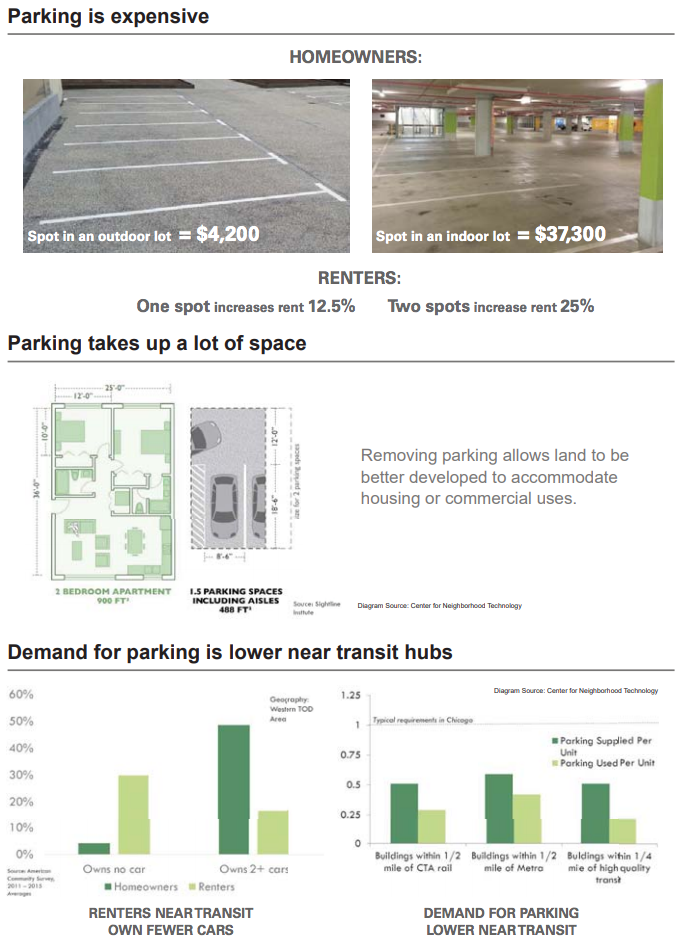 The recommendations
Adjacent to the Bryn Mawr station, the first redevelopment site recommendation is a good example of transit-oriented development: a five-story, mixed retail and residential building with 16 units and two car parking spaces accessed from the alley, a ratio of 0.125 spaces per unit. This site is currently a one-story building with retail.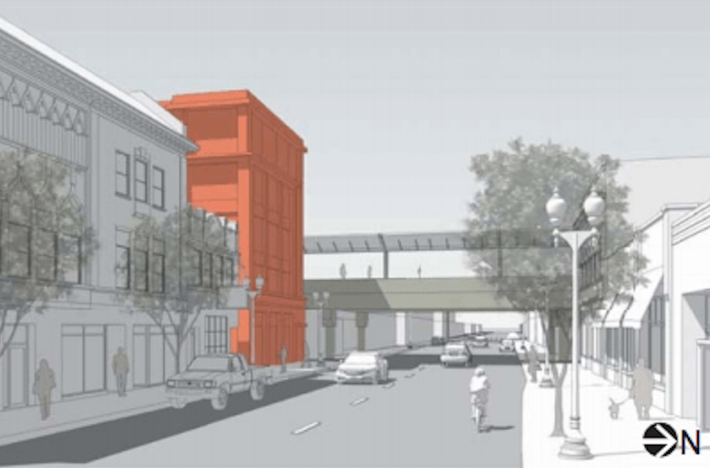 The CTA also plans to add a new entrance to the Bryn Mawr station at Hollywood Ave, extending the opportunity for TOD. Two development densities are recommended on what is currently a Toyota dealership: a medium-density concept with five stories, retail, 48 residential units, and 18 residential parking spaces. This amount of parking exceeds the 0.25 spaces per unit that is cited as adequate for developments near transit hubs. The second proposal, a high-density concept, is nine stories, also includes retail, and has 96 units with shared parking at another development less than a block away.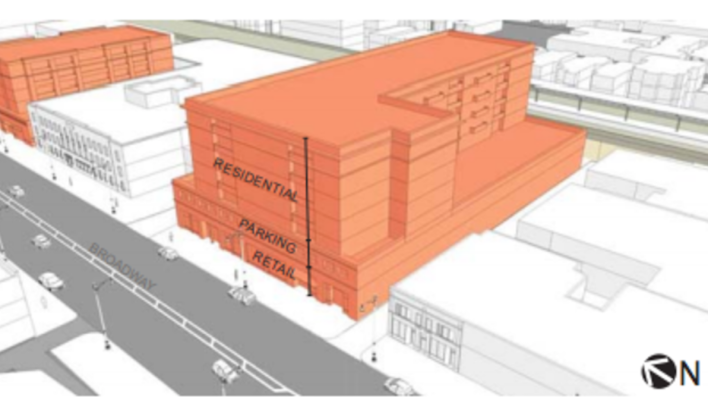 For the higher-density concept, the shared parking for residential units would be at 5619 N Broadway, another TOD redevelopment site. This design features an absurdly high amount of parking to be considered "transit-oriented", with 80 residential spaces proposed for just 100 units. While this parking may be shared with the development mentioned in the previous paragraph, 80 parking spaces for 190 units between the two buildings would still be 0.42 spaces per unit – well above the amount of parking spaces that end up being used in developments, a statistic shared in the same meeting materials.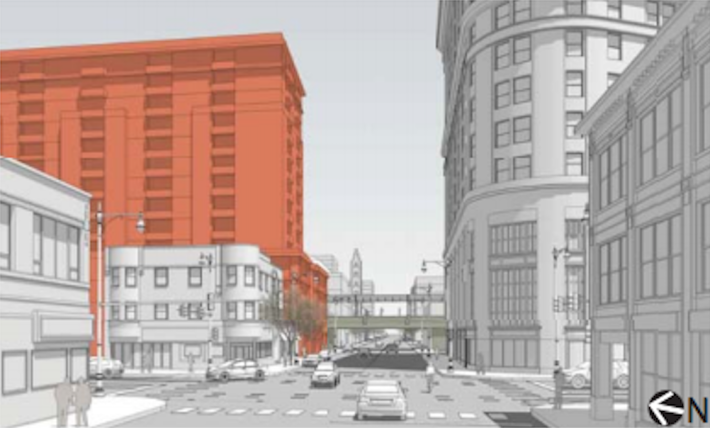 Further to the south, along Lawrence Ave, another development is proposed on what is currently a surface parking lot. Here, a 14-story building is recommended, including retail and 175 residential units. However, the plan recommends retaining the parking lot's existing 83 spaces for public use, and adding 73 more units for residential use, a whopping 156 parking spaces directly adjacent to a transit station. With a ratio of 0.42 residential parking spaces per unit, this once again exceeds the amount of parking spaces that are actually used in developments.
The 83 public parking spaces would remain because they are owned by Chicago Parking Meters, LLC, which also manages all of the city's curbside metered parking. These spaces cannot be removed without replacing them in a nearby location, or paying the company for the lost potential revenue.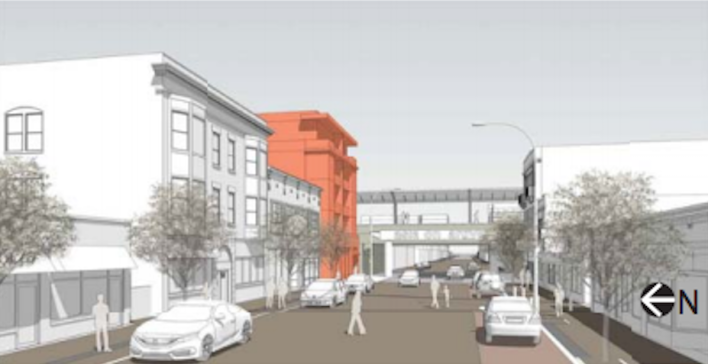 Finally, a redevelopment site along Argyle Street abutting the station is recommended with five stories, retail, 16 residential units, and four parking spaces. Four parking spaces is relatively low, but a development here could easily be built and rented out or sold without any parking. Argyle was recently reconfigured as a "shared street," where drivers are supposed to drive slowly and yield to people walking anywhere along the street. Since the new station will encourage more transit use than ever, a development could function well here with zero parking spaces.
The issue with these designs
Reviewing the proposed developments, it looks as if the CTA and other project consultants understand the need for mixed-use, dense residential buildings that enable a greater number of people to live and shop closer to transit. However, it's clear that the reduction of parking, an important feature of transit-oriented developments, has been overlooked or is political challenge local planners are unwilling to face, despite the evidence that much of the existing parking near transit is unused and the fact that the rising popularity of ride-hailing and future autonomous vehicle technology will further reduce parking demand. It makes no sense to propose so much new parking while investing billions of dollars in transit infrastructure.
Only the proposed development next to the Bryn Mawr station entrance has a parking ratio below 0.25 spaces per unit. The rest of the designs add an appropriate amount of housing units, but include a quantity of parking spaces that the CTA's own materials acknowledge is too high for new developments near transit in Chicago.
Half of the residents who live on the blocks surrounding the stations live in car-free households, and commute to work on public transportation, according to Census data. Densifying these areas, making transit more attractive, and reducing parking are all ways to encourage more ridership. Because the RPM project has potential to make transit less crowded during rush periods, improve the quality and comfort of the stations, and in some cases add new entrances, transit will become a more attractive option.
While these development ideas are merely conceptual right now, and the final recommendations will be released in the TOD plan later this year, their their inclusion of an excessive number of parking spots demonstrates a need to overhaul Chicago's TOD ordinance. Currently the legislation waives parking minimums for developments near transit, but we need to implement parking maximums near stations. Streetsblog Chicago has reported on buildings next to or on top of transit stations that have far too much parking.
The CTA should also question why its plan would recommend such a high amount of parking spaces directly next to its own investments, contrary to its stated goal of promoting a "transit-rich lifestyle" by maximizing the amount of people living near stations.
The final TOD Plan for redevelopment between Lawrence and Bryn Mawr will be released later this spring or summer.
Bryn Mawr station (four proposals for three development sites)
1113 W Bryn Mawr Ave
Location: Directly adjacent to station
Height: 5 stories
Commercial: 1,800 sq. ft.
Residential: 16 units
Parking spaces: 2
Parking ratio: 0.125 spaces per unit
Broadway & Hollywood - Medium density concept
Location: Corner of Hollywood and Broadway
Height: 5 stories
Commercial: 7,800 sq. ft.
Residential: 48 units
Parking spaces: 18
Parking ratio: 0.375 spaces per unit
Broadway & Hollywood - Higher density concept
Location: Corner of Hollywood and Broadway
Height: 9 stories
Commercial: 7,800 sq. ft.
Residential: 96 units
Parking spaces: 0 on-site, shared with 5619 N Broadway
Parking ratio: 0.42 spaces per unit when combined with 5619 N Broadway
5619 N Broadway
Height: 7 stories
Commercial: 7,600 sq. ft.
Residential: 100 units
Parking spaces: 80
Parking ratio: 0.8 spaces per unit, or 0.42 spaces per unit when combined with Hollywood & Broadway
Lawrence station (1 proposal)
1130 W Lawrence Ave
Location: Directly adjacent to station
Height: 14 stories
Commercial: 8,600 sq. ft.
Residential: 175 units
Parking spaces: 73
Parking ratio: 0.42 spaces per unit
Argyle station (1 proposal)
1113 W Argyle St
Location: Directly adjacent to station
Height: 5 stories
Commercial: 1,800 sq. ft.
Residential: 16 units
Parking spaces: 4
Parking ratio: 0.25 spaces per unit
Stay in touch
Sign up for our free newsletter