Chicago
Like TOD Ordinance, Less Restrictive Zoning Can Help Lakeview Businesses
12:21 PM CDT on April 16, 2015
The Lakeview Chamber of Commerce is concerned that restrictive zoning, car parking requirements, and changing household types may hinder growth in the high-demand neighborhood and negatively affect local businesses. The chamber, along with Special Service Area #27 (map), published a report this week [PDF] that shows that not only is Lakeview's housing supply failing to keep up with population growth, it's actually decreasing.
The North Side neighborhood is attractive because there are diverse amenities within walking distance and it's possible to meet all your needs without leaving the neighborhood, according to SSA director Lee Crandell. The eight CTA 'L' stations and multiple east-west bus routes are a major asset. "We're highly dependent on transit and it's one of our greatest strengths," Crandell said.
The number of households in Lakeview decreased by one percent between 2000 to 2011, but the population increased 11 percent, with most of the growth attributed to an increase in families with children. Having more families in Lakeview is a good thing, Crandell said. "It means we're the kind of neighborhood where people want to have and raise kids."
However, as a result of the increase in families, and the resulting conversion multi-unit buildings to single-family homes, the neighborhood is losing housing that's suitable for single people, couples, and renters. "We're trading one type of population for another instead of accommodating all," Crandell said.
The SSA is worried that the change in household types in Lakeview, from renters to owners, and singles and couples to families, means there could be reduced consumer spending at local businesses. "That shift has a big impact on how much extra money people have to spend in the neighborhood," Crandell said. "People with disposable income have been significant to businesses [here]."
"We have heard anecdotally from some businesses, particularly hospitality – bars and restaurants – that they've noticed a shift in demographics in the neighborhood," Crandell added. "Their target base isn't as present in the neighborhood as it used to be."
Southport Grocery & Café owner Lisa Santos said she's noticed the age range of her customers has narrowed. She said the change in housing stock has definitely moved more to single-family homes. She pointed out that the way parcels near train stations are being developed is a missed opportunity to develop housing for people like her employees, who are all in the twenties and early thirties, and don't own cars.
The chamber's service area has seen a decrease in units, Crandell said. The new report, based data from the U.S. Census compiled by the Center for Neighborhood Technology, showed that the number of housing units within a half mile of the Brown Line's Southport and Paulina stations has decreased by two and four percent, respectively, between 2000 to 2011.
Even with an increased population, consumer spending is best measured by looking at changes in household type rather than population changes, explained Kyle Smith, an economic development planner at CNT. "Most consumers make their retail purchases on expensive furniture and household goods in their twenties and early thirties, and the current retail environment in Lakeview is that it has a pretty thriving bar and restaurant environment." The nightlife scene is supported by a large population of people with disposable income, which is declining as singles and couple are replaced by families.
Yet Lakeview's housing is not accommodating the shift toward families. There are many parcels that are zoned for fewer units or less retail space than currently exists on site because of widespread and systematic downzoning. A developer or landlord who wants to build something different than current zoning allows has to go through an arduous re-zoning process.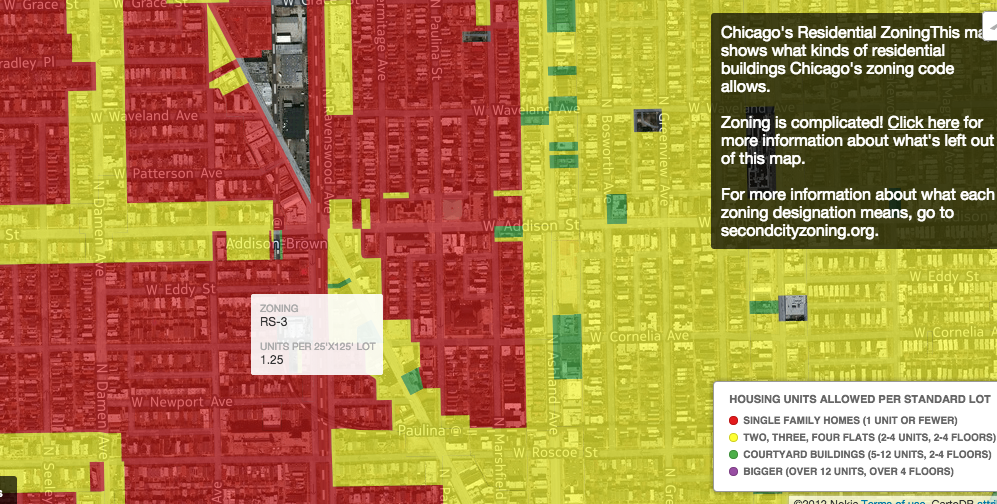 Lakeview is also experiencing many teardowns (replacing existing buildings, often with larger ones) and de-conversions (reducing the number of units in an existing building). "If our zoning doesn't provide opportunity for growth, I think that's problematic," Crandell said.
Renters and owners, and singles, couples, and families also have different transportation needs. The report noted that car ownership in all households within a half mile of Lakeview's CTA stations has dropped by six percent since 2000, and the share of people driving to work has dropped by seven percent. Car ownership by renters dropped a full 16 percent during this time -- 43 percent of all rental households are now car-free.
Santos said the TOD ordinance "is a good change. Looking at the age group of who would be renting and buying there, and how they get around, it makes complete sense."
Even with these commuting figures, Smith said focusing on the journey to work belies the full picture of transportation use in the neighborhood. "Four out of the five trips that a household takes each day are non-work trips," said.
Smith said that the city's transit-oriented development ordinance, enacted in September 2013, is making it easier to develop in commercial and retail corridors. Before the law passed, small parcels of land sometimes went undeveloped because it wasn't feasible to include the required number of car parking spaces, Smith said.
Two developments in Lakeview near CTA stations are taking advantage of the TOD ordinance and building less parking and more units than would previously have been allowed: 3400 N. Lincoln Ave. in the 47th Ward, and 3200 N. Clark St. in the 44th Ward. A third development, at 3401 N. Southport Ave., is still in the community engagement phase.
A diverse business community depends on having a diverse population. Certain businesses cater to certain demographics, so residents who want to see a healthy retail mix should be advocating for all kinds of housing types in the neighborhood. Crandell said that aldermen Pawar (47) and Tunney (44) understand the benefits of the TOD ordinance and that some community groups are coming around to the idea.
Logan Square is also seeing its housing and population change. Near the Blue Line's California stop, one developer is building 120 units and another has proposed 213 units, with both developments containing various numbers of bedrooms. In some ways, Logan Square has the opposite issue of Lakeview. While more families are settling in Lakeview, more single people and couples are moving to Logan.
The population and household size near the California station has decreased even as the number of housing units has increased. A combination of factors has cause this: There are more single people living here; people are having smaller families; and people are living in homes with more bedrooms than people.
The issue of neighborhoods where the household types and the housing mix don't match up should be viewed from a citywide perspective, Crandell said. Chicago lost over 200,000 people between 2000 and 2010. Crandell believes we should be encouraging growth in high-demand neighborhoods instead of stifling it through restrictive zoning practices. "Lakeview could be be making a bigger contribution to growing Chicago's economy more than we are."
Updated April 17 to add a zoning map of the Paulina station area. 
Transportation planner and advocate. Steven also created Chicago Cityscape, a site that tracks neighborhood developments across the city.
Stay in touch
Sign up for our free newsletter