Bike Network
CDOT Complete Streets director David Smith: 2023 was Chicago's busiest bikeway installation year ever
Streetsblog recently caught up with Smith for a recap of what bike infrastructure, much of it protected lanes, was built in our city this year.
6:10 PM CDT on November 1, 2023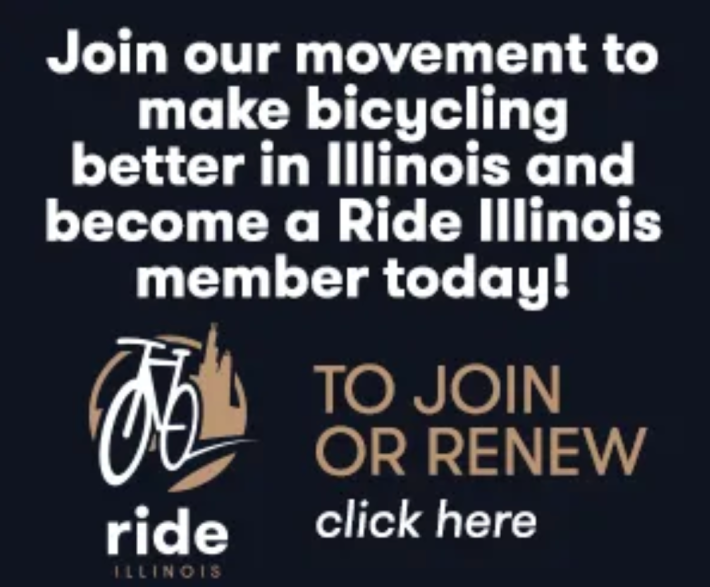 Yesterday's freak Halloween snow storm strongly indicates that the Chicago Department of Transportation's busy 2023 bikeway installation season is winding to a close. Despite my recent comments that Chicago is falling behind pier cities like New York when it comes to building a citywide, connected, protected bike lane network (more on that later this week), this was actually a relatively good year for CDOT bicycle projects. That's thanks in part to ex-mayor Lori Lightfoot's update of the Chicago Works infrastructure plan in 2022, which included $238M for Complete Streets traffic safety projects.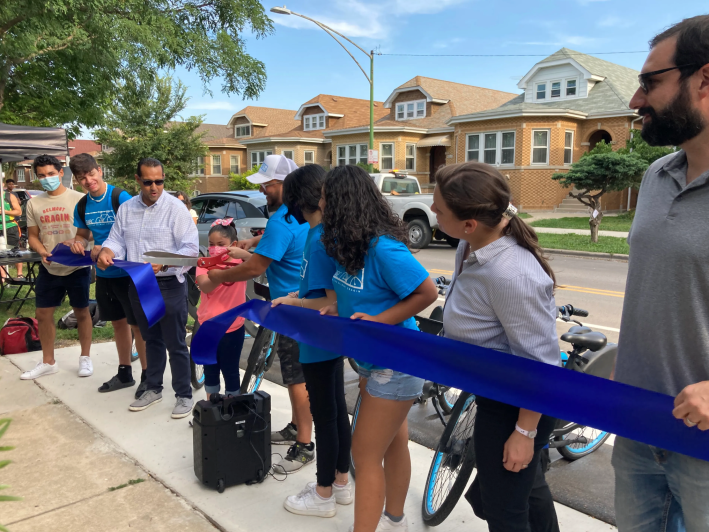 I recently caught up with CDOT Complete Streets director David Smith for a recap of what bike infrastructure was built in our city this year. This post includes excerpts from our interview, edited for length and clarity, with additional Streetsblog commentary in brackets.
A map of all completed bikeway projects (not just 2023) created by CDOT.
John Greenfield: I wanted to find out what all the completed bikeways were in 2023, and what else we can expect for the rest of the year. Let's look at the CDOT Bike Network website for a second. There's an Excel file or something of CDOT Bikeway Installations near the bottom of the page. There's a list of "completed" or "underway" projects in alphabetical order from 115th Street to Wrightwood Street [see screenshots at the bottom of this article], with an additional list of "upcoming" initiatives. So does this pretty much sum up what's going on?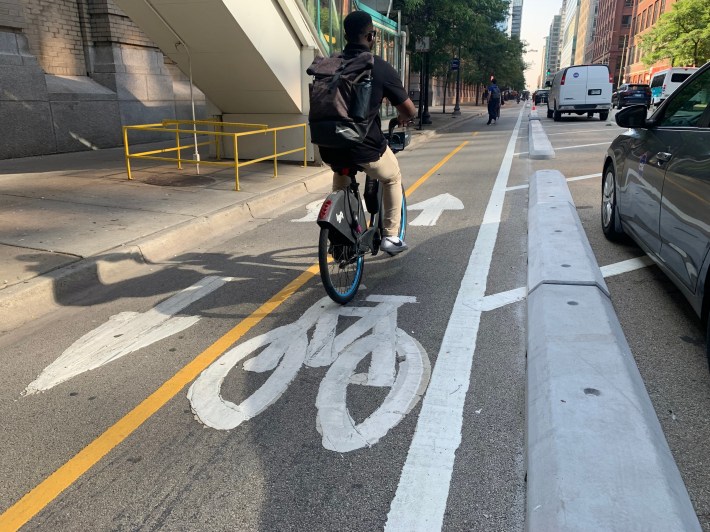 David Smith: Pretty much. It's a pretty good list. We generally try to update the list and the Chicago Bike Network map every month. [The latter was last done on September 29.] Some of these projects that are listed as underway have been completed, and there are probably a few projects that are list on here as upcoming that are under construction as we speak.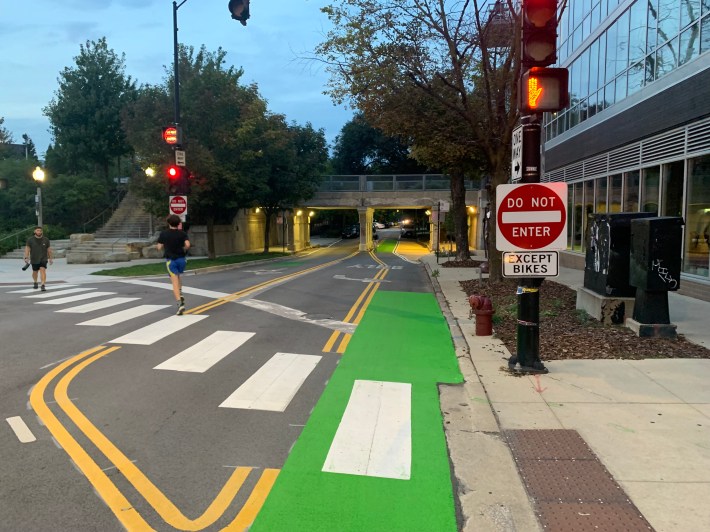 2023 has been really incredible when it comes to cycling in Chicago. If you look at a number of metrics that becomes very apparent. From the infrastructure side, more projects completed than in any other previous year. More miles of protected bike lanes completed this year than ever before. More Neighborhood Greenways [traffic-calmed side street bike routes, often with contraflow "wrong-way" bike lanes] than any year before. And, really, more high-impact, big projects that ever before.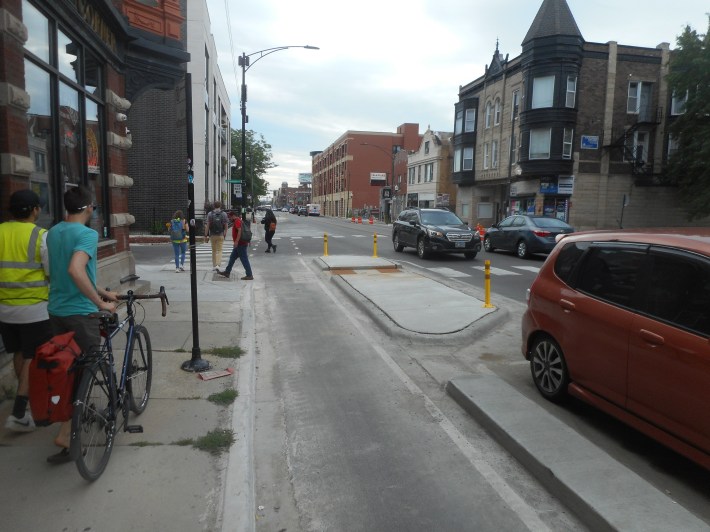 I know you've been paying attention to some of those, like on Belmont, on Dearborn downtown, Augusta Boulevard, and Grand Avenue in the West Town community.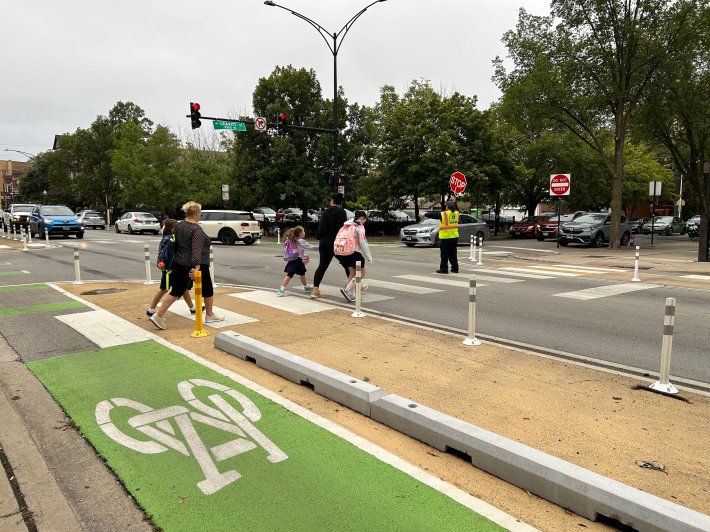 Central Park Avenue – we've got under construction right now in Garfield Park a project that hasn't gotten quite as much attention as the other ones. But we've got really great protected bike lanes connecting to the Garfield Park Conservatory and the Garfield Park dome [field house], and connecting into the Franklin Boulevard Protected Lanes and Lake Street protected lanes.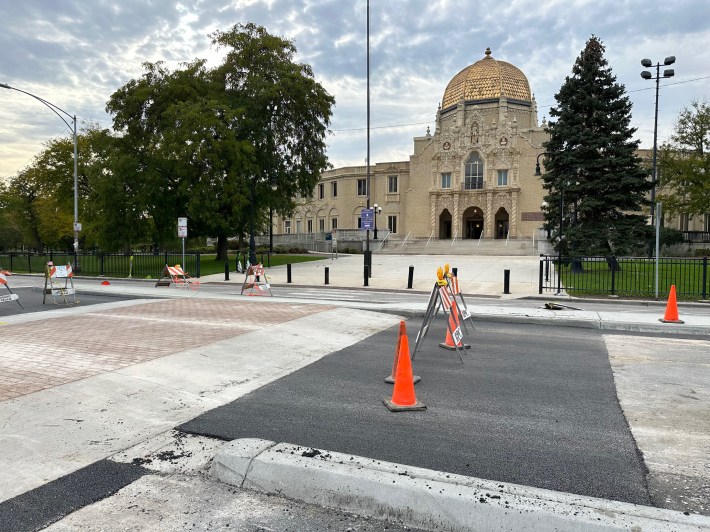 There's going to be a couple of raised pedestrian crosswalks, like at the conservatory [where a hit-and-run driver fatally struck entertainment attorney Linda Mensch, 70, on foot in August 2021] and at the Garfield Park dome. So on the infrastructure side it's really been an incredible year.
But also just looking around at who's riding a bike, the number of people that are biking, it's just grown incredibly. It's been really exciting out on the street.

JG: What's the latest plan for Grand Avenue?
DS: So Grand is currently under construction from Damen to the east, and then the western limit is Chicago Avenue (2900 W.) That's where Grand kind of angles up, right by Smith Park. Curb protected bike lanes, like, 20 raised crosswalks, curb extensions, new traffic cycles, wider sidewalks, 200-plus street streets, new street lighting. It's a new roadway reconstruction project, and it's really going to turn Grand into a street that really reflects the direction the city is going in. Truly a Complete Streets project.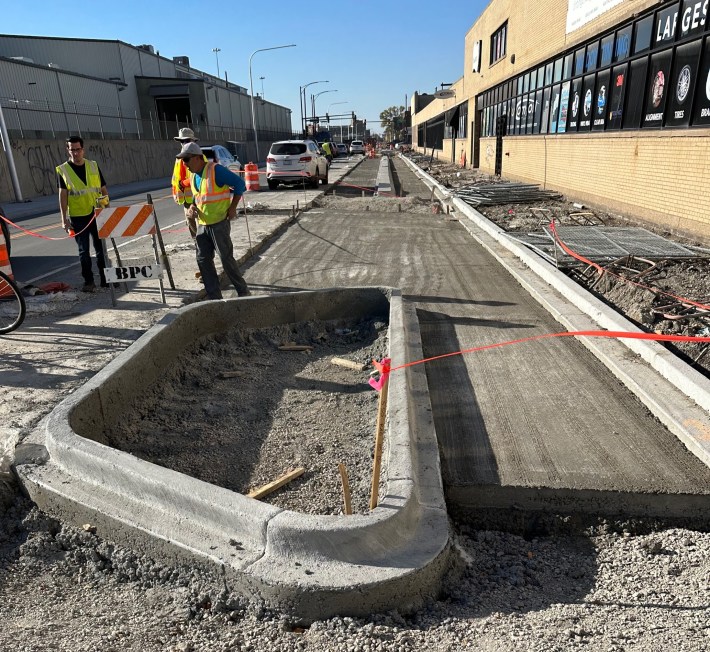 Previous condition [on Grand]: Very hard to cross the street as a pedestrian, very high motor vehicle speeds, no bike lanes. So really a complete transformation of the corridor.
JG: And that project involves converting parking on one side of street to protected lanes, in the lighter parking-use areas, right?
DS: Yeah, west of Ashland parking is being consolidated.
JG: So we've talked about some North Side and West Side projects. Are there any South Side projects that you're particularly excited about? Looks like you've been doing a lot of Neighborhood Greenways side street routes.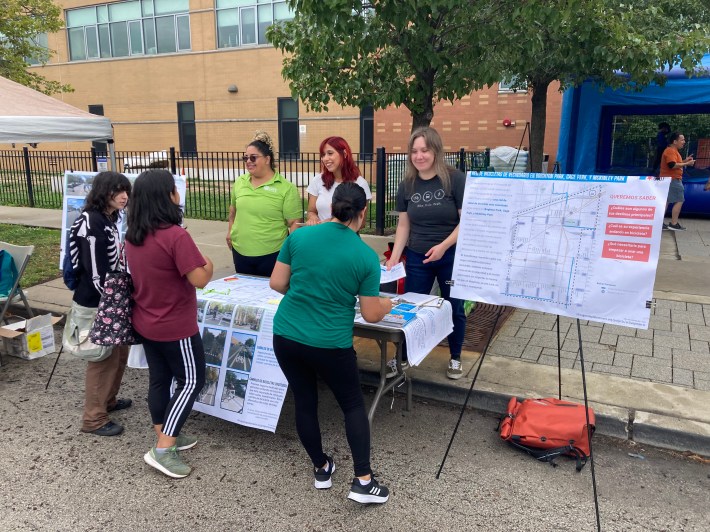 DS: Yeah, there's a lot of really exciting bikeway initiatives. Our Neighborhood Bike Network project [focusing on underserved neighborhoods, with increased opportunity for community input on planning], which started two years ago on the Belmont Cragin community on the Northwest Side. Over the last two years we've implemented about 50 miles of projects, just on the West Side, through the Neighborhood Bike Networks, and those are neighborhoods that historically did not have much in terms of cycling infrastructure.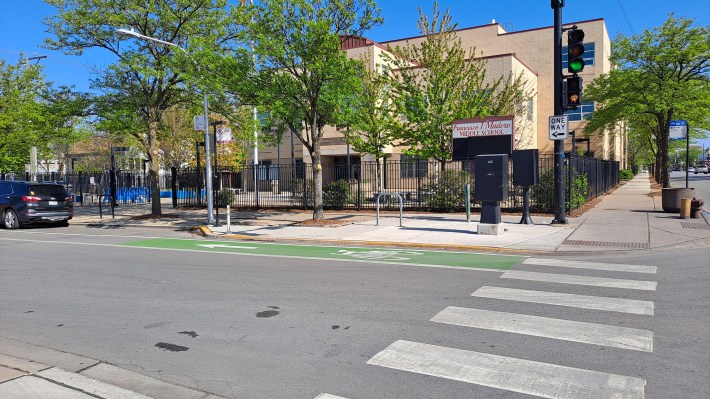 And so we've continued that effort from Belmont Cragin all the way to Little Village, where were been implementing some greenways this year. And then this whole summer we've been engaging with the community and stakeholders in the Brighton and Gage Park neighborhoods, just south of the Chicago Sanitary and Ship Canal.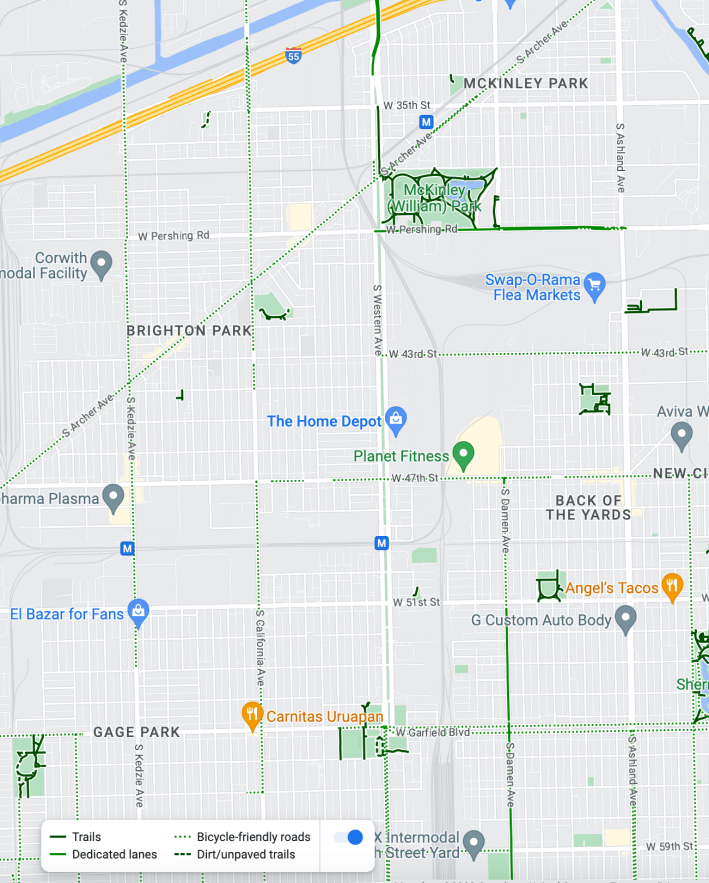 And so we're really taking the approach of expanding the network in way where the connectivity is very apparent to people. And so you'll start to see some of those routes be implemented in the Brighton Park, McKinley Park, Gage Park areas.
At same time we've got a nice effort in partnership with Cook County in the Lake Calumet region on the Southeast Side of the city. Similar idea of working within the community to identify a network of streets that connect people to meaningful destinations like the Burnham Greenway, Big Marsh Park, things like that. So that's underway.
We've got a number of existing protected bike lanes that are getting concrete curbs, Like on Vincennes, 119th between Halsted and Ashland is getting curbs, Woodlawn at Doty connecting to the Pullman Community Center is getting curb upgrades.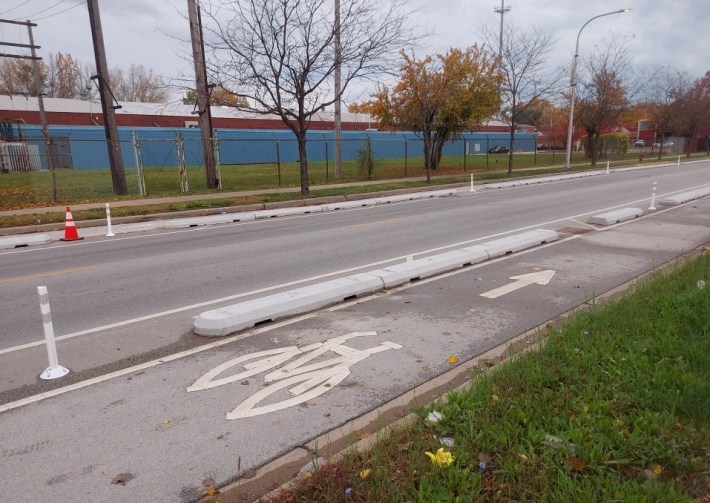 And so all of that work is really going to continue. We're really building great partnerships in neighborhoods throughout the city so that we can continue to expand the network in a connected way, and in a way that builds longterm success.
Below is CDOT's list "installed" or "underway" 2023 bikeway installations as of September 29, in alphabetical order. View an interactive list, plus "upcoming projects," at the bottom of the CDOT Bike Network webpage.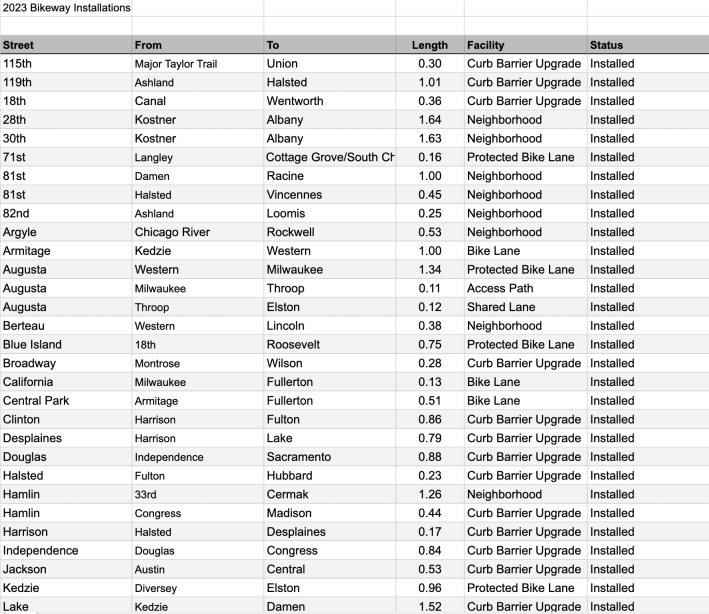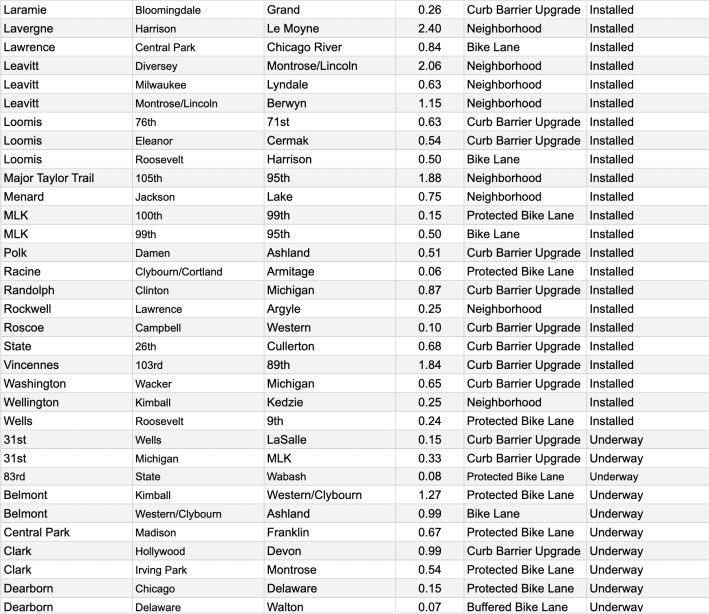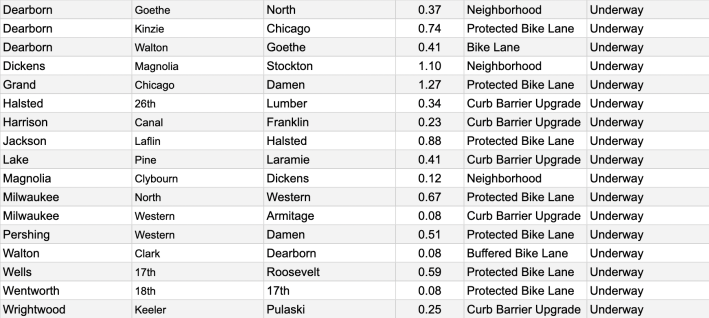 Did you appreciate this post? Please consider making a tax-deductible donation.
In addition to editing Streetsblog Chicago, John writes about transportation and other topics for additional local publications. A Chicagoan since 1989, he enjoys exploring the city on foot, bike, bus, and 'L' train.
Stay in touch
Sign up for our free newsletter