Bus Transit
At CTA meeting, Commuters Take Action calls out "misleading" reliability claims
12:02 AM CST on March 10, 2023
Update 3/10/23, 10:40: Here's Commuters Take Action's full statement on the CTA's March Meeting the Moment Scorecard. 
Commuters Take Action (CTAction) is once again disappointed in CTA's lack of contextualization in their "Meeting the Moment" updates. In these monthly press releases, CTA praises itself for the continued improvements it's been making. While the need for more accurate schedules has been a core ask of CTAction since its inception, the CTA also needs up to be upfront about how it's achieving better service reliability percentages - by cutting scheduled service.

CTA highlights that in February, rail service went up from 80.6 percent to 82.6 percent. However, they fail to mention that as of February 1st, they quietly cut down the blue line schedule, which is now down 39 percent compared to pre-pandemic. We welcome more realistic schedules, but changes need to be communicated to riders.

The service on all other lines (except for the pink) actually went down by a few percent in February, as can be seen CTA's own interactive scorecard. In total number of train trips run each day, there's been no upward trend between June 2022 and today; the 'L' continues to hover around 1100 trips on average (this can be seen at cta.brandonmcfadden.com). Nowhere in their press releases does CTA tell riders how much they've cut each bus or rail route, instead they insist on using the ambiguous term "optimizations."

If CTA was committed to honest dialogue with riders, they wouldn't hide the fact that buses have been cut by 10 percent and 'L' by 17 percent. Instead, CTAction had to do their own analysis, which can be seen at ctaction.org/service-cuts. CTAction submitted a public comment at this month's Chicago Transit Board meeting, but unfortunately president Carter was quick to dismiss our observations and pressed on with his narrative where CTA is doing a stellar job of improving service. At this point, we'd consider it a miracle to hear the words "we cut service" from anyone at the CTA leadership.
The war of words between Commuters Take Action CTA rider advocacy group and CTA President Dorval Carter Jr. continued at the yesterday's Chicago Transit Board meeting.
During the February 8 online transit board meeting, Carter announced that CTA quietly cut the Blue Line's official schedule last month for the second time in the past year to bring it more in line with how many trains the transit agency can actually run. Like other transit agencies throughout the country, CTA has been grappling with pandemic-related labor shortages. While the online trip planning tools have been updated to reflect the February Blue Line cuts, printed schedules at the stations and timetables on the CTA website still reflected the previous schedules. Carter also said CTA started to deploy trains to relieve rush hour overcrowding on the Dearborn subway (the portion between the Damen station in Wicker Park and the UIC-Halsted stop) and O'Hare branch (the mostly aboveground section between Damen and O'Hare.)
But during this week's meeting, Commuters Take Action organizer Fabio Göttlicher drew upon CTA data to show that CTA still failed to completely fulfill even the twice-reduced schedule. Carter didn't deny that, but argued that he's been transparent about the issues CTA has faced and shared ridership data openly. He also insisted that CTA is doing its best to hire more train and bus drivers. But he added that, until the agency is able to get its workforce back up to full strength, it will continue "optimizing," i.e. cutting, train schedules to better reflect available labor.
Since the February meeting, neither the station schedules nor the online timetables have been updated. In his public comments Wednesday, Göttlicher argued that Carter was misleading the public by bragging about delivering a higher percentage of scheduled runs without acknowledging the schedule cuts. "How can the CTA update schedules and not let the riders know?" he asked. "This is pure negligence."

But even if CTA did update the published Blue Line schedules, Göttlicher argued, it wouldn't change the fact that the agency is still falling far short of providing reliable published schedules. "Throughout February, there were many days with only 70-80 percent of this new schedule fulfilled. The overall trends of daily [train runs] across the system have shown no improvement between June 2022 and today. We continue to see only about 1,100 daily [runs.]"
Göttlicher also noted that, while the CTA's monthly Meeting the Moment Scorecard reports provide updates on how many bus drivers have been hired (149 so far this year, out of a goal of 700), the scorecard doesn't mention how many rail operators have been hired. "There's not even a glimpse of improvement" in train service, he argued. Blue line riders, especially on the the Near Northwest Side, have become increasingly frustrated by crowded platforms and packed trains during the AM commute due to the dearth of train runs delivered.
@ctaaction the next train isn't for 7 mins! incredible stuff!! pic.twitter.com/szEPhcwpug

— Mike Morrell (@MTmorrell) March 8, 2023
Göttlicher ended his comments that any claims Carter might make about providing more reliable service are misleading."Members of the board, let me offer you a helping hand on behalf of Commuters Take Action. "President Carter's team has been playing you and the public for a fool. The updates he gives are incomplete and fail to capture the real rider experience."
In his report to the board, which was delivered right after public comments, Carter repeatedly used the word "transparency," saying that all he did was "give [the board] the interpretation of what you should take away from that data." He also noted several times that Commuters Take Action used publicly available data to determine the percentage of scheduled runs CTA is fulfilling.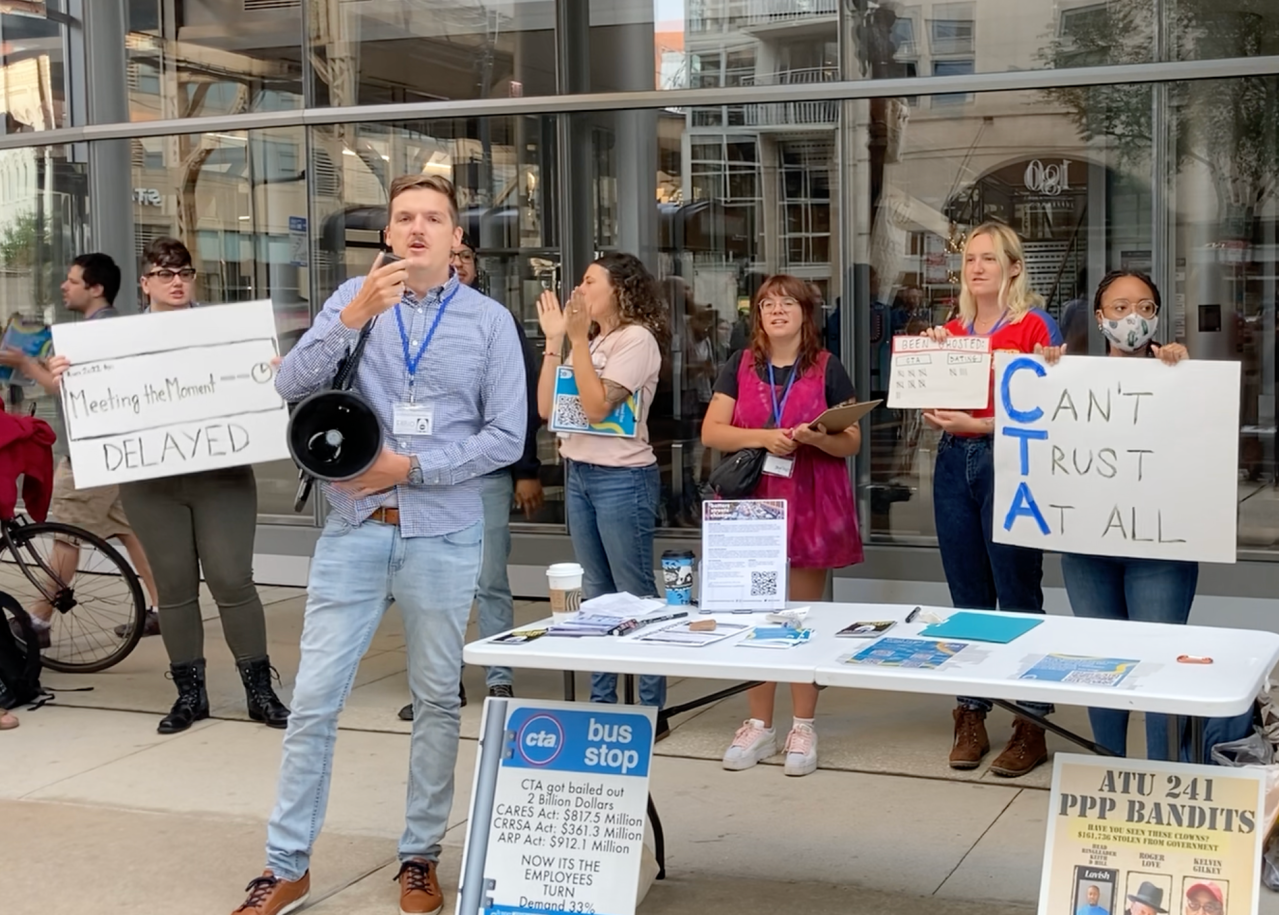 "You just heard from our commenter who suggested that I'm, in some way, sugarcoating the information that I'm giving to you, and I want you to know that I've been very clear with every one of my reports that the optimization of our service has been the basis of the percentages for service delivered," Carter said. "I've also been very clear since I introduced the Meeting the Moment plan that service optimization was a reaction to the fact that we did not have sufficient workforce to meet normal service levels. And, in fact, the organization that's complaining to me about transparency was the same organization that complained about the lack of accuracy when I had public schedules that were not being met because I didn't have the workforce to meet it."
Carter didn't comment on the lack of updated printed schedules and online timetables for the Blue Line. But he did talk about hiring more employees, including train operators. He said on February 28, 50 new employees completed the CTA training program – a group that included bus drivers, train operators, and mechanics. But he didn't specify how many of which there were. Carter also mentioned CTA is hosting a job fair for bus driver and mechanic positions on Friday, March 10, from  9 a.m. to 3 p.m. "right here at the CTA headquarters."
Carter added that another batch of train drivers will complete training in April, and that "we will have continuous and concurrent training programs for rail operators running through the year." He described the process as a marathon, not a spring, saying that it will be months before riders will see any improvements. In the meantime, Carter said, all CTA can do is try to make sure the schedules are accurate. 
"The Spring 2023 schedule will include service optimization changes across a number of rail lines and day types and will result in scheduled train runs that better align once again with our current workforce levels," he said. "The most significant optimization will happen on our busiest lines, the Red and Blue lines."
While Göttlicher dismissed the recently launched Near Northwest Blue Line platform AM rush livestreams as "silly," Carter argued that they serve an important purpose. "The livestream feeds provide customers with real-time information on platform crowding conditions, and how CTA service is supporting the morning commute, which helps them to make the better decisions regarding the best time for them to ride according to their individual needs," he said. "They're part of CTA's larger efforts to provide customers with tools to better plan and manage their commutes."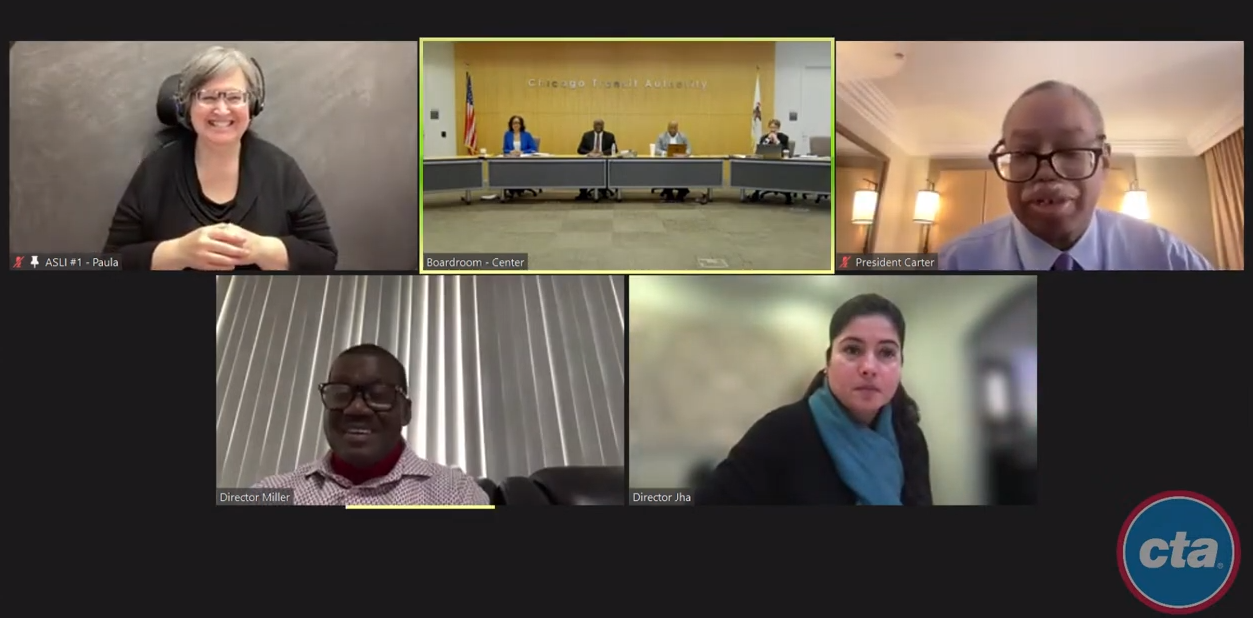 The transit board directors who spoke at the meeting expressed their full confidence in Carter, and said they will do their part to get the word out about job opportunities at the CTA in Chicago's Black communities. Board chair Lester Barkley said he was "encouraged by the progress that the [CTA] is making. As we're all aware, we still have a lot of work [to do] in addressing our challenges, but I would like to see us get our message out on where and how we're improving and delivering on the plan."
Director Bernard Jakes said that, under Carter's leadership, CTA has done a "marvelous job" of adjusting to the new normal. He pushed back on the idea that the board wasn't looking at the president's reports critically. "I think it's also important that the public knows that, as directors, we're not here to pat you on the back and just give you an attaboy. We're also here to challenge you."
In a statement posted following the meeting, Commuters Take Action dismissed Carter's comments as more spin. "Unfortunately, President Carter was quick to dismiss our observations and pressed on with his narrative where CTA is doing a stellar job of improving service. At this point, we'd consider it a miracle to hear the words 'we cut service' from anyone at the CTA leadership."
Stay in touch
Sign up for our free newsletter