Bus Transit
After Lightfoot ousts homeless, CTA resumes ORD 'L' service suspended for "cleaning"
4:55 PM CST on February 27, 2023
On February 17, Mayor Lori Lightfoot declared that the recent increase in unhoused people sleeping in the corridors and terminals of O'Hare had become unacceptable and she would be taking measures to address it. Ten days later, today the CTA confirmed that it has finally ended its pandemic-era practice of suspending late-night 'L' service from the airport, which the agency had claimed was "to allow for additional cleaning of trains."
The timing strongly suggests that officials determined that the service suspension, which was in reality almost certainly done to discourage nonstop riding of the Blue Line by people taking shelter in trains, had backfired. The policy likely caused more people experiencing homelessness to spend the night at O'Hare.
The CTA first announced the service suspension in August 2020, stating that while trains to O'Hare would continue to run all night, these runs would be "exit-only" at the airport between midnight and 4 a.m. People heading into the city from O'Hare would need to instead catch a shuttle bus to the nearby Rosemont station, where they could transfer to the Blue Line. While the agency said this was to facilitate deep-cleaning of the carriages, disruptions of this kind didn't happen on any other 'L' lines. While it was previously common for unhoused people to simply stay on the train at O'Hare, the new protocol forced all riders to leave the O'Hare station and pay another fare to board the shuttle buses.
I believe the first time I heard about this policy was when it made headlines after the Jefferson Park Chamber of Commerce posted on Facebook that a CTA representative said trains to O'Hare stopped running after 11 p.m. "due to concerns about homeless individuals." The post also stated that a boarding pass or airport worker ID was needed to board the shuttle buses. A CTA spokesperson told Streetsblog the claims about outbound trains and the shuttle boarding requirements were false.
It appears that during the two-and-a-half years the O'Hare service suspension was in place, the number of homeless people spending night at the airport greatly increased. According to a Block Club Chicago report earlier this month, Haymarket Center's O'Hare outreach program, which connects unhoused people at the airport with services, helped out 25 percent more people in 2022 compared to 2021. The number of interactions has continued to surge this year.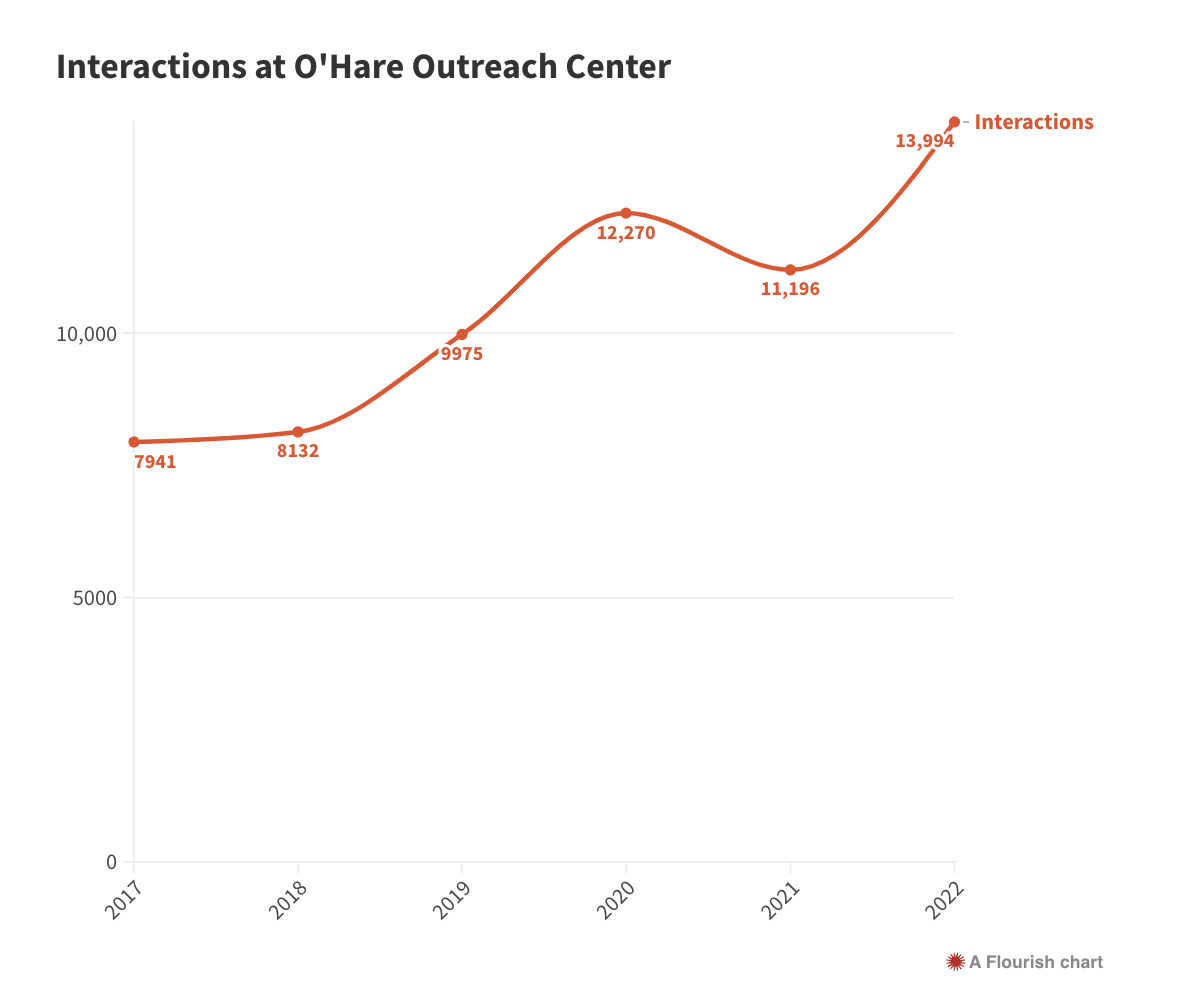 It's understandable that unhoused individuals wanted to spend the night at O'Hare. It's a relatively safe indoor space with bathrooms. And the CTA suspending late-night 'L' service from the airport essentially eliminated the option of sleeping all night on the Blue Line without having to pay a fare to take the shuttle.
But obviously lots of people sleeping on heating vents, and sometimes sprawled out in the middle of the corridors between the airport and the 'L' station, which I've personally witnessed in recent months, was not a great thing for people flying into Chicago to see as soon as they got to town. It probably discouraged some visitors and locals from taking transit.
Moreover, O'Hare custodial workers complained to CBS Chicago they were forced to clean up restrooms that people camping out at the airport had trashed, and unhoused individuals had followed and harassed them as they did their jobs. "None of us feel safe," said worker Vonishka Chatman.
The situation came to a head in mid-February, when right-wing outlets like the Daily Mail and the New York Post ran multiple photos from social media of unhoused people sleeping at the airport, sometimes in squalid conditions, including a full encampment behind an escalator near the baggage claim. It was an international embarrassment for our city.
Predictably, Lightfoot responded by announcing that camping at the airport would no longer be tolerated. "We have taken and will continue to take the steps that are necessary to move people out of the airports," she said to reporters on February 17. "The airports are a very different place than on the street under an underpass... We absolutely, fundamentally cannot have people sleeping in our airports who are homeless. That is unacceptable." She promised that people kicked out of O'Hare would be offered housing and other services.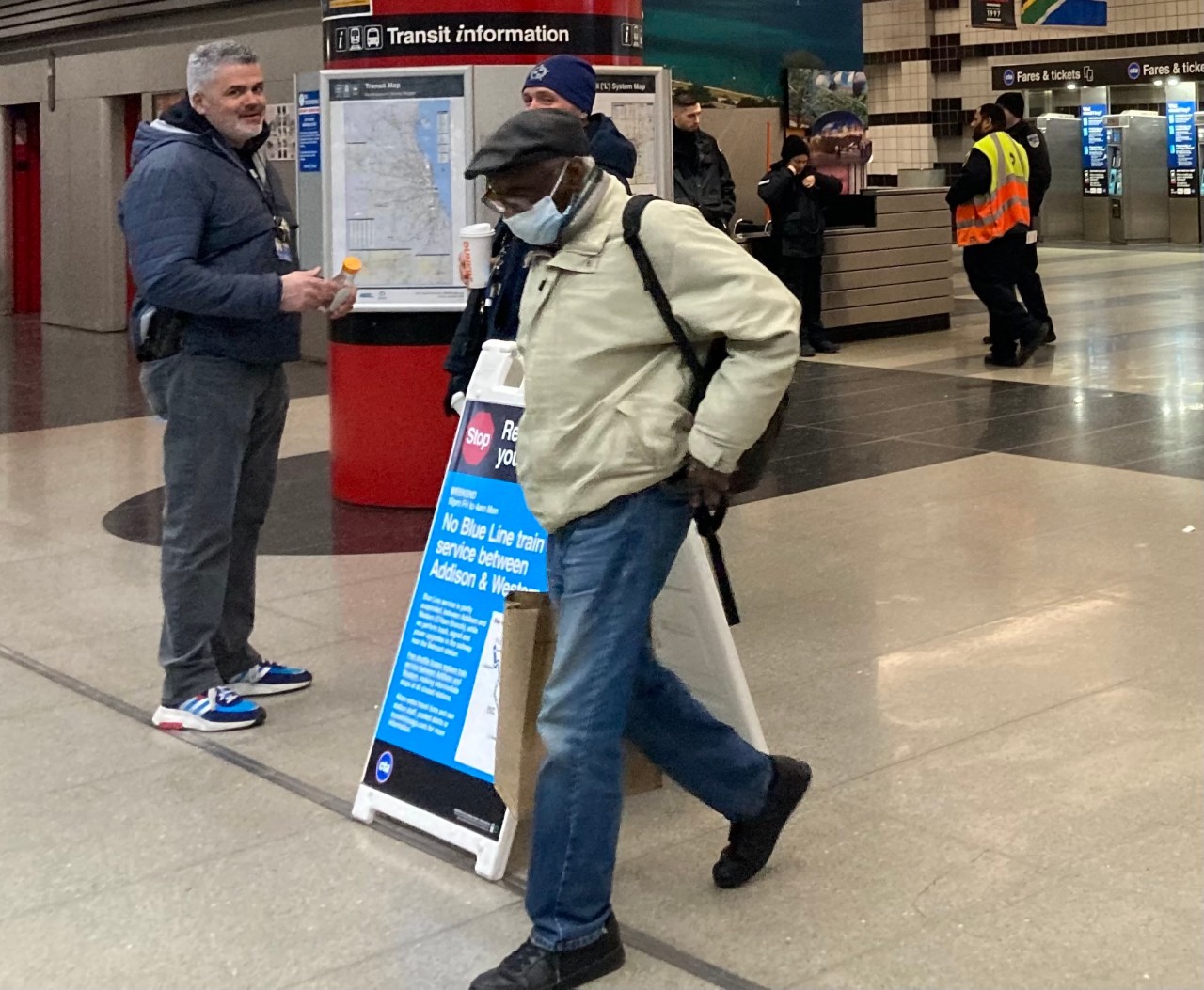 When I flew into O'Hare and took the Blue Line home around 11 p.m. Saturday, there were zero obviously unhoused people to be seen, and the corridors were relatively spotless. But there were police officers and security guards hanging around the station. And in a prerecorded message broadcasted in the terminals, Lightfoot talked about what a great city Chicago is, with "over 7,000 restaurants," and what a wonderful airport O'Hare is. After all, tomorrow is Election Day.
Today Streetsblog cofounder Steven Vance noticed that inbound O'Hare service had been restored.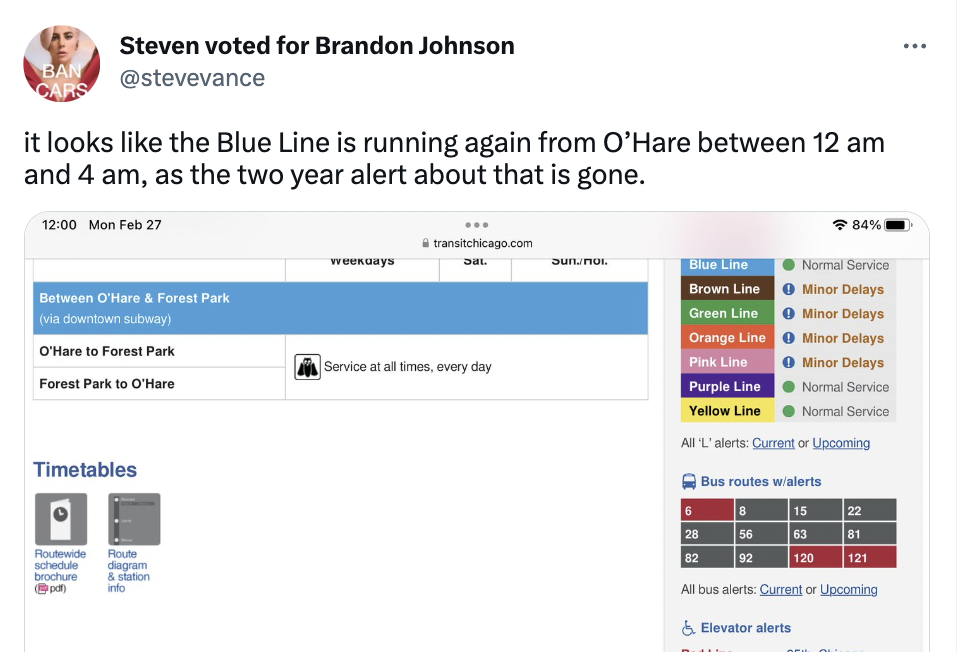 A CTA spokesperson confirmed the Blue Line is back to normal. "After more than two years, the CTA has been able to roll back many pandemic measures, and is now able to provide overnight rail service from O'Hare," they stated. "The brief suspension in rail service during the lowest ridership hours was critically necessary during the height of the pandemic to allow for more frequent cleanings on one of the CTA's busiest lines, while maintaining service 24 hours a day."
So the need for more frequent railcar cleanings just happened to end ten days after the mayor said unhoused people couldn't spend the midnight to 4 a.m. service blackout period at the airport anymore? Interesting timing.
Of course, if homeless people can't sleep at the airport anymore, they need somewhere else to go, and Chicago doesn't have enough shelter beds to accommodate them all. Expect to see more people sleeping on the Blue Line in the future.
Obviously the longterm, humane solution to Chicago's homeless crisis is providing more housing, as well as supportive services like mental health treatment, substance abuse counseling, and employment assistance. Homeless advocates and dozens of alderpersons are supporting the proposed Bring Chicago Home ordinance, which would create a new tax on $1 million-plus real estate transactions to fund housing and services for the unhoused. Lightfoot and her allies are currently blocking that measure.
Did you appreciate this article? Please consider making a tax-deductible donation to help fund Streetsblog Chicago's next year of publication. Thanks!
In addition to editing Streetsblog Chicago, John writes about transportation and other topics for additional local publications. A Chicagoan since 1989, he enjoys exploring the city on foot, bike, bus, and 'L' train.
Stay in touch
Sign up for our free newsletter