Bicycling
46th Ward alder hopefuls call for CTA conductors, less car-centric DLSD, and a Bike Grid
1:32 AM CST on February 1, 2023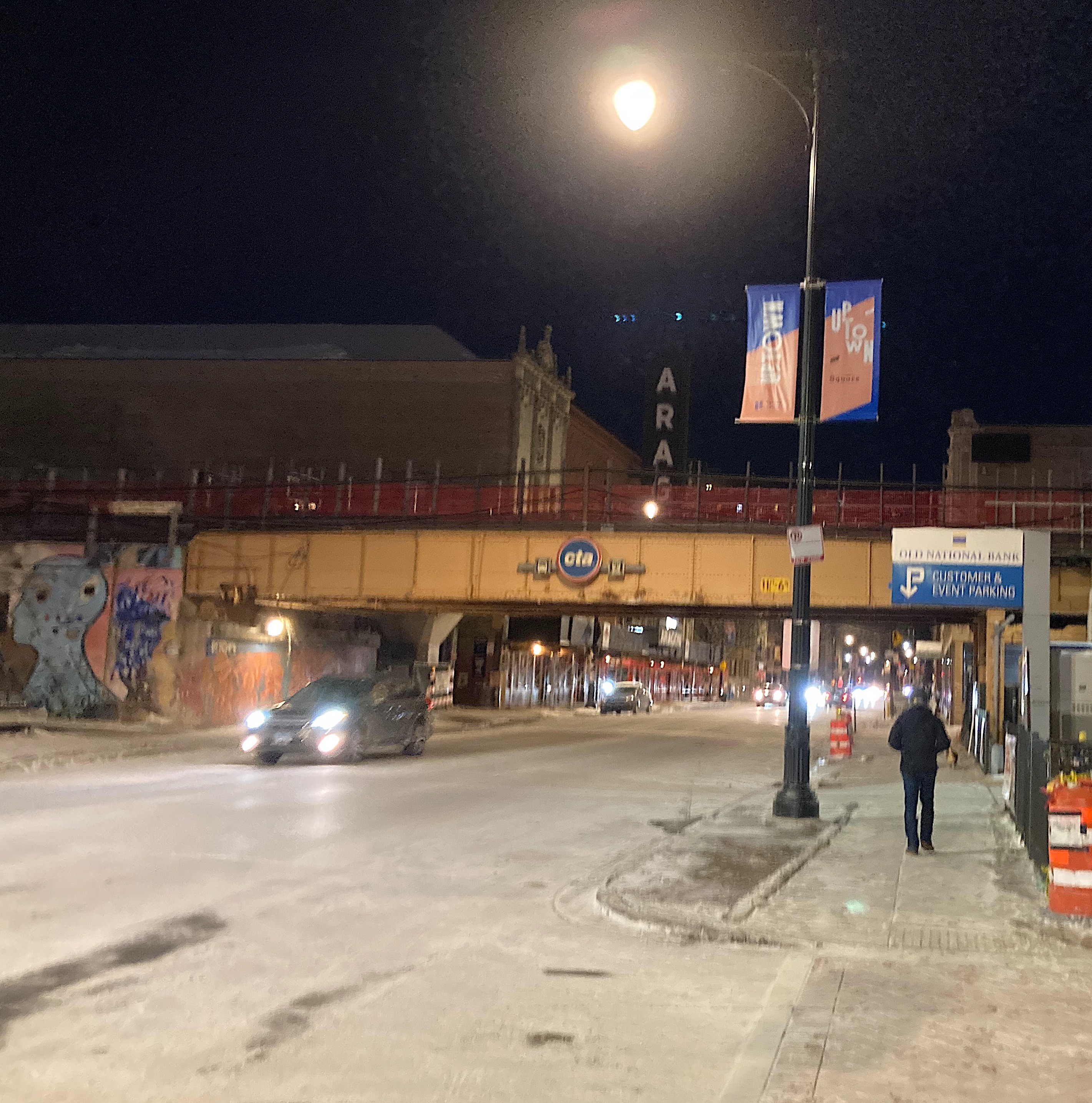 I live in Uptown, in the 46th Ward, and this evening I attended a local aldermanic candidates forum as a citizen, simply to make a more informed decision about who to vote for as my City Council representative. But there were a lot of interesting comments about transportation issues, so much so that I decided I might as well write up some of the discussion, since it touched on citywide matters that will be of interest to Streetsblog readers.
One takeaway was that grassroots sustainable transportation advocacy groups like Better Streets Chicago and Chicago Bike Grid Now!, which have been tirelessly lobbying candidates to support their campaigns for a municipal sidewalk snow clearance program, and a citywide network of bike-priority side streets, have been having an impact. The alder hopefuls voiced supports for several ideas that have recently been promoted to them by livable streets advocates.
The panel was hosted by Uptown United (which oversees the local Special Service Area program) and the Uptown Chamber of Commerce at Preston Bradley Center, 941 W. Lawrence Ave. Matthew Ruffi, board president of the upcoming Chicago Market food co-op served as moderator.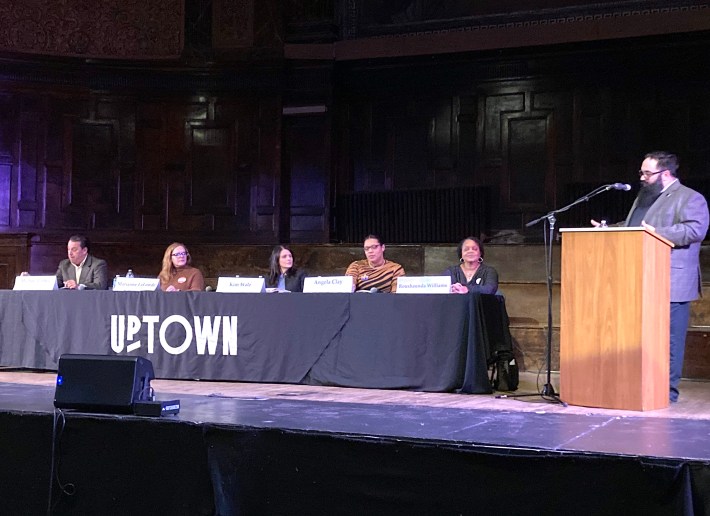 Participating candidates included activist Angela Clay; real estate agent Michael Cortez; scientific research consultant Marianne Lalonde (who four years ago lost the 46th Ward runoff election to incumbent James Cappleman, who's now retiring, by 25 votes); executive and former legislative aid Kim Walz; and union bartender and former social worker Roushaunda Williams. The sixth candidate, administrative law judge for the Social Security Administration Patrick Nagle (not to be confused with the guy who did the cover art for Duran Duran's "Rio" album), was away at a conference.
The hopefuls covered many subjects during the discussion, from public safety, to maintaining housing affordability, to supporting small businesses. But here's what they had to say when Ruffi asked them, "What policies and practices do you support to improve mobility and safety for pedestrians, cyclists, buses, and [L] riders?"
Kim Walz
Walz began by referencing the tragic crash deaths of toddlers Raphael "Rafi" Cardenas, 2, and Elizabeth "Lily" Grace Shambrook last June on a scooter in Lincoln Square and a bike in Uptown, respectively. "We have to have more protected bike lanes around the city and throughout the ward, so that individuals can feel safe biking to work, biking for recreation... I've done four triathlons and I don't feel safe biking on city streets. It just take one person driving a car recklessly to hit some one and end their life."
She added that residents are tired of being ghosted by scheduled CTA buses that don't arrive because staffing shortages means there's no one to drive them, and feeling unsafe on trains. "Ridership has declined, which is bringing revenue down. It's creating a perfect storm of unsafe conditions where we can't afford improvements. There's a complete lack of accountability to the City Council by the CTA." Walz called for improving safety on trains through unarmed conductors and stationing police in high-crime areas, and more attention to "unsanitary conditions on trains."
Walz noted that the CTA's solution to the ghost bus problem was to recently adjust the schedules of 52 routes to better align with available labor, but drivers have complained this has radically changed their working hours and locations, in some cases making them drive routes they feel are unsafe. The candidate called this approach "completely unacceptable."
She then discussed the North DuSable Lake Shore Drive redesign project, calling it "so car-centric... The more we talking about making driving on [DLSD] easier and faster, it's just going to bring more cars and more traffic to the area. And then what are we going to do 31 years from now, say, 'Oh, we need to widen it because now we have more cars'? It's all about induced demand." She argued that the final design of the drive needs to instead prioritize transit over driving.
Marianne Lalonde
Lalonde noted that many of the CTA's current problems are related to workforce issues. "We're not seeing the reliability or the safety on the CTA that we're used to from 'the before times.'" She suggested getting staffing levels up to full strength by partnering with the city colleges and the University of Illinois at Chicago on job placement programs. Like Walz, she supported bringing back conductors, "not only to enforce safety, but also to create an atmosphere of respect on CTA." She also recommended free fares for Chicago Public Schools students all year, which would increase ridership.
Lalonde said she's a fan of Chicago Bike Grid Now's proposal for making 10 percent of Chicago streets traffic-calmed bike-priority routes. She added that she'd like to see protected lanes on the full length of Broadway, Lawrence Avenue, Addison Street, and Buena Avenue in the ward.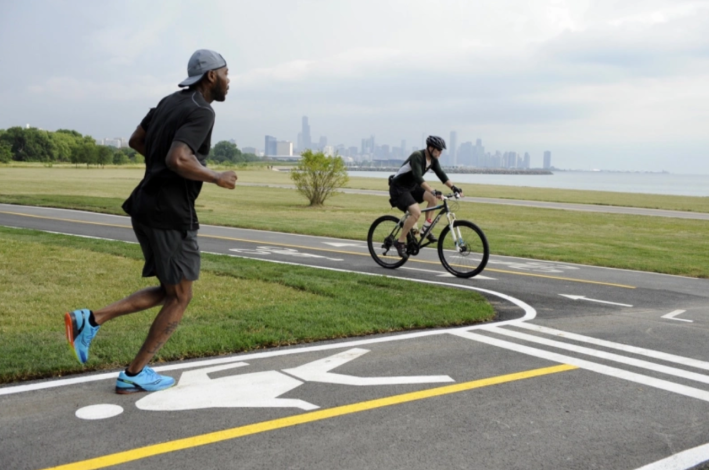 The candidate argued that the pavement markings on the Lakefront Trail that were added as part of the recent project to create separate bike and pedestrian paths is "really inadequate... On the Lakefront Trail you'll see areas where you as a pedestrian are being asked to look for cyclists [by text on the pavement reading "Look Bikes."] This is the wrong order. Pedestrians should be prioritized over cyclists."
Michael Cortez
Cortez highlighted crime on CTA as a major problem. "I felt so safe when they used to have the K-9 units and armed police onboard... there's barely any of that anymore." Last year the city announced increased policing of the 'L' system, as well as a $31 million contract to deploy up to 50 K-9 units, with unarmed guards and dogs, on transit.
He noted that passengers are also often late. "The need to fix the schedule."
"I ride a bike myself," Cortez added. "I'm for the bike lanes but there are an awful lot of bike lanes. I think they should be on main thoroughfares, the streets that [bike lanes can fit on.] And then have maps that actually show the bicyclists where the routes [are], so they can get from A to B, instead of every street having bike lanes."
Roushaunda Williams
Williams said she was sympathetic to the CTA's staffing challenges, but said the agency needs to be held accountable for providing reliable service and solving the ghost run problem. "If my son can order pizza from a restaurant and track it from the restaurant to his mouth, we should be able to do a better job at [tracking] our buses," she said, eliciting laughter and light applause from the crowd.
She called for a "good, incentivized campaign for biking... but we have to make sure it's safe, because we don't want to have another child, or anyone, to get hurt because of bike lanes not being safe, and drivers not paying attention."
Williams suggested holding promotions to encourage cycling, like merchants offering a discount: "If you bike here, I'll give you 10 percent off your ice cream."
"Think about the health benefits" of more cycling in the ward, she added. "We could [pedestrianize] Broadway and have Bike the Broadway."
Angela Clay
Clay said the question that comes to everyone's mind regarding the CTA is, "Why is it now our mental health hospital and our shelter?... We first need to look at why people are living on trains." She said the problem is a lack of affordable housing and shelter beds. "We need to invest in our mental health y'all. We just went through a very tough time together."
Like Lalonde, Clay endorsed the Bike Grid proposal. "I'm a biker," she said, adding that her campaign led a ward bike tour, but the journey highlighted how 46th Ward Streets are often intimidating places to ride.
She also called for overhauling the Sheridan Red Line stop, a dilapidated station that lacks elevators. "It is a deathtrap for a lot of our neighbors. [The stairs are] steep, it's extremely slippery in the winter time, and it's not accessible for a lot of our neighbors." She said residents who can't climb stairs have told her they have to ride the train north to Wilson, and then transfer to a bus to backtrack south to Sheridan. "This is an issue that has been big in our ward for a long time, and I really would attack it."
In addition to editing Streetsblog Chicago, John writes about transportation and other topics for additional local publications. A Chicagoan since 1989, he enjoys exploring the city on foot, bike, bus, and 'L' train.
Stay in touch
Sign up for our free newsletter