Chicago Policy
Mayoral hopefuls call for accessible stations, municipal sidewalk plowing during disability issues forum
12:31 AM CST on January 10, 2023
Seven out of the nine declared Chicago mayoral candidates, including incumbent mayor Lori Lightfoot, shared their plans for making the city more accessible to people with disabilities at a candidate forum on Saturday hosted by Access Living, a disability rights group. The challengers who participated were Illinois state representative Kam Buckner (D-26); U.S. Rep. Jesus "Chuy" Garcia (D-Chicago); activist Ja'Mal Green; Cook County commissioner Brandon Johnson (D-1st); Ald. Sophia King (4th); and former Chicago Public Schools CEO Paul Vallas. Absent were Ald. Roderick Sawyer (6th) and entrepreneur Willie Wilson.
During the forum, which was streamed live and also had plenty of people attending in person, candidates were asked questions about several different disability-related issues, including transit accessibility, and certain themes emerged. Lightfoot emphasized her record, arguing that under her leadership the city made progress in making 'L' stations wheelchair accessible. Several candidates called for greater collaboration between CTA, Metra and Pace –  something Lightfoot resisted when Cook County launched the Fair Transit South Cook reduced Metra fare pilot in early 2021 – if not outright consolidation of the systems. The candidates generally agreed that making transit stations Americans with Disabilities Act-compliant is an important priority.
To address the spike in CTA crime that occurred during COVID-19, King and Vallas called for more policing of transit. However, Johnson argued that relying on more enforcement to reduce violence is going back to a failed model, and said he supports investment in social services instead.
King, whose ward includes parts of the Loop, Hyde Park and several Near South Lakefront neighborhoods in between, said that she has "seen first-hand how inequities in transportation distribution have not only impacted people with disabilities, but our elders." She pointed to the recent restoration of the #31 31st Street bus route in Bridgeport and Bronzeville as a victory for transit equity. But she also noted one of its major flaws, that it doesn't run on weekends. (It also lacks weekday morning rush hour service, and has 30 minute headways.) King said that seniors in her ward rely on buses to get to church.
King spoke in favor of consolidating the Regional Transportation Authority, CTA, Metra and Pace "under one umbrella." However, having a single transit agency instead of four would require changing the state law.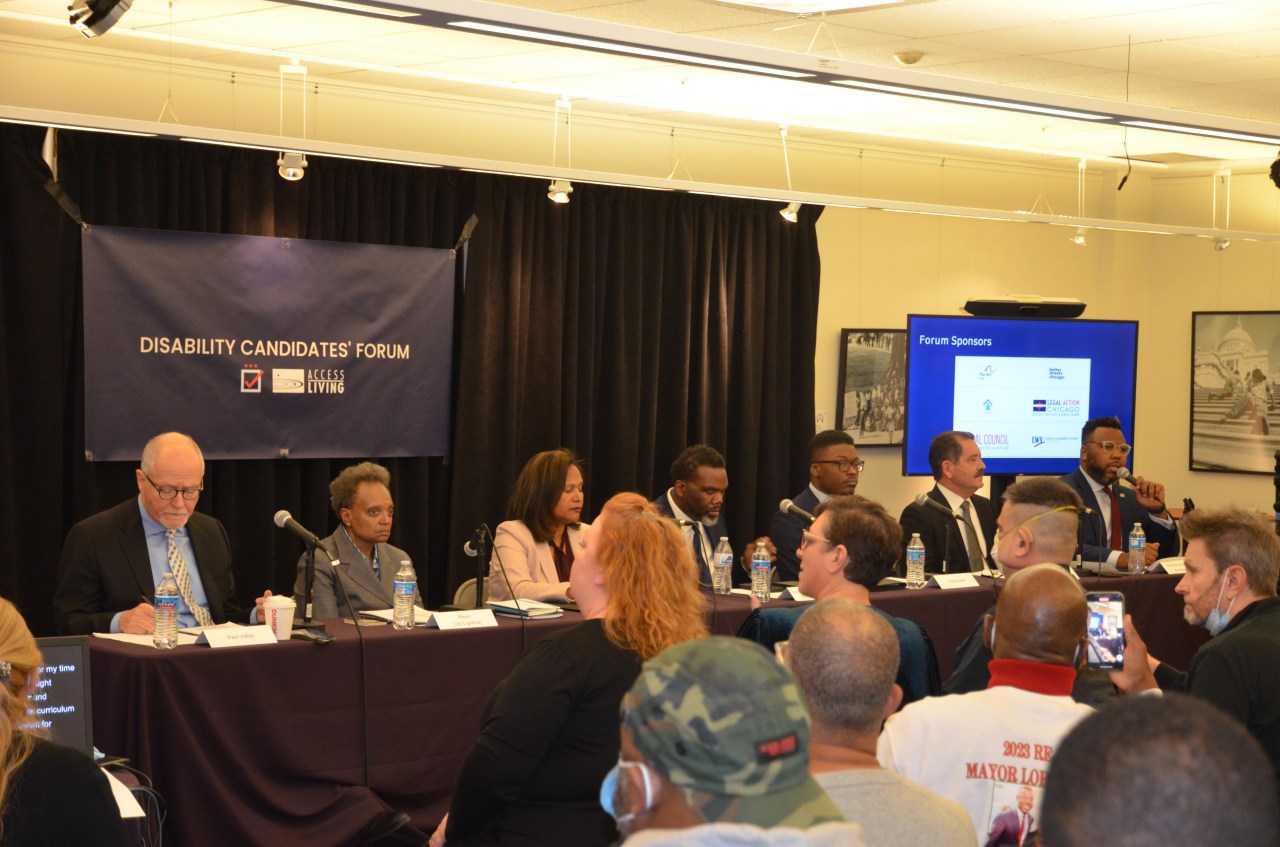 Garcia didn't go quite as far, simply calling for closer collaboration between the agencies. He was the only candidate who discussed Metra at length, arguing "we need commuter lines to better serve all neighborhoods," and mentioning the need to make Metra stops ADA-accessible. Garcia's district includes the Metra BSNF Line's Western station, which serves Pilsen and Little Village and isn't currently accessible.
Lightfoot noted that the current Red and Purple Modernization modernization project on the North Side will make all Red stations accessible by adding elevators to the Lawrence, Argyle, Berwyn, and Bryn Mawr stops. She also mentioned that the four new stations that will be constructed as part of the long-awaited Red Line extension on the Far South Side will be accessible. However, that's simply a matter of following federal law. While the aforementioned historic North Side stations were grandfathered in when ADA passed in 1990, any new stations must be wheelchair-accessible. Lightfoot added that CTA recently received $118 million in federal American Rescue Plan Act funds to make other existing stations that lack elevators wheelchair accessible.
Meanwhile, as Garcia noted, Metra has its own accessibility issues. Out of 68 Metra stations within the city of Chicago, 29 aren't ADA-compliant, usually because the platforms are up on an embankment, and there's no ramp and/or elevator that passengers with mobility issues can use to get up there.
Lightfoot, Vallas, Buckner and Johnson said sidewalk improvements were also an important part of accessibility. Johnson and Green said they would establish a municipal sidewalk snow clearance program, as proposed by the Access Living and the transportation advocacy group Better Streets Chicago, instead of relying on property owners to shovel. Buckner said that he would require the Chicago Department of Transportation to calculate an accessibility score "every time we do a bike lane or a sidewalk."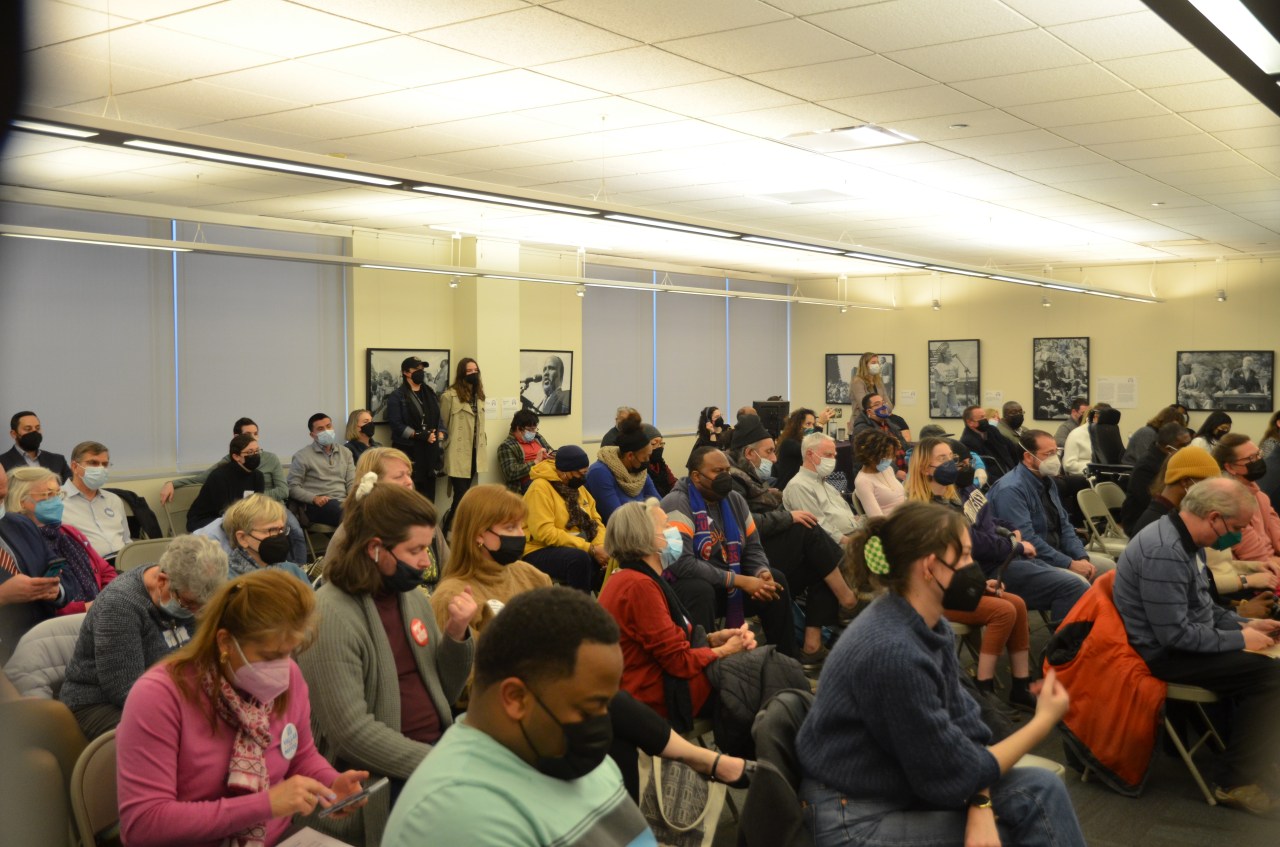 Buckner touted his transit bona fides, mentioning that he took the CTA to the forum. He said that he would like to improve the paratransit booking system to make it easier for riders to reserve trips online. This has been a long-term priority for Pace, which operates all Chicago paratransit services.
But any proposals to improve Metra stations and Pace services would run up against the fact that the Chicago mayors has less sway over the suburban transit agencies than CTA. Chicago mayors appoints the CTA president and four out of seven members of the Chicago Transit Board, which governs the agency. (The other three seats are appointed by the Illinois governor.) However, Chicago mayors only appoint one director to the Metra board, and one to the Pace board.
Johnson said he would like to address CTA staffing issues, which are badly impacting service, by improving pay and benefits for transit employees.
Vallas characterized more policing of the CTA as a way to encourage ridership growth. "What's adversely impacting CTA is violence," he said. "I would get rid of private security and hire more police officers. All too often, we're all victimized, but people with disabilities are victimized the most."
To put this proposal in perspective, in February 2020, a Chicago police officer fired up the escalator of the busy Grand Red Line station at an unarmed man police had tried to detain for illegally walking between cars, seriously injuring him and endangering bystanders. Access Living and the Active Transportation Alliance have called for unarmed, well-trained Transit Ambassadors as an alternative to more cops.
Johnson argued that more policing is the wrong approach , because "there's documented [evidence] that those who are most likely to experience brutality are those with disabilities, and we can't go back in that," and that expanded social services will be of more benefit.
Green said that, if elected, he would pilot free fares for "folks in underserved communities... Transportation needs to be a right in the city, and it needs to be fully accessible," he said.
If you appreciate Streetsblog Chicago's livable streets coverage, please consider making a tax-deductible donation to help us raise $50K by 1/31 to fund our next year of reporting. Thank you.
Stay in touch
Sign up for our free newsletter