Bicycling
Grief and Rage Over Traffic Violence at the Mayor's Bicycle Advisory Council Meeting
4:40 PM CDT on September 14, 2018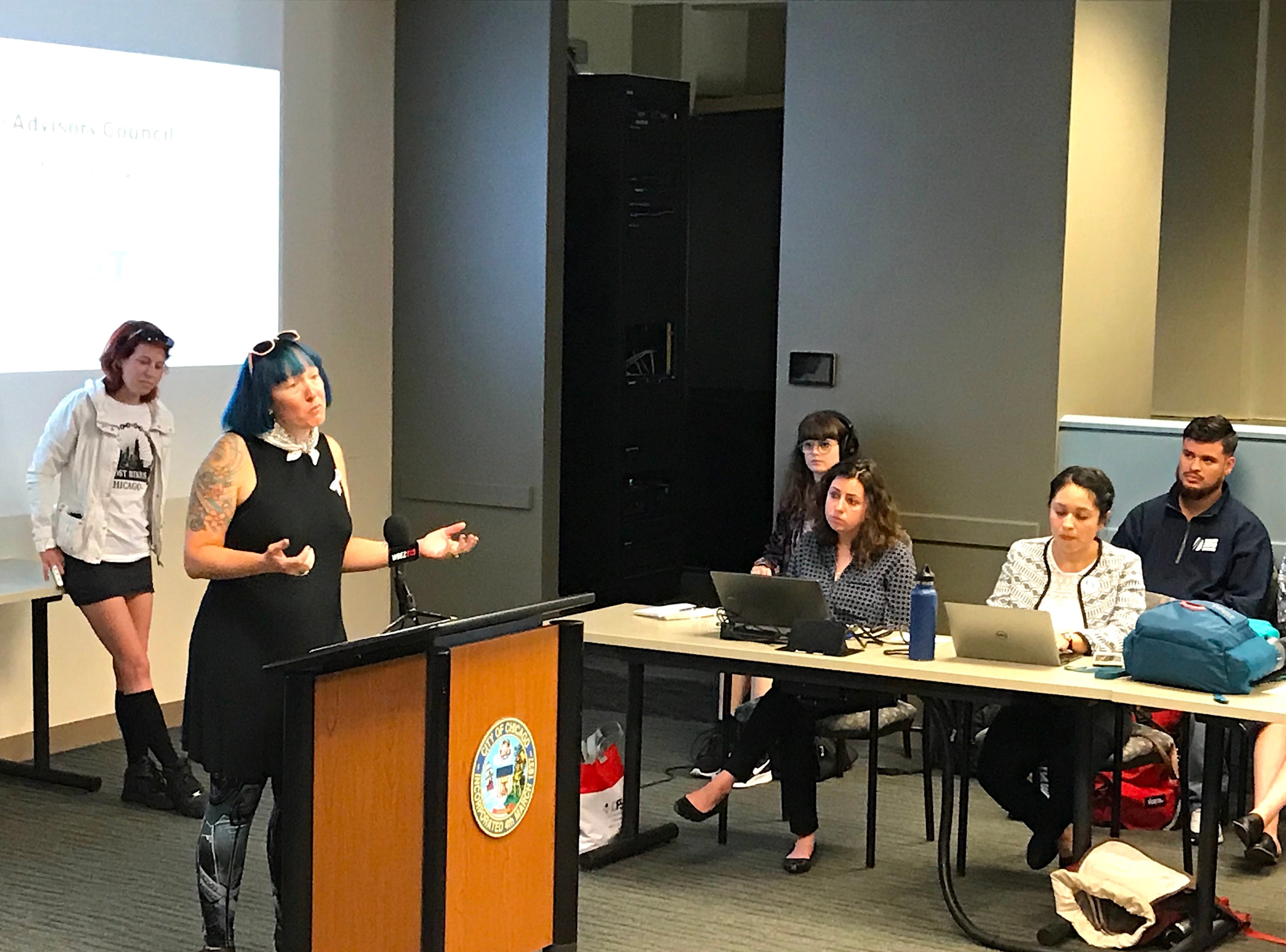 The quarterly Mayor's Bicycle Advisory Council meeting is usually a tightly scheduled show-and-tell, with staff from the Chicago Department of Transportation and other city agencies giving presentations on what they're doing to improve cycling. But after a particularly bad week for biking in the Chicago area, last Wednesday CDOT threw out the script and opened the floor for cyclists to voice their anxieties and anger over recent traffic violence, and brainstorm ways to prevent more tragedies.
During the first week of September there was a rash of serious and fatal bike crashes in the region. On the morning of Tuesday, September 4, 63-year-old Glenn Richmond struck an open car door in northwest suburban Arlington Heights and later died from his injuries. That afternoon in Logan Square, a teen driving a stolen car struck a female cyclist, 30, fracturing her vertebrae, scapula, and ribs.
In the early evening of Wednesday, September 5, a car passenger opened their door on architecture student Thomas Ferrer, 25, causing him to fall in the street. A SUV driver then ran over him, inflicting severe brain damage. And that Friday morning a motorist fatally struck a 59-year-old Randy Ehlers on a bike in north suburban Zion.
Shaken by the events of that week, Kristen Green reached out to ask CDOT for time at the MBAC meeting to discuss the hazards for cyclists that she views as a public health crisis. She helps lead Ghost Bikes Chicago, which installs white-painted bicycles at crash sites to honor fallen cyclists.
Green has known more than her fair share of people killed in bike crashes. Blaine Klingenberg, a courier who was fatally struck by a bus driver at Oak and Michigan in June 2016, was a friend. 20-year-old Art Institute student Lisa Kuivinen, who was struck and killed by a right-turning flatbed truck driver that August in River West, was an acquaintance. And Angela Park, 39, a Chicago Athletic Club spin instructor and triathlon coach who was fatally struck by another right-turning trucker last August in Greektown, was a customer at Wicker Park's Alliance Bakery, where Green works as a barista.
Green had a run-in with traffic violence herself that month, when an elderly driver pulled a sudden U-turn and struck her on her bike, inflicting a gash on her chin that required stitches, a black eye, and road rash.
At the beginning of last Wednesday's bike advisory council meeting, CDOT commissioner Rebekah Scheinfeld acknowledged Green's advocacy and invited the capacity crowd to participate in a "productive conversation" on how to prevent more bloodshed.
Green began the conversation by addressing the room, which included reps from various transportation- and health-related agencies and nonprofits. "I bring you a message from the families and friends," she said. "I'm surrounded by intelligent people in this room. We need to figure this out. No mother or father should have to say goodbye to their son or daughter… No friend should have to pour one out for their homie." With tears in her eyes, Green ended with a message for motorists. "Please stop killing my friends."
Siouxzi Donnelly from Chicago Family Biking, a grassroots organization that has hosted over 50 rides and events this year, then took the podium, listing a number of areas where improvement is needed. After four bike riders were killed in the region in 2016 when they were crushed under the wheels of trucks, in July 2017 City Council passed an ordinance requiring side guards and convex safety mirrors on all trucks over 10,000 pounds used for city contracts of over $2 million. Side guards help block pedestrians and cyclists from falling under a vehicle, and they might have made a difference in the recent Angela Park case, but since the dump truck driver who struck her wasn't working for the city, he wasn't required to have them. Donnelly argued that Chicago needs to close the loopholes in the law, noting that cities like New York, Boston, and London have stricter requirements.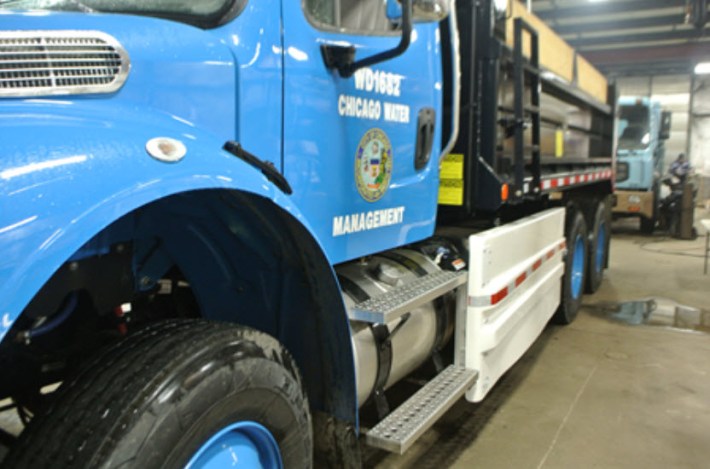 Donnelly added that another factor in Park's death was that the Madison/Halsted intersection where she was struck was bottlenecked by barriers for a construction site at the southeast corner, which meant that there was no safe place on the street for cyclists. She argued that in areas like the West Loop and 18th Street, where Thomas Ferrer was struck, bike routes are frequently disrupted by the many construction projects, so the city should better regulate development.
Equitable distribution of bike resources is also an issue, Donnelly said, noting that the South and West sides haven't gotten their fair share of bike lanes. Meanwhile, she noted, the Chicago Police Department has acknowledged writing more tickets for sidewalk riding in some Black and Latino areas as a pretext to conduct searches. "That's the epitome of victim-blaming."
Other attendees mentioned Division Street on the West Side and Stony Island Avenue as examples of roads where CDOT has proposed bike lanes but has gotten no support from local aldermen, which they argued has had deadly consequences. Last July cyclist Luster Jackson, 58, was fatally struck on Stony Island in South Shore after he swerved to avoid an open car door. And in August a hit-and-run driver fatally struck 42-year-old drummer Jimmy Lispier on his bike on Division in West Humboldt Park. (A total of five cyclists have been killed in Chicago so far in 2018, higher than the 2012-2016 average of 3.4 deaths for this time of year.)
Active Transportation Alliance board member and Roseland resident Peter Taylor argued that cyclists haven't made enough traction with most South and West side aldermen to influence their decisions. "And we haven't made enough people in the constituency aware of how [the lack of bikeways] affects their safety." Others maintained that if aldermen have the power to block potentially lifesaving infrastructure in their districts, that just demonstrates the downside of Chicago's de facto aldermanic prerogative policy.
Christina Whitehouse from Bike Lane Uprising, a crowdsourced website that documents bike lane obstructions, said keeping existing bikeways clear could make a major difference towards preventing crashes. She noted that ride-hailing accounts for a large percentage of vehicles blocking bike lanes, and said geofencing should be used to prevent the drivers from loading and unloading in illegal spots. "We don't allow Ubers and Lyfts to drop off wherever they want at airports."
Margarita Reina, senior epidemiologist from the city's health department said teaching youth about safe travel practices now could pay off future dividends, noting that Portland has had bicycle education in schools for years, and nowadays many adults in that city are safer drivers as a result. Earlier this month Governor Bruce Rauner signed a bill mandating bike and pedestrian safety curriculum in all Illinois K-8 schools.
Near the end of the meeting CDOT staffers addressed some of the cyclist's concerns. Assistant commissioner Sean Wiedel said making side guards universal for large trucks operating in Chicago would require new state and/or federal regulations, and said his department is in preliminary talks on the subject with Illinois officials. Notably, in 2012 Active Trans pushed for state legislation requiring convex mirrors on all large trucks, but the Illinois Trucking Association successfully lobbied against the bill, so there could also be industry resistance to state side guard regulations.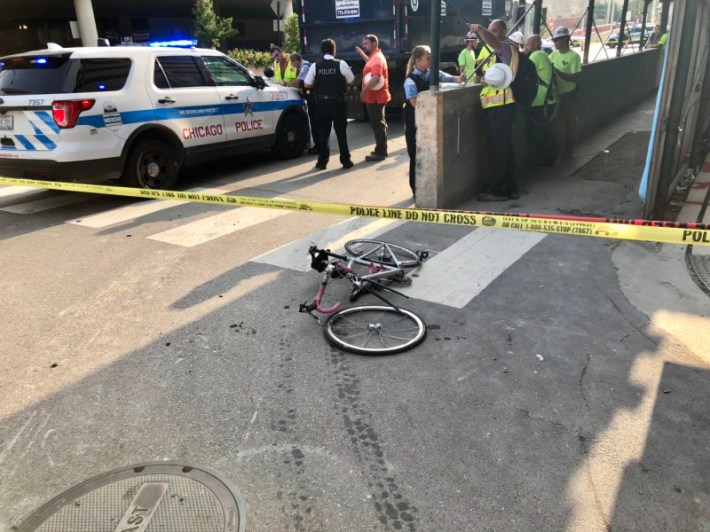 Next Bryan Gallardo, the assistant commissioner from CDOT's permit office, discussed the problem of streets blocked by construction projects. He said that contractors are always required to provide safe passage for pedestrians and cyclists and that the city has become more vigilant about enforcing these mandates in recent years. (He also asked residents to contact his office at cdotpermitsupport@cityofchicago.org if they spot unsafe road conditions by work sites.)
However, bike-focused lawyer Brendan Kevenides, who was at the meeting, later told me that crash cases he has handled involving construction sites suggest that it's rare for contractors to make accommodations for cyclists. "There's a complete disconnect between what CDOT says is happening and what's actually happening."
But after the meeting Kevenides and other civilians told me that this cathartic conversation about bike safety was worth having, because it reminded city officials of the real-life dangers cyclists face and urged them to take action to improve matters.
Commissioner Scheinfeld seemed to agree. She concluded the discussion by thanking cyclists for their "really valuable" input that will inform the city's current Vision Zero effort to eliminate all serious and fatal crashes by 2026. "The reason we're here is because we all care about these things," she said. "We all know Vision Zero is an aspirational goal… It's never going to be a battle that ends as long as there's humans interacting. So the city can't do it alone."

Did you appreciate this post? Consider making a donation through our PublicGood site.
In addition to editing Streetsblog Chicago, John writes about transportation and other topics for additional local publications. A Chicagoan since 1989, he enjoys exploring the city on foot, bike, bus, and 'L' train.
Stay in touch
Sign up for our free newsletter