Beyond Chicagoland
Adonia Lugo: Bike Advocates Need to Stop Overlooking Issues of Race and Class
5:11 PM CDT on July 18, 2018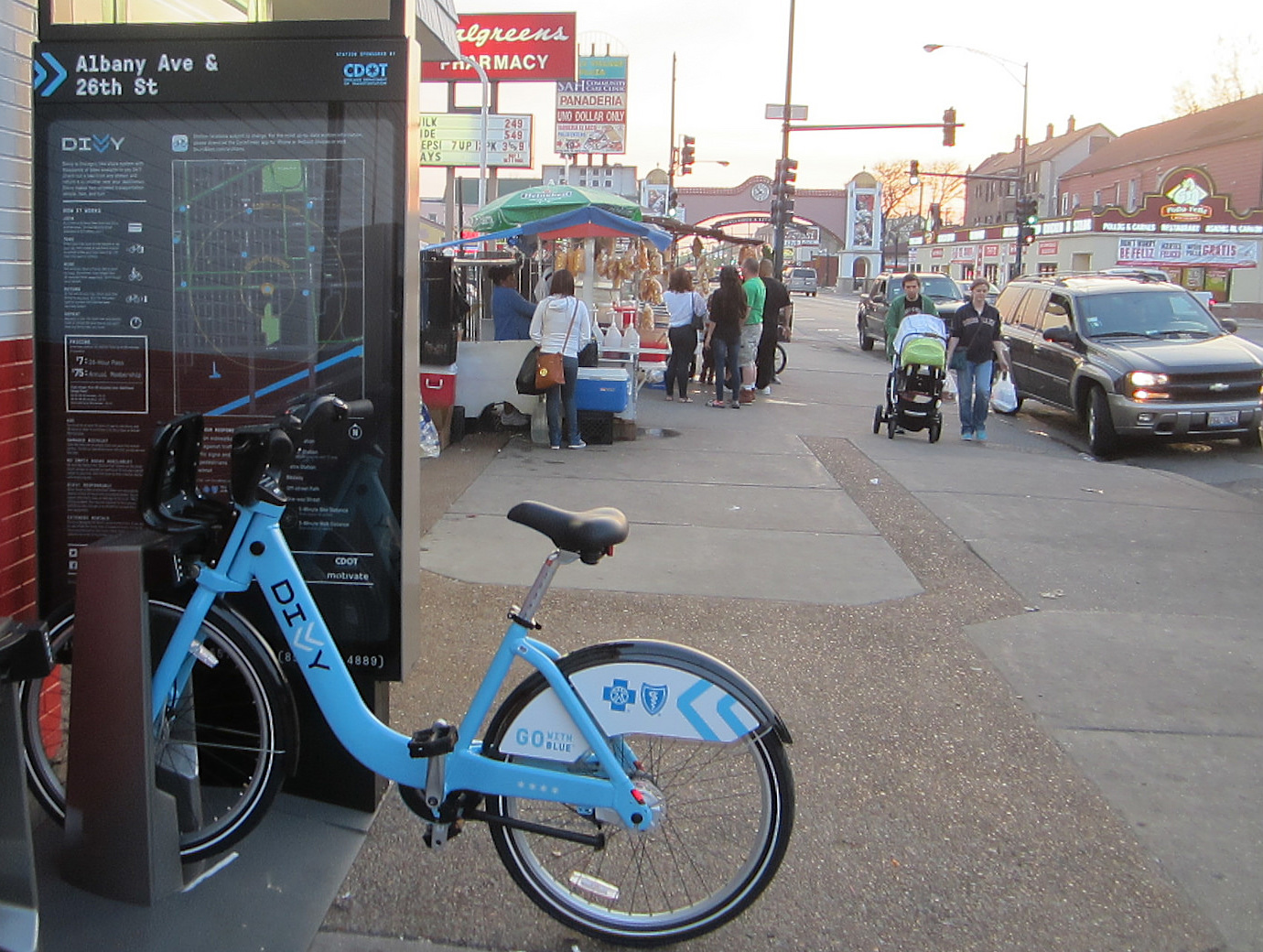 "Riding a bicycle had given me more of a sense of physical power than I'd ever had; and not just physical, I felt I could change the world." -- Adonia Lugo, PhD, "Bicycle/Race"
A few weeks ago, I was at a laundromat in Chicago's Little Village neighborhood reading Adonia Lugo's new book "Bicycle / Race: Transportation, Culture, and Resistance" when I caught the eye of a little girl.
She came up to me where I was sitting and got up close to me and asked me, "What are you reading?" I told her I was reading a book about bikes. She looked at my book cover curiously. The cover portrays a brown fist holding up a bike. "Why is there a hand with a bike in it?" I wasn't sure how to answer her question, but that question forms the basis of this book. How and who does biking connect to community empowerment for people of color?
What made me particularly excited to read this book was the fact that someone named Adonia Lugo wrote it, and that says a lot about the bicycling world. Women, much less women of color, very rarely frame the narratives of bicycling. Unquestionably, it's usually white men that dominate the narrative.
I was excited how the lived experience of a self-described "half-Mexican, half-white" woman from Southern California who described bicycling as a "possible tool for liberation" could reframe the conversation and who would be the people she would center. It seems only fitting that Lugo started her book with the story of Juan Umberto Barranco.
Umberto Barranco was biking home on a sidewalk in 2007 in Southern California when an intoxicated motorist jumped the curb and struck him. He had been a busboy at a local Denny's. It was a powerful story to start with because it reminded me of so many people like him whom I see on a daily basis in Chicago, such as those older Latino men on the sidewalks of Archer Avenue in Brighton Park or on the sidewalks of 26th Street in Little Village.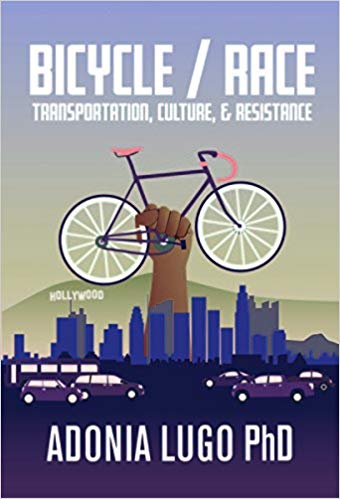 Those are people who don't compete with me for road space when I'm biking. As Lugo puts it, "Unlike me, the men on the sidewalk seemed to care more about survival than feeling powerful, respecting the hierarchy of the street rather than trying to disrupt it."
However, not even the apparent safety of the curb saved Umberto Barranco. It went deeper than mere infrastructure, which is exactly what Lugo sought to explore in her work and through this book.
Centering the lived experiences of marginalized residents is at the core of Lugo's vision of human infrastructure to reimagine mobility justice in our neighborhoods, and that's the aspect of her book that most struck me. "It was the people, not the traffic infrastructure who decided the order of the street," Lugo writes.
Part of what Lugo explores is the relationships or lack thereof, between different types of bicyclists. On one hand, we have "transit-dependent" or "captive" bicyclists, who are cyclists who don't have the option to drive. On the other, we have "car-free" bicyclists, those who have other options but choose to bike. Lugo says that the current bike movement tends to focus on the latter type of bicyclist. How do we find a common cause between them? When we focus on the priorities of people bike by choice, how do we further marginalize the people Lugo describes as engaging in "economic survival cycling?"
Lugo argues building bike lanes isn't necessarily going to liberate our streets if we ignore the glaring racial, socioeconomic, and cultural issues that divide us. Do bike lanes matter when we disregard the people who are most marginalized on our streets? Would bike lanes address the root cause of car culture?
I was skeptical of this idea because I generally see bike lanes as a good thing, but I don't think she's saying that bike lanes are necessarily bad. Lugo argues that we miss the bigger picture when our bicycling advocacy work is merely focused on physical infrastructure. She vividly describes biking around the empty streets of Detroit and the realization that she wanted to change transportation culture more than street design. "When I'm waiting at a red light on my bike it's not the markings on the street that make me feel out of place," she writes. "I feel out of place because the driver behind me is honking." Are bike lanes sometimes merely Band-Aids when it's actually necessary to unpack why there's so much hostility separating us on the road?
A bike advocacy approach that merely focuses on physical infrastructure overlooks key questions, while the human-infrastructure strategy centers the stories and identities that shapes how we travel. Lugo says "We carry our identities and histories with us as we mobilize into public spaces like streets…"
This is why the story of Umberto Barranco is so crucial. How would bike planning and advocacy change if more people like him were at the table? What would we learn? The people who show up for community meetings about new bike projects are rarely the ones on the margins, whether due to lack of interest, logistical barriers to attendance, or fear of interacting with government entities. The urban planning process is not welcoming to those on the margins.
Lugo sought to engage more people in bicycling through effort, such as the CicLAvia, an Latin American-inspired event launched in 2010 that opens a stretch of Los Angeles city streets for car-free recreation, or City of Lights/Ciudad de Luces, a program that provides bike lights and safety information to bicyclists, particularly working-class, Latino immigrants.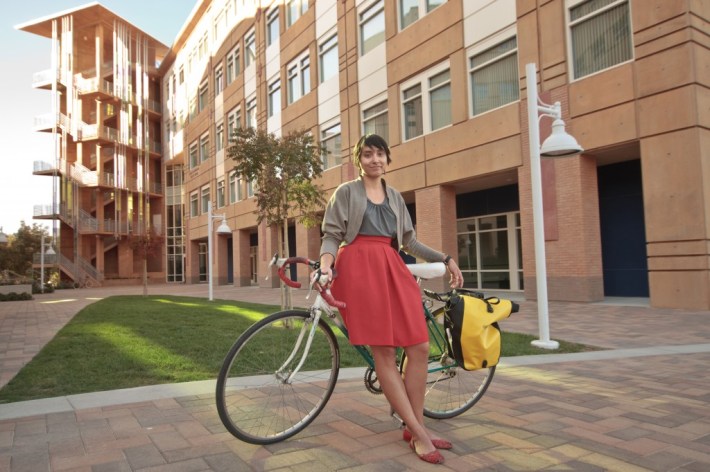 Reading about Lugo's work to empower blue-collar, Latino immigrants struck a chord because these are the residents I see on a daily basis riding their bikes on the streets around my home in Little Village. These are the residents that remind me of my family. Lugo rightly points out the complexities of engaging Latino residents in Los Angeles, particularly if they are undocumented. "It seemed likely that some bicycle users felt safer staying hidden, and I knew how much work went into being invisible." Do mainstream bicycle advocates often consider the experiences of undocumented immigrants on bikes?
Allowing more lived experiences to come into the fields of bicycling planning and advocacy could potentially help better align them with social justice movements. Lugo argues that the biggest indicator that bicycling advocacy is not aligned with social justice is the association it often has with gentrification. Through her work, she has heard the language utilized by bike advocates that often tied bicycling with trendy urban design.
She describes the dangers of the design-based approach, "Focusing on urban design, rather than the people who inhabit and produce places, all too easily naturalizes their market-driven displacement."
This particular point really struck me because it pointed to the alienation that I have often felt in talking about streets, transit, and bikes. I often feel that I'm hearing people talk about space without the people in it. Perhaps that is what can make urban planning so removed from everyday people. For me, centering marginalized people before even starting to talk about infrastructure is the way to get equitable streets, which isn't what Lugo thinks is happening. "Advocates seemed to want the public to view bicycling the way they did: as something for normal (i.e., white or at least economically secure) people, not something for the poor (who were probably Black or Brown)," she says.
If we want to reframe bicycling beyond the pastime of white men, we need to utilize other strategies beyond constructing new bikeways. Otherwise, we continue the marginalization of people who use bicycling to survive. As Lugo offered challenges to the status quo, I kept waiting for her to offer clear alternatives, but that was missing her point.
Lugo isn't purporting to have all the answers; she is pointing out that we need to change the current way of doing things and that we need to challenge ourselves to come up with those solutions through a diverse coalition of voices. "Why are we waiting for new infrastructure to liberate our streets when we can reshape human infrastructure to reshape our streets?" she asks.
For me, it all boils down to finding how bicycling can be used as a tool for liberation, as Lugo puts it early in the book.
Sure, I ride my bike because it gets me places, but I also ride because it makes me feel powerful, but that power doesn't have to look any one way and I think that's the point.
Empowerment on a bike can mean being able to ride without fear of being pulled over by the authorities. It can mean seeing others that look like you riding next to you. It can mean finding a mellow bike route to and from your house to the grocery store. It can mean riding alone on the street for the first time. Power on a bike isn't only a white man in a bike lane, and that's the crucial point of reframing bicycling for all.

Stay in touch
Sign up for our free newsletter