Beyond Chicagoland
Oboi Reed Launches Equiticity, a New Group to Push for Mobility Justice Nationwide
6:45 PM CDT on November 2, 2017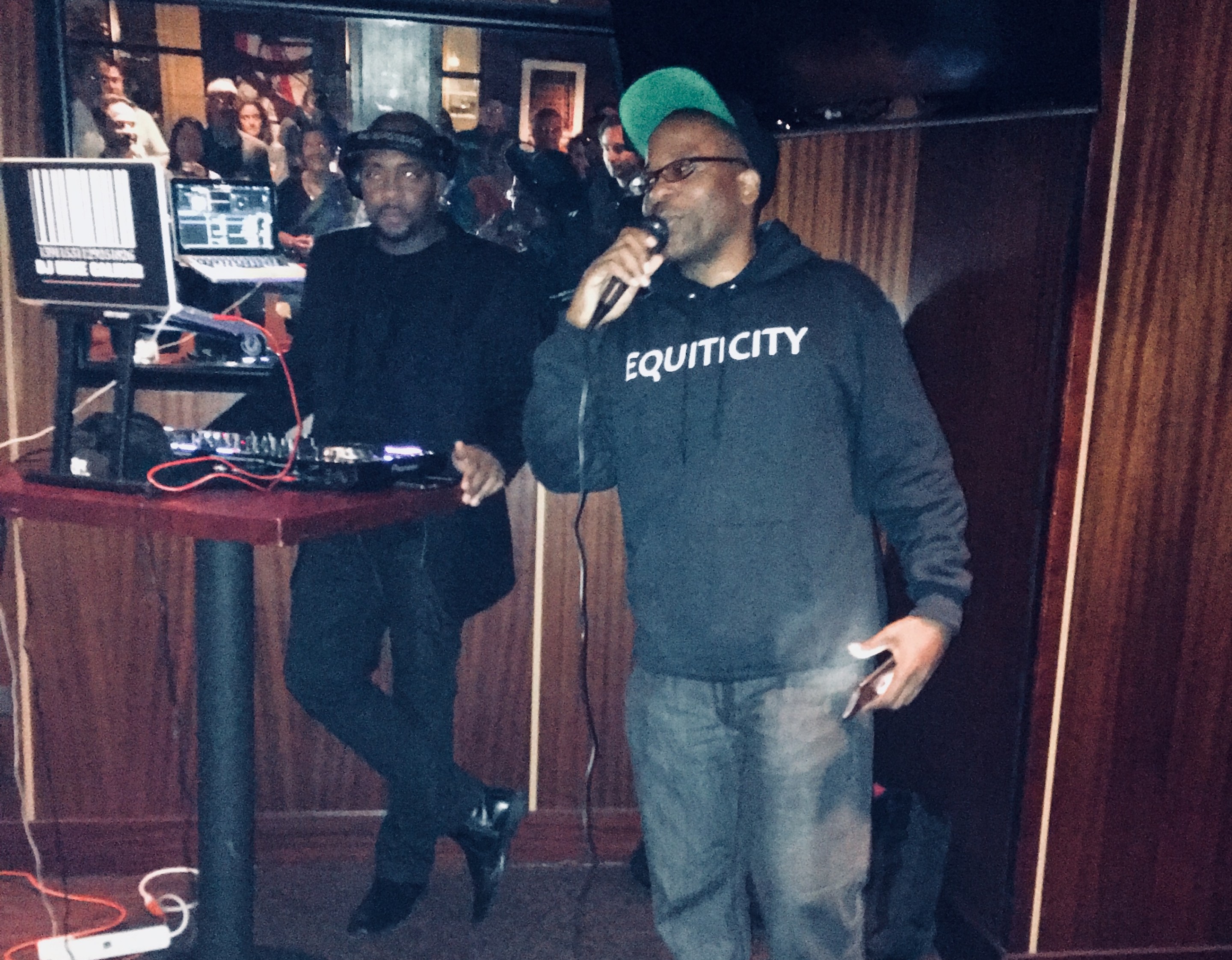 Last night Oboi Reed, cofounder of Slow Roll Chicago, launched a new organization called Equiticity, promising that the group "will operate at the intersection of equity, mobility and justice in communities of color across the U.S." Their first goal is to establish dockless bike-share "libraries" in two low-to-moderate-income African-American communities on Chicago's South and West Sides.
Reed and childhood friend Jamal Julien founded SRC in 2014 to promote cycling in our city's LMI communities of color. In addition to leading weekly neighborhood rides, over the years the group has at times partnered with the Chicago Department of Transportation and the Active Transportation Alliance to encourage biking in Black and Latino neighborhoods. For example, Slow Roll previously contracted with CDOT to promote the Divvy for Everyone program, which offers $5 annual bike-share memberships to lower-income residents.
After taking a leave of absence from Slow Roll for health reasons in early 2016, Reed returned to action with the group this summer, and soon became an outspoken critic of the city's Vision Zero program, which has the goal of eliminating traffic deaths and a focus on underserved communities. He argued that the city was wrong to release the plan without first holding a public community input process, and he called for eliminating the possibility of additional traffic policing being used as a Vision Zero strategy in neighborhoods of color, due to the Chicago Police Department's widely documented issues with civil rights abuses. Reed also asked Active Trans to cancel a planned Vision Zero summit that he argued would be inaccessible to residents from this year's Vision Zero focus communities on the West Side due to the event's cost, location, and time. In response the advocacy group indefinitely postponed the event.
Reed is stepping down as president of SRC to lead Equiticity (pronounced "EquiTIcity") at the end of the year, a move that signals that he's ready to work independently from the city and Active Trans to push for mobility justice. Current Slow Roll program director Romina Castillo will serve as the group's interim executive director.
At last night's launch party, attended by planners and advocates from around the country who were in town for a National Association of City Transportation Officials conference, Reed laid out his blueprint for the new organization. "What happens when we turn on the power and equity moves like electricity through our homes, our streets, our neighborhoods, and our cities?" he said. "Welcome to Equiticity"
Reed noted that the consequences of historic segregation and disinvestment "along with the stark lack of equity in the distribution of resources" have contributed to unsafe and inefficient conditions for walking, transit use, and biking in Black and Brown communities. He added that this represents a missed opportunity to improve health and economic outcomes and reduce violence. "We envision creating a U.S. city that serves as a worldwide model on how to normalize, prioritize, and operationalize equity."
Reed's speech was essentially a declaration of independence from existing transportation planning and advocacy entities:
We're done attempting to convince people to do the right thing. We are our own heroes. We'll do it ourselves. And for those institutions and mainstream organizations still trying to figure it out, "What is equity... is it a strategic plan, is it a mission statement?" but they're not right here with us, we'll be here when you arrive. For those institutions and organizations that are getting it wrong, get out of the way. For those institutions and organizations that are ready to commit at an operational level, and get it right, let's work, we're ready.
Equiticity's first project to bring shared bikes to the South and West Sides reflects this DIY philosophy. More than four years after the Divvy system launched, there are still no docking stations in many outlying neighborhoods, including multiple communities of color.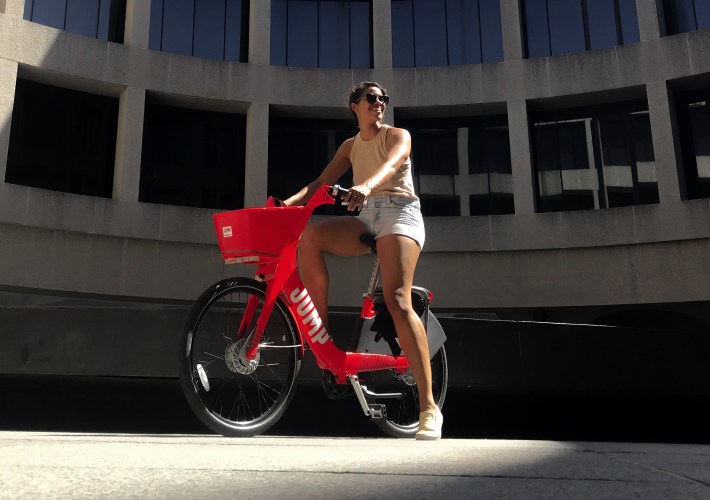 To address this, the group is partnering with the dockless electric bike-share company Jump Mobility, which sponsored the launch event, to bring 100 bikes to North Lawndale, a predominantly Black, LMI neighborhood on the West Side, by April. "For now, we have five Jump bikes on the ground in Chicago to seed to community stakeholders, so they can experience them before the launch," Reed said.
Equiticity is also teaming up with the Riverdale-based bike group We Keep You Rollin' to bring 100-300 bikes provided by Ofo, another dockless bike-share enterprise based in Beijing, to that Far South Side, LMI African-American community, also by April. 14 seed bikes are scheduled to arrive by next week.
Although North Lawndale already has a few Divvy stations, Reed told me he chose the neighborhood for the Jump Mobility project due to Slow Roll's existing ties with several "awesome community organizations doing amazing work in the area." He added that he's interested in using the bike library in North Lawndale as a catalyst to create a robust bicycle culture where none previously existed.
Ryan Rzepecki, CEO of Jump Mobility, told the crowd he first met Reed about two years ago at an event in North Carolina. "I was just really inspired by his sincerity, his story, and his vision for building out more equitable biking in cities and all over the world, and that was a vision that we shared."
Rzepecki says that the details of the North Lawndale bike library haven't been determined yet, but it will include a combination of longterm loaner bikes designated for use by lower-income residents, as well as a smaller number of dockless bike-share vehicles for short-term use, accessible only to library members. The Jump bikes have built-in locks that can be used to secure the cycle to a rack, and members will be able to access them via cell phone, a pin number, or an RIFD card. Participants will be allowed to take the cycles outside of the neighborhood, and workers will help "rebalance" the bikes, relocating them as needed via vans or bike trailers. The bikes can run up to 40 miles on a charge, and Rzepecki hopes to install a few charging stations around the neighborhood.
Jump is currently in talks about permitting issues with the city of Chicago, which has been doing some soul-searching about whether to allow for-profit dockless bike-sharing companies to set up shop, including concerns about competition with Divvy and street clutter. According to Rzepecki, one possibility for the bike library is an "emerging business" permit.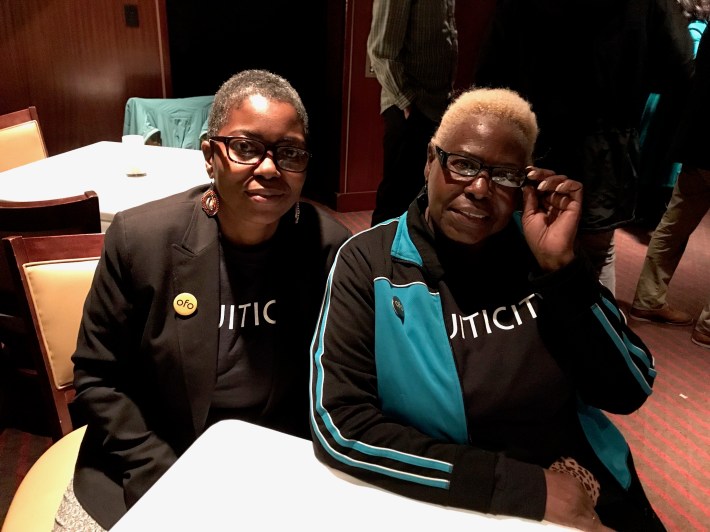 Rzepecki added that the company has conducted a similar program in San Francisco's LMI Bayview and Mission District neighborhoods with no major snafus. For example, he said even though these areas have relatively high crime rates, there has been almost no loss or theft of the bikes.
Deloris Lucas and Fatimah Al-Nurridin from We Keep You Rollin' said they're thrilled about establishing the Ofo bike library in Riverdale, which includes the Altgeld Gardens housing project, the Golden Gate subdivision, and other enclaves. The community is located a few miles south of the current Divvy coverage area, so this represents an opportunity to bring shared bikes to the community in a matter of months, not years. As with Lawndale, details on how the Riverdale program will work are still being hashed out, but Lucas and Al-Nurridin plan to kick off a one-month fundraiser on November 18 to cover operating costs.
In addition to editing Streetsblog Chicago, John writes about transportation and other topics for additional local publications. A Chicagoan since 1989, he enjoys exploring the city on foot, bike, bus, and 'L' train.
Read More:
Stay in touch
Sign up for our free newsletter