Streetsblog Chicago
Exit interview: Outgoing CDOT chief Gia Biagi discusses her tenure as transportation chief
Biagi said the Lightfoot administration deserves credit for over 1,000 pedestrian safety upgrades at intersections, and making infrastructure planning more equitable.
5:22 PM CDT on August 2, 2023
As Streetsblog reported yesterday, Chicago Department of Transportation Commissioner Gia Biagi, who started the job in December 2019 under Mayor Lori Lightfoot, announced this week she will be resigning on Friday, August 11. New Mayor Brandon Johnson, who took office on May 15, has not yet named a replacement.
Some local sustainable transportation advocates have argued that although Biagi had good intentions, while working under Lightfoot the transportation chief may have not have enough leeway to significantly improve walking, biking, and transit during the COVID-19 era. Biagi responded to that line of reasoning and discussed other aspects of her job in the following interview.
If you're short on time and want to read about the aforementioned issue, I'd suggest skipping to the second half of the article, starting with my statement, "There was some evidence that Lori Lightfoot was a somewhat car-oriented mayor."
John Greenfield: Let me just say that, as a transportation advocate, I know that you have worked very hard at this job. Based on the list that was published on the press release [about your resignation], a lot was accomplished during the time you spent at CDOT. So thanks for your work on that.
Gia Biagi: Thank you.
JG: What expectations did you have coming into the job, and what things you encountered were what you expected, and what was was the farthest from what you thought the job would be like?
GB: I came into it with the perspective of someone who had worked at the scale of urbanism in many cities, while I was at Studio Gang [architecture firm] working all accross the country and overseas, thinking about how do you take what we have in common, meaning streets and parks and every aspect of what the public owns together, and how do you leverage that for a higher purpose, for something that really fulfills a policy mission, or something that a city real needs to move the needle on? And that was something that I was familiar doing in other cities.
And so, coming into the job and into the work here in Chicago, the incredible potential in my head is what I came in with, that with the 4,000 miles of streets and all of that infrastructure, the question was not whether we have the leverage, it was how do we use that leverage? It's no secret that a street runs through every single corner of our city. So when we're thinking about how do help raise neighborhoods up, how do we change people's lives, even from reducing traffic violence, all the way to gun violence, all of these things have something to do with built environment and the choices we make as a city and as a community, not just city government, to invest in them.
So in coming in and thinking about the possibility of a department of transportation that has probably the most possibility for tackling major challenges and for helping communities to achieve that quality of life that everybody deserves. So I came in with that though in my head that we could do that together.
And I think one of the things that I found when I was here is that CDOT is even more incredible than people realize, and it's really the team. It's the people here who are filling potholes, who are fixing lights, who are trying to map out a strategy to connect the bike grid, who are sweatin' it every day listening to people, trying to translate that into real work. The people here are more incredible than I could have imagined, and I even knew some before I started.
So that together, when you think about the possibility that is inherent in the bones of a city and you have a group of people together, who are just trying to pull on the same rope in the same direction, it's just incredible. So to be able come in and say, OK, what is the direction, what is the north arrow, how do we move the needle on things like equity, on ideas like mobility justice, and how do you not only operationalize that as a way of thinking, but how do you put a shovel in the the ground on that? How do you measure not just the outputs in the of miles and the number of street lights fixed, and all of that, but how do we then push that to where we're getting those outcomes? And that prospect combined, it's almost overwhelming when you think about it.
Now, you walk in the door knowing a few things, thinking a few things. Having the validation of incredible people that you get really the privilege to work with.
And then this thing called COVID rolls in, right? So I started in December 2019, bright-eyed and bushy-tailed, and all of that possibility. And then suddenly we have a global pandemic that I don't need to tell anybody about what that felt like or what it meant to all of our lives and the society. I know what it meant to the chair here that I'm sitting in and what it meant to the people that I work with. And it was just a stunning sort of challenge. We're all about being in the public way, being on streets, putting your hands on things to make a difference, and then there we are. I've got to send home a quarter of the workforce and figure out how to work remotely. And they I've got three-quarters of CDOT that's got to still show up in person to fill those potholes, to paint those light poles, to keep the train on the tracks.
And in the meantime we watch the threads of what we need in order to make that work happen disappear, like supply chains. That was an incredible challenge. It's still a challenge. When your ability just to get the material disappears.
And then to have that in the context of trying to do that reset, how do we move this organization and center it around ideas of mobility justice, against the backdrop, more than a backdrop, against the lived experience of George Floyd's murder, of all of the important conversations and feeling and activism and all of those pieces, swirling around us as a society, and right here in Chicago.
You put those two things together, I could not have imagined that we would walk through that together. And one of the biggest challenges was to continue to do not only the day-to-day work, the basics, but how do we do also maintain a vision? And for me that was very important to say, if we don't talk about the future and where we're headed, there isn't one. And so doing that strategic plan within that atmosphere turned out to be the most critical thing that we could do. It was like creating a spine or an architecture, that scaffolding for us to move forward together and bringing in the Transportation Equity Network to tell us, what should we be doing? How do we take what you're seeing and feeling and translate that to a set of of a new vision, and then a set of goals and strategies and tactic and metrics, because we know how to carry things out technically, and we can work together on what the strategies are, but we need to build a vision that is for Chicago, that moves that needle on mobility justice. Those things, I don't know if we could have accelerated in so much without the pressure of what was happening in society.
And so those things, taking it from the day – I actually had to show up a week early for the job because there was a conversation happening about transportation policy. "Hey we know you don't start for a week or two, but why don't you come in early." Getting that nice running towards the start line to then trying to make it through the marathon. And not just one marathon but many marathons in this work, and to be where we are today, is just so gratifying because we have been able to take that strategic framing, reimagine the work that we do, be transparent about the accountability in it, and have things like the Chicago Works [infrastructure plan] funding to follow through, and getting shovels in the ground all over town.
Now, I would loved if we had not had a concrete strike and a cement shortage and all the things that also came along the way. But when you look at that through line we've made it to an incredible moment for our city when it comes to transportation.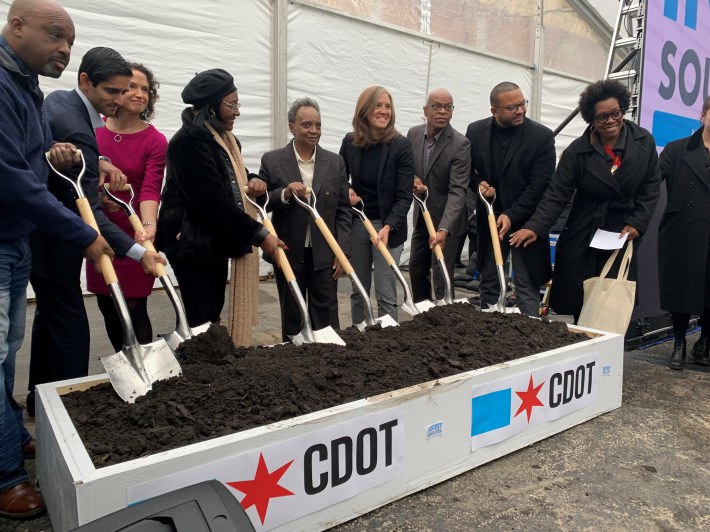 JG: There was some evidence that Lori Lightfoot was a somewhat car-oriented mayor. She once said about Chicago, "We are a car city." She gave away public money to reimburse people for buying gasoline. (She also gave out some transit passes.) Lightfoot brought NASCAR to downtown Chicago, which was something a lot of people opposed. So she was viewed as not a particularly sustainable transportation-friendly mayor.
With what we know about what Lightfoot had said and done about driving, you seemed to come to this job with a focus on walking, transit, and biking. What is your response to the arguments that Chicago didn't do enough to address rising traffic fatality rates during the COVID era, such as by creating more bus-only and bus rapid transit routes like peer cities in the U.S. like New York and Los Angeles and a grid of protected bike lanes. Many European cities created big bike networks during the pandemic. I know the Philippines had bike-friendly policies.
So what would you say people who would argue that you really didn't do enough to increase efficient bus routes, and safe and pleasant bike routes, during the pandemic, when there was less driving going on, so there would have been a good opportunity to give more space to sustainable transportation?
GB: Well I'd say a couple of things. One, look at the record and how, under Mayor Lightfoot's leadership, and that's a record that's going to continue under Mayor Johnson's leadership, I believe, we built out over a hundred miles of bike network. We launched a neighborhood-focused and driven community cycling network strategy, that actually values the lived experience of the people on the block. Anyone can draw a line on a map, and we do too. You can draw a grid on a map. But in making sure we are working closely with communities who might see a bike lane, frankly, as a harbinger of gentrification, it's important that we shifted our strategy, that certainly support commuter routes, and you've seen the work that we're doing on Milwaukee and installing protection. It's undeniable, there's work happening everywhere.
But hand-in-glove with that work is the community engagement that brings the conversation to an equitable place, which is making sure we're in communities taking the the time that we need to identify what we do next, and following through as we have with so many projects. So that's one example.
The other piece is that we're looking at [traffic] fatalities that actually went down between 2021 and 2022, more that 10 percent or almost 15 percent. And what is that due to? There are a lot of pieces to why could that could happen, and it's continuing to decline. This is not to say that – every single injury and every fatality, they all matter, and we are more attuned to that fact than anyone. And we are working feverishly, with more than a thousand pedestrian safety improvements at intersections across the city. A thousand! [CDOT was] not doing anywhere near that scale previous to Mayor Lightfoot's administration.
Looking at how we have done left-turn protections, that didn't exist. Looking at our incredible partnership, now, with IDOT, creating a [Memorandum of Understanding] for safety that changes the divine vehicle from an 18-wheeler to a school bus. You know that is a win. That enables pedestrian safety, and safe crossings on state routes in the city, and that is another piece of scaffolding that we're continuing to build on.
Look at our investments in making Complete Streets the standard for our design. That is a challenge that has happened here in this four years, to say we're actually starting with what it should be, not trying to build our way into safety.
So long after my seat is occupied by someone else, you continue to see these improvements roll out. And that all started in the last four years and exploded, really. So I think the record shows how much we have done and that there's certainly more to do. But you cannot deny that a $3 billion investment in the Chicago Works infrastructure program that not only gets at the deferred maintenance that had been going on for decades, not only repositions those shovels to be in the ground in areas of mobility and economic hardship.
The index that we created with the help of the Center for Neighborhood Technology that has weighted criteria for making sure that our bike investments, bus investments, road investments, all of those things are happening in parts of the city that didn't have them previously. These are dozens and dozens of streetscapes. You're seeing new main streets on the South and West sides. And these projects are giant and in big phases, but there's more than $200 million dollars alone that is dedicated to South and West side rebuilding of safe, slower streets. When you look at it from that citywide scale, you can't help but acknowledge how much work has been done.
JG: Speaking of new streets on the South and West sides, can you tell me when the Wells-Wentworth Connector will open?
Chicago, Bike Grid Now! members visit the Wells-Wentworth Connector, a new road with raised bike lanes located west of Clark Street linking the South Loop and Chinatown that's part of The 78 megadevelopment project, last month.
GB: It's in punch list right now, so we're looking at probably September. I know that folks are eager. We're eager to get to open that up. But it's a construction site, and while things sometimes look done, they're not quite there yet. So we have to lock it down and make sure that it's safe for everyone to go through, that everything's done. So we're hoping that in September that opens up.
JG: Terrific. Well I know being the commissioner of the Chicago Department of the Chicago Department of Transportation is a demanding and often controversial job, but I'd just like to thank you for your efforts and wish you good luck in your next endeavors.
GB: Thank you, and thank you for paying attention. And while we may not always appreciate what's written about us, you try to give us a fair shake, and not everybody does.
Stay in touch
Sign up for our free newsletter