Bicycling
California trainin': A Chicagoan checks out transportation in the Golden State
10:11 PM CDT on March 13, 2023
Thanks to the editors of Streetsblog California, Streetsblog LA, and Streetsblog San Francisco for input on this piece.
In late February I took a trip to California to visit family and friends. Being a sustainable transportation reporter and geek, I naturally took lots of photos of the walk/bike/transit infrastructure along the way. I flew into Los Angeles and spent a weekend there, then rode Amtrak's scenic Coast Starlight train to Oakland. After that I rented a car to visit my aunt in the Clear Lake area (yes, I do drive once in a while), about 2.5 hours north. Then I returned to the Bay Area for the following weekend, and flew home from San Francisco. Here's a show-and-tell of my impressions of the transportation stuff I experienced along the way, including a few things I'd be glad to see implemented in Chicago.
Los Angeles
While many sustainable transportation advocates view Los Angeles as a worst-case scenario for car-centric urban planning, my impression is that transit in Los Angeles is a lot better than one might think. And, unlike Chicago, LA's rapid transit network has been expanding fairly quickly in recent years, largely thanks to several Los Angeles County referenda in which voters approved sales tax increases to fund transportation projects including rail expansion. As such, depending on where you're staying and where you'll be traveling, it can be relatively convenient, easy, and fun to visit LA without renting a car.
I was staying with an old friend in Encino, a suburban neighborhood in the city's San Fernando Valley, northwest of Downtown Los Angeles. So I caught one of the fairly frequent, $9.75 LAX FlyAway shuttle buses to the Van Nuys bus terminal near Encino, and the bus took me from the airport to the station in less than an hour via the 405 freeway. The FlyAway also goes to downtown Union Station, the Amtrak terminal.
The next day I took LA Metro to visit Frank Lloyd Wright's concrete masterpiece Hollyhock House in East Hollywood, catching the Orange Line bus rapid transit route at Balboa station, transferring to the Red Line subway at North Hollywood, and exiting at Vermont/Sunset, a couple blocks from the landmark. Unlike Chicago's Loop Link corridor, the Orange Line is true BRT, with pre-paid, all-door boarding and a car-free right of way, so it basically travels as fast as a train. Fares are enforced by occasional visits by fare inspectors (although I never encountered one during my visit), rather than the bus operator, which reduces the chances of violence against the driver.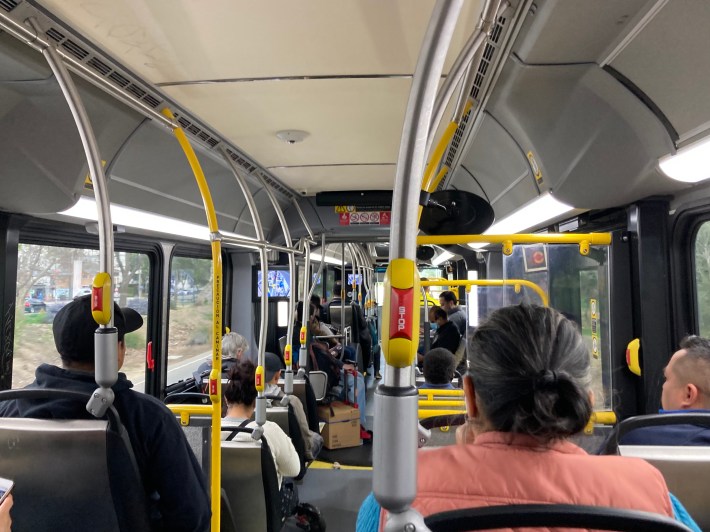 The LA Metro system is only 32 years old, and as such the railcars and stations tend to feel more modern than their CTA counterparts. Some of the stops are fairly attractive, with interesting decor and public art.

After touring Hollyhock, I visited nearby Little Armenia, stopped at Tiki Ti tropical bar in Los Feliz, and got some Taiwanese food at Pine and Crane on pedestrianized Griffith Park Boulevard in Silver Lake, taking short bus rides between some of the stops. (LA Metro's one-day pass, only $3.50, is a great deal.) Unlike in Chicago, the buses always seemed to show up at the times predicted on the Transit App, but maybe I just had good luck.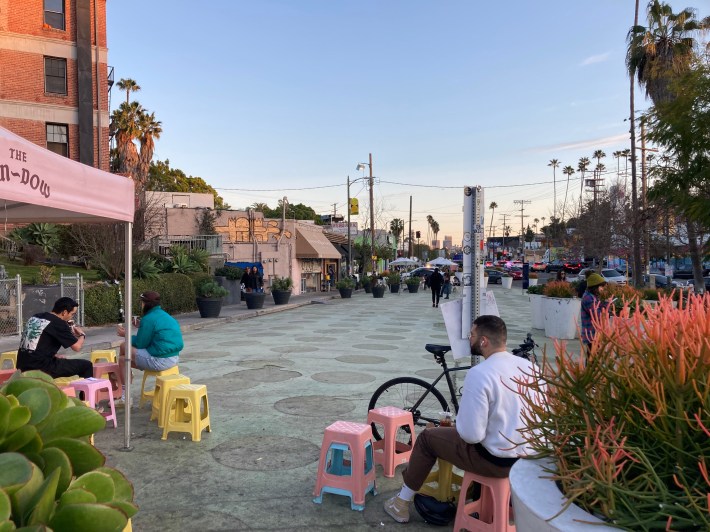 I eventually made my way downtown on the Red Line for the first night of a music festival at the historic Palace Theater, opened in 1911. The fest celebrated the 20th anniversary of Chicago's Numero Group, a Little Village-based record label specializing in reissues of soul and indie rock albums. (I never figured out why the event was held in LA, but it was a lot of fun.) At the end of the night, I made my way back to Encino via the Red and Orange Lines.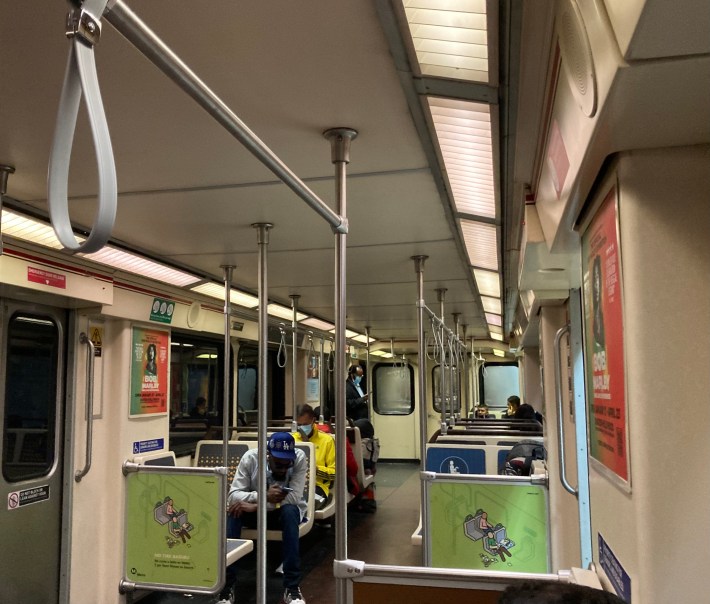 Just like the CTA Red Line, late at night LA Metro's Red Line seems to heavily function as a last-resort shelter for people experiencing homelessness. But one thing that was different about LA was that it seemed fairly common for people to spend the night sleeping in the stations themselves, which is unusual in Chicago.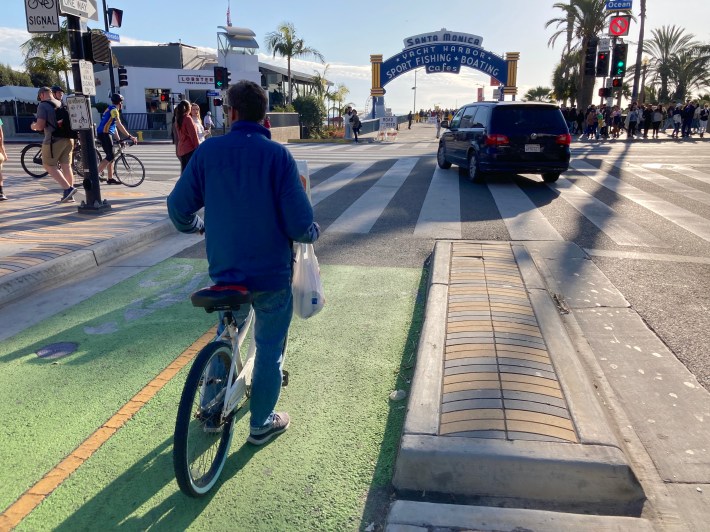 The next day I was interested in seeing the ocean, but I didn't see a good transit option from my host's house to the beach, so I sprung for a $25 ride-hail trip via the 405 to Santa Monica Pier. It's a fascinating place to people watch, with a breathtaking view of the water and the Santa Monica Mountains to the north.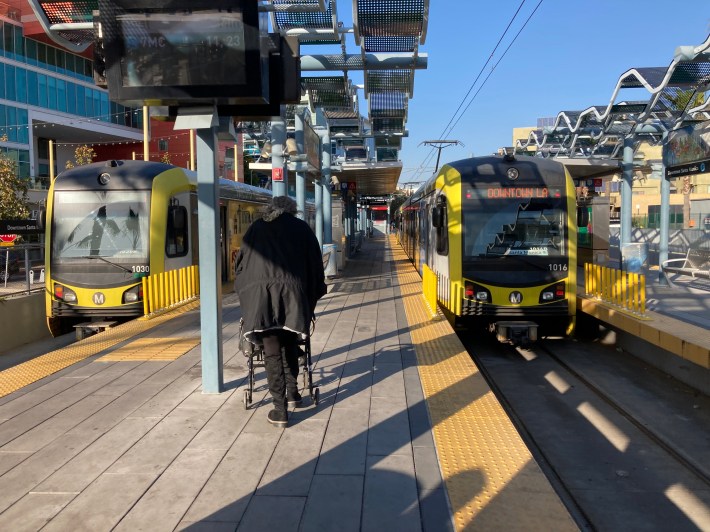 While it wasn't convenient for me to get to the pier, after a walk on the beach it was very easy to get away. A couple blocks up Colorado Avenue is the terminal for the Expo Line, aka "the subway to the sea," which took me all the way back to DTLA, where I'd catch the second night of the Numero Group festival. At the line's 7th Street / Metro Center terminal, I transferred to the Red Line for a quick jaunt to the Pershing Square stop and a visit to the Last Bookstore, a large complex that also includes art galleries. By coincidence, there I ran into Jesse Hautau, a former worker-owner at Chicago's Comrade Cycles bike shop.
After sampling more of the pleasures of DTLA (stew tacos at Guisados, punk rock-themed doughnuts at Donut Friend, both near the theater), I caught another lineup of excellent music, and then rode the Red and Orange lines home again.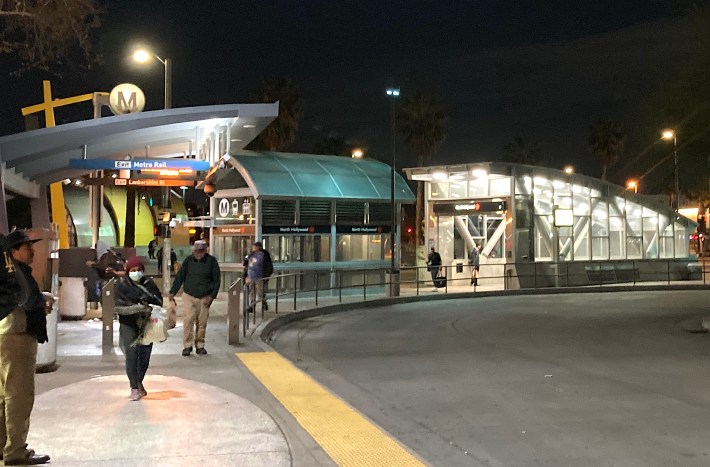 Taking Amtrak from LA to Oakland
The next day it was time to catch the Coast Starlight train. It's the partly-coastal option of two different Amtrak routes between LA and the Bay area, the other being a mix of bus and train service that runs through California's Central Valley. (The Coast Starlight continues inland all the way from the Bay Area to to Seattle.)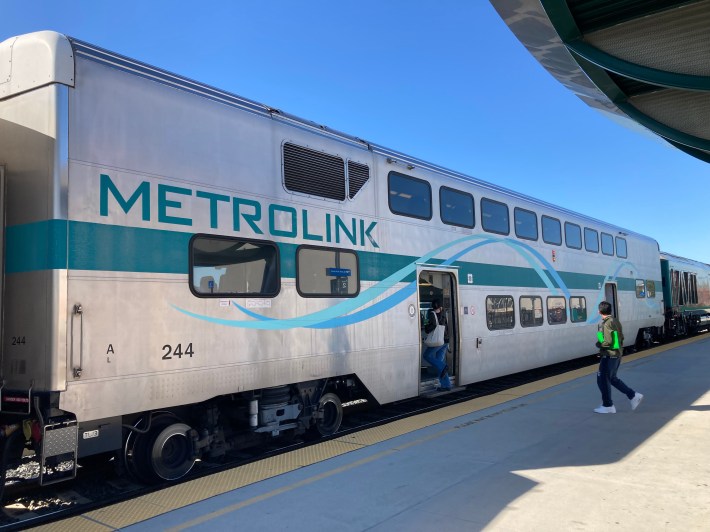 While I booked my ticket leaving from Union Station, I later figured out that the Coast Starlight route runs past Encino on its way to the ocean, so it made a lot more sense to catch the train at the Amtrak/Metrolink commuter rail station in Van Nuys, rather than take Metro all the way downtown again. I was able to change my ticket on the sold-out train to get on at Van Nuys without an additional fee, but only after speaking on the phone with multiple customer service reps, one of whom told me there was no way to do so, and another who told me it would cost another $140.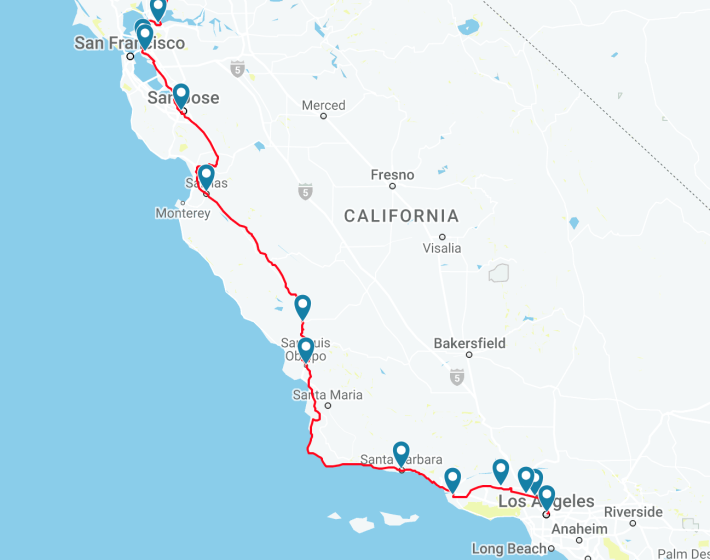 Another issue is that the train trip ain't fast. While flying from LA to Oakland takes only an hour and twenty minutes (not including travel to and from the airports and getting through security, etc., of course), the Coast Starlight takes about 11 hours. Streetsblog California, Streetsblog Los Angeles, and Streetsblog San Francisco report that work on the California High Speed Rail corridor in the Central Valley is well underway, which will eventually cut the rail trip time significantly. And, contrary to what U.S. Representative Marjorie Taylor Green (GA14) has said, the work doesn't even involve space lasers.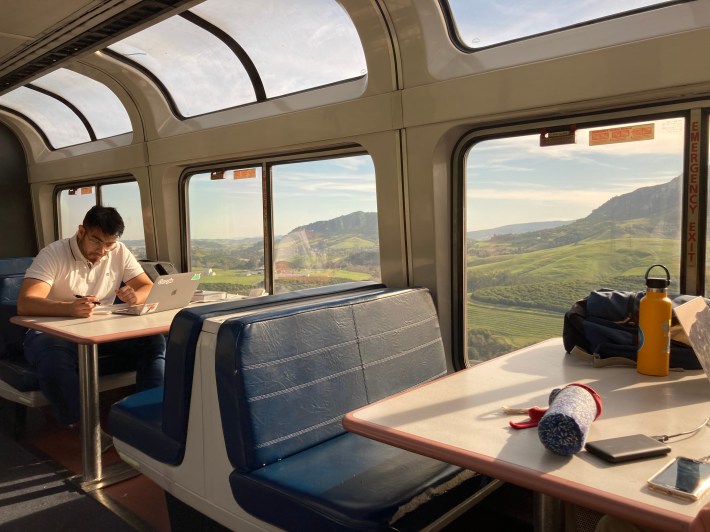 Those caveats aside, I would strongly recommend taking the Coast Starlight – it's an unforgettable trip. For most of the route between Oxnard and Pismo Beach the train hugs the coastline, offering stunning, sometimes vertiginous views of the coastline. And I say this as someone who has bicycled the entire U.S. Pacific coast – in some cases the tracks get even closer to the ocean than you can on the shoreline highway. At times being on the train feels like you're riding only a few feet from a cliff face, as you can see in the video below.
Even once the train went inland for good, much of the scenery looked like something from "Lord of the Rings," such as the green volcanic mountains below in Santa Barbara County. As such, the day flew by, and I was in Oakland before I knew it. While there's no onboard Wi-Fi, I was able to get a significant chunk of Streetsblog editing work done using my phone's hotspot. Best of all, this life-changing journey is dirt-cheap, with one-way coach tickets costing only $54 if you book a couple months in advance. Tip: Make sure to ask for a seat on the ocean side of the train, or else grab one in the observation car as soon as you can.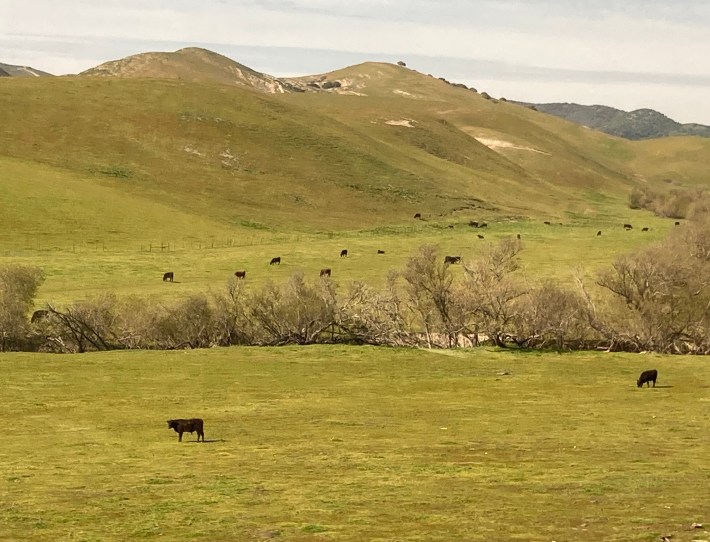 The Bay Area
Hmm, this post came out longer than I planned and, to be honest, I only took a few bus and train trips in San Francisco and Oakland during my weekend there, since my very gracious hosts generally preferred to chauffeur me. So I think I'll cut to the chase by simply providing a gallery of interesting walk/bike/transit stuff I saw in the Bay Area. But I was generally impressed by the bike accommodations at Bay Area Rapid Transit (BART) stations, and the many miles of bus lanes I saw in San Francisco, which has exponentially more miles of busways than Chicago does. Another fun thing about SF public transportation is how varied the rolling stock is. There are buses; subway cars; light rail trains; lots of commuter and intercity rail; streetcars; and the iconic Rice-A-Roni-style cable cars used for climbing the steep hills, making the city a transit buff's dream.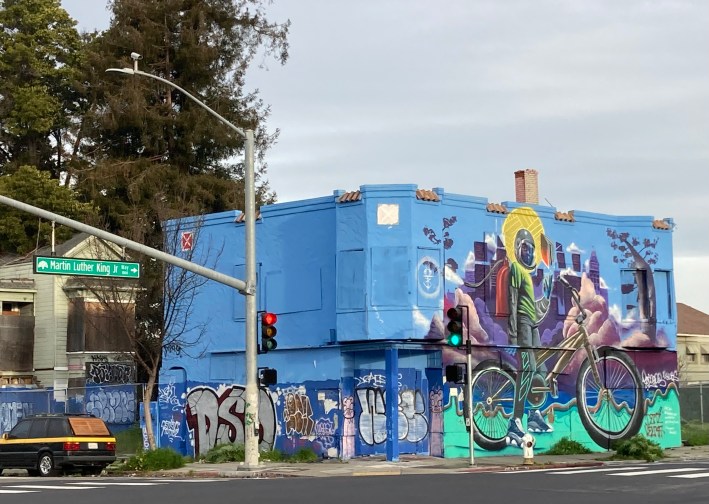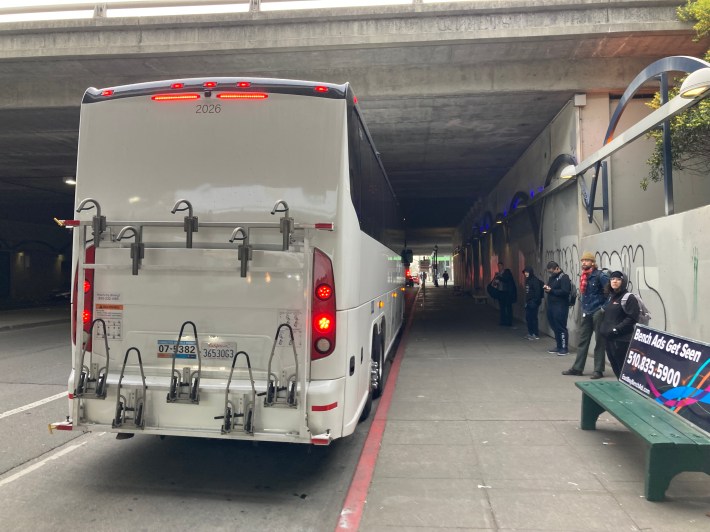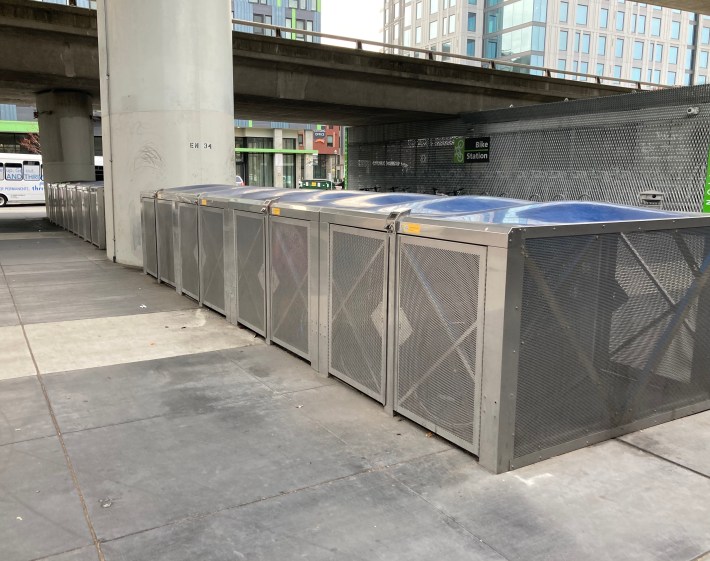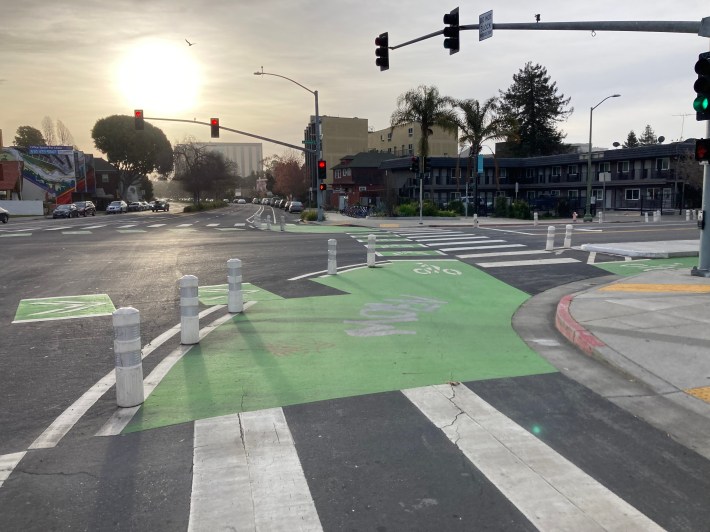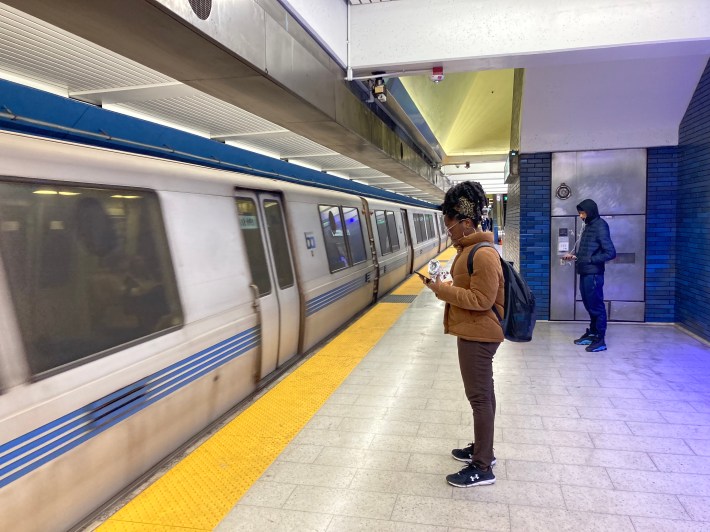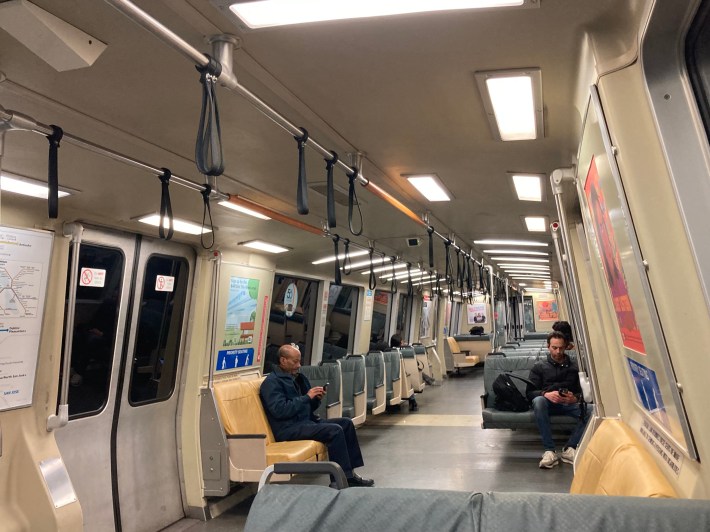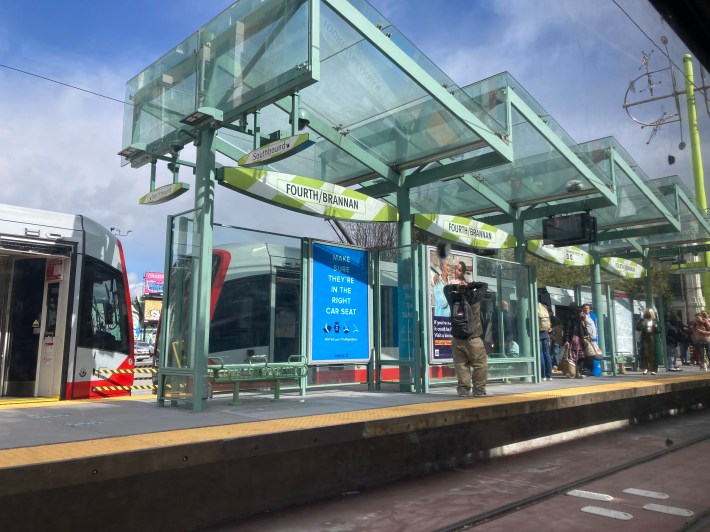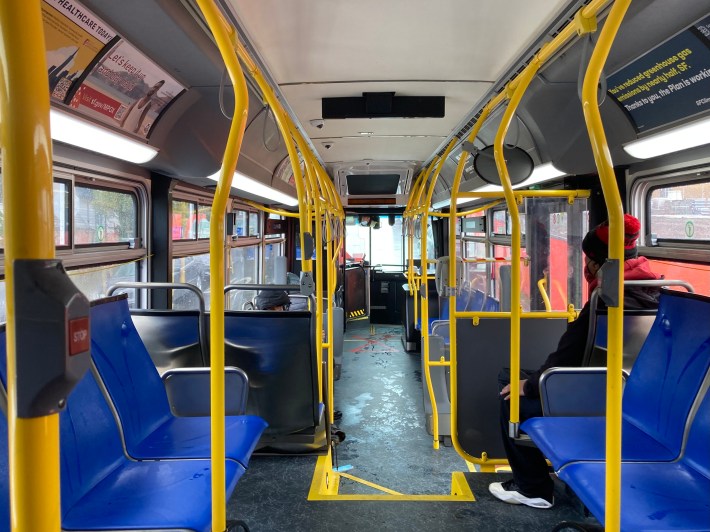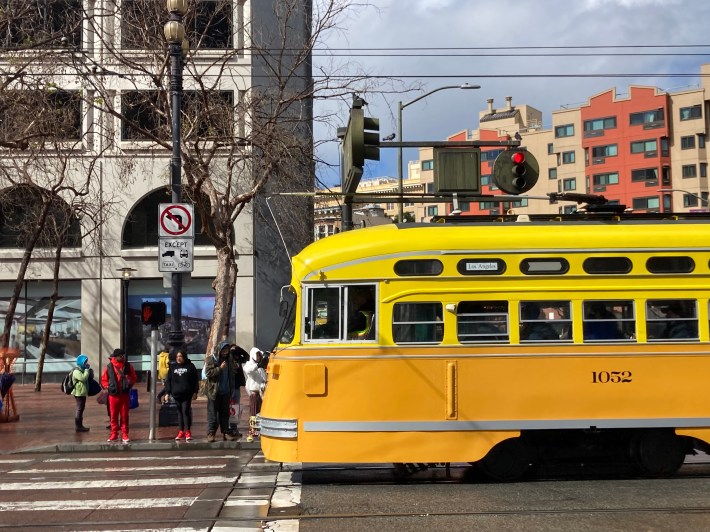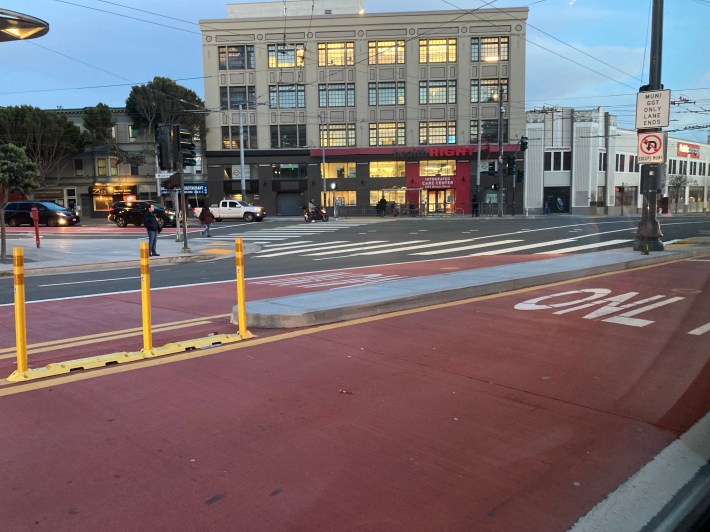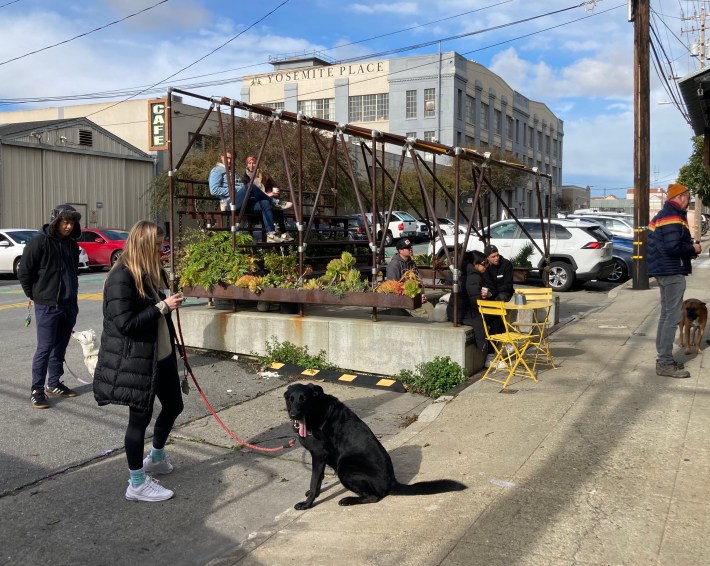 Oh, and if you're wondering what I did for fun in the Bay Area besides snapping photos of transportation infrastructure, highlights included a seafood lunch at Tadich Grill, founded in 1849, the oldest operating restaurant in California; singing at Oakland's The Alley piano bar; a visit to SF's Asian Art Museum; Marufuku Ramen in Japantown; a walk in Candlestick Point State Recreation Area; quesabirria tacos at Tacos El Patron in the Mission District; checking out the only Frank Lloyd Wright-designed building in SF; and attending a drag show sendup of Michael Douglas psychological thrillers starring [checks notes] a Joan Crawford impersonator, at Oasis in SoMa.
In addition to editing Streetsblog Chicago, John writes about transportation and other topics for additional local publications. A Chicagoan since 1989, he enjoys exploring the city on foot, bike, bus, and 'L' train.
Stay in touch
Sign up for our free newsletter