Streetsblog Chicago
Is the CTA giving riders enough info about how much the Forest Park Branch Rebuild will delay their commutes?
3:18 PM CDT on July 24, 2023
Thanks to Streetsblog's Steven Vance for editing help with this piece.
After the CTA announced in late June plans to upgrade the Forest Park Branch of the Blue Line, a $268 million project, transit advocates were pleased by the news. But the grassroots group Commuters Take Action wanted more details on exactly how the overhaul would work.
Last Wednesday the CTA sent a reminder press release, noting that starting at 3 a.m. on Sunday, July 23 (yesterday), Phase 1 of the project would kick off with the closure of the line between the LaSalle (130 W.) and Illinois Medical District (1900 W.) stations. This will allow workers to completely overhaul 15,000 feet of track (nearly three miles), rebuild the Racine station (1200 W.), and update the the traction power system. Phase 1 will hopefully finished be largely by October 7, when this section is slated to reopen. The agency also provided details on how affected Blue Line riders could take advantage of free and reduced-price rides on relevant rail and bus lines.
One again Commuters Take Action has questions. More on that in a bit, but first let's look at what the transit agency said earlier this week.
If you're already familiar with the announced Blue Line alternative policies and are short on time, you might want to skip ahead to the "Commuters Take Action's response" section of this article.
The CTA's plan
To encourage Blue Line riders to use alternative service options during the Phase 1, CTA is offering free rides on some north-south buses running between the Green and Pink lines. Between Austin (6000 W., #91 route) and Ashland (1600 W., #9 and #X9 routes) avenues, bus drivers will let riders board for free in the designated no-fee zone, as shown below.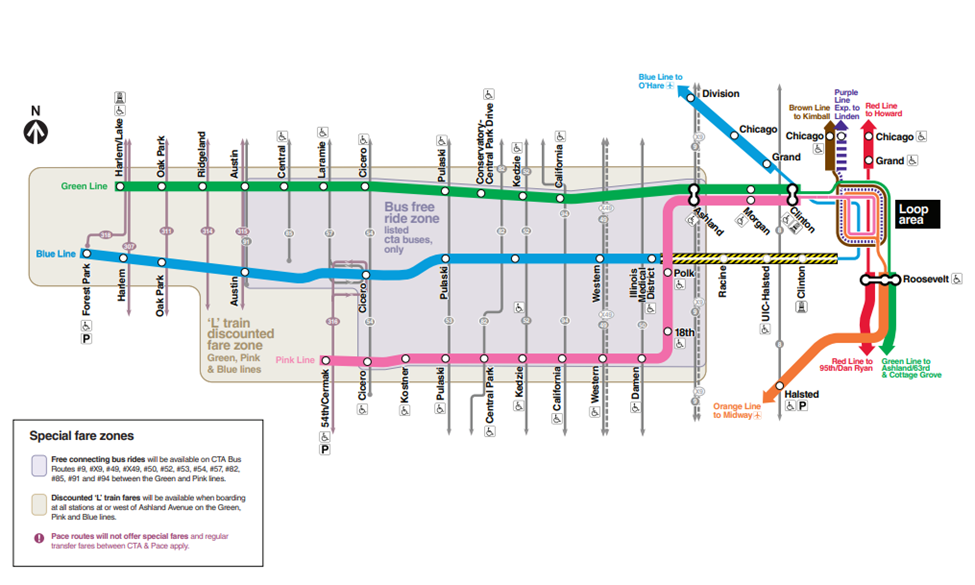 The CTA will also slash 'L'' fares by 50 percent during Phase 1 for customers using Ventra fare cards to enter the 'L' system at the Ashland/Lake Green and Pink station, and all stations west of Ashland on those lines. There will also be a half-off discount for riders boarding the Blue Line at the IMD stop, and all stations west of it. Again, these discounts will only be available during Phase 1, until early October.
But wait, there's more! In addition to offering breaks on pre-existing bus and train routes, the CTA will run a free 24/7 Blue Line Local shuttle bus along the Forest Park Branch corridor, stopping at all the Blue Line stations between IMD and Jackson (300 S., located at Dearborn Avenue, 30 W.) This route will be used during during the initial stretch of Phase 1 between July 23 and late August, dubbed Part A, which includes the rebuild of the stretch between the LaSalle and UIC-Halsted (800 W.) stations.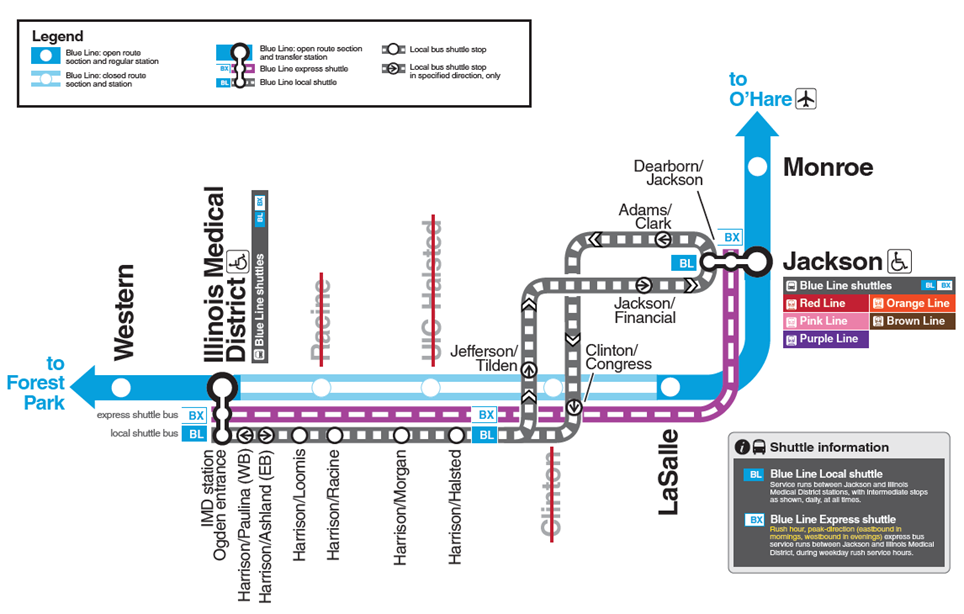 And during Part A, the CTA will operate a Blue Line Express shuttle between IMD and Jackson on weekdays from 6:30-9:30 a.m., and from 3:00-6:30 p.m. That shuttle will only run inbound (east) during the AM rush and outbound (west) during the PM rush.
After the LaSalle-to-UIC/Halsted track work is finished and the Clinton and UIC/Halsted stations reopen in late August, the local shuttle will only run about a mile between the IMD and UIC/Halsted stops, while track and station work is completed on this stretch. There will no longer be an express shuttle during this time, dubbed Part B, which will last until October 7.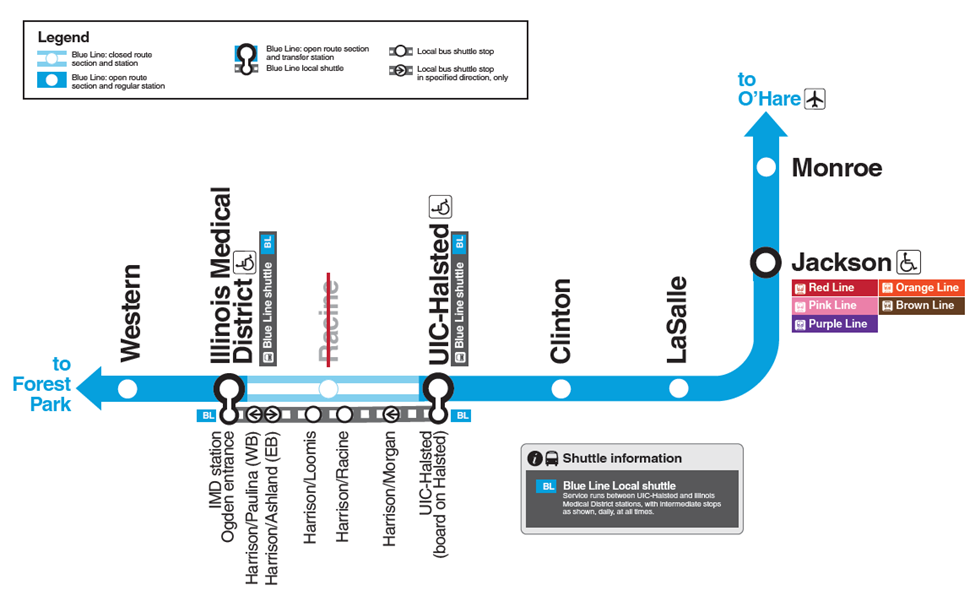 According to the CTA, after the track work is done in October, the Loomis Street (1400 W.) auxiliary entrance of the Racine station will reopen. But the main entrance at Racine will stay closed, likely until late next year, while station reconstruction work is done. After that the Racine entrance will reopen, while the Loomis entrance will close for reconstruction until the end of 2025.
"To help riders impacted by the construction, the CTA is staffing stations with Information Specialists this week and next week," agency stated in last Wednesday's release. "[They] will be available throughout the day to provide in-person support to help customers understand their transit options, and encourage riders to allow for extra travel time."  
You can provide input and ask questions about the free and reduced rides program by contacting CTA Customer Service (1-888-YOUR-CTA, feedback@transitchicago.com.)
Commuters Take Action's response
After the announcement of the Forest Park Rebuild last month, Commuters Take Action (CTAction) posted a statement applauding the project, but arguing that the CTA had been light on details about transportation alternatives for affected riders, and how the work would affect the Blue Line's O'Hare branch.
(The Active Transportation Alliance also cheered on the project in a statement to Streetsblog last month, and called the Illinois Department of Transportation to "reimagine highway shoulders as bus-only lanes" on the Eisenhower Expressway in conjunction with the project. ATA declined to comment on the CTA's latest announcement.)
After the CTA announced details about the bus and train options last Wednesday, CTAction cofounder Fabio Göttlicher told Streetsblog the reduced and free fares "should ease the pain" for Forest Park Branch commuters. But he said his organization had a number of new concerns about the project.
For starters, Göttlicher noted that the CTA's FPBR info website stated that the half-off 'L' fares won't be available to riders using Ventra tickets (as opposed to fare cards) or passes. (Riders who have passes and registered Ventra cards can contact Ventra customer service to convert remaining pass values to Ventra card funding in order to get the discount.) He added that it would be good if the express shuttle buses ran in both directions during rush hours.
Göttlicher also argued that the CTA has been sending mixed messages about whether or not the Forest Park Branch project would reduce the number of Northwest Side runs. "A recent Ventra email mentioned that Blue Line riders on the O'Hare branch should seek alternative transportation as there will be fewer blue line trains running," He told Streetsblog last Wednesday after the CTA announcement. "However, the official project website doesn't mention any changes for this part of the route. We asked both the CTA feedback team and a CTA specialist at a station about this, and neither were able to provide an answer. As Blue Line trains are usually already at capacity during rush hour, any further reduction in train frequency would be disastrous."
In addition, Göttlicher wanted to know how much extra travel time Blue Line riders should plan on for when using the shuttles. "Once again we're left without answers. "CTA's inability to answer these crucial questions makes us believe the agency is not fully prepared to successfully undertake this project."
However, on Thursday Göttlicher told Streetsblog the CTA had recently added FAQs at the bottom of the FPBR info page addressing the very questions CTAAction had raised. The site stated "Trains will run [about every] 10 minutes on the Blue Line during Phase 1 work," instead of the usually scheduled 6-7 minute headways during rush hours.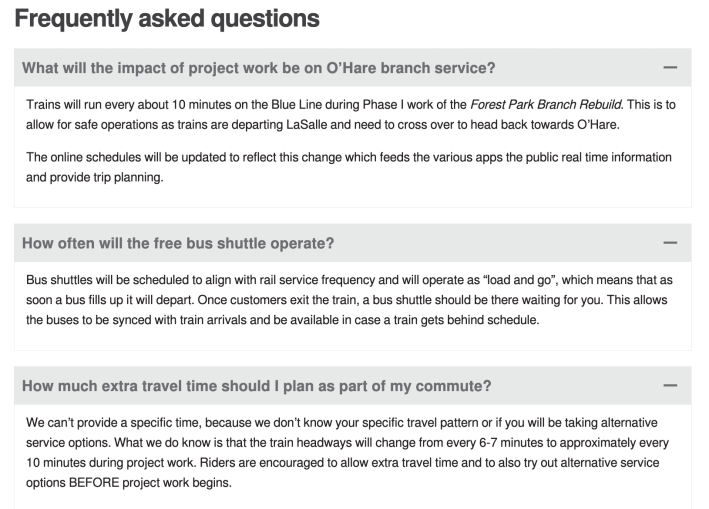 As for how much longer Blue Line customers should allow for their trips, an FAQ reply said, "We can't provide a specific time, because we don't know your specific travel pattern or if you will be taking alternative service options." But it pointed out that Blue Line headways would be increasing by 3-4 minutes during Phase 1.
"We appreciate [the FAQs] being added, but I am still a little worried that a CTA specialist at a station gave different answers than what's on the website," Göttlicher told Streetsblog. "Neither the brochure distributed by the CTA nor stations have this information either."
On Thursday, after reviewing the new Blue Line schedules from the CTA's General Transit Feed Specification public data website, Göttlicher told Streetsblog the schedule show a 14 percent reduction in scheduled service on the already-jam-packed O'Hare Branch compared to the March 2023 schedule. "At CTAction, we feel that the CTA is downplaying the impact that this will have on Blue Line riders that aren't even riding across the closed part of the line." He added that the the Forest Park Branch is getting a 5 percent increase in scheduled service at this time. He said CTAction has updated its Service Cuts map to account for these changes.
"CTA is still reluctant to give riders estimates of how their travel time will be affected," Göttlicher said. He said the GTFS dataset shows that the Local Blue Line shuttle between Jackson and IMD has a total travel time of 24-26 minutes, compared to 9 minutes on a pre-Phase 1 Blue Line run. "Accounting for transfer time, I'd imagine this shuttle will add at least 20 minutes, but more likely 25-30 minutes of extra travel time for Blue Line riders who wish to travel across the closed section." The Express Blue Line shuttle has a travel time of 16 minutes. "We don't understand why the CTA does not want to share these facts with riders."
Streetsblog forwarded all of Göttlicher's emails from last week to the CTA's media department for a response. "The CTA is carrying out the most robust customer communications plan it ever has for any recent large-scale capital project," a spokesperson insisted.
That's a questionable statement. Did this project really get more advance notice and broader marketing than the $425 million Red Line South Reconstruction? That project completely shut down the line for five months in 2013 to rebuild 10.2 miles of track.
The representative pointed to updated data feeds that allow third party trip planning apps like Google Maps and Transit App to help riders best plan their specific travel patterns. They noted that "Suggested Travel Options" have been emailed to registered Ventra users.
The CTA rep added that 'L' operators are making audio announcements about the changes, in addition to amended rail line maps that have been placed in the train cars. "These complement the project alerts that are posted in rail stations and vehicles throughout the project area," they said. They also mentioned the Information Specialists who were in stations last week and will be deployed this week as well.
"These measures are an addition to a dedicated project web page; extensive rail station and bus stop signage directing customers to alternative service options; social media content, including educational videos; and more," the rep said. "We have and continue to advise that customers should plan ahead and allow extra travel time."
What it's like using a Blue Line alternative
So what's the customer experience like using the Forest Park Branch alternatives at this point? CTAction member Olivia Gahan used the Blue Line to commute to her job near the closed Clinton station this morning and told Streetsblog about her trip.
"My departing [O'Hare branch] Blue Line station did not have a stand-up floor sign informing riders about the upcoming changes to service until today, or at the earliest, this weekend," Gahan said, adding that she didn't use the line between Friday and Sunday. "The operator did announce that train service would end at LaSalle multiple times during the trip."
Gahan said there were CTA workers in the Jackson station with pamphlets and large "Ask me about the Forest Park build" buttons on. She added that there were no announcements that the shuttles departed from Jackson. But the workers did ask everyone left in the cars if we were getting off at LaSalle. 
"I got off at LaSalle, thinking shuttles would be there," Gahan explained. "They were not so I followed the posted sign about where to pick up the shuttle. There was only one sign posted and I really do not know downtown well so I missed the turn onto Dearborn and ended up walking around longer than I needed to."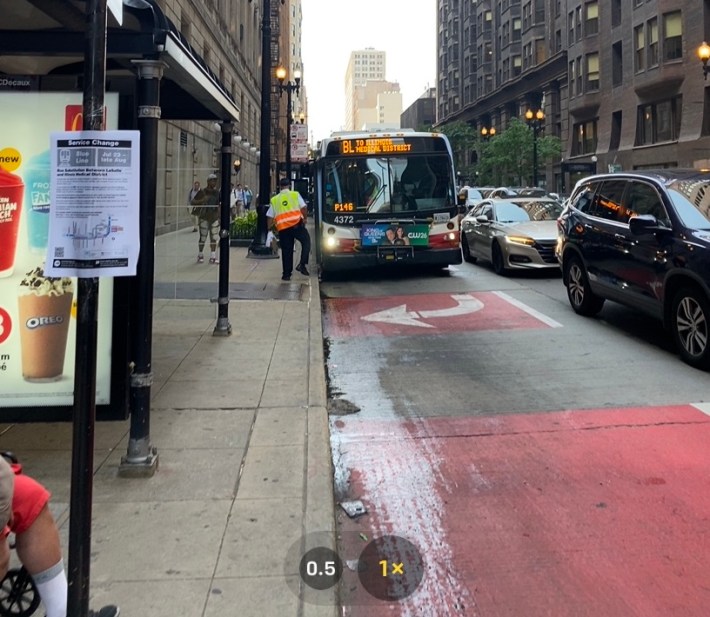 Gahan said once she got to Jackson and Dearborn, there were "rows of Blue Line shuttles." After boarding a local shuttle, she was dropped off at Clinton and found "plenty of signs about picking up the shuttle at the station but none on the streets directing riders to the location of the O'Hare-bound shuttle."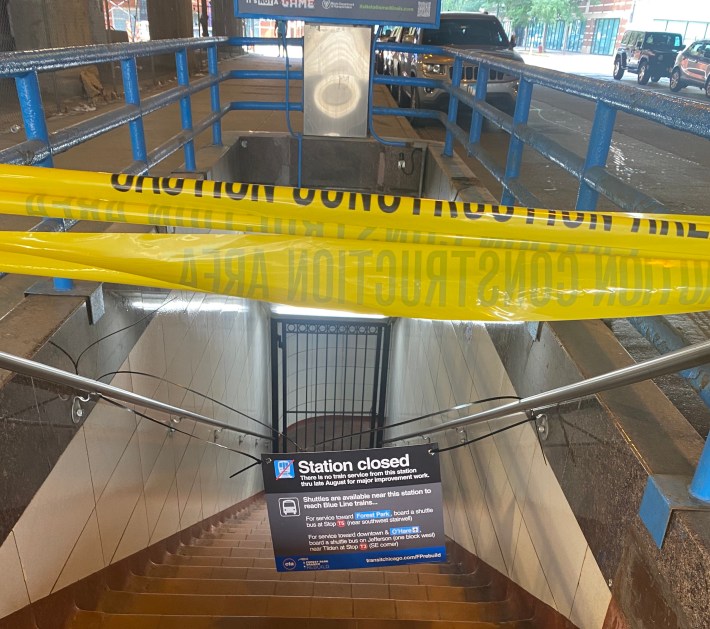 "Overall, the disruption to service would have been minimal if I knew where to get the shuttles," Gahan concluded. "I looked online to check the location of the O'Hare-bound shuttle so hopefully the commute home is easier!"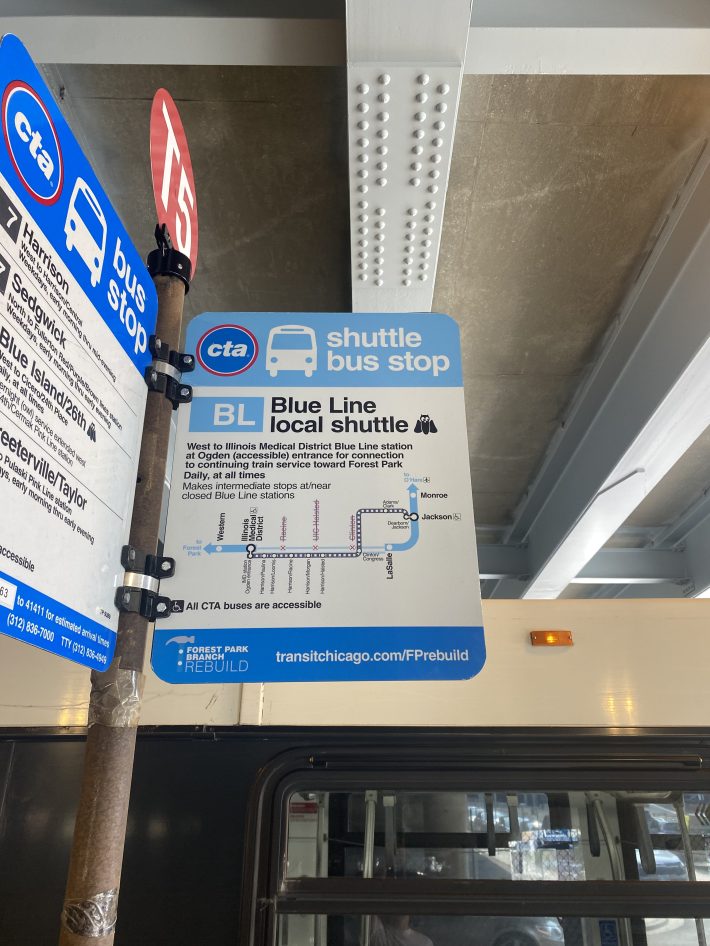 Have you ridden through the Forest Park Branch corridor since yesterday? Tell us about your experiences in the comments section.
Dd you appreciate this post? Please consider making a tax-deductible donation.
In addition to editing Streetsblog Chicago, John writes about transportation and other topics for additional local publications. A Chicagoan since 1989, he enjoys exploring the city on foot, bike, bus, and 'L' train.
Stay in touch
Sign up for our free newsletter