Bicycling
Mayoral candidates weigh in on transportation at Safe Streets for All forum
1:54 AM CST on January 31, 2023
A steady snowfall didn't prevent a capacity crowd from showing up to last Saturday's mayoral candidates' forum on transportation at the University of Illinois Chicago. But perhaps that should be no surprise, considering the event was organized by the Safe Streets for All coalition, a group of advocacy organizations committed to ensuring all Chicagoans can safely traverse the city car-free, year-round. 
Watch the entire forum in this video.
The coalition's platform calls for investments in pedestrian and biking infrastructure and improvements to CTA service and safety. All candidates except Mayor Lori Lightfoot attended. The event was moderated by Urban Gateways CEO and Elevated Chicago co-chair Leslé Honoré, who posed a set of questions to each mayoral hopeful, curated from queries submitted by pre-registered attendees. Or rather, posed them to candidates who kept their responses concise enough to get through more than one or two. 
Willie Wilson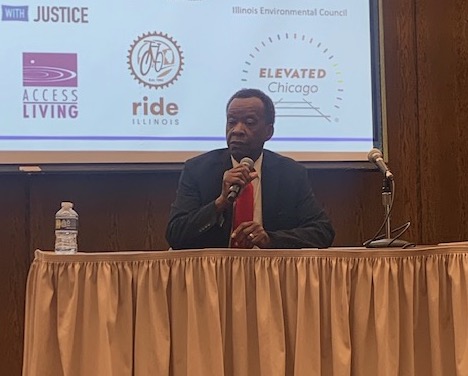 Entrepreneur Willie Wilson was not such a candidate. Wilson spent most of his time on the first question, about his plan for improving transportation for Chicagoans who rely on transit, biking, and walking to get around. He stated that ridership on CTA would only improve by reducing crime and said he would do so by bring back conductors on trains and increasing the police presence. He also mentioned lowering fares and improving cleanliness. Wilson said bike lanes must be made safer with barriers or separated paths, and drivers need to be better informed about newly installed bike lanes. He proposed paying for bikeway improvements with tax revenue from new businesses. 
When Honoré asked how racial equity would factor into Wilson's planning process, he said staffing in city agencies should reflect the diversity of the population. He then said he would get rid of red light cameras, eliciting a low rumble of displeasure from the crowd.
Paul Vallas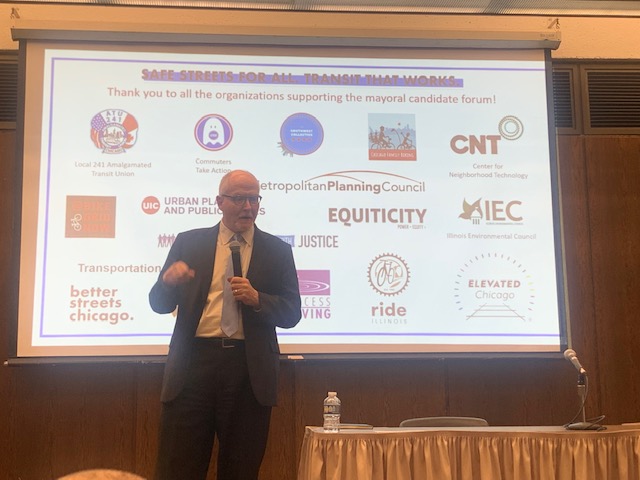 Ex-Chicago Public Schools CEO Paul Vallas spoke next, and didn't get past the first question. He foregrounded his comments by stating that transportation isn't his strongest subject and, if elected, would reach out to experts and community members for guidance. Vallas also blamed crime for decreased CTA ridership and said he would like to divert the recently earmarked $101 million in CTA funding for private unarmed security guards to increasing police presence on trains and platforms. He then talked about his plan to provide water filters for Chicagoans to protect against lead poisoning.
Honoré returned the conversation to Vallas' stance on policing, noting that the coalition expressly seeks to increase safety through other means than additional policing, and asked how else $101 million could be used to improve transit. Vallas stuck to his guns, as it were, but said that $1B in tax increment financing funding could be tapped to avoid the impending fiscal cliff for local public transportation. He concluded by again mentioning lead pipes and water filters, no doubt an important public health issue, but not the topic at hand.
Roderick Sawyer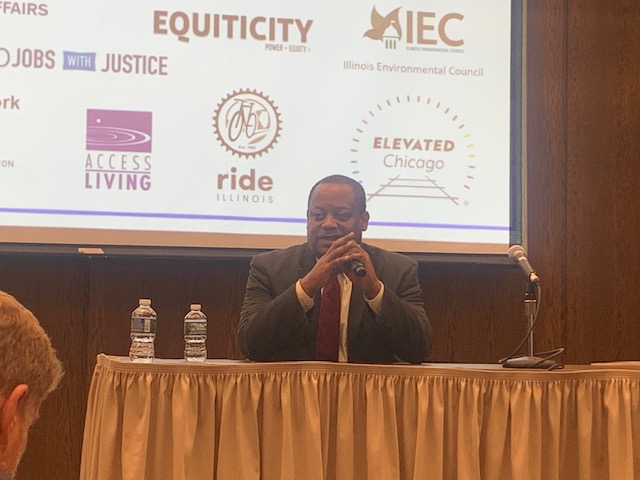 Ald. Sawyer (6th) was the first candidate to answer all Honoré's questions. He cited his record of pushing for transit-oriented developments his ward and commitment to improving sidewalk accessibility. Sawyer said he would champion coordination between CTA and the Chicago Department of Transportation to create new dedicated bus lanes. He stated the issue of unhoused people sheltering on trains was best addressed through CTA employees trained to connect people with housing and social services. When asked about improving bike lanes and implementation of Slow Streets, traffic-calmed bike-and-pedestrian-priority residential streetsSawyer said that he was once opposed to eliminating right turn lanes to install bike lanes, but has changed his view and now supports Slow Streets initiatives. Sawyer added that environmental injustices related to transportation, such as the poor air quality in Little Village, are "over his head," and that he would create a cabinet-level position to address these issues.
Ja'Mal Green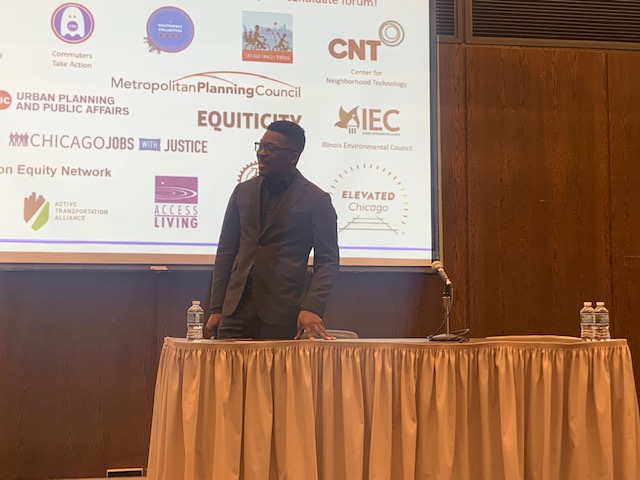 Green, an entrepreneur and activist, was asked how he would address the CTA's workforce shortages. Green stated that public transit should be "safe, clean, fast and, at some point, free." He said that he would declare a state of emergency on transit to "free up funds" that would be used deploy social workers to trains. He also proposed resource kiosks at CTA stations. Green said that CTA workers should have down payment assistance for purchasing homes and free college tuition, making these jobs more attractive to young people entering the workforce. When asked about bridging equity gaps between North and South side CTA transit hubs, Green emphasized the importance of building affordable housing near transit and, interestingly, called for more public-owned grocery stores. He also stated support of Chicago Bike Grid Now's agenda of making ten percent of Chicago's streets bike-priority and challenged the other candidates to do the same.
Brandon Johnson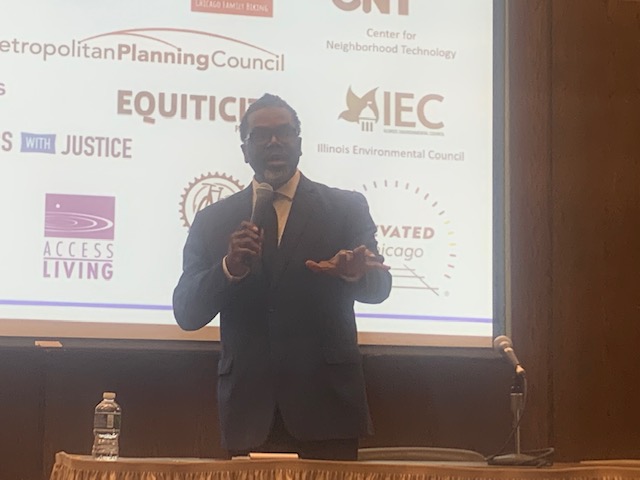 Cook County commissioner Johnson stated that the CTA's unreliable service is contributing to safety concerns on the system. He called for equitable bicycle and pedestrian accommodations to reduce traffic violence and said the city needs a master plan on how to make neighborhoods more walkable. He also voiced support for reduced transit fares for low-income residents and free fares for CPS students. Johnson pointed to his recently unveiled budget, which would bankroll new spending on housing, transit and public health with a tax-the-rich plan that does not include property tax increases. When asked about making sidewalks and bike lanes safer, Johnson stated that he supports the Plow the Sidewalks proposal for municipal sidewalk snow clearance. "I need y'all to be patient with me; there's a whole lot of sidewalks," he quipped. He also said he would implement transit signal priority along more bus routes.
Chuy Garcia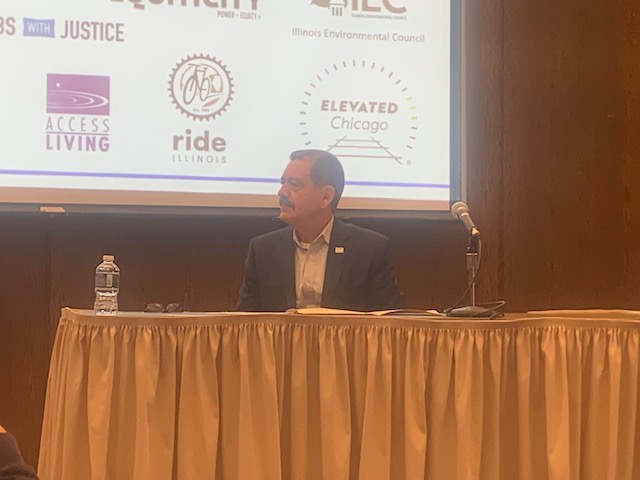 U.S. representative Jesus "Chuy" Garcia pointed to his record as a member of the Congressional Transportation and Infrastructure Committee and cofounder of the Future of Transportation Caucus as a testament to his expertise and commitment to transit improvements. When asked how he would advance equitable TOD, Garcia said he would make sure the commissioner of the Department of Planning and Development is "forward-looking" and work with the Department of Housing to develop more affordable housing near transit hubs.
Garcia expressed support of reducing speed limits to address traffic violence. He stated would work to raise the standards on freight rail emissions to those of California, the most stringent in the country, and that he would pursue electrification of postal and other municipal vehicles. He added that said he supports dedicated bus lanes and other bus rapid transit-style measures. "I would consult with advocates on the ground and affected communities to do away with gut-reaction opposition that happens because people think driving a car equates with freedom. It doesn't."
Kam Buckner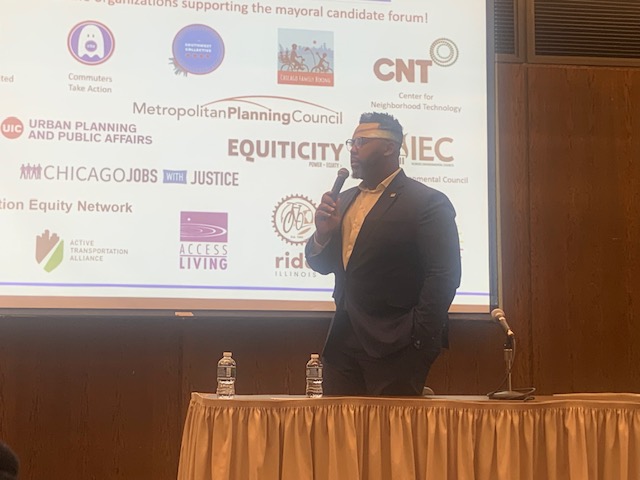 State representative Buckner (26th) opened by stating that, contrary to what Lightfoot has previously stated, Chicago isn't a "car city" but a "people city" and that he has put transit at the center of his campaign. When asked how he would build on the recent agreement that allows CDOT to make traffic-calming improvements on state-controlled roads, Buckner pointed to his role in pushing for the agreement and called for a "bold plan for [DuSable] Lake Shore Drive. We cannot continue to treat an iconic shoreline leisure road like it is a speed ramp to suburban IKEA." 
Buckner expressed support for bus rapid transit improvements including all-door bus boarding and off-board fare collection, and for electrification of the regional bus fleet. When asked about bike lanes and safe streets, Buckner noted the tragic deaths of several children killed by drivers last year while on bicycles and said he would create a CDOT bike lane integrity unit that would keep lanes clear and enforce parking rules. He also said he was in process of filing a state bill that allows municipalities to lower speed limits and another to legalize the "Idaho stop."
Sophia King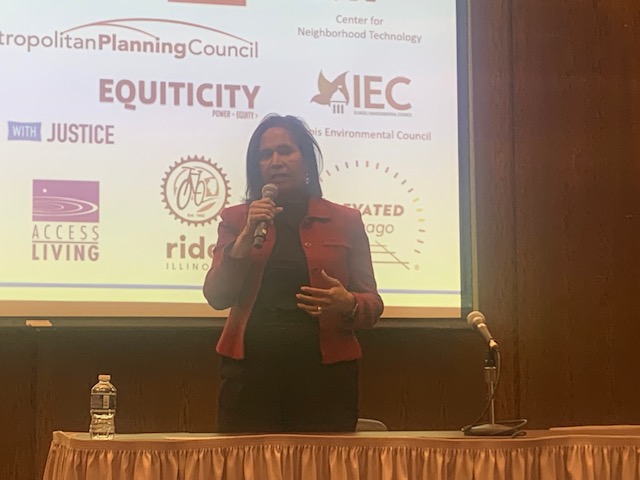 Ald. King (4th) proposed a "regional approach" to transit and greater collaboration between CTA, Pace and Metra to secure more federal funding. She noted her efforts, along with residents, to preserve several bus routes in Bronzeville. Honoré noted that King's ward, which encompasses parts of the South Loop, Grand Boulevard, and Washington Park, exemplifies Chicago's wealth disparity, and asked how she would strike the balance of competing interests of building safe streets and incentivizing development. King said she would focus on existing "opportunity zones," which offer tax incentives to developments in economically depressed areas, to spur growth. King stated that she supports creation of a connected, protected bike lane network, pointing to the bike lanes installed in her ward on Drexel boulevard, Dearborn, and Harrison streets. She said these improvements were made after conversations with advocates, residents and critics.
Stay in touch
Sign up for our free newsletter