Chicago Policy
Here's how mayoral candidates can oppose traffic cams without being irresponsible
3:49 PM CST on January 30, 2023
You'd have thought that the issue of whether drivers should be allowed to speed by up to 9 mph with impunity near Chicago schools and parks had already been settled in July 2022. That's when Ald. Anthony Beale's (9th) proposed ordinance to raise the speed camera ticketing threshold in designated Safety Zones from the current 6 mph over the speed limit back to the previous 10 mph rule was defeated by a landslide 26 to 18 votes.
Data strongly indicates that if Beale's ordinance had passed, more residents would have killed in collisions. Federal studies have found that while people struck at 30 mph, our Chicago's default speed limit, usually survive, those hit at 40 mph almost always die. 40 is the lowest speed at which a driver would have been ticketed under the ordinance.
A UIC study released in January 2021 found that that from 2015-17, Chicago speed cameras cams prevented an estimated 204 injury and fatality crashes. And ticketing data indicated that lowering the threshold from 10 mph to 6 mph, which started in March 2021, had a significant positive effect on driver behavior. While the number of tickets issued initially skyrocketed, by the end of the year the number of violations had plummeted, as drivers learned they could avoid tickets by choosing not to speed by more than 5 mph in Safety Zones.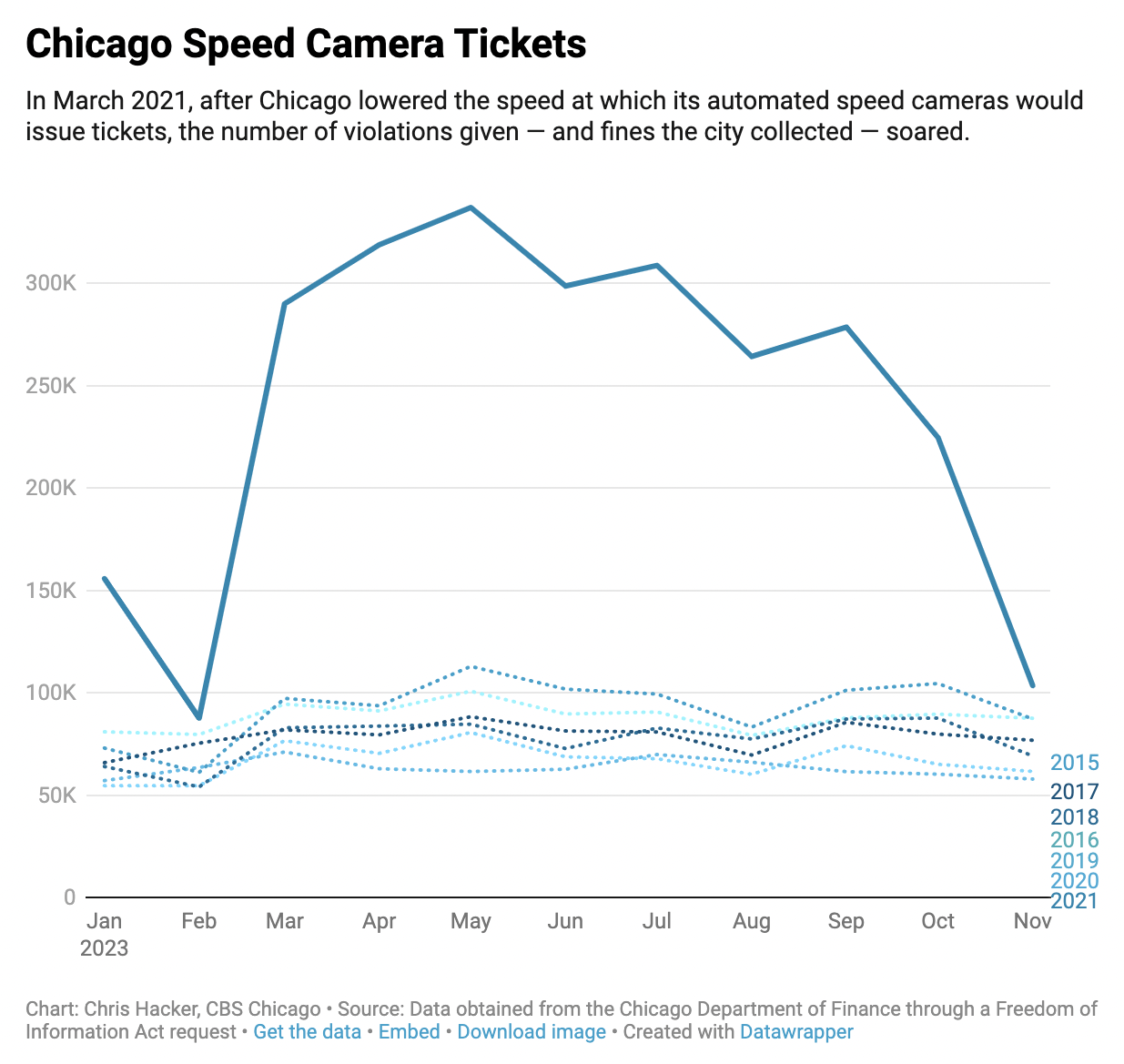 Raising the threshold would have been a particularly irresponsible thing to do during the COVID-era traffic violence epidemic. The vote came after there were 170 Chicago crash deaths in 2021, 50 percent more than in 2019.
But lenient enforcement of dangerous driving has reared its head again as a political issue in the current mayoral election, and unfortunately most of the candidates are on the wrong side of it. A Sun-Times questionnaire asked the hopefuls, "Chicago has lowered the threshold for which speed camera tickets could automatically be issued – making it 6 mph over the limit. Would you nix that decision, only fining drivers going 10-mph and over?" Six out of the nine candidates said yes: Activist Ja'Mal Green, state rep Kam Buckner (26th), entrepreneur Willie Wilson, ex-Chicago Public Schools chief Paul Vallas, Ald. Roderick Sawyer (6th), and Congressional rep Jesus "Chuy" Garcia said they would. Mayor Lori Lightfoot, who implemented the 6 mph rule, predictably said no. Ald. Sophia King's (4th) and Cook County commissioner Brandon Johnson's response was "other."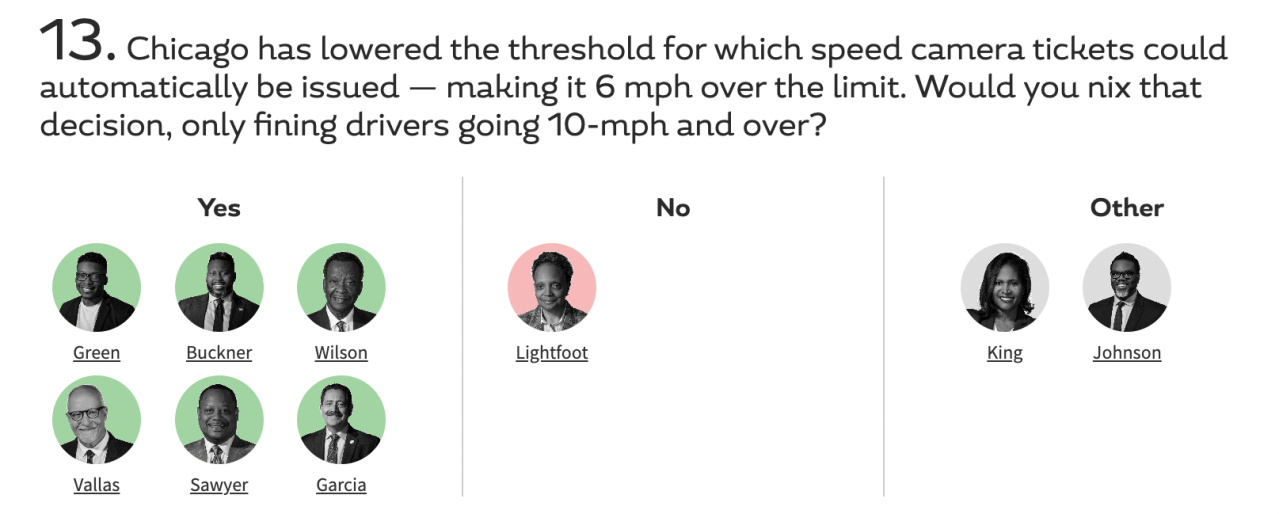 Let's look at excerpts some of their comments (on the Sun-Times site, click on the photo of each candidate to read these.) Said Buckner, "While speeding can't be something the city turns a blind eye to, the 6-mph threshold is arbitrary and is not designed to make our streets safer... Our focus needs to be on creating safe infrastructure, not penalties." Again, there's a big difference between speeding at 35 mph and 39 mph, so it's not an arbitrary rule. I'll discuss the question of replacing traffic cameras with safer street designs in a bit.
Wilson called speed cameras, "a tax on Black and Brown communities." Vallas similarly said, "It is time to pull back these draconian fees and fines that are having its greatest impact on Chicagoans with the lowest income."
The UIC study, as well as a ProPublica report published at the same time did find that a disproportionate number of the motorists the cameras recorded speeding were driving cars registered in majority-Latino and, especially, majority-African-American Census tracts. While UIC found the cameras aren't concentrated in communities of color, the specifics of where the cams are placed may play a role in the racial disparity (although road width doesn't). Variables like occupation, proximity to workplaces and other destinations, and neighborhood crime rates are other factors that may cause Black and Brown residents to spend more time behind the wheel. Streetsblog did a deep-dive into these issues in another article.
UIC and ProPublica also noted that traffic camera fines and late fees have a much bigger impact on lower-income Chicagoans than wealthier residents. In response to these findings, the Lightfoot administration launched the Clear Path Relief Pilot Program in March 2021. Chicagoans who make less than $41,000 get a 50 percent discount on traffic fines, meaning a ticket for speeding 6 to 10 miles over the limit costs $17.50. There's also a ticket debt forgiveness program.
Sawyer, who voted to raise the ticketing threshold, said "As mayor I would identify a replacement source of revenue and phase out red light cameras entirely. I introduced an ordinance to remove the red light cameras [in 2015] that would have had them phased out by now." A city-commissioned report on the RLC program conducted by Northwestern University researchers released in March 2017 found the cams resulted in an overall ten percent drop in injury crashes, with a 19 percent reduction in particularly dangerous "T-bone" and/or turning collisions, and a positive spillover effect on safety at other nearby intersections.
"Red Light Lori jacked up traffic fines for Chicagoans to fix her budget, despite campaigning against these penalties," said Garcia. In reality, Lightfoot hasn't made any major changes to how the red light camera program operates or raised automatic enforcement fees, although she did promise her administration would be less dependent on traffic fines for revenue. "I believe we should make the fine less regressive based on income." Again, Lightfoot already did that.
Said Lightfoot, "This is a crucial safety issue," citing the UIC findings on the speed camera's safety benefits. "Any candidate for mayor who tells you that they support raising the speed camera ticketing threshold is also telling you that they support raising the number of pedestrian injuries and fatalities near schools and parks – particularly putting our kids at risk." While I obviously don't agree with the mayor on everything, she's right on the money here.
In her "none of the above" response, King, who voted for Beale's ordinance to allow 9 mph speeding, argued that Lightfoot's earlier move to lower the ticketing threshold to 6 mph as part of her 2021 budget, "was a false choice that the Mayor forced upon the City Council – to choose between safety and equity. The existing cameras are inequitably and disproportionately distributed praying [sic] on mostly poor Black and Brown people." She called for "redistributing the cameras more equitably." Again, as UIC noted and shown in the maps below, the speed cameras aren't concentrated in African-American or Latino neighborhoods. Neither are the red light cams.
"With collaboration," King continued in her response, "we could redistribute the cameras more equitably including placing them in areas that provide more safety and more revenue. We can then have safety, equity and increase revenue."
"Lowering the speed limit is a cash grab, and has not proven effective in making our streets any safer," said Johnson. "However, we also need to be heavily investing in safety and more effective means of traffic calming, including reduced speed limits and car access in select areas, car-free zones, speed bumps, safer intersections, and improved biking infrastructure." So he thinks lowering the speed limit was a cash grab, but he also things lowering speed limits is a good idea?
Seemingly self-contradictory statements aside, I think I understand what Johnson was getting at here. While opposing traffic cameras is a popular political stance with drivers who don't like being held accountable for speeding or running reds, it's true that Chicago's automatic enforcement program isn't perfect from an equity standpoint.
It would, in fact, be preferable, if we could achieve similar or greater safety gains through strategies like "road diets," converting excess mixed-traffic lanes on wide, speeding-prone roads to wider sidewalks and protected bike lanes. The problem is, driver don't like tactics like that any more than speed or red light cameras, and alderpersons often block such proposals, sometimes with tragic results.
I had some back-and-forth on this topic with Ja'Mal Green, who said he'd raise the ticketing threshold, on Twitter today. Here's how I wrapped up my argument:
"That's my stance!" Green replied. "I'll use that wording from now on. I'm just very passionate about the thousands of people on bankruptcy who can't achieve homeownership or provide for their families."
So if Chicago mayoral candidates don't like automated enforcement, that's fine – as long as they have a realistic alternative proposal for preventing traffic deaths. Everywhere they want to take down speed or red light cameras, they need to first implement a street redesign that will be similarly effective in reducing crashes.
In addition to editing Streetsblog Chicago, John writes about transportation and other topics for additional local publications. A Chicagoan since 1989, he enjoys exploring the city on foot, bike, bus, and 'L' train.
Stay in touch
Sign up for our free newsletter