Bicycling
Will Smart Streets Pilots Ordinance give bike and bus lane enforcement some teeth?
5:55 PM CST on January 19, 2023
Update 1/20/23, 2:15 PM: Here's a response from CDOT spokesperson Erica Schroeder to the question of whether new state legislation is necessary for camera enforcement of bus and bike lanes. "A change in state law would be required to give the city the authority to use camera enforcement for moving violations. The ordinance introduced [Wednesday] authorizes the city to use photo enforcement to ticket registered vehicle owners by mail for parking and standing violations. Ticketing by mail for parking, standing, and compliance violations was authorized by a 2019 state bill."
On Tuesday the family of Lily Shambrook, 3, announced a lawsuit against the city of Chicago and three corporations for their roles in the girl's death last June. She was fatally struck on the back of her mother's bike because a ComEd trucker was blocking an Uptown bike lane.
Perhaps not coincidentally, on Wednesday Mayor Lightfoot and several bike-friendly alderpersons introduced to City Council two new pilots intended to help keep bike and bus lanes clear. The Smart Streets Pilots Ordinance, which needs to be approved by the Council, would launch two small-scale pilots downtown to improve ticketing of vehicles illegally parked in bikeways, bus lanes, bus stops, and crosswalks, and allow for camera enforcement for parking in commercial loading zones.
"As traffic fatalities have risen at an alarming rate both locally and nationally in recent years, it is critically important that Chicago use every tool available to improve safety for all road users," Lightfoot said in a statement. "That's why we are proud to introduce an ordinance that will enable two pilots downtown to create safer streets and a better transit experience. By testing a small-scale pilot in 2023, the city will be better able to evaluate how these initiatives will work best when implemented on a citywide scale."
The city noted that during the COVID-19 era, when there has been less traffic congestion and more speeding, as well as an epidemic of carjackings, traffic deaths have greatly increased in Chicago. 170 people died in crashes here in 2021, which was 50 percent more than in 2019. While CDOT hasn't yet released total crash fatality numbers for 2022, there were at least 31 media-reported pedestrian deaths and eight bike fatalities.
The legislation would establish two two-year pilots in the area bounded by Lake Michigan, Ashland Avenue, North Avenue, and Roosevelt Road, a zone somewhere under nine square miles.
Smart Streets Pilot
This first pilot would allow the city to ticket registered vehicle owners by mail for several violations, including parking in bike lanes, bus lanes, crosswalks, bus stops, and no parking zones. This city notes that this will improve safety for vulnerable road users, for example by reducing the need for bike riders to merge into traffic due to a blocked bike lane, the situation that led to Lily Shambrook's death.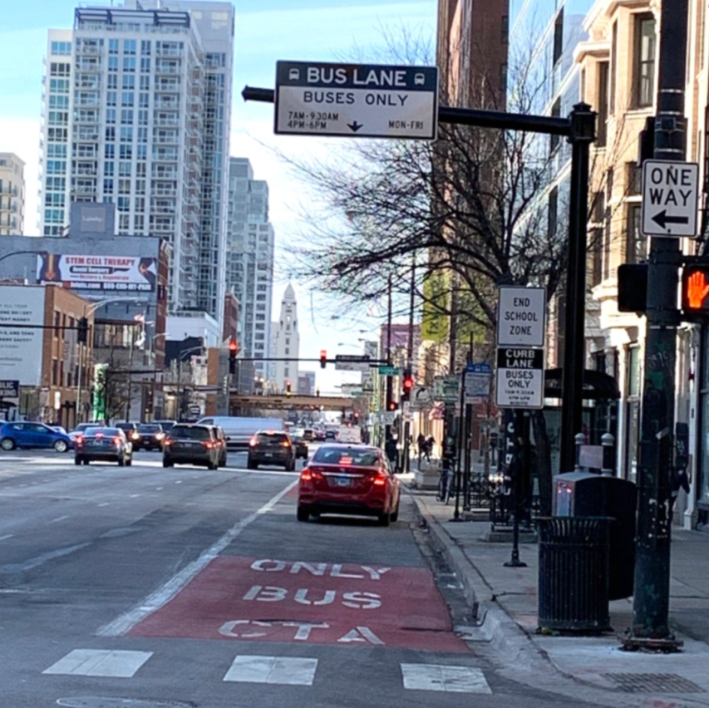 Moreover, the city notes, clear bus lanes would contribute to faster, more reliable service. Officials also pointed out that when drivers block bus stops, it can create a challenging and dangerous situation for people with disabilities exiting the bus.
The ordinance allows for cameras to be fixed on city poles or on the front of city or CTA vehicles. Streetsblog has previously heard that new Illinois legislation would be required for camera enforcement of bus lanes, which has existed in other states for years, so we've reached out to the Chicago Department of Transportation for an explanation.
Photos of violations will be reviewed and then sent to Department of Finance to for processing. "When the city begins camera enforcement of parking or standing violations in areas with posted signs, the ordinance proposes a 30-day warning period for first-time violators, and anyone ticketed within 30 days of the installation of a new camera," officials explained. The city noted that under the Clear Path Relief program, low-income residents only need to pay half the ticket price, and there's also a ticket debt forgiveness program.
"This legislation will help encourage better driver behavior and increase safety for people walking, biking, and taking transit," stated CDOT chief Gia Biagi. "As we continue to invest heavily in infrastructure safety improvements, including expanding our network of bike and bus lanes, this program will make our transportation system safer, smarter, and more efficient."
"CTA's bus priority network and bus stop infrastructure are key to delivering a better rider experience to more than half a million daily bus riders, especially those with disabilities, who are often negatively impacted by illegal parking," said CTA President Dorval Carter Jr. in a statement. "This initiative will help to amplify the benefits of bus priority projects such as Loop Link and Bus Priority Zones. I am thankful to Mayor Lightfoot for bringing this enforcement mechanism to Chicago that has worked very well for our peers in improving bus service."
Smart Loading Zone Pilot
This second pilot would use license plate reading camera technology to ticket illegally parked vehicles in commercial loading zones, helping to prevent double parking, which endangers all road users. It will also make pickups and drop-offs more efficient for commercial drivers and reducing idling and emissions.
"Buses and bikes both need dedicated space on our roadways to maximize their potential as healthy, affordable, and sustainable transportation options for Chicagoans," stated Active Transportation Alliance executive director Amy Rynell in a statement. "Obstructed bus and bike lanes are more than an inconvenience for transit riders and people on bikes. Slow, unreliable bus service means missed work shifts and health care appointments. Blocked bike lanes put people on bikes in harm's way, sometimes with deadly consequences.  The Smart Streets Pilot Ordinance will provide all of us an opportunity to develop new tools to make our streets safer and our transit more reliable and complement the ongoing work to make more dedicated space for buses and bikes on our roadways."
To his credit, in recent years downtown alder Brendan Reilly (42nd) has been rather obsessed with keeping bike lanes clear in his ward. "This ordinance is a necessary step in the fight to drive down traffic fatalities and crashes in our city," he stated. "I am proud to support this measure to help address the problem of illegal parking and standing which create unsafe and slow road conditions for people commuting through my ward daily. These pilots will help us see the full benefits of investments we have made as a City in bike lanes, bus-only lanes and commercial loading zones."
1st Ward alder Daniel La Spata has previously been vocal about the need for more effective methods for ticketing bike lane scofflaws. "This is an essential first step in ensuring our infrastructure works as it's designed," he stated. "Our buses will be faster and our bike lanes safer because of the ordinance being introduced today."
Other sponsors of the ordinance include alders Brian Hopkins (2nd), Andre Vasquez (40th), and Matt Martin (47th.)
The legislation definitely sounds like very good thing, so Streetsblog will be closely following the progress of the ordinance to help ensure that it doesn't get killed by more motor-headed Council members. Got any questions about the proposed law? Let us know in the comments and we'll contact CDOT for more details.
If you appreciate Streetsblog Chicago's livable streets coverage, please consider making a tax-deductible donation to help us raise $50K by 1/31 to fund our next year of reporting. Thank you.
In addition to editing Streetsblog Chicago, John writes about transportation and other topics for additional local publications. A Chicagoan since 1989, he enjoys exploring the city on foot, bike, bus, and 'L' train.
Stay in touch
Sign up for our free newsletter