Chicago Policy
BLU, Better Streets fight ordinance to allow 9 mph speeding near schools, parks
5:13 PM CDT on July 19, 2022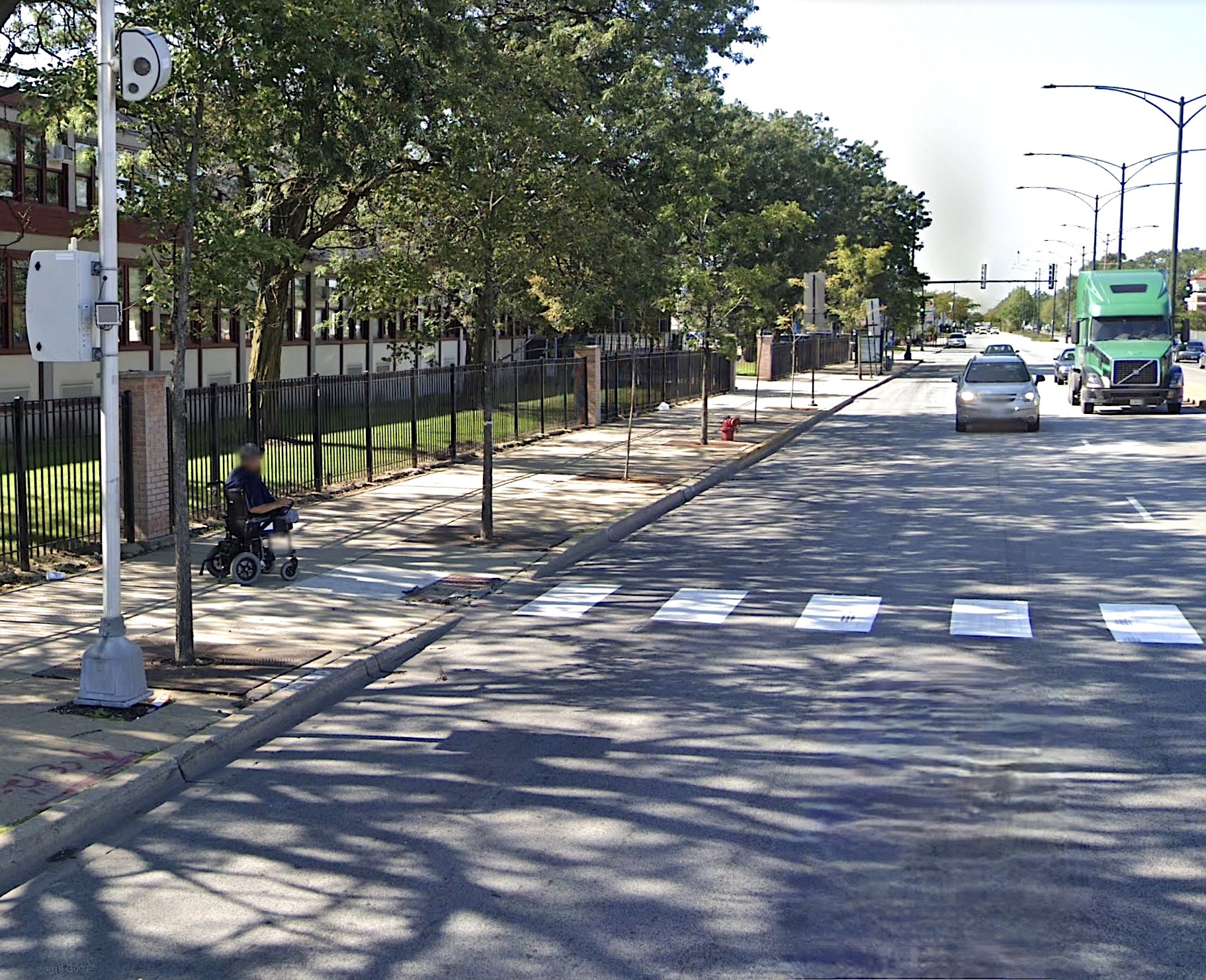 Email your alder to ask them to vote against allowing 9 mph speeding near parks and schools.
At Wednesday's 10 a.m. Chicago City Council meeting, alderpersons will likely take a final vote on Ald. Anthony Beale's proposed ordinance that would essentially legalize speeding by 9 mph in speed camera zones near schools and parks. Streetsblog Chicago has covered this topic in depth, but here's the issue in a nutshell:
The Active Transportation Alliance launched a letter-writing campaign against raising the speed camera threshold. Fellow Chicago-based sustainable transportation advocacy organizations Bike Lane Uprising and Better Streets Chicago have been doing some great advocacy work on this issue as well. Let's take a look at some of BLU and BSC's recent talking points.
Bike Lane Uprising
BLU, which documents bikeway obstructions in Chicago and many other cities, and helps organize demonstrations at fatal bike crash sites and ghost bike memorial installations, recently posted a helpful update and map of where Chicago's 50 alderpersons currently stand on the speed camera issue.
"An all-time record high of cyclists and pedestrians have been killed in Chicago the past few years," Bike Lane Uprising noted. "Raising the speed threshold will likely raise the death toll." They pointed out that Beale's ordinance needs 26 votes to pass the 50-member Council. (If it passes with fewer than 33 votes, Mayor Lori Lightfoot has indicated that she will veto the legislation.)
According to Bike Lane Uprising, according to the last month's City Council Committee on Finance vote and public statements, 18 alderpersons have indicated that they will vote on Wednesday to allow 9 mph speeding, while another 23 are likely opposed. That leaves these nine remaining undecided alders.
Bike Lane Uprising notes that it's crucial for constituents of undecided alderpersons to let their reps know they don't want to allow 9 mph speeding. They encourage residents to email or call their alder (find yours here) to ask their position on the issue, and let BLU know by emailing hello[at]bikelaneuprising[dot]com. (Feel free to drop a line me a line at jgreenfield[at]streetsblogchicago[dot]org as well.)
Better Streets Chicago
Better Streets, a sustainable transportation advocacy organization (Streetsblog Chicago co-editor Courtney Cobbs is a cofounder) also has an insightful blog post about the speed camera issue. They've launched their own petition on the subject.
Better Streets points out much of the info stated at the top of the post. "It is disappointing that the City Council is considering this change as the City is experiencing a significant increase in traffic violence including the recent deaths of six residents walking or biking, including four Chicago youth ages 2 to 16 killed this summer."
While BSC doesn't want to see 9 mph speeding allowed, they go on to list a number of ways they think the speed camera program, and traffic safety in general, should be improved in Chicago, calling on alderpersons to make these things happen. Here are some of their ideas.
"Speed cameras can and should play an important role in maintaining safe streets for all users, but this must be met with fundamental reforms and investments in redesigning our streets to prioritize people and safety first," Better Streets concludes.
Email your alder to ask them to vote against allowing 9 mph speeding near parks and schools.
In addition to editing Streetsblog Chicago, John writes about transportation and other topics for additional local publications. A Chicagoan since 1989, he enjoys exploring the city on foot, bike, bus, and 'L' train.
Stay in touch
Sign up for our free newsletter