Bicycling
Cycling Through Heaven on the Yellow Bike: A Tribute to Bicycle Advocate Karl Szwet
6:41 PM CDT on June 4, 2018
Update 6/29/18 1:30 PM: According to Bill Petraeus, a friend and neighbor of Karl Szwet from Highland who was with Karl when he suffered the coronary, previous reports that Karl was riding his bike when he had the attack were inaccurate. Bill recently told me that he and Karl stopped at Lakeview's Center on Halsted after last May's Critical Mass ride and had sat down to have a snack when Karl had the attack. He added that he's grateful to Center on Halsted and Whole Foods employees and first responders who provided immediate care to Karl. I've edited the following post accordingly. 
For tonight's Chicago Critical Mass ride, a route is proposed that would honor Karl, traveling to various places that were significant to him, including union headquarters, Pilsen, Bridgeport, Sox Park, Ricobene's, Chinatown, and Soldier Field, ending at the museum campus. The ride meets at 5:30 p.m. at Daley Plaza, 50 West Washington, departing a little after 6 p.m.
Karl's older sister Sandy Wuske sent this statement, which will be read before the ride. "Karl Szwet's family, Karl's sister Sandy, her daughters Sarah and Lisa, Karl's sister Judi and her son Ed, and Karl's great-nephews and nieces, Brandon, Conor, Jessica, Julia and Jillian, want you to know how honored and grateful we are that you are participating in this ride held in Karl's name. Bikes and bike riding defined our brother Karl. It was what he did and what he loved. To each and everyone of you a heartfelt thank you and as we always said to our brother, ride safe."
With the recent passing of "Indiana" Karl Szwet, 62, the Chicago bike advocacy scene has lost a mainstay. Karl, a heating, ventilation, and cooling technician from Highland, northwest Indiana, reportedly rode nearly every Chicago Critical Mass ride for almost two decades, and well as making regular appearances at Slow Roll Chicago events. He also volunteered his time and mechanical skills restoring old cycles for children at community bike shops. Friends and acquaintance remember Karl as a man who loved cycling and had an unfailingly positive and cheerful attitude – and a great mustache.
After the May 25 Critical Mass ride, Karl had stopped at Lakeview's Center for Halsted with his friend and neighbor Bill Petraeus and had sat down to have a snack when he suffered a coronary. Ozzie Unate, who knew Karl from Slow Roll, posted about Karl's death on Facebook. "Luckily, he was not alone." Unate said Chicago Fire Department paramedics transported him to nearby Advocate Illinois Masonic Hospital where he was placed on life support. Unate thanked the fire department and the hospital staff "for their kind support toward my friend."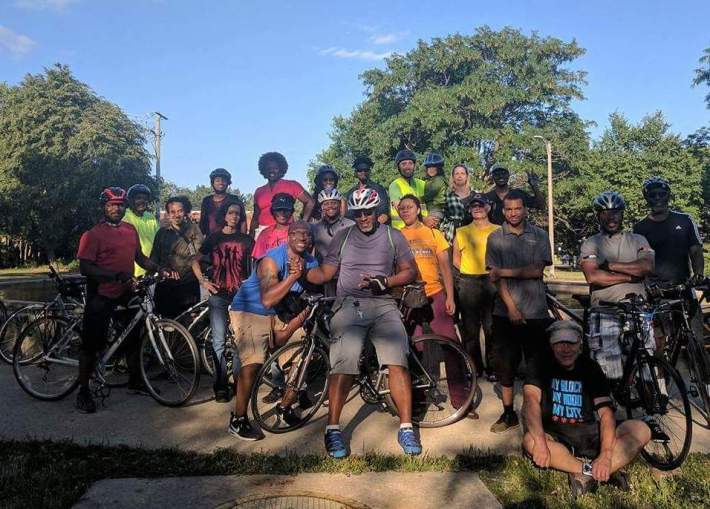 Karl passed away last weekend, after the decision was made to take him off life support, Unate posted. "Cycling through Heaven on the Yellow Bike," he wrote, referring to the lemon-colored steed that often appeared, "Where's Waldo"-style, in photos Karl posted on social media.
There's been an outpouring of sadness, as well as affectionate remembrances of Karl, from local cyclists who found him to be a constant and comforting presence on rides. "Karl often rode with us on Slow Roll and was always a fun positive person who helped bring people together," said Jerome Hughes. "So sorry to hear this, will always remember him fondly."
"He was a lovely man, just a happy-go-lucky person," said Maura Halvey, who often saw Karl on Slow Roll rides. She noted that he was about to retire after working about 30 years at Honeywell Corporation, and hewas looking forward to it. "It's a shame he didn't get to enjoy his retirement. But he went out on his bike, doing something he loved."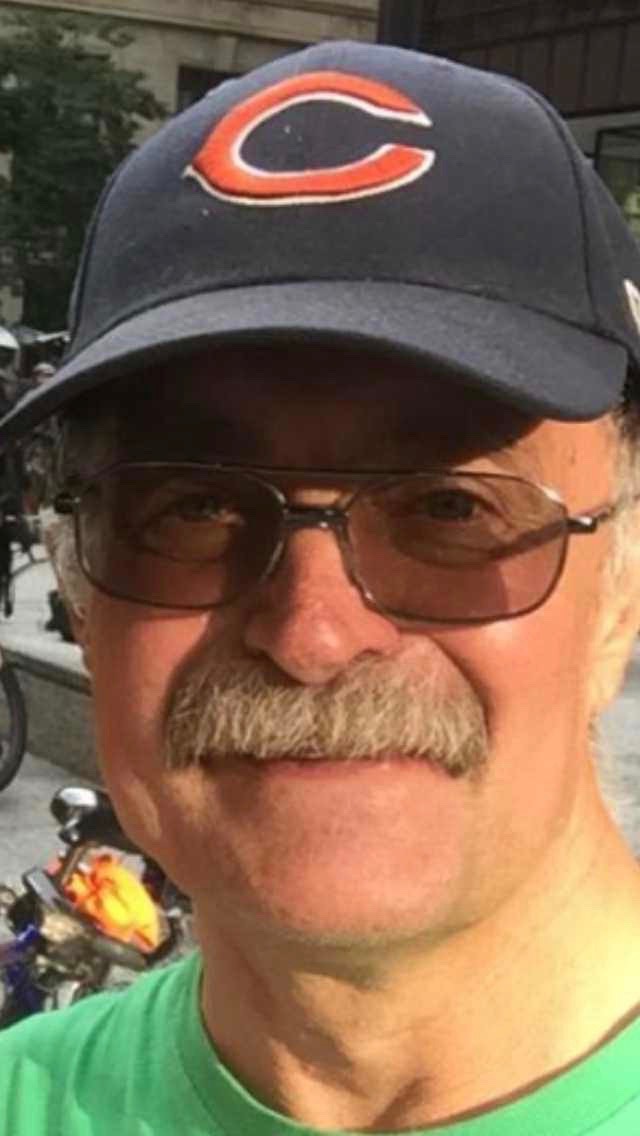 "Loved riding with him," wrote Critical Mass rider Frank Graczyk. "So cool, so upbeat and positive. He knew a lot about the city and was happy to share it."
"Karl was a good dude, always very kind, with a smile and the killer 'stache," wrote Streetsblog reporter Lisa Phillips, referring to his Mike Ditka-like facial hair.
"Karl was a very dear man who loved cycling," wrote Chicago Critical Mass cofounder Michael Burton. "He will be missed."
I was fortunate to have a chance to catch up with Karl at the April Mass, where his sunny demeanor helped brighten the drizzly evening. And I'm very glad that I got to interview him last September during the 20th anniversary celebration of the monthly rides from Daley Plaza as we pedaled up a bicycle-filled Michigan Avenue. I quoted a bit of the conversation in this post, but I'll let Karl have the last word here with the full transcript of our short conversation.
John Greenfield: So Karl, how long have you been riding in Critical Mass?
Karl Szwet: I started when we had Cows on Parade [in the summer of 1999.] I ran into one of the original founders of the Mass, Michael Burton, and he invited me to come along. I just happened to be down here. I was taking pictures of the cows. I was working at the Art Institute at the time, taking the train in every day [likely the South Shore Line from the East Chicago station.] And I came down here on the weekend on my bike to take pictures of the cows.
JG: So what changes have you seen with Chicago Critical Mass rides over the nearly 20 years you've been riding it?
KS: In the early years there was more of a core group that kind of planned things. I remember one time we went out to the [largely Mexican-American] Pilsen neighborhood and the week before Critical Mass we took a ride out there and posted, in Spanish, fliers on all of the corners, just kind of explaining that the ride was going to come through this neighborhood. And so when the ride did go through that community, it was like everybody was out. Every porch had people on it. People were waving and clapping and all the lights were on. It was so exciting to see it. I was like we had bridged something there.
JG: Anything else you'd like to tell me about the 20th anniversary?
KS: Back towards the beginning, a lot of times when the ride would end, groups of people who didn't really know each other, we'd go out, have something to eat, and talk to each other. I don't see that happening as much as it used to. I kind of miss that. But Critical Mass has also taught me a lot about the city in general, and not to be afraid to go into certain areas and to enjoy the city in a different way.
In addition to editing Streetsblog Chicago, John writes about transportation and other topics for additional local publications. A Chicagoan since 1989, he enjoys exploring the city on foot, bike, bus, and 'L' train.
Read More:
Stay in touch
Sign up for our free newsletter