Bus Transit
Tips and Tricks for Navigating Chicago Area Public Transit
2:57 PM CDT on April 20, 2018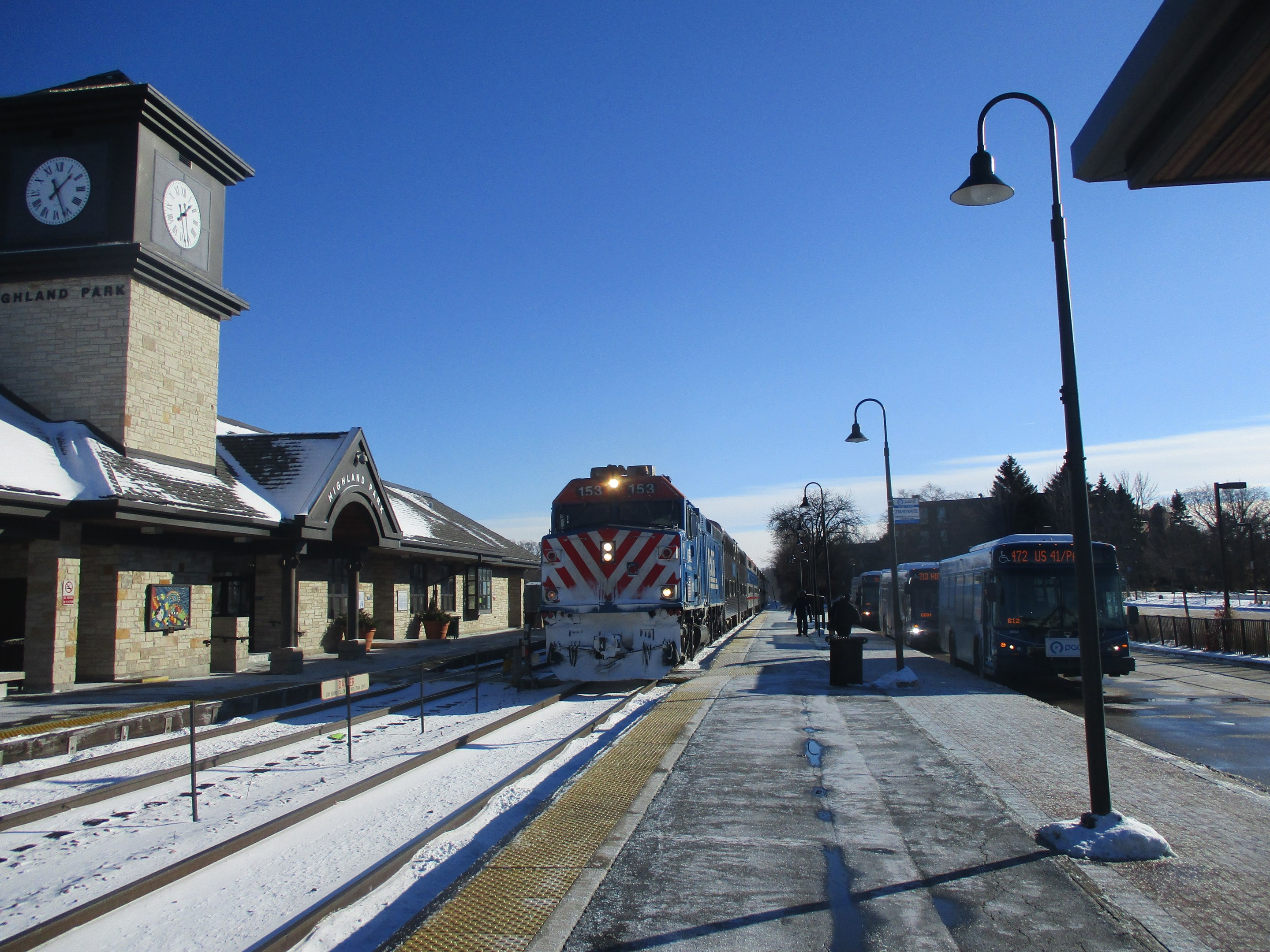 When you use any public transportation system, it doesn't take that long to understand the basics. In the Chicago region there's the Ventra card for riding CTA and Pace, Metra's fare zones, and the intricacies of schedules. But there are many things about those systems that are less obvious, which one can learn by looking through websites, or just by sheer luck and experience, things that open up whole new public transit possibilities. So here are a couple of tips and tricks for taking full advantage of some of the more obscure features of local transit.
Stretching CTA and Pace Passes
A CTA one-day pass isn't actually good for just one calendar day – it's good for exactly 24 hours from the moment of activation.
This may seem like a small distinction, but it's an important one, because this means that if you, for example, activated it at 10:00 AM, it's still good until 10:00 AM the following morning. Activate it at noon and you would be able to use it for decent chunks of two whole days.
The same principle applies to other CTA and Pace passes. A CTA 5-Day pass can be stretched out for six. A 7-Day pass can be stretched out for eight. And a 30-day pass can be stretched for almost an entire month.
Whatever pass you purchase, check the exact time when the pass expires, and plan your travel accordingly. There have been times when I managed to get through the turnstile within five minutes from expiration or, in one particularly memorable case, down to less than a minute. It's a risky thing to rely on, but the option is there.
Pace Text-Based Bus Tracking
CTA riders have been able to get real-time arrival information by texting since 2010. You just text "CTABUS" or "CTATRAIN," followed by a bus stop number or 'L' station name, to 41411. Pace launched its own version of it more recently, at the start of 2015.
While this is obviously benefits riders who don't use smartphones, it also comes with a feature that's useful no matter what kind of phone you have. As CTA riders know, the transit agency's transit tracker app and its web equivalent displays all buses or trains that come to that particular stop or station. But the Pace bus tracker only lets you view information for one route at the time. But texting "Pace [stop number]" to 41411 will give you informational all of the buses that stop there.
This comes in handy in several places in the city and the suburbs where several Pace routes serve the same corridor for more than a few blocks. For example, Routes 309 and 313 both follow the same stretch of Lake Street between Austin Boulevar (the Chicago / Oak Park border) and 25th Street in Melrose Park, passing through Oak Park and River Forest along the way. In the northern suburbs, Routes 270 and 272 both serve a portion of Milwaukee Avenue between Golf Road in Niles and Lake Avenue in Glenview – though the routes don't run completely parallel to each other. If you are traveling within these and other overlapping segments, texting the bus tracker makes it much easier to figure out when the next bus will arrive.
The one issue with Pace's text message-based bus tracker is that, while the CTA includes the stop or station numbers on all signs, the Pace has only gotten around to labeling some of them. You can look them up by using the smartphone-friendly version of the bus tracker – but you have to know where to look and have a working Internet connection to look it up. Which, ironically, is much easier to do with smartphones.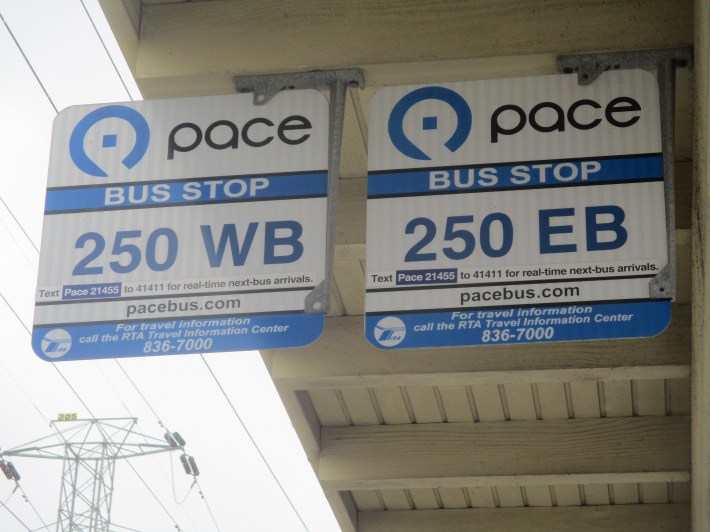 Paired Pace Bus Routes
There are places in the suburbs where you can ride two buses for a price of one.
Pace calls them "paired routes." When the bus completes its route, it doesn't turn around, or go back to the garage, but becomes another route entirely. And the riders can stay on board during the change. For example, Pace Route 209 runs between Harlem Blue Line station and the Des Plaines Metra Station, while Route 234 runs between the Des Plaines Metra Station and Wheeling Tower. On weekdays, most of the northbound Route 209 buses become northbound Route 234 buses once they reach Des Plaines, while southbound Route 234 buses become Route 209 buses.
With other paired routes, the changeover is a bit more sporadic. Route 225 buses provide rush hour service between the Jefferson Park Transit Center and the Howard Street industrial corridor in Skokie and Niles, with buses going north in the morning and south in the evening. Route 226 buses run between Jefferson Park and downtown Des Plaines, serving Chicago's Forest Glen and Edgebrook neighborhoods, and suburban Lincolnwood, Skokie, Niles and Park Ridge. When morning Route 225 buses finish their run, they become eastbound Route 226 buses. And during the afternoon rush hour, some Route 226 buses become soundbound Route 225 buses once they reach Harlem Avenue.
And there are cases where the pairing is so infrequent they're easy to miss. The last eastbound Route 422 bus turns into a Route 208 bus once it reaches Skokie's Old Orchard Mall.
Because of the sheer size of Pace's bus system, it's impossible to list all of the pairings. The best way to figure them out is to look at the bottom of Pace's official bus schedules – although the parings aren't always labeled. For example, Route 225 schedules make no mention of the pairing, and Route 226 buses simply list the paired buses as either starting or stopping at Harlem Avenue. If you don't try to look up a trip that would use the connection on GoogleMaps, it's easy to miss the pairing completely.
Generally, when the switch happens, the drivers warn passengers that the route is over – but if you say you want to keep going, they let you stay on.
Pace Night Service
It's pretty easy to figure out what CTA bus and 'L' lines run late at night – the transit agency put together a convenient, regularly updated brochure. Metra doesn't really have any late night service. Pace does – but you have to sift through a lot of schedules to figure out what it is.
Route 352, which serves Halsted Street between 95th Dan Ryan Red Line 'L' station and the Chicago Height bus terminal, is currently the only Pace route that runs 24/7. There are also several UPS routes that, as the name suggests, are primarily geared toward getting workers to various Chicago area UPS facilities. Because of the way the shifts are structured, they are the only routes other than the 352 to have any kind of service in the middle of the night although (with a few exceptions), the late-night service is only during weekdays. Riders can be picked up and dropped off at ether any intersection or at any marked stop.
Route 390 serves Chicago's Clearing neighborhood and the suburbs of Bedford Park, Burbank, Bridgeview and Justice. Route 392 serves Cicero, Stickney, Hodgkins and Countryside. Route 395 serves Chicago's Beverly neighborhood and the suburbs of Evergreen Park, Oak Lawn, and Chicago Ridge. Route 890 serves Chicago Heights, Glenwood, South Holand, East Hazel Crest, Harvey, and Markam.
Route 422 isn't normally a UPS service. But on weekdays, it has a special trip that starts at the Howard 'L' station at 2:00 a.m. and makes its way through Evanston, Skokie, Glenview and Northbrook, arriving at Northbrook's UPS facility at 2:44 AM.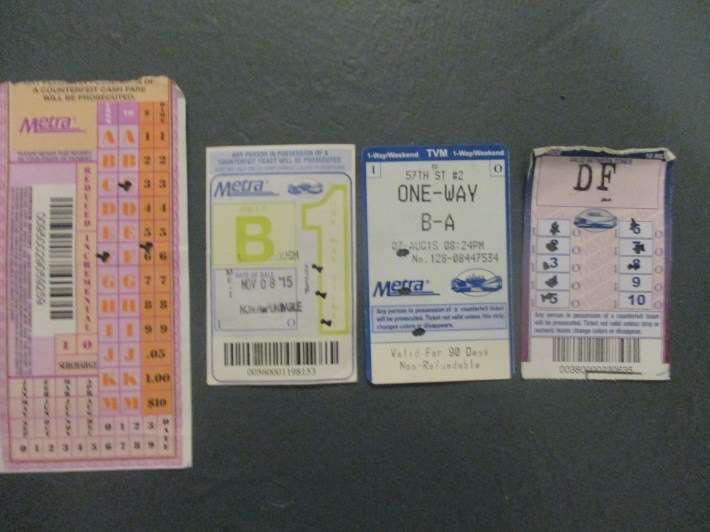 Metra Transfers
You may not be aware that Metra offers transfers. They just work differently than CTA and Pace transfers.
With those systems, whenever you use your Ventra card, you get two transfers that you can use within the next 120 minutes – the first transfer costs 25 cents on the CTA and 30 cents on Pace, and the second one is free. Riders can use the transfer to get on any bus or 'L' train.
With Metra, fares differ by zone, with prices going up the further you get from Chicago – so Metra doesn't let you transfer on just any train. You can only transfer within whatever fare zone is on the ticket, and – and this part is important – you can only transfer in one direction. So if you got on a train heading away from Chicago, you can only transfer to a train that's also heading away from Chicago. That's why, when you ask for a transfer, the conductors hole-punch through an "I" (for inbound) or "O" (for outbound).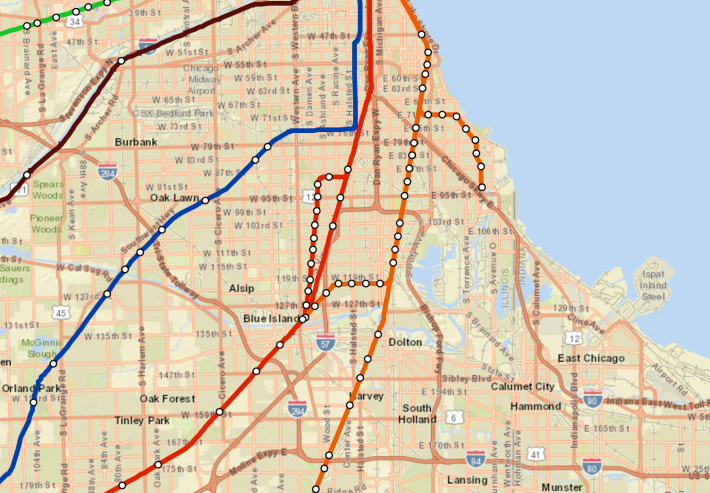 That isn't actually as limiting as you might think. Let's say, for example, you want to take the train from Tinley Park to Hyde Park. You can buy a ticket for fare zones B-E, take the Rock Island District Line to Blue Island, request a transfer, switch to the Metra Electric Line and use that same ticket to reach any Hyde Park station.
Or, if you want to get more ambitious, if can add another form of transit in the mix. For example, if you want to get from Vernon Hills to Morton Grove, you can buy a ticket for fare zones C-G, take the North Central Service line from Vernon Hills to Buffalo Grove, take Pace bus 626 from Buffalo Grove Metra station to Lake Cook Road Milwaukee District North station and take that line to Morton Grove.
The transfers don't have the money-saving value of CTA and Pace transfers – one ticket would cost the same as two separate tickets within the same zone range. But there is certain simplicity to buying one ticket instead of worrying about buying two, especially when you need to make a quick transfer.
As long as we are on the topic of transfers, most riders use monthly passes for commuting purposes, traveling along one line to work and back. But you might not be aware that, so long as you travel within whatever fare zones are on your pass, you can use it to take whatever train you want, in any direction you want, as many times as you want, without paying anything extra.
Stay in touch
Sign up for our free newsletter