Bus Transit
Dry Idea: The CTA May Switch to Cloth-Free Seats
5:17 PM CDT on October 12, 2017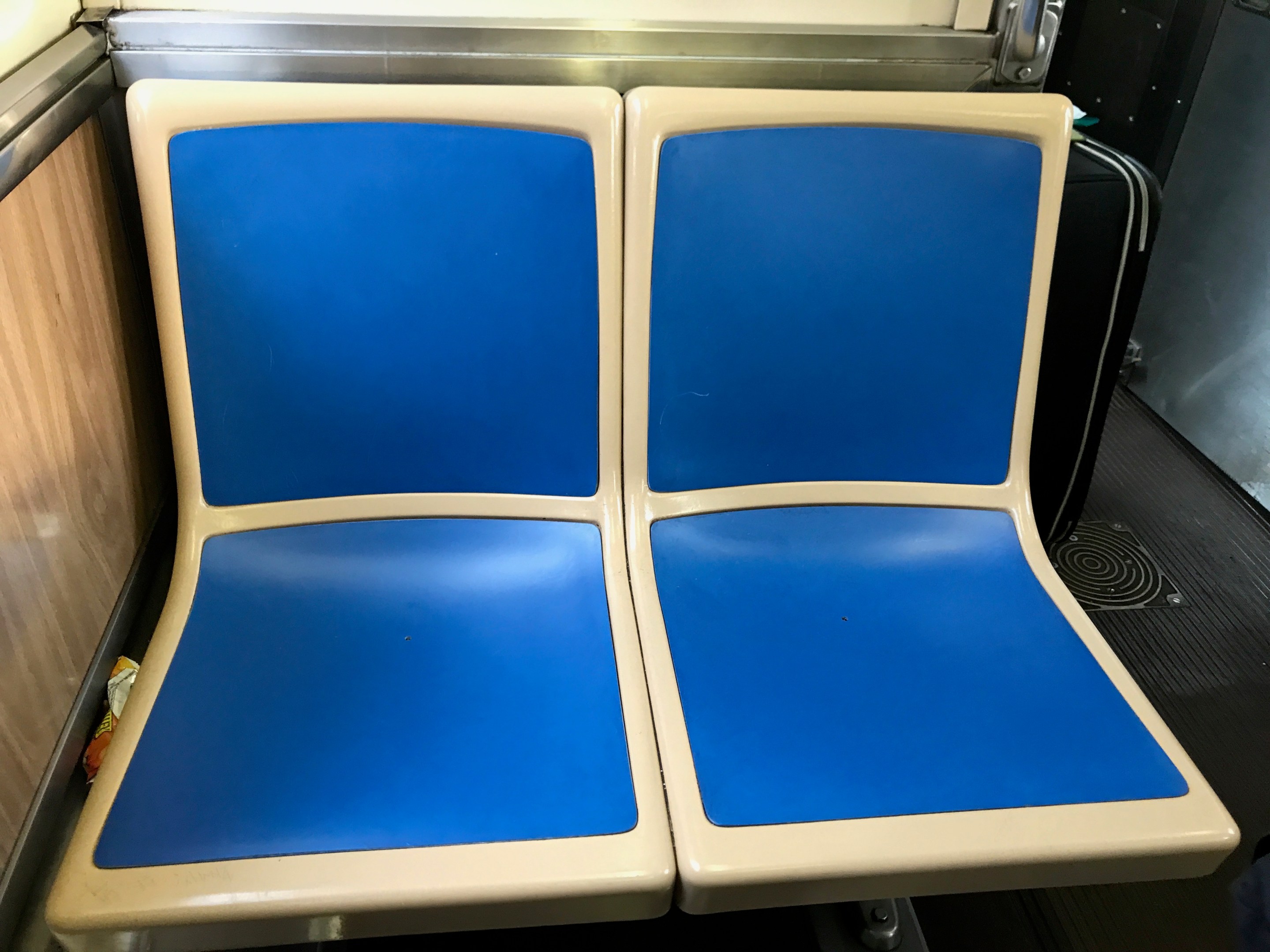 [Streetsblog editor John Greenfield publishes a weekly transportation column in the Chicago Reader. We syndicate the column on Streetsblog Chicago after it comes out online.]
The wet-seat surprise is a common fear among Chicago transit riders. For decades the seats on CTA trains and buses have been covered with dark cloth fabric panels that, while adding nominal comfort, have the unfortunate ability to mask the presence of spilled coffee, not to mention urine or other bodily fluids. Seasoned passengers know well to perform a "seat check," gingerly touching the fabric to test for moisture, before resting their backsides.
The good news for Chicago straphangers, at least from a sanitary standpoint, is that the CTA may be making the switch to cloth-free seats. The transit agency began piloting "state-of-the-art hardback seat inserts" on 14 cars on the Blue and Orange Lines last year. "Based on positive feedback we received, the pilot was expanded to include all Blue Line rail cars," says CTA spokeswoman Tammy Chase. About 70 percent of the route's cars currently have the inserts, and the CTA expects to complete the Blue Line by the second quarter of next year. This month the agency is also going cloth-free on ten Brown Line cars. In addition, the plastic seat inserts are being tested in about 50 buses.
"Our thinking on this is that it's a good idea to continually seek and test materials that are more hygienic and easier to clean," Chase says. "When you think about how many people we move on our trains every day, it makes sense." The test was prompted by technological advances that make the latest plastic inserts less prone to graffiti and other forms of vandalism than older prototypes, she says. Signs are posted in CTA vehicles asking riders to weigh in on the new seating at feedback@transitchicago.com or 1-888-YOUR-CTA. Input will help the agency determine whether to convert seats systemwide.
Meanwhile, commuters with horror stories about plopping down on a CTA seat soaked with a loathsome liquid aren't hard to come by.
Soap maker Danielle Martin says that on one occasion she and other Red Line riders had to stop fellow customers from using a seat someone had vomited on. The contamination was easy to miss against the midnight-blue cloth. "And that's why I ride my bike now," she says.
Transportation planner A.I. Kay recalls that years ago while taking the el to Pilsen he spent 35 minutes or so on a seat that was damp with urine. "I didn't even realize it until I got off the train and noticed my posterior was a little bit chilly, and subsequently that my jeans smelled like pee," he says. His destination was Zientek's Model Trains, a hobby shop that doubled as a tavern back then. "I was meeting someone, so there was nothing to do but stick to the plan."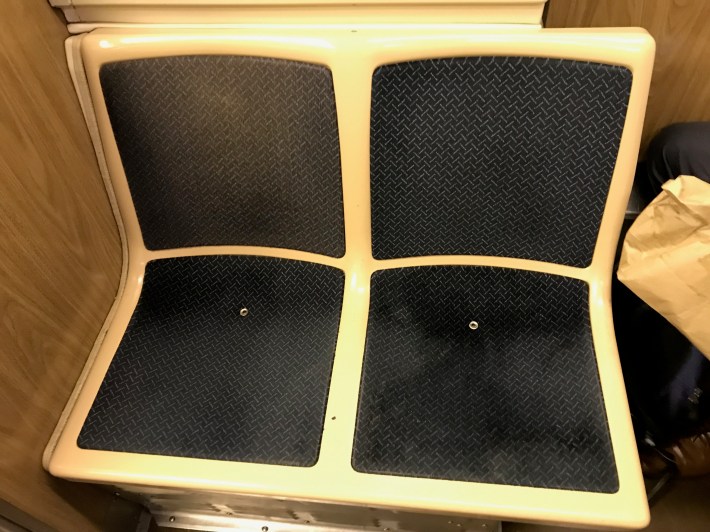 Unsavory incidents can happen on buses as well. Reader music contributor Monica Kendrick reports that she was heading home on the #52 Kedzie/California bus in spring 2016 when she took her usual window seat only to realize she was in a puddle. "I tried to reassure myself that someone had set a wet umbrella on it, but it hadn't rained that day," she says. "I hoped someone had spilled a drink or something more innocuous, but alas the pungent smell of urine broke through my denial."
Fortunately, she only had 15 more minutes until she got home, at which point she threw most of her soiled clothing in the laundry (her leggings went straight into the trash). "But if the seat had been a lighter color plastic instead of a dark blue cloth seat, I probably would have seen [the puddle] before I sat in a stranger's cold piss."
New York City's subway system has smooth plastic benches or seats, which don't absorb spills and make it much easier to notice fluids. And the Bay Area Rapid Transit train system began phasing out cloth seats after an analysis found disturbing levels of fecal and skin-borne bacteria.
In light of all of the cautionary tales about fetid fabric, one might ask why the CTA would even consider sticking with cloth. Chase notes that it's not just any old material, but a tough Kevlar textile that's difficult to vandalize. The fabric seat panels on newer cars also resist stains and some microbes. Moreover, Chase says, some riders may prefer cloth because it helps prevent rear-end slippage.
Military veteran Jeff Wunderlich, who was riding the Blue Line during the evening rush last week, is in that camp. "I don't like the plastic seats," he says. "They're uncomfortable. They're harder and slippery. They might be better as far as hygiene goes because nothing can soak into the plastic, but I've never had a problem with a cloth seat."
On the other hand, Rome Davis, who was commuting on the Blue Line from his job at Northwestern Medicine to his home on the west side, says he approves of the change. "The hard seats should definitely be here," he says, noting that insects, possibly bedbugs, have been spotted on CTA cars in the past. Since September 2016 there have been at least two cases in which Red Line cars were taken out of service after customers reported infestations. After a February 2017 incident, the CTA released a statement saying that rail cars are cleaned several times a day and receive deep cleanings on a regular basis, including preventative treatments for pests.
Still, Davis would rather be safe than sorry. "It's great that they're switching to plastic seats. No, they're not as comfortable, but I feel like you can easily see something with these seats as compared to the cloth seats." While he acknowledges he's never had a bad experience with a CTA seat, he says, "I don't want a bad experience, either."
In addition to editing Streetsblog Chicago, John writes about transportation and other topics for additional local publications. A Chicagoan since 1989, he enjoys exploring the city on foot, bike, bus, and 'L' train.
Read More:
Stay in touch
Sign up for our free newsletter