Chicago
Montrose Green TOD Actually Fits Its Neighborhood Just Fine
5:21 PM CST on December 18, 2014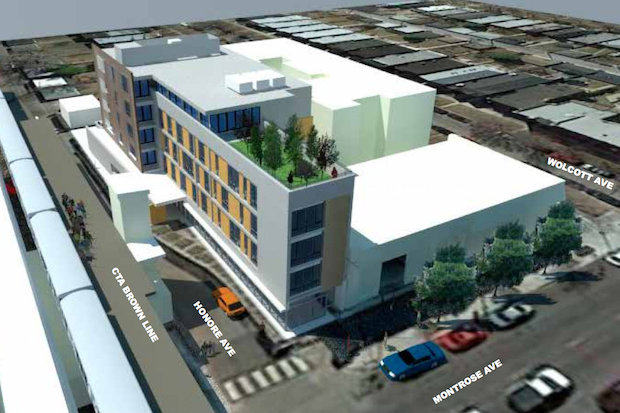 Developer David Brown wants to bring a neighborhood restaurant to a site right outside the the Chicago Transit Authority's Montrose Brown Line station, along with 24 apartments, a small office space, and 10 car parking spaces. The city's zoning ordinance would ordinarily require him to fill the entire ground floor of his proposed five-story Montrose Green building with 24 parking spaces. However, Brown has requested that 47th Ward Alderman Ameya Pawar change the site's zoning to permit more housing and less parking, under what the city terms transit-oriented development.
A meeting last week hosted by Brown and Pawar drew some of the usual complaints about the neighborhood having too many cars and too little on-street parking. For example, DNAinfo quoted Kristina Stevens saying, "Most of these people, I believe, are going to have cars and park on our streets. Taking the train does not mean you don't own a car."
In fact, many of Montrose Green's neighbors in North Center take the train (and bus) and don't own cars -- and the new building would help even more make car-lite choices, and accelerate a neighborhood-wide (and nationwide) trend towards less driving.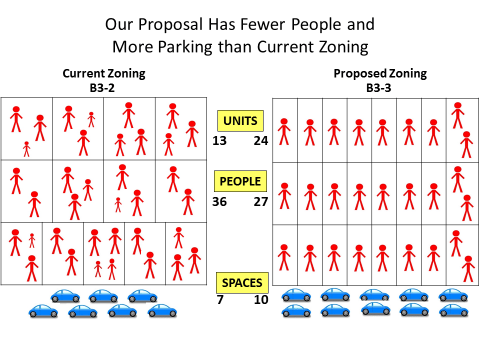 42 percent of households in the building will be able to store a car behind the building, a percentage that nearly matches the 46 percent of households in nearby Census tracts who own one car. Even fewer residents own cars in the tracts closest to the Brown Line.
Not only are there fewer cars than one might expect in the neighborhood, there's also less vehicle traffic -- and even less with every passing year. Vehicle counts on Montrose, between Western and Ashland, show 42 percent fewer cars (5,000 cars per day) between 2006 and 2010, the most recent data available. Car traffic also declined by 23 percent, or 2,400 cars, on Damen across Montrose. Since then, citywide miles driven people have continued to fall, dropping by 4.4 percent between 2010 and 2013.
Meanwhile, transit use in North Center has gone up across the board, even though the surrounding Census tracts have shown minimal population growth. Brown Line boardings at Montrose increased by nearly 20 percent between 2010 and 2013, across both weekdays and weekends -- a sign that people aren't just using transit for work, but also for errands and social trips. (Fully 47.5 percent of local residents do take transit to work.) Bus ridership on the #78 Montrose bus increased by over 10 percent over the same period, as well.
Ridership may be increasing thanks to the CTA's recent investments in the Brown Line, notably the 2010 station reconstruction, and will probably grow even more once the Belmont Bypass enables more frequent, and less delay-prone, rail service.
Even ten parking spaces might prove to be too much for 24 units. Recent research by Chicago's Center for Neighborhood Technology shows that parking demand at apartments in the Bay Area was vastly overestimated: 34 to 59 percent of parking spaces at market-rate apartments near rail in urban neighborhoods were consistently empty.
Susan Levin also attended the meeting and lives less than a mile away. She told the audience that she's over 50, doesn't own a car, and gets around primarily on a bicycle. Levin later told Streetsblog that not owning a car increases the disposable income she can spend in the neighborhood, and that she looks forward to the possibility of a restaurant at Montrose Green. "I like going to restaurants without parking lots, because then they don't have to raise their prices to cover that cost."
Building the restaurant, Brown said in an interview, is one reason why he's proposing only 10 car parking spaces. Even two additional spaces would interfere with the site's odd layout -- it was left over after construction on the station -- and makes it possible to build a "destination-sized" restaurant or retail space, he said. "Because of the physical layout, I didn't want to have a small retail space at the front" -- instead, he's proposing a new sidewalk on Honore, to give both the restaurant (or retailer) and the apartments a frontage on Honore.
Levin added that she supports transit-oriented developments like Montrose Green because "it's infrastructure that facilitates not having to be dependent on a car, it supports the times when a private motor vehicle isn't needed." Adding services like restaurants and offices to the area won't just mean convenient, car-free trips for the people inside the building, but also for their neighbors.
Another neighborhood service that the building could provide is car-sharing, which would also further reduce the building's parking demand. Brown said he's personally a big fan of car-share, and that "I'd be interested in exploring [providing a space]" with companies like ZipCar and Enterprise CarShare, which have five vehicles available two blocks away.
Another meeting attendee was Cayden Fitzgerald, a "Millennial working in the real estate industry" who lives two doors down from the site. Afterwards, he told Streetsblog that the TOD "movement" is long past due in Chicago: "rail systems are designed to move large amounts of people efficiently, [so] the areas around – and closest to – their stations should be as dense as possible," he said. "Without density around rail, we have an underutilized station and an underfunded system," he continued.
Fitzgerald pointed out that this "modest TOD proposal... would be the perfect buffer from the train station and the rest of the single family homes in the area," shielding houses from the station's noise. "The vacant lot that's sat there for years does nothing... and building anything less than what's proposed would be a missed opportunity."
Brown noted that the current B3-2 zoning would actually require more parking spaces per resident, and that he's requested the change to B3-3 zoning (which allows the TOD parking reduction) to allow smaller apartments that would attract car-free residents. Brown says he isn't "desiring the zoning change to build something big to the max," he said, pointing out that B3-3 would allow almost twice as many units. "We chose instead to be thoughtful."
Transportation planner and advocate. Steven also created Chicago Cityscape, a site that tracks neighborhood developments across the city.
Stay in touch
Sign up for our free newsletter