Streetsblog Chicago
Has the CTA actually been "Meeting the Moment"?
The agency says yes, but the Active Transportation Alliance and Commuters Take Action have critiques.
3:34 PM CDT on August 30, 2023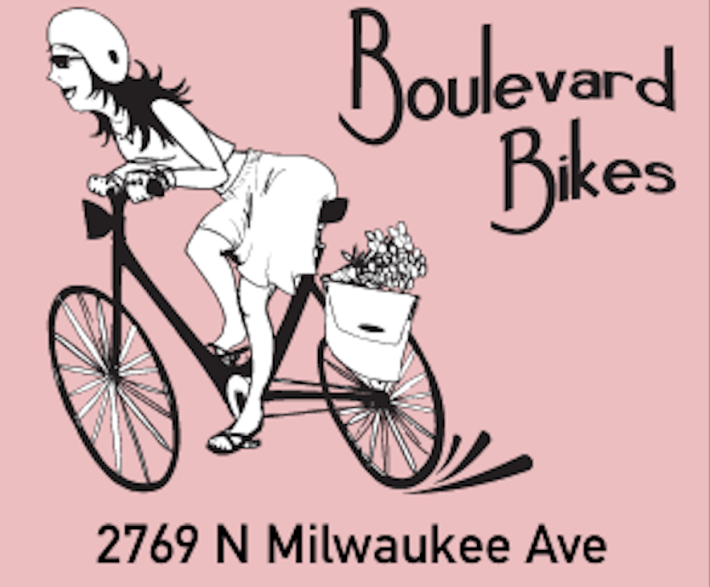 As sustainable transportation advocates wonder whether controversial CTA president Dorval Carter Jr. will get fired by the new Mayor Brandon Johnson administration, the agency touted his supposed successes. "CTA highlights progress one year after 'Meeting the Moment' post-pandemic plan launched, the transit operator said in a press release last Friday. "Agency continues to improve service and customer experience, though work remains."
However, advocates responded that the CTA still needs to do more to address its staffing shortages – the ultimate cause of long, unpredictable waits between buses and trains – and other major problems. First, let's take a look at what the agency had to say about the past 12 months.
"Since I announced our 'Meeting the Moment' plan last year, we've made noticeable improvements to virtually every aspect of our riders' experience," Carter said in a statement. "And while we are encouraged by the progress we've seen since implementing a variety of new initiatives, we know there's still more work to be done."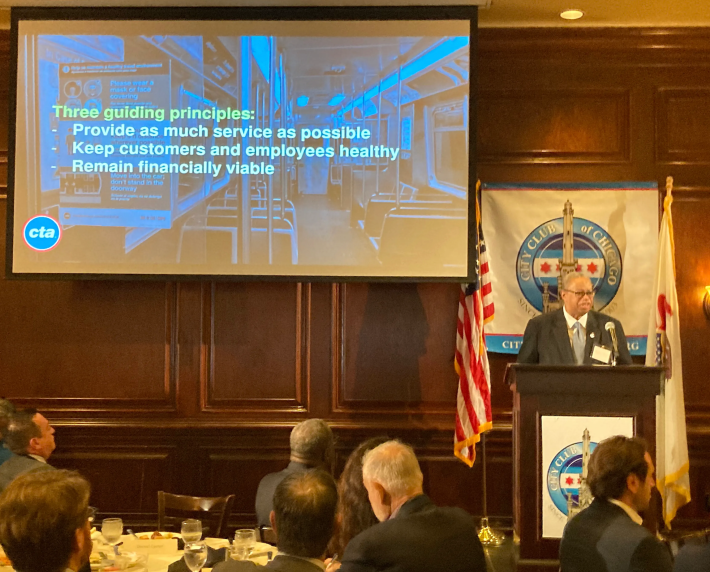 The CTA argued that almost every strategy mentioned in the plan for all of its five guiding pillars has been done, resulting in better outcomes for both customers and transit workers. The pillars are in bold in quotes below.
"Deliver reliable and consistent service"
The CTA said that the percentage of scheduled 'L' runs that were actually delivered increased from 71.8 percent in August 2022 to 88.4 percent in July 2023, a 22 percent upgrade.
The agency reported the percentage of scheduled bus runs that were delivered went from 81.8 percent in August 2022 to 96.4 percent in July 2023, a 17 percent boost.
The CTA claimed that "unprecedented and aggressive steps have also been taken to strengthen the workforce." These include promoting over 300 part-time bus drivers to full time; boosting the starting pay for bus and rail operators to just under $30 and hour, with a $1,000 hiring bonus; and hiring over 600 new bus drivers.
"Enhance safety and security for riders"
The agency stated that by July 2023, overall transit crime was down 9 percent, year to date, compared to 2022. Violent crime was down 13 percent.
The CTA credited that improvement to deploying 50 K-9 security dog teams, at a cost of $31 million; installing video monitors in customer assistant booths; and an agreement to chip in $2 million to the Chicago Department of Family and Support Service by the end of this year. That money was to fund social service agencies that help riders experiencing homelessness, mental health issues, and/or substance abuse.
"Improve the customer experience at CTA facilities"
The agency mentioned the following "enhanced" cleaning protocols and other strategies to improve rider experience, that happened in the past year:
Other projects to improve bus and rail infrastructure included:
Securing funding for ADA upgrades at 14 out of the 42 remaining inaccessible stations.

Installing tactile bus stop signs at over 2,000 stops.

Working with the Chicago Department of Transportation to install bus priority infrastructure on 79th Street, Chicago Avenue, and Western Avenue.
"Upgrade digital tools to improve rider communication"
These included a redesigned CTA Bus Tracker website; efforts to reduce the occurence of ghost buses and trains through euphemistically described "schedule optimization efforts," i.e. service reduction, to reflect the available workforce; and a livestream of morning Blue Line crowding.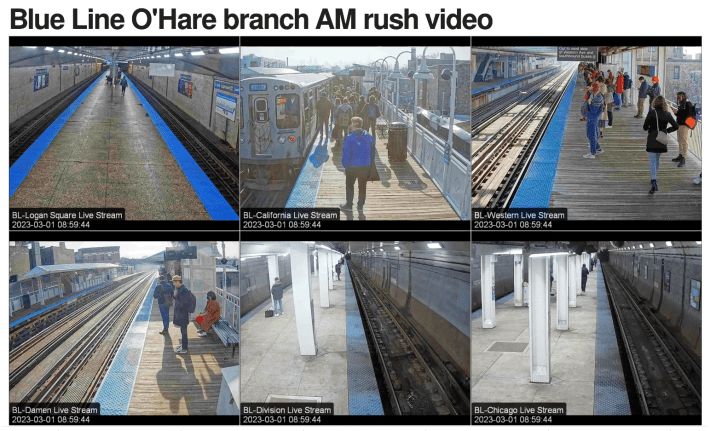 "Investing in our employees"
The CTA once again talked about strategies referred to earlier, such the hiring bonus and video screens in CA booths. They also mentioned retention incentive payments for unionized transit workers, expanded employee recognition programs; new, more protective bus driver shields; and improvements to SAFELINE, an anonymous internal system to report potential workplace hazards.
Transit advocates respond
However, local sustainable transportation advocacy groups argued that the CTA statement downplayed the major problems the system is still facing. "We're encouraged by the positive strides the CTA has made in improving transit services," said David Powe, the Active Transportation Aliance's director of planning and technical assistance. "However, we're also deeply concerned that without a more aggressive approach to training rail operations staff, we'll see further cuts to service in the coming months."
Powe said that, from conversations with advocates and CTA staff, ATA's understanding is that the agency has imposed restrictions on the training class sizes for rail operations. "Why is the agency not maximizing its training capacities, especially when the demand for rail operations staff is so evident?" he said. "It's crucial that we address this bottleneck to ensure that our city's rail system remains reliable and efficient for all."
The grassroots group Commuters Take Action (CTAction) voiced harsher criticism in a statement on its website. "We find it hard to believe it's been a full year since CTA's 'Meeting the Moment' plan was unveiled because no real progress has been made toward improving service and experience for Chicago's transit riders. A year later, we still face ghost buses and trains and unpredictably long wait times."
CTAction noted that the agency boasted of improvements to the the percentage of scheduled rail and bus run delivered, but failed to mention this was due to scheduled service being cut by 21 and 13 percent, respectively. "The total number of trains dispatched per day has not increased at all since August of 2022. The CTA continues to call this "schedule optimization," insulting the intelligence of riders who know that service has been cut."
CTAction pointed out that staffing is the root of the problem. "Why is that, a year later, the number of rail operators has dropped from 743 to 709, against a budgeted headcount of 839? We know how important it is to properly train employees for this demanding job, but the decrease over the last year seems to indicate that whatever strategies the CTA is implementing to reverse staffing trends simply are not working." They echoed ATA's argument that rail operator classes are too small, adding that there are too many hoops to jump through in order to become a train operator, such as working a relatively low-paying job as CA or flagger before getting promoted to drivers. 
The advocates argued that it's still too common for the trackers to featured inaccurate scheduled service rather than realistic arrival times, resulting in ghosting.
They also noted that a recent Committee on Housing and Real Estate report stated that only $136,000 of the $2 million the CTA had pledged to DFSS to help homeless, mentally ill, and/or substance-addicted riders has been spent. "It is unacceptable that so little of the funding meant to provide social services to struggling Chicagoans, and a nonviolent and non-criminalizing approach to safety on the CTA, has been utilized."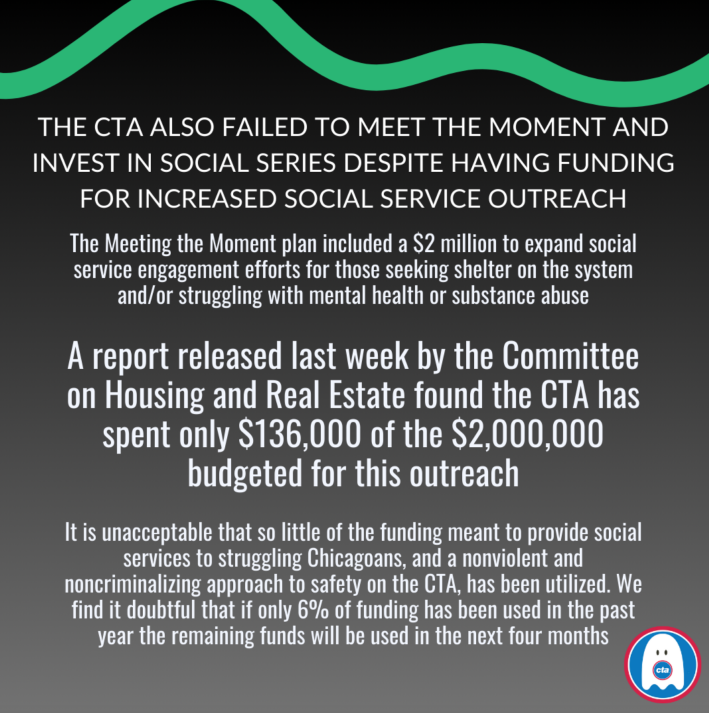 "We hope that another year from today, we will all experience a much better CTA: one that provides frequent, reliable service, treats its workers well, and is transparent and honest," CTAction concluded. "That is not the CTA of today."
Did you appreciate this post? Please consider making a tax-deductible donation.
In addition to editing Streetsblog Chicago, John writes about transportation and other topics for additional local publications. A Chicagoan since 1989, he enjoys exploring the city on foot, bike, bus, and 'L' train.
Stay in touch
Sign up for our free newsletter