Streetsblog Chicago
After a driver killed Soyfa Athamanah Tuesday, #ChiCrosswalkAction protest demands a safer Winona/Broadway
Protesters said that transportation decision-makers have blood on their hands for Athamanah's death.
4:47 PM CDT on July 28, 2023
Update Monday, June 31, 9:15 PM: CDOT spokesperson Erica Schroeder provided the following update on CDOT's statement below about building "investments to further calm traffic, including a raised crosswalk on Winona." She clarfied that "it will be a north-south raised crosswalk on Winona. CDOT completed design work on the project earlier this year and we are working with the contractor on an installation timeline."
Obviously, building a north-south crosswalk across Winona, a side street, is not going to satisfy the protesters who want to make it safer to cross Broadway, a high-speed arterial.
Update Friday, June 28, 10 PM: On Wednesday local alderman Matt Martin tweeted a statement on Wednesday in response to the hit-and-run. "Since 2021, my office has been working with the Chicago Department of Transportation to respond to safety concerns on this stretch of Broadway," he said. "We will continue to work with CDOT and neighboring ward offices to finalize and build pedestrian- and bike-safety improvements as quickly as possible." Read the full statement here.
According to ABC Chicago, CDOT provided the following statement in the wake of the crash.
"Any time a life is lost in a traffic crash it is a tragedy for friends, family, neighbors, and our city. The Chicago Department of Transportation is committed to continually making our streets safer, with an emphasis on improvements for older adults, people walking and biking, and community areas with high crash rates.
Over the last several years CDOT has completed several pedestrian safety improvements on Broadway, including implementing a road diet and adding pedestrian refuge islands. [Emphasis added.] In coordination with the 47th Ward, CDOT is strengthening these efforts with additional upcoming investments to further calm traffic, including a raised crosswalk on Winona and a raised protected bike lane on Broadway. These upgrades are part of CDOT's citywide efforts to enable everyone to move around safely and comfortably in our city, regardless of age, ability, or mode of transportation."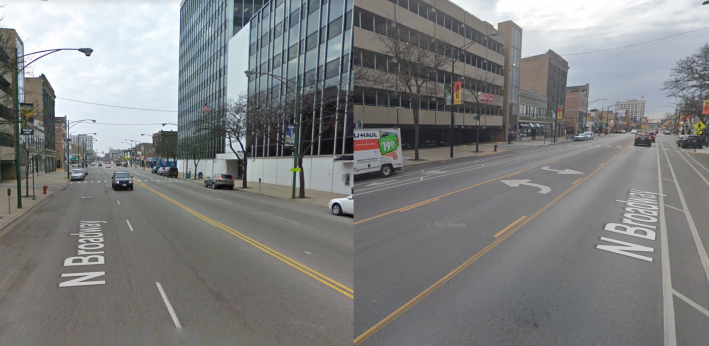 On Tuesday, July 25, the driver of a black car struck and killed Soyfa Athamanah, 69, as she crossed Broadway in the Uptown neighborhood, using a crosswalk at the road's complex, unsignalized intersection with Winona Avenue (5100 N.) The motorist, whom witness and Sun-Times photographer Tyler Pasciak LaRiviere believes intended to strike the victim, fled the scene and has not been apprehended.
Athamanah, who lived near the intersection with her pet puggle dog, immigrated to Chicago from Laos over 40 years ago, according to a Sun-Times report. She was on her way home from a Red Line station after spending time at a downtown Thai restaurant where she helped friends with the cooking a few times a week.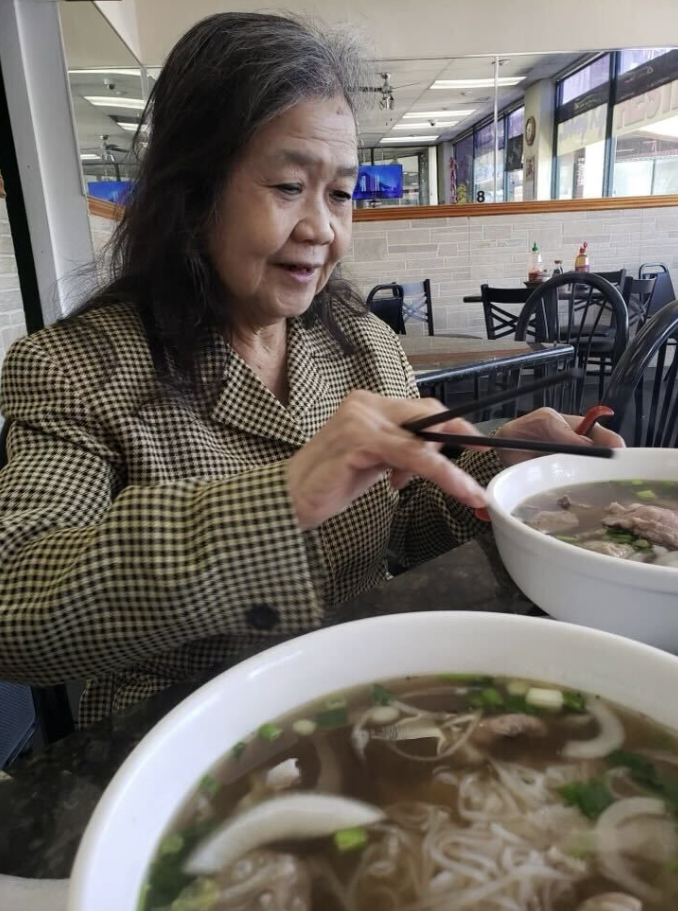 "She's just a strong, independent woman," her son Tony Khounphachanh told the Sun-Times. "The nicest woman that you would ever meet. She had a good heart... it was just stripped away from us."
On Thursday evening, a protest called #ChiCrosswalkAction was held at the intersection to "demand safety improvements at the crosswalk." The event website, posted by safe streets advocate Sam Wight, states that the intersection "sits across from [William C. Goudy] elementary school and has been the site of horrific crashes, yet little has been done to protect pedestrians."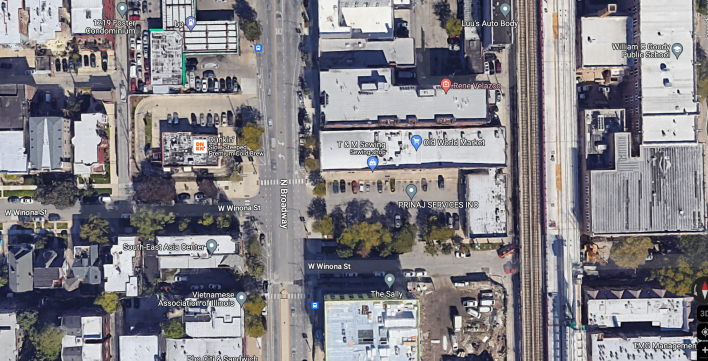 The website stated that the purpose of the protest was to demand multiple proposed changes to the intersection to prevent future traffic deaths:
• Install raised crosswalks on both the north and south leg of the intersections. The south crosswalk already has a concrete pedestrians island, and another one should be installed in the north crosswalk. Metal bollards should be installed around the islands to further protect pedestrians.
• Install curb extensions on the west and east sides of Broadway to prevent drivers from going around other motorists stopped for pedestrians crossing, which the advocates say is a major source of people on foot being injured at this intersection.
• Replace Broadway's existing non-protected bike lanes with curbside, parking-protected lanes to help slow down drivers.
Dozens of people showed up for the protest at 5:30 p.m. last night. Co-organizer Mike Perrino, a sustainable transportation advocate who works as a Segway tour guide by day and tweets under the handle Segway Batman, gave opening remarks. "We're just going to be crossing the street and we're going to be exercising our legal right of way," he said. "We're not going to lay down on the ground. We're just crossing the street. A whole lot."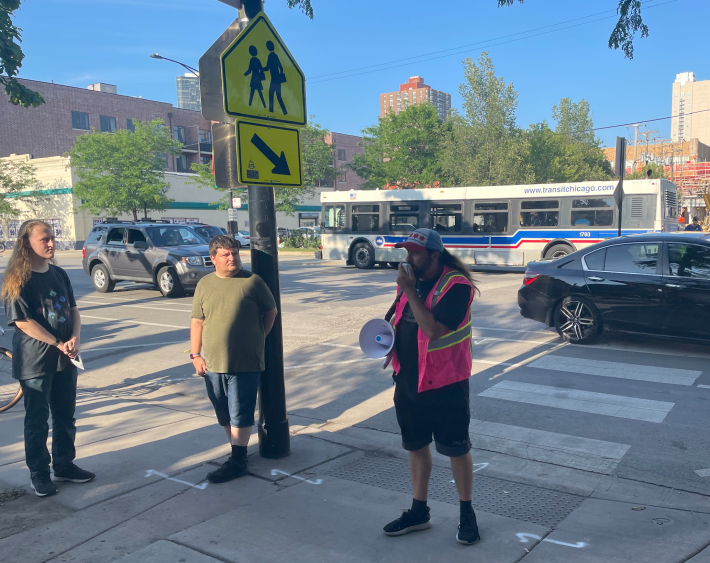 Perrino explained that the parade of protesters would cross the street, accompanied by recorded pop music, for about a minute at a time, forcing north-south drivers to stop for them. While the crowd would make way for CTA buses and bicycle riders on Broadway, they would not do so for motorists approaching the no-stoplight intersection. He advised participants not to engage with angry drivers, and to cooperate with any direct orders from police officers.
After the march began, the protesters would periodically take a break from walking back and forth across the street, in order to avoid excessively contributing to traffic congestion. That evidently still wasn't enough for some drivers. Sam Wight tweeted out footage of someone driving onto the sidewalk to get around the march. Another motorist can be seen in the clip, creeping forward behind Wight and then speeding off at the first opportunity.
"[People] should know that if they walk in this city, [getting killed by a driver] could happen at any time because of how the city has failed to design streets in a way to prevent this," said Amy Kristl, one of protesters. "And if it happens, we'll be out here standing up for those people. And we hope it never happens again, but unfortunately with the way it is, it could happen to anyone... Everyone's talking about their close calls and like, which one of us is next?"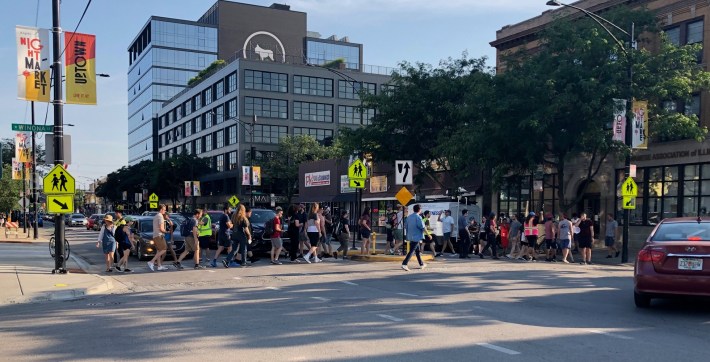 The next step for #ChiCrosswalkAction participants is to email their demands to local alderpersons Matt Martin (47th) and Leni Manaa-Hoppenworth (48th, recently elected), and the Chicago and Illinois transportation departments, who all have influence on this intersection's street design.
Protester Savannah Santos said that transportation decision-makers have blood on their hands for Soyfa Athamanah's death. "They have had plenty of time to implement safe infrastructure," she said. "We've been begging for years to have this put in. It's not that much money. It doesn't take that much time. It's very quick. It's very doable, and they have chosen not to do that. Why?"
Get national headlines at Streetsblog USA.
Editor's note: After being seriously injured on his bicycle in southern Illinois this spring, Streetsblog Chicago editor John Greenfield is in the process of recovering. He recently returned to running SBC on a low-key basis, including publishing Today's Headlines and putting out daily articles. We appreciate all who have been supportive during this time. Thanks for reading!
Did you appreciate this post? Please consider making a tax-deductible donation.
Stay in touch
Sign up for our free newsletter