Street Design
CDOT just installed a Neighborhood Greenway on Wellington in Avondale. Why did it happen 6 years after the alder asked for it?
Ald. Carlos Ramirez-Rosa (35th) submitted a request for the greenway in 2017, but says CDOT didn't take action until he helped them with other bike lane projects.
4:47 PM CDT on July 27, 2023
Update 7/31/23, 11:00 AM: After Streetsblog shared IDOT's comments with Ald. Ramirez-Rosa, he responded that "My statement is based upon the information I was given at the time by CDOT and by state officials." He provided the following summer 2018 email exchange between his chief of staff Jessica Vasquez and local State Representative Elvira Malagon (D-40), who provided an update from IDOT on the pedestrian island Ramirez-Rosa had originally requested from CDOT in the median of Kimball Avenue on February 28, 2017.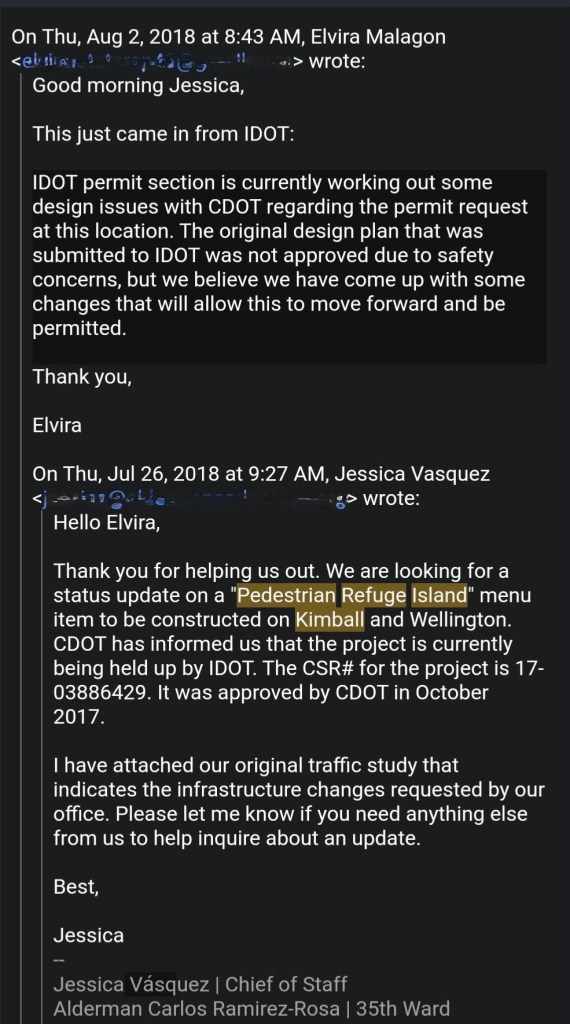 Vasquez states in the exchange that "CDOT has informed us that the project is currently being held up by IDOT... It was approved by CDOT in October 2017." Malagon replies that "the original design plan that was [approved by CDOT and then] submitted to IDOT was not approved..."
This exchange indicates that the permit request IDOT spokesperson Maria Castaneda told Streetsblog that CDOT submitted to the state on June 1, 2018 was actually the second proposal CDOT sent after the original design plan was rejected. So that suggests a year went by before CDOT approved the original plan and IDOT gave final approval to the final one. That seems to back up Ramirez-Rosa's claim that "We had to fight with IDOT for a year to get the okay."
CDOT has not responded to a request for comment on this issue that Streetsblog sent its spokesperson last Thursday.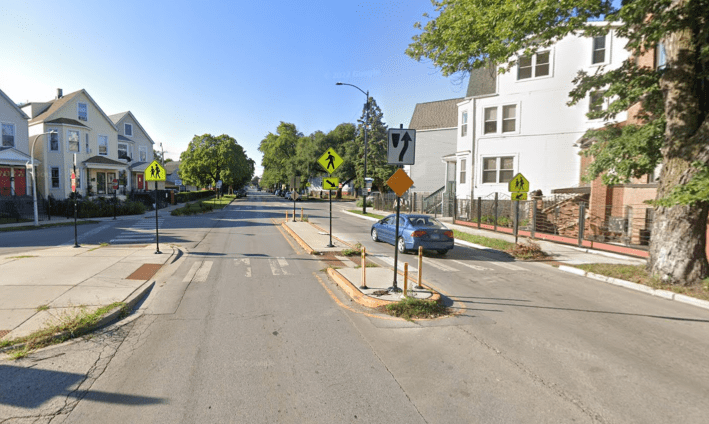 Update 7/28/23, 11:00 PM: Illinois Department of Transportation spokesperson Maria Castaneda provided the following statement about the process of IDOT approving the pedestrian Island in the median of Kenzie Avenue (which IDOT has jurisdiction over) at Wellington Avenue, which Ald. Carlos Ramirez-Rosa requested from the Chicago Department of Transportation on February 28, 2017, using his own ward's menu funding:
"[IDOT] and the city continue to work together and build upon their partnership to make transportation and mobility more accessible, equitable and safe across Chicago, highlighted by a new agreement between IDOT and CDOT this year that establishes pre-approval for certain designs and improvements.
IDOT received a permit request [for the pedestrian island] on June 1, 2018 and a permit was issued for a pedestrian refuge island along Kimball Avenue at Wellington Avenue to CDOT on Oct. 2, 2018."
Castaneda's statement seems to conflict with Ramirez-Rosa's statement on Twitter that "We had to fight with IDOT for a year to get the okay for a ped island on Kimball at this intersection." Castaneda seems to be saying that the wait for approval of the permit request by IDOT was only four months after the request was received.
On Wednesday, the Chicago Department of Transportation tweeted about a couple of new projects in Avondale on the Near Northwest Side. For starters, the department created a de-facto pedestrian plaza at Wellington Avenue (3000 N.) and Kimball Avenue (3400 W.) This was done by pedestrianizing a short stretch of Wisner Avenue, a southwest-northeast diagonal between Wellington and Kimball.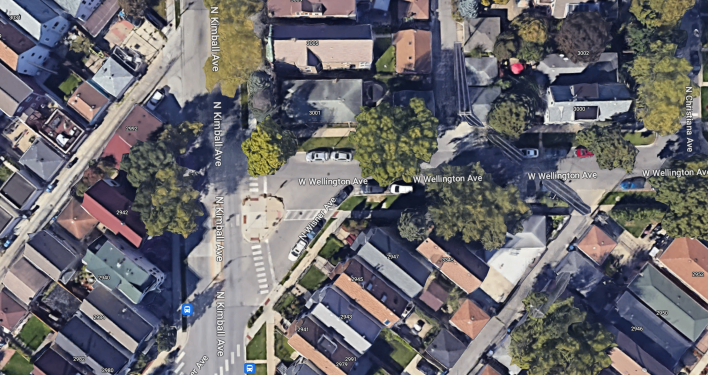 The project includes tan street paint and flexible plastic posts to discourage motorists from driving on Wisner, which connect with a large, triangular pedestrian island that already existed in the middle of the 3-way intersection. The effect is a car-free open space where residents of all ages might like to play games or hang out.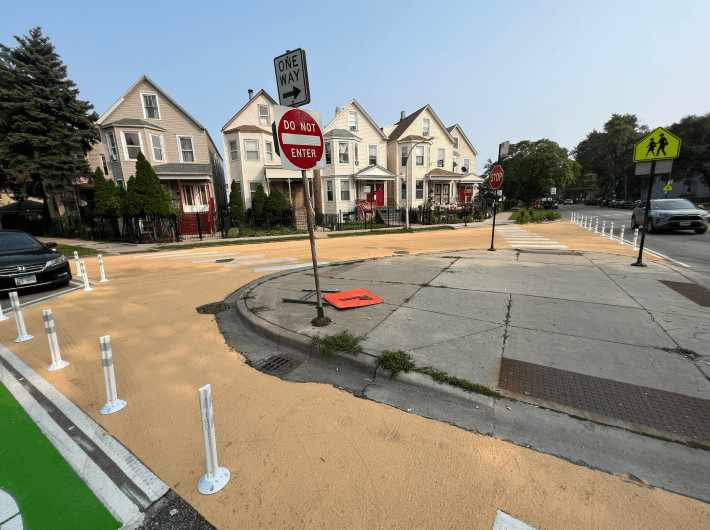 However, CDOT really should have invested in sturdier infrastructure such as concrete curbs or bollards to help keep drivers off of Wisner. The flimsy posts will offer little protection for plaza users if a reckless motorist careens into the poles.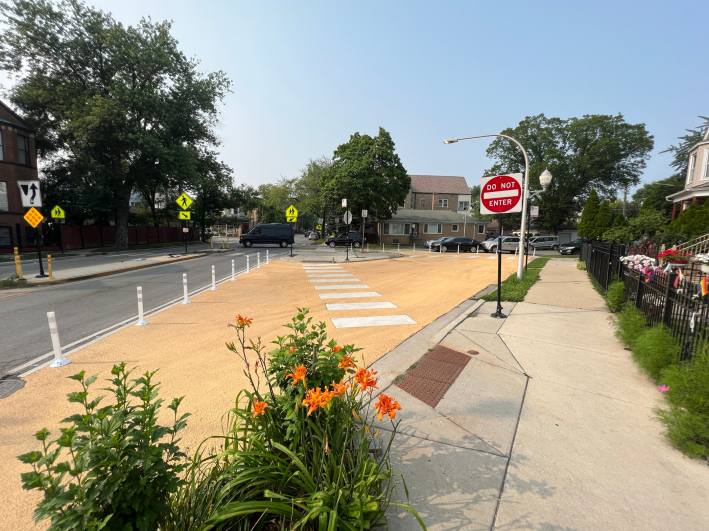 The department also announced a new Neighborhood Greenway side street cycling route on Wellington for a quarter of a mile between Kimball and Kedzie Avenue (3200 W.) The previously westbound-only roadway now has a contraflow ("wrong-way") bike lane. "Nice neighborhood connection to the new protected bike lanes on Kedzie, which can get you to the upcoming Belmont complete streets project," CDOT said.
Granted, a video posted yesterday by architect Jacob Peters showed that at Belmont Avenue (3200 N.) and Kimball, next to the Belmont Blue Line station, drivers are currently largely ignoring the newly-painted Belmont bike lanes. On the bright side, the project isn't finished yet, and new curbs will soon be installed on the bikeways near intersections to prevent motorists from driving in them.
After CDOT tweeted about the Wellington/Kimball plaza and Wellington Neighborhood Greenway, local alderperson Carlos Ramirez-Rosa pushed back a bit. "Let the record show I proposed/submitted this as an aldermanic menu-funded project [paid for with a ward budget controlled by the alder] during my first term," he tweeted. "It wasn't until we started working with CDOT last year to deploy bike lanes on Belmont and Kedzie that they were finally able to get around to this stretch of Wellington."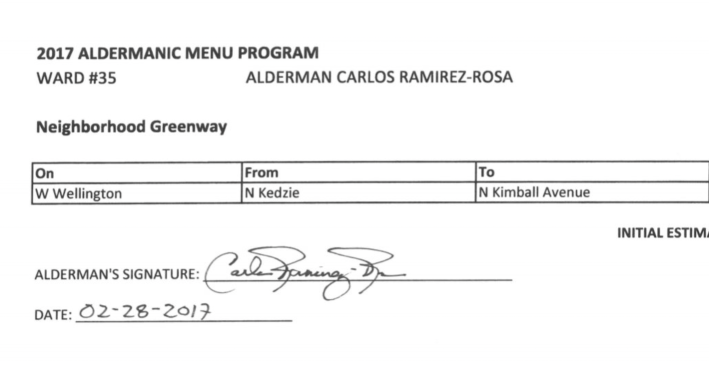 "The Wellington Avenue (Kedzie to Kimball) greenway was first proposed in [February 28,] 2017 (!) but CDOT wasn't feeling it at the time," Ramirez-Rosa said.
The alder requested another pedestrian island just west of the triangular one, a long median in the middle of the Kedzie mixed-traffic lanes, on the same date. But he said even that relatively modest request, which should have been completely uncontroversial, required advocates to "fight with [the Illinois Department of Transportation, which has jurisdiction over Kedzie] for a year to get the okay." CDOT finally installed the island by November 2018, about 20 months after Ramirez-Rosa asked the city department to do so.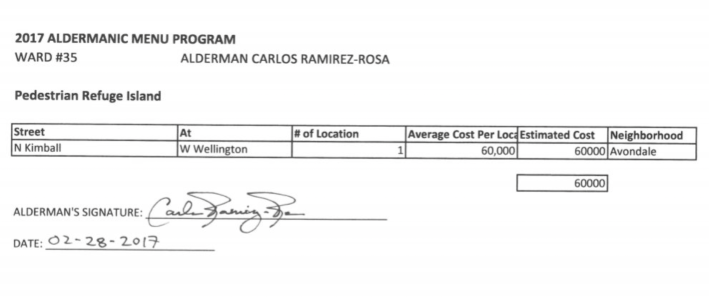 Ramirez-Rosa credited the pedestrian upgrades to local community organization Palenque LSNA's Avondale-Logandale Parent Mentors "who, concerned for the safety of their children, first advocated for pedestrian safety improvements at this intersection and along this stretch of Wellington."
"Amazing work parents, [Palenque LSNA, and Alderperson Ramirez-Rosa]!" replied UIC urban planning professor Kate Lowe to the alder's Twitter thread. "But we need to change the paradigm (e.g. reliance on engineering norms that put auto speed over safety), processes, and funding so these safety measures are the norm not a struggle."
Streetsblog's Steven Vance had the following questions about this project:
"1. How did it happen?
2. Was there a community input process? (I don't recall one ever being advertised in the 35th Ward newsletter.)
3. How can we get more of this? Is there a menu of 'better streets' stuff that residents and alders can ask for?
4. Why are all of the public space redesigns that aren't INVEST South/West or POP!Courts on the North Side?"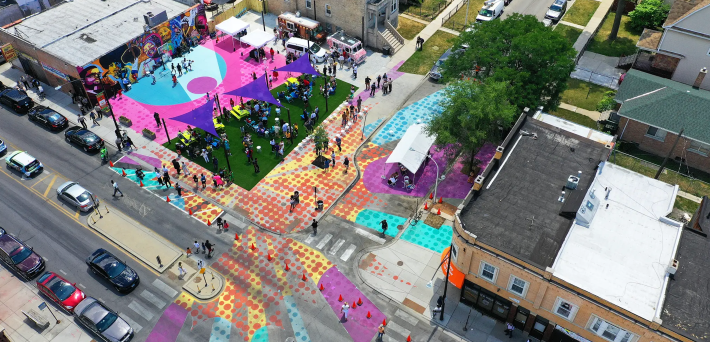 Ramirez-Rosa, CDOT, and IDOT didn't immediately reply to a request for comments, but this article will be updated if we hear back from them.
Did you appreciate this post? Please consider making a tax-deductible donation.
In addition to editing Streetsblog Chicago, John writes about transportation and other topics for additional local publications. A Chicagoan since 1989, he enjoys exploring the city on foot, bike, bus, and 'L' train.
Stay in touch
Sign up for our free newsletter