Bicycling
Chicago Mobility Collaborative March meeting recap
12:07 AM CDT on April 1, 2023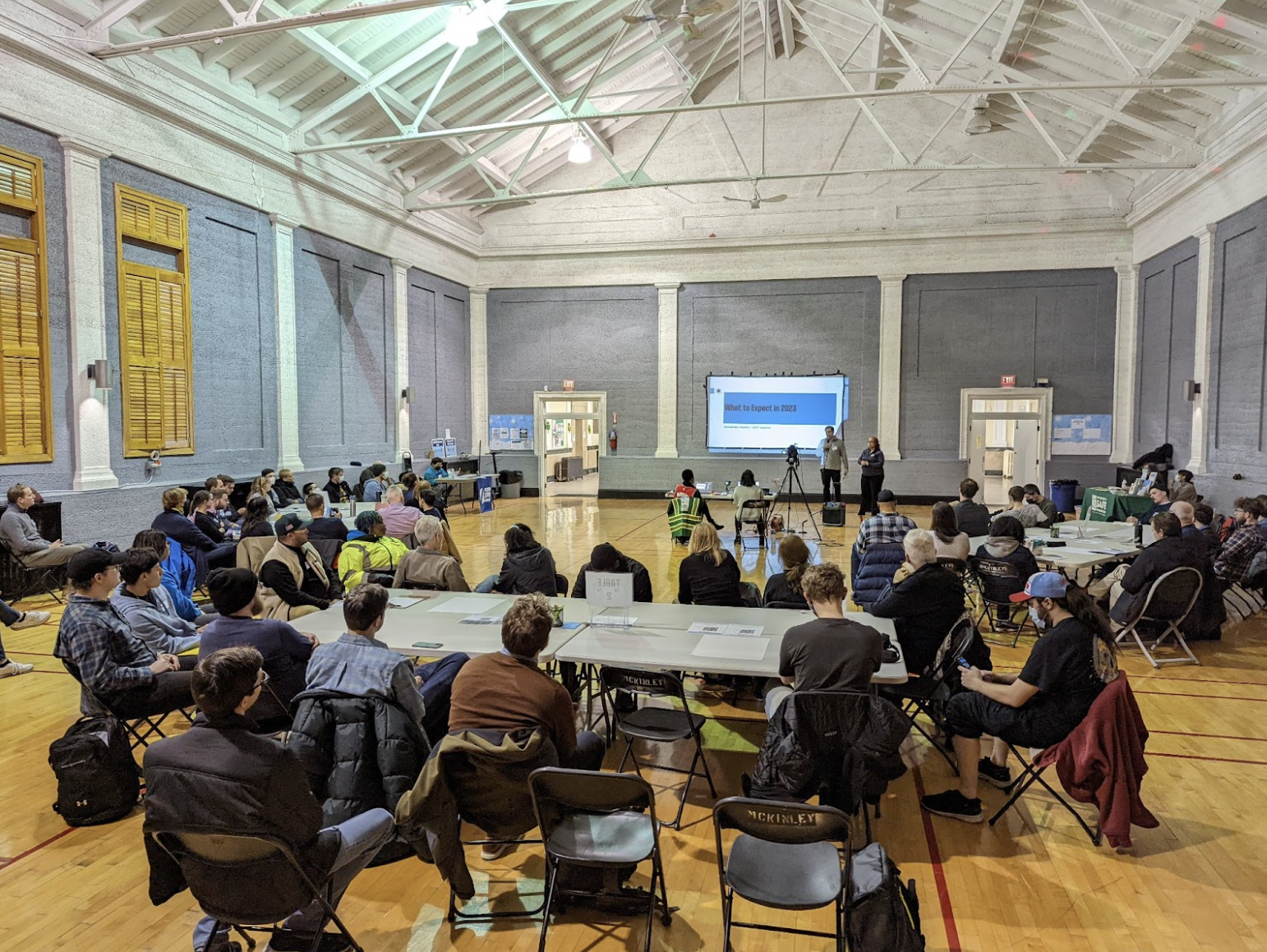 Para leer este artículo en español, haga clic aquí.
The first quarterly Chicago Mobility Collaborative meeting of the year was held this past week on Thursday March 16th at the McKinley Park Fieldhouse. Replacing what used to be the quarterly Chicago Mayor's Pedestrian and Bicycle Advisory Council meetings that ended in March 2020, this is the fourth CMC meeting and second in-person meeting. The event, hosted by the Chicago Department of Transportation, largely focused around the Community Tables.
CMC Leadership Group member Garth Katner from West Town Bikes kicked off the meeting and sign language interpretation was provided. The CMC leadership was introduced during the September 2022 meeting as a group of civic and community-based organizations and leaders that work with the Chicago Department of Transportation to set the agenda for each meeting and ensure there are equity components at these gatherings, such as representation from communities across Chicago, and providing feedback and accountability. 
After the opening, Dixon Galvez-Searle from the Southwest Collective spoke about the challenges in navigating the Southwest Side on foot, bike, transit, and other modes. The many freight, warehouse, distribution and manufacturing facilities fragment the street grid, making it very difficult to provide infrastructure for safe, connected, and comfortable commutes.  However, the SWC is working to make safer streets a reality.
CDOT complete streets director Dave Smith, gave updates on the department's plans for 2023. One big piece of news is  CDOT is working on a neighborhood bicycle network on the Southwest Side with various organizations, including the SWC. The Southwest has a severe shortage of bike lanes of any kind, with some neighborhoods having absolutely no bike infrastructure. Archer Avenue is a key diagonal route between the Southwest Side and downtown, but most of it lacks bikeways. Advocates hope Archer will get the attention it deserves.
Other updates include plans to build 100 miles of bike lanes this year, including many miles of protected lanes and Neighborhood Greenways in Logan Square, Commercial Avenue on the Southeast Side, and Central Park Avenue near the Garfield Park Conservatory. CDOT is also working with the Illinois Department of Transportation to provide protected bike lanes on streets that are under state jurisdiction, such as Archer and Pulaski Road.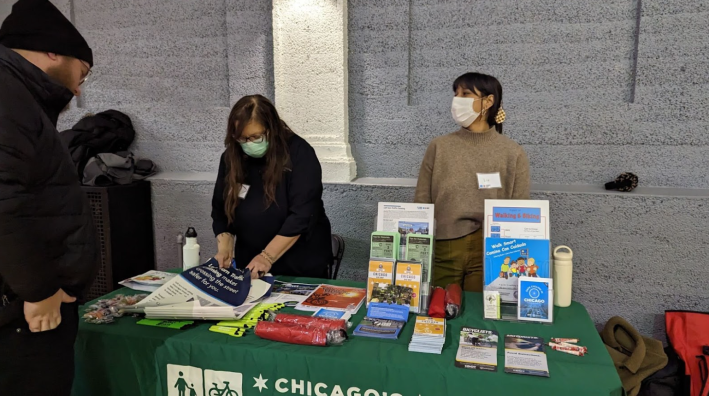 As for pedestrian improvements, Smith discussed CDOT's left-turn traffic calming pilot, which involves installing plastic bollards at intersections to encourage safer turns by drivers.
In addition, some school zones will also be updated with lower speed limits and traffic calming infrastructure, including Kelly High School which is located in the Southwest Side neighborhood Brighton Park.
On the transit side, CDOT is working to make bus stops more accessible to people with disabilities. Last year 100 bus stops were upgraded for wheelchair accessibility and the department plans on upgrading 100 more in 2023. Tactile bus stop signs are also being installed to help riders with visual impairments. 
CDOT is also looking to improve conflict zones for buses, which include traffic calming infrastructure to ensure smoother operation of buses and building "island" bus stops, located to the left of curbside bike lanes to minimize conflicts with bike riders.. These projects have been underway since last year and the department will continue expanding these initiatives in 2023.
In terms of policy, the City Council passed the Smart Street Ordinance. This will create a pilot program to enforce parking violations in bike lanes and bus-only lanes, as well as bus stops, crosswalks, and loading zones. Under the city's Clear Path Relief Pilot Program, lower-income drivers can pay half the fine, and there's a ticket debt forgiveness program.
During the December 2022 CMC Meeting, CDOT director of outreach and engagement Romina Castillo presented the Community Tables format that the CMC meetings would follow going forward. The goal of these tables is to have small group discussions on topics that community members proposed. To propose a topic, residents submit a Google form and the CMC Leadership Group, along with CDOT, review and choose the Community Table discussion proposals for the quarterly meetings. This was the first meeting where the participants of CMC broke out into Community Tables that were proposed by residents.
Each Community Table is led by the person/people who proposed the discussion with the help of representatives from CDOT and other relevant agencies and organizations. The staff at each table will hear resident concerns, opinions, preferences, and thoughts on the issue as well as answer questions that arise in real time. 
The three Community Tables for this quarterly meeting were: 
Table 1: Bus Rapid Transit: What it is, why it's being considered, and how it can be implemented in Chicago, led by Audrey Wennink from the Metropolitan Planning Council, Jennifer Henry from CTA and Kurt Facknitz from CDOT

Table 2: Beyond the Bike Lane: How to build support among local businesses for bike infrastructure, led by David Smith and Ismael Cuevas, CMC Leadership Group

Table 3 Walkshop: McKinley Park walking tour, led by Dixon Galvez-Searle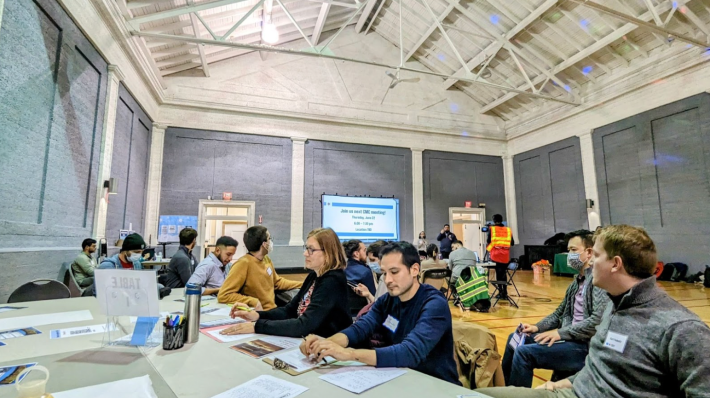 I sat at the BRT discussion table where the residents discussed the benefits and challenges of developing BRT in Chicago. Audrey handed out a fact sheet on the specifics of BRT and the group discussed what it would look like in Chicago. In 2013, CTA and CDOT announced they were working to create a BRT system along most of Ashland Avenue. The project never came to fruition due to pushback from mostly-Northside drivers and business owners, including a misleading campaign against the initiative.  
CTA and CDOT employees helped answer questions about the Ashland project, and considerations and proposals going forward. The general sentiment around the table was that CTA and CDOT should not only pursue but put forth a proposal because it is the right thing to do. The conversation ended without a clear resolution, but it is obvious that there are residents who are supportive and want to champion BRT.
Stay in touch
Sign up for our free newsletter