Chicago Policy
Blue Line blues: CTA quietly cut schedule again this month, but reliability issues persist
6:56 PM CST on February 13, 2023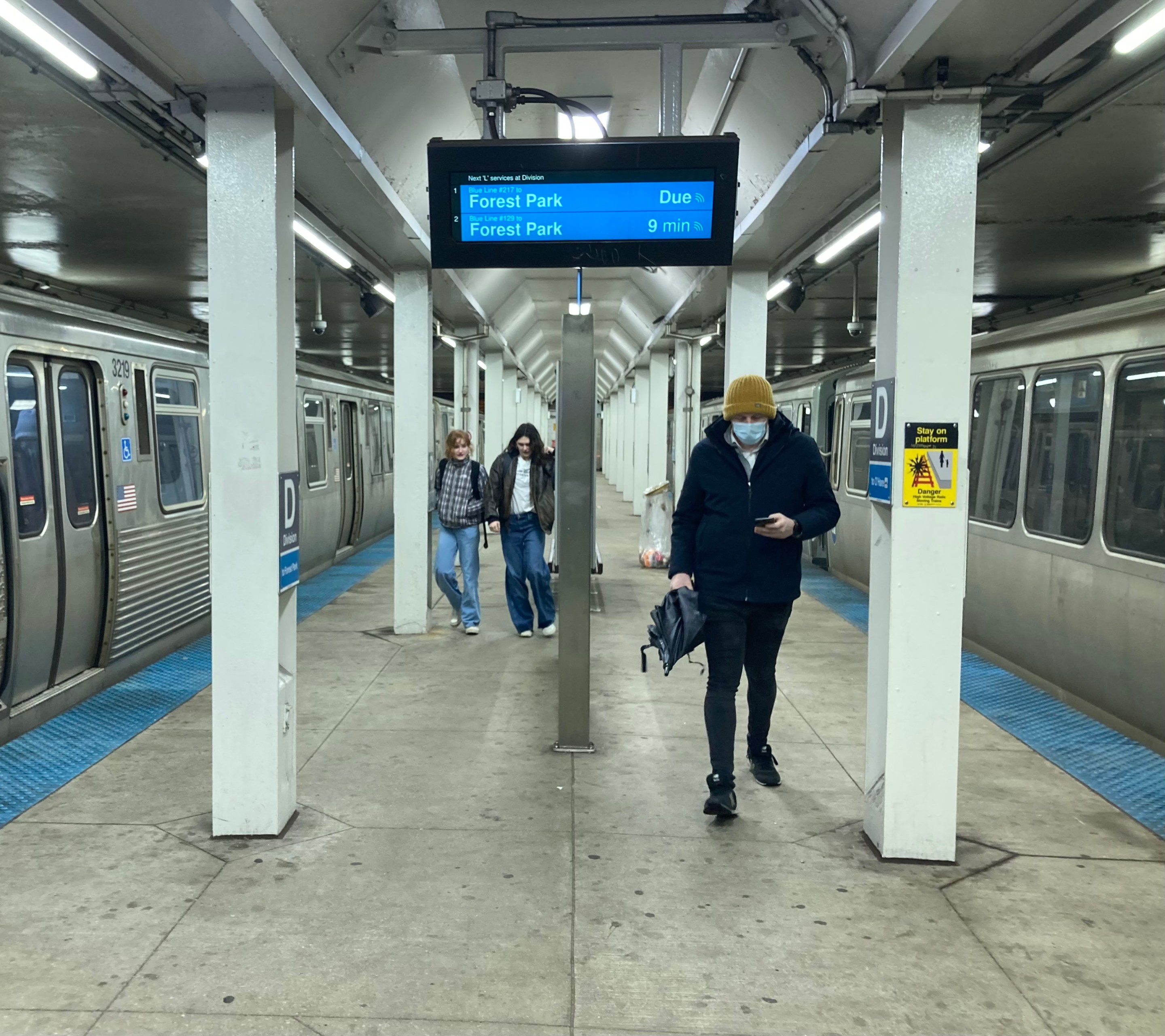 At a on February 8 CTA board meeting, agency president Dorval Carter assured the board that Blue Line service is improving. However, after the CTA announced cuts to scheduled rail service last September in an effort to make the schedule better reflect available labor, earlier this month the agency quietly reduced the number of scheduled Blue Line runs even further. And, despite the deep cuts to scheduled Blue runs, the line's percentage of scheduled service delivered is still far from perfect.
While the Blue Line, one of two 'L' routes that runs 24/7, has long been one of the busier lines, it experienced service issues even before COVID-19. This was especially noticeable in the Congress branch (aka the Forest Park branch, the section that runs in the median of the Eisenhower Expressway), which has multiple slow zones and gets fewer trains than the O'Hare branch.
As Carter acknowledged in his February 8 board report, the pandemic has exacerbated those issues, and COVID-related bus and rail operator shortages continue to be a major problem. This has led to the proliferation of "ghost runs," when scheduled buses and trains appear on transit trackers and navigation app screens, but the actual vehicles never show up because the agency didn't have the staff to operate them.
In his board presentation, Carter said the CTA has taken several steps to improve reliability. At the start of February, he explained, it "optimized" the Blue Line schedule, a euphemism for rearranging the runs in an effort to make sure there will always be someone available to operate them. He added that the agency has been increasing morning inbound rush hour service, similar to how it stages extra 'L' trains for events like baseball games.  
But according to data compiled by the rider advocacy group Commuters Take Action, the Blue Line changes had the net effect of reducing the number of scheduled runs, including during the morning rush hour, and the CTA continues to deliver fewer Blue trains than scheduled. Furthermore, as of Sunday the CTA still hadn't posted the updated Blue schedule on its website, although transit trackers have been updated. 
The president's report
In his presentation, Carter readily acknowledged the Blue Line has many issues. "I'm sure that many of you have heard that we've been experiencing longer-than-scheduled run times that are due in large part to the impact of the areas where the trains must travel more slowly, which are called the slow zones, which exist primarily along the Congress Branch between the Forest Park and UIC/Halsted [stations]," he said. "These slow zones are a necessary aspect of our service in that they are the result of the track conditions in the area that are required to make sure that we continue to operate that service in a safe manner."
But Carter didn't mention that during rush hour about a third of all trains only serve either the segment between the UIC/Halsted station and the O'Hare stop, or else only serve the stretch between the Racine station and Jefferson Park Transit Center. That means most of the Congress branch gets less rush hour service than the rest of the line. The CTA takes advantage of extra tracks at the aforementioned stations, where trains can be staged and turned around.
This service pattern predated the pandemic. I personally experienced its drawbacks in my years covering the West Side for Austin Weekly News (and before that, when I was treated for Hodgkins Lymphoma at Stroger Hospital.)
Carter said the service issues "are seen most acutely during the morning rush hour, heading into downtown on O'Hare branch. To address this, he said, the CTA adjusted the service schedule and will further make adjustments in March. 
"Last week, we implemented several new measures to improve the service delivery, including adding additional trains to the Blue Line during morning peak service, dispatching CTA staff to live monitor rush hour service and dispatch additional trains to targeted times and locations, enabling us to more nimbly respond to unplanned service issues," Carter said
@cta @ctaaction @CTAFails the scene at western this morning after the second completely full train in a row came by. not sure if a single person got on pic.twitter.com/NG6ccG6tOz

— Mike Morrell (@MTmorrell) January 25, 2023
Carter said the idea is to avoid having trains that are already so crowded more riders can't board, which only increases crowding on the platforms. He added that the CTA uses the same strategy at major events, specifically mentioning Cubs games. The transit agency often stages the trains near the Addison Red station, so that they can arrive and pick up passengers as soon as the game is over and riders fill the station. 
Schedule analysis
Commuters Take Action cofounder Fabio Göttlicher downloaded CTA's latest General Transit Feed Specification dataset and compared the latest Blue Line schedule at the California station on the O'Hare branch with the pre-pandemic schedule and the pre-February schedule. He found:
Scheduled Blue Line service is currently down 39 percent overall compared to the pre-pandemic schedule, with service cut by 36 percent on weekdays, 52 percent on Saturdays, and 44 percent on Sundays. This is shown on Commuters Take Action's recently published interactive map of service cuts.
Scheduled weekday rush hour service is currently down 50 percent compared to the pre-COVID schedule, from 21 trains per hour to 10 trains per hour during peak rush hours, and not all of those are showing up. "Since the holidays, rush hour service on the Blue Line has become quite disastrous, often only six to 8 trains per hour dispatched from the Northwest Side towards the Loop in the morning," Göttlicher told Streetsblog. "We've gotten many reports of people waiting between Logan Square and Division for 30-45 minutes before being able to get on a train."
Before the pandemic there were generally six-minutes waits between trains for most of the day on Saturday, but currently there are typically 15-minute headways during these times. "This is, along with the yellow line, now the least frequent daytime service on the 'L.'"
Currently there are several scheduled half-hour service gaps on Sundays.
"With these new less frequent intervals, it is more important than ever that a schedule is actually followed with consistent headways," Göttlicher told us. "However, there are still too many occurrences of two trains in five minutes and then nothing for 20 minutes. Despite still promising six-minute service during rush hours, 15-minute wait times at 8 a.m. are not uncommon."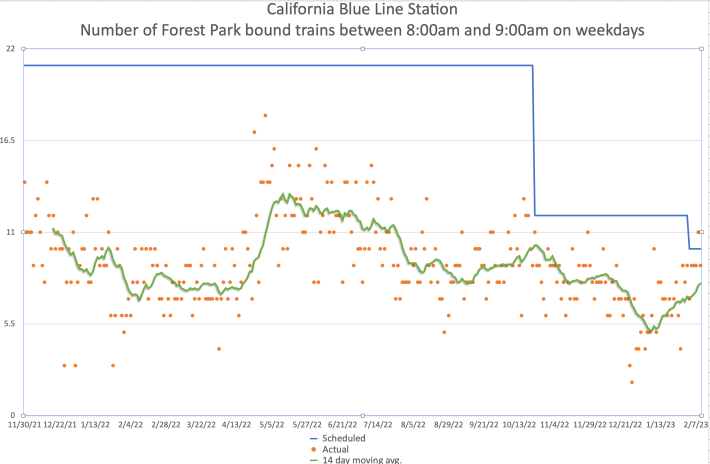 The numbers provided by Commuters Take Action show that before COVID there were a total of 390 scheduled weekday Blue Line runs (including 195 Forest Park-bound trains and 195 O'Hare-bound runs.) After the schedule was changed last September, there were a total of 338 scheduled weekday Blue runs. But after the schedule was changed again this month, there are only 245 scheduled weekday Blue trains.
The data shows that pre-COVID there were a total of 374 scheduled Saturday Blue runs (including 187 Forest Park-bound trains and 187 O'Hare-bound runs.) After last September's schedule change, that number dropped to 326. And now there are only 182 total scheduled Saturday Blue Line runs.
Commuters Take Action's numbers show that before the pandemic there were a total of 316 scheduled Sunday Blue Line trains (including 158 trains in each direction.) After the September schedule change, that number was lowered to 280. And now there are a mere 178 total scheduled Sunday Blue runs.
At the board meeting, Carter made it clear that the primary aim of the latest "optimization" is reliability, and higher frequencies would come later. Prior to to the February schedule change, the percentage of scheduled runs fulfilled was generally in the ballpark of 66 percent. But even after the agency cut scheduled Blue Line service once again this month in an effort to make it easier to meet its percentage-of-service-delivered target, those numbers still leave something to be desired. Here are the numbers for February so far, according to Commuters Take Action:
February 1: 76 percent
February 2: 81 percent
February 3: 82 percent
February 4: 88 percent
February 5: 87 percent
February 6: 84 percent
February 7: 91 percent
February 8: 84 percent
February 9: 79 percent
February 10: 87 percent
February 11: 98 percent
February 13: 84 percent
There is also the question of communications, something Carter said the CTA is trying to improve. "I believe what my customers want to know is that, one, we're aware that there's a problem, and, two, that we're doing things to try to address it," he told the board. "That requires something more than just canned statements we usually use. It requires a person talking to people, a live person talking to you, saying, hey, we saw that we just left you on the platform. You need to know that there's another train two stops away that will be coming and will have some capacity to take you."
But when you know that the CTA didn't announce the February schedule change, and the CTA website still doesn't show the new schedule, Carter's words about trying to keep customers better informed ring hollow.
Did you appreciate this article? Please consider making a tax-deductible donation to help fund Streetsblog Chicago's next year of publication. Thanks!
Stay in touch
Sign up for our free newsletter