Bicycling
Far South Side (Wards 6, 8, 9, 10 and 21) candidates talk transportation
6:44 PM CST on February 6, 2023
As part of our 2023 Election Coverage, Streetsblog Chicago sent a questionnaire out to every candidate running for alderperson. Today, we're sharing responses from candidates in Far South Side districts, including wards 6, 8, 9, 10 and 21.
We asked about their plans to restore CTA ridership, what actions they would take to reduce fatal crashes, and if they supported additional protected bike lanes in their ward. We also asked if they supported more affordable housing options near transit, including Equitable Transit Oriented Development, and allowing Accessory Dwelling Units and three-flats to be built in every neighborhood. See the full set of questions at the bottom of this post.
You can see the full responses from candidates in every ward here.
Here are our writeups of the responses:
Ward 6: Englewood, Grand Crossing, Auburn Gresham, and Chatham

About the race: 11 candidates are running to replace Ald. Roderick Sawyer, who is giving up his seat to run for mayor. Streetsblog received responses from Dr. Barbara Bunville, a counselor and Chicago Police Officer, Tavares Briggs a school administrator, and Kirby Birgans, a high school teacher. Also running here are Sylvester Baker, Patrick Brutus, Paul Bryson, Kimberly "Kim" Egonmwan, William Hall, Aja Kearney, Sharon Pincham, and Richard Wooten. Block Club's coverage is here.
CTA Ridership: Candidates had a range of proposals to restore CTA ridership.
Dr. Bunville suggested cutting fares on CTA to $2, pointing to the success Metra's FairFares pilot, and noting that a trip downtown on Metra ($2) from 79th Street currently costs less than the CTA. She also proposed real time tracking for ghost buses, noted that the CTA needs to fill empty positions more rapidly.
Briggs noted that Streetsblog asked about both reliability and safety, and said he'd push for accountability and transparency from leadership. He argued that safety issues go well beyond the CTA, and suggested working with CPD to fight for an increase in staffing levels.
Birgans committed to "enhancing CTA's workforce, addressing safety concerns, and safety optimization." He suggested leveraging data to redesign bus routes and prioritize safety. He also endorsed the Red Line Extension, and reopening the Racine Green Line stop.
Traffic Safety: All candidates agreed that more needed to be done to protect pedestrians and cyclists. Tavares and Birgans both recommended protected bike lanes on King Drive and Cottage Grove.
Dr Bunville endorsed "better street design, higher safety awareness, and new technology." That included lowering speed limits, adding more protected barriers for cyclists and raised sidewalks for pedestrians. She also proposed stronger road safety awareness training about the rights of cyclists. She didn't name any specific streets for protected bike lanes.
Tavares noted that he was an avid biker, and rides "hundreds of miles a year throughout the city of Chicago." He endorsed more education and ordinance enforcement—pointing to seat belts as an example of protection that wasn't used until laws were enforced. He endorsed protected bike lanes on King Drive, Halsted, Cottage Grove, eastwards on 75th and 76th streets.
Birgans supported more stop signs, and called for an analysis of crash sites to support a citywide plan to reduce pedestrian and cyclist crashes. He endorsed protected bike lanes on Cottage Grove and King Drive.
Equitable Transit Oriented Development: 
Dr. Bunville backed additional development near transit, arguing that this can "reduce carbon emissions in the environment, reduce the costs of transportation as a portion of household budgets, reduce traffic congestion and competition for limited parking spaces, and encourage the development of dense, multi-unit housing and commercial properties in Chicago."
Briggs discussed specific sites, noting one effort at 79th and State, and was also in favor of projects near the Red Line stops running from 69th St to 95th.
Birgans agreed that more should be done on affordability, and said he'd support development of affordable housing by working to expand the Affordable Requirements Ordinance. He said that candidates should be held accountable, and that "It is contradictory to claim support affordable housing, when alders and candidates are in the pockets of developers."
Housing: Dr. Bunville and Birgans both enthusiastically supported legalizing ADUs and 3-flats citywide. Briggs was more circumspect.
Dr. Bunville noted legalizing ADUs would provide opportunities for homeowners to generate income, and create opportunities for new families. She endorsed legalizing housing that might have already been created without prior city approval. In addition to endorsing the 3-flat expansion, she also suggested a wide range of other housing options. Those included allowing smaller lots, streamlining the rezoning of vacant non-residential buildings, and increasing density bonuses for affordable housing.
Briggs didn't respond to the ADU question. He wrote that "the 6th ward has its fair share of 2- and 3-flat buildings," but thought that the impact of citywide legalization needed to be studied more. He did endorse more affordable housing in the ward.
Birgans responded with an enthusiastic "Yes!" to both the ADU and 3-flat questions.
Ward 8: South Shore to Cottage Grove Heights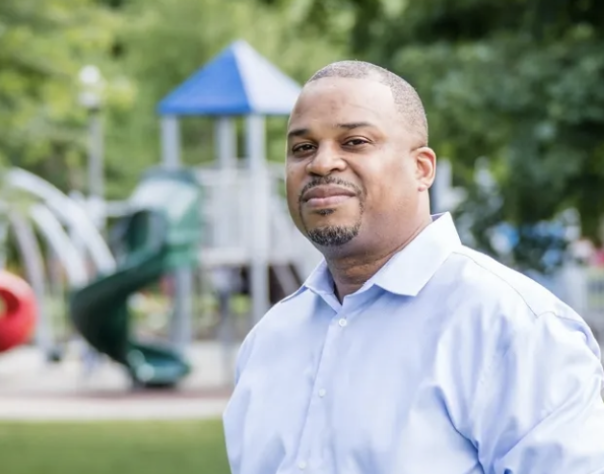 About the race: Three candidates are running in this ward, which covers parts of Grand Crossing, Chatham, Burnside, Pullman and Cottage Grove Heights. Streetsblog received a response from Sean Flynn, former Chief of Staff to Ald. David Moore (7th). Also running are incumbent Michelle Harris and Linda Hudson. Block Club has coverage here.
CTA Ridership: Flynn wrote that "the biggest concern right now is safety." He endorsed more CPD officers (recognizing the staffing shortage there), as well as private security. He also suggested incentives or promotions to increase ridership. Flyn also noted that cleanliness was an issue, writing that "allowing homeless people to sleep on the train card was never a good idea."
Traffic Safety: Flynn wrote that "of course" safety for bikers and pedestrians was an issue, and endorsed protected bike lanes. He also expressed support for better street markings and signals for bikes, along with traffic enforcement. But while he said he "absolutely" supported more protected bike lanes, he noted that he couldn't think of a good street in the ward, saying that "streets are pretty narrow and congested as it is. I worry someone would get hurt. East rd street may be a good street for bike lanes. That street is moderately busy."
Housing: Flynn strongly endorsed ETOD, and highlighted Metra Stations at 87th and Dauphin and 95th and Cottage Grove as good opportunities. He noted that the location is close to Chicago State, and 15 minutes from the 95th Street Red Line terminal. He endorsed both legalizing ADUs and 3-flats citywide.
Ward 9: Chatham, Roseland, Pullman, and Riverdale
Ward 9: Three candidates are running in this ward, which runs from Chatham down to the city's southern border. Streetsblog received a response from incumbent Alderperson Anthony Beale (note: a campaign website was not provided). Also running are Cameron Barnes and Cleopatra Draper. Block Club coverage is here.
CTA Ridership: To restore ridership, Beale wrote that the CTA needs to focus on safety and cleanliness, "starting with police or live monitoring of cameras." He also highlighted the importance of holding CTA CEO Dorval Carter accountable for performance.
Traffic Safety: Beale suggested starting by enforcing the current laws, and cracking down on illegal trucks speeding on du Sable Lake Shore Drive. He also proposed a traffic study, to understand and address current challenges. When asked about protected bike lanes, he suggested first looking at usage, and "unexpected consequences like the inability of city equipment to remove snow, trash etc.  and the inability of the disabled to reach buses or rides without great difficulty."
Equitable Transit Oriented Development: Asked about ETOD, Beale responded that "First we'd like transit IN OUR WARD," and noted that he and the community had fighting for the Red Line Extension for 20 years. He observed that every community needs density to support transit and schools.
Accessory Dwelling Units: Beale was supportive of ADUs but didn't directly answer the question about expanding the pilot area. He wrote that "allowing is not enough," and that homeowners should receive resources and incentives, similar to the Green Bungalow Program which he touted.
Legalizing 3-Flats: Beale was unambiguous on legalizing three flats, writing that "restrictive covenants and zoning can and should be eliminated."  More broadly, he noted that density and better transportation should be priorities in every South and West side ward. He argued that the loss of both has harmed residents and businesses alike, "and is related to the exodus of residents from those communities."
Ward 10: South Chicago, East Side, South Deering, Hegewisch and Riverdale

About the Ward: 5 candidates are running here to replace retiring Ald. Susan Sadlowski Garza, in this ward which runs from South Chicago to Hegwisch and Riverdale. Streetsblog received responses from Ana Guajardo a labor organizer, Jessica Venegas a police officer and attorney, and Oscar Sanchez, a community organizer.
CTA Ridership: Guajardo focused on reliability, while Venegas and Sanchez differed on the role of police in the system.
Guajardo wrote that she would start with transparency, "It's 2023. Ghost trains and ghost buses shouldn't exist." She also expressed support for making the CTA more affordable, and increasing routes and frequency to boost accessibility.
Venegas supported additional funding for the Agency to improve staffing, and also suggested increasing routes to underserved communities. She argued that private security didn't have "proper enforcement authority" and proposed "additional and visible" Chicago Police posts.
Sanchez also raised safety concerns. He proposed bringing back unarmed conductors to serve as authority figures to deter crime as an alternative to police that "does not threaten the well-being and wrongful arrest of citizens." He also endorsed "fair pay, adequate resources, mental health, and training" for CTA workers to fix workforce shortages.
Traffic Safety: Support for better infrastructure to protect pedestrians and bikers was unanimous. Venegas got the closest to naming specific sites for new bike lanes.
Guajardo wrote that "100% this is a safety issue" and she supported infrastructure improvements. While she didn't name any specific streets, she noted that "Any street that is heavily used by bikes should be prioritized for protected bike lanes." She expressed support for more bike lanes, but didn't name specifics.
Venegas agreed that roadway safety is of "utmost importance," expressed support for more surveillance, timely investigations, and increasing penalties for hit-and run drivers. She proposed exploring bike lanes on Torrence and Avenue O.
Sanchez suggested changing zoning to reduce diesel trucks proximity to school zones, and incentivizing alternatives to driving. He proposed more community engagement to "achieve walkable and accessible communities through urban planning." He also endorsed protected bike lanes, and suggested diverting cyclists to smaller streets away from commercial truck traffic.
Equitable Transit Oriented Development: Everybody was on board with ETOD. Venegas talked extensively about TOD and the history of the ward, while Sanchez pointed to recent legislative developments at the City Council.
Guajardo said she "absolutely" supported ETOD, and argued that the Ward stands to gain the most given current isolation from transit.
Venegas shared the history Altgeld Gardens, and noted that it is now a "transit and food desert," with residents forced to take multiple buses to get to the nearest grocery store. She expressed optimism over the Red Line Extension, and hope that TOD could help ensure residents on the far south side can thrive.
Sanchez agreed strongly as well, writing that "securing access to multi-family unit affordable housing near transit is a necessity." He expressed support for the "expansion of the Connected Communities Ordinance citywide," presumably referring to the density bonuses and parking minimum reductions included in the ordinance.
ADUs and Legalizing 3-flats: Guajardo and Sanchez both expressed unqualified support for citywide ADUs and legalizing three-flats. Venegas was opposed to both.
Guajardo answered "Yes" to both questions
Venegas said she opposed expanding ADUs, because "the only areas that are able to take full advantage of it are in the more affluent north and northwest side neighborhoods" and that costs were too high for those in need affordable housing. On three-flats, she wrote "I do not believe in disrupting well established neighborhoods and communities with the random construction of multi-unit buildings." She did express support for allowing multifamily units near public transportation "and other community agreed upon areas."
Sanchez backed an ADU expansion, and also suggested forgivable loans to support additional participation in the program. He also noted that "Allowing residents to have option of additional income through the addition of units in a home is an economic opportunity that can benefit working class families across Chicago." He endorsed legalizing 3-flats citywide, as well as the Bring Chicago Home Ordinance, and efforts to lift the statewide rent control ban.
Ward 21: Auburn Gresham to West Pullman

Dr. Kweli Kwaza, Ayanna Clark, and Ronnie Mosely. Not shown: Patricia Tillman.
About the Ward: 7 candidates are running to retiring Ald. Howard Brookins in this ward, which covers parts of Auburn Gresham, Brainerd, Longwood Manor, Fernwood and West Pullman. Streetsblog received responses from Dr. Kweli Kwaza founder of a career mentoring organization, Ayana Clark, a former staffer to US Rep. Bobby Rush, and Ronnie Mosely, founder of a policy and organizing firm. Streetsblog also received a response from Patricia Tillman (no website), who was removed from the ballot and is running as a write-in candidate. Also running here are Preston Brown Jr., Cornell Dantzler, Daliah Goree, and Larry Lloyd. Block Club coverage is here.
CTA Ridership: Kwaza and Tillman focused on the CTA's safety issues, while Clark and Mosely prioritized addressing reliability.
Dr. Kwaza focused on crime on the system, and was emphatic that the CTA needs a dedicated CPD detail. He also suggested drones at bus stops and trains "to prevent crime and capture offenders."
Clark's response focused on the agency's reliability issues. She suggested a review of the bus network, "to evaluate routes that are ineffective and shift resources to cover the most needed routes." She also suggested increasing hiring and bus electrification, and that the CTA can do more with advertising to offset costs.
Mosely suggested increasing accountability, funding improvements to schedule reliability, and improving operating efficiency. He also committed to regular public forums and community outreach to engage with residents on transit topics, including the Red Line Extension.
Tillman proposed more armed and unarmed security for CTA buses and trains.
Traffic Safety: Candidates were unanimous in their support of additional bike lanes in the ward.
Dr. Kwaza backed more protective bike lanes, and drones to catch hit and run offenders. He suggested bike lanes on Racine, Halsted and Ashland.
Clark was also a strong backer for bike lanes, noting that "in the summers I can't take my kids to school on their bikes because there are not enough lanes in the ward." She suggested bike lanes on Halsted, Vincennes, 87th, 95th, 103rd, 111th, and 119th streets. Separately, she said she opposed red light cameras and booting of illegally parked cars.
Mosely wrote that "cyclists and pedestrians are entitled to the same sense of security as CTA users and drivers." In addition to greater penalties for vehicles blocking bike lanes, congestion pricing, and bike lanes on Ashland and Halsted.
Tillman endorsed more protected bike lanes, and recommended Halsted, Ashland and Vincennes.
Equitable Transit Oriented Development: Candidates were all over the map on ETOD, focusing on a mix of development, affordability, and equity.
Dr. Kwaza wrote that he was currently working with the Far Southside CDC to support mixed used development on Halsted, "so that our residents can live near the bus line and will have access to work."
Clark endorsed requiring developers to put affordable units required under the Affordable Requirements Ordinance onsite, rather than
Mosely focused on equitable transit in his ETOD answer. He raised concerns about CTA fare hikes, and argued that the city should ddo more to respond to inclement weather. In particular, he endorsed universal citywide snow and ice removal from sidewalks.
Tillman endorsed the south Red Line extension.
Housing: All four candidates backed expanding the Accessory Dwelling Unit pilot, and legalizing 2- and 3-flats.
Dr. Kwaza noted that ADUs will help families support affordable housing, and that 2- and 3-flats was also the best option on the Southside for working-class investors and landlords.
Clark was a "yes" on both questions. She also endorsed Bring Chicago Home, the Just Cause Ordinance, rent control, and efforts to help residents pay for their homes.
Mosely was also a "yes" on both questions. He also pointed to Chicago's history of red lining and segregation as a driver of harrowing life expectancy gaps between neighborhoods like Streeterville and Englewood.
Tillman expressed her support for ADUs and 3-flat legalization. She also expressed her belief that individuals with convictions should have access "to the same housing opportunities as non-convicted citizens."
Did you appreciate this article? Please consider making a tax-deductible donation to help fund Streetsblog Chicago's next year of publication. Thanks!
Stay in touch
Sign up for our free newsletter