Bus Transit
Mayoral hopefuls weigh in on how to save the CTA, a key campaign issue
6:05 PM CST on January 26, 2023
Just about everyone in Chicago seems to agree that the CTA is in rough shape nowadays, with the possible exception of agency management and Mayor Lori Lightfoot. Ridership is only about half of pre-pandemic levels, the violent crime rate has doubled during COVID, and nuisance issues like smoking, littering, and public urination seem to have gotten worse.
During today's mayoral candidate forum held by WCPT 820 AM at Morningstar Auditorium in Block 37, moderated by radio hosts Joan Esposito, Santita Jackson, and Patti Vasquez, transit was a major topic of conversation. The debate was split into two segments, with frontrunners (based on polling results and money raised) Lightfoot, Congressional rep Jesus "Chuy" Garcia, former Chicago Public Schools chief Paul Vallas, entrepreneur Wille Wilson, and Cook County commissioner Brandon Johnson appearing first.
Willie Wilson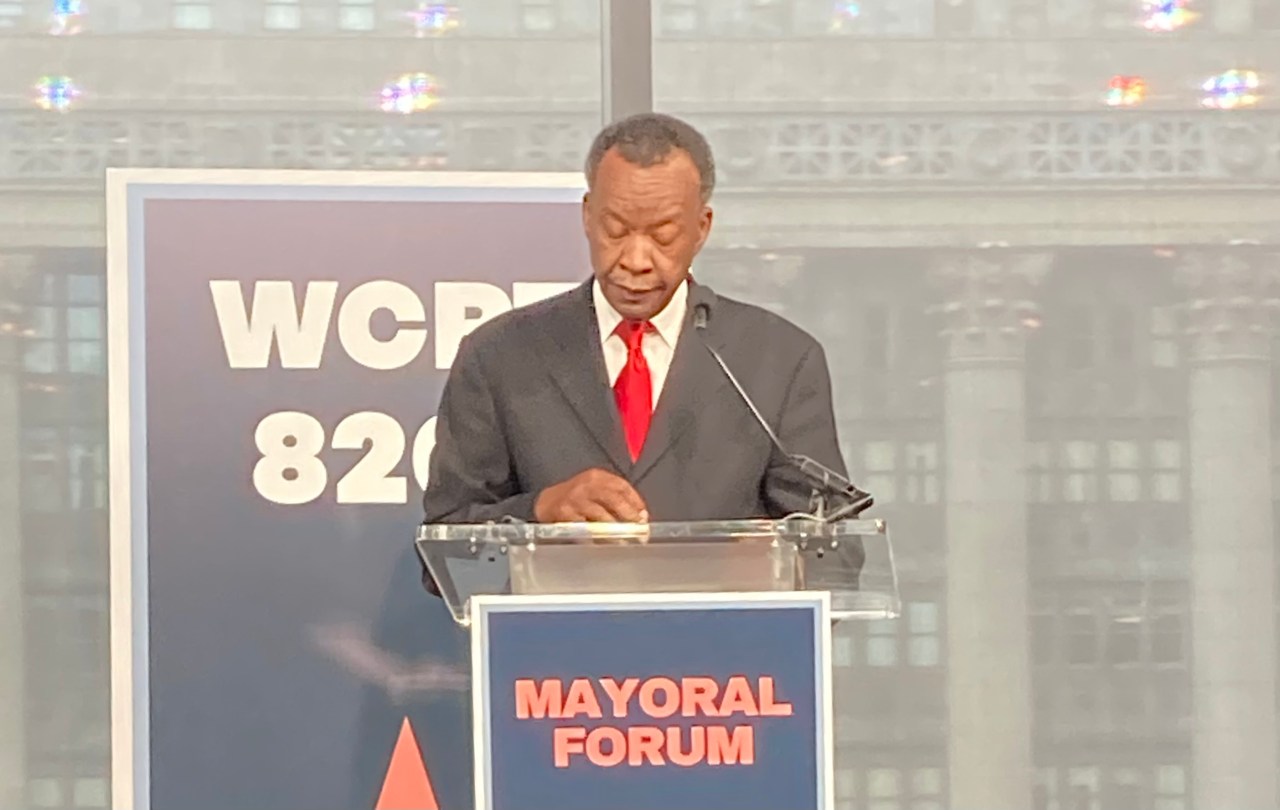 These candidates were all asked "What is your plan to improve public transportation in Chicago?" Wilson started out, emphasizing the need for safe, clean transit. He argued that more policing of the system is needed, indicating he feels unarmed security guards and guard dog units, for which the Lightfoot administration earmarked $101 million last year, are an ineffective crime-fighting tactic. "You have to have people who are armed in order to protect citizens... in order that people can feel safe. I'm not going to walk down the street with somebody that don't carry a gun and feel safe."
Interestingly, Wilson also proposed that the CTA "lower the fare in order to attract more people to ride."
Brandon Johnson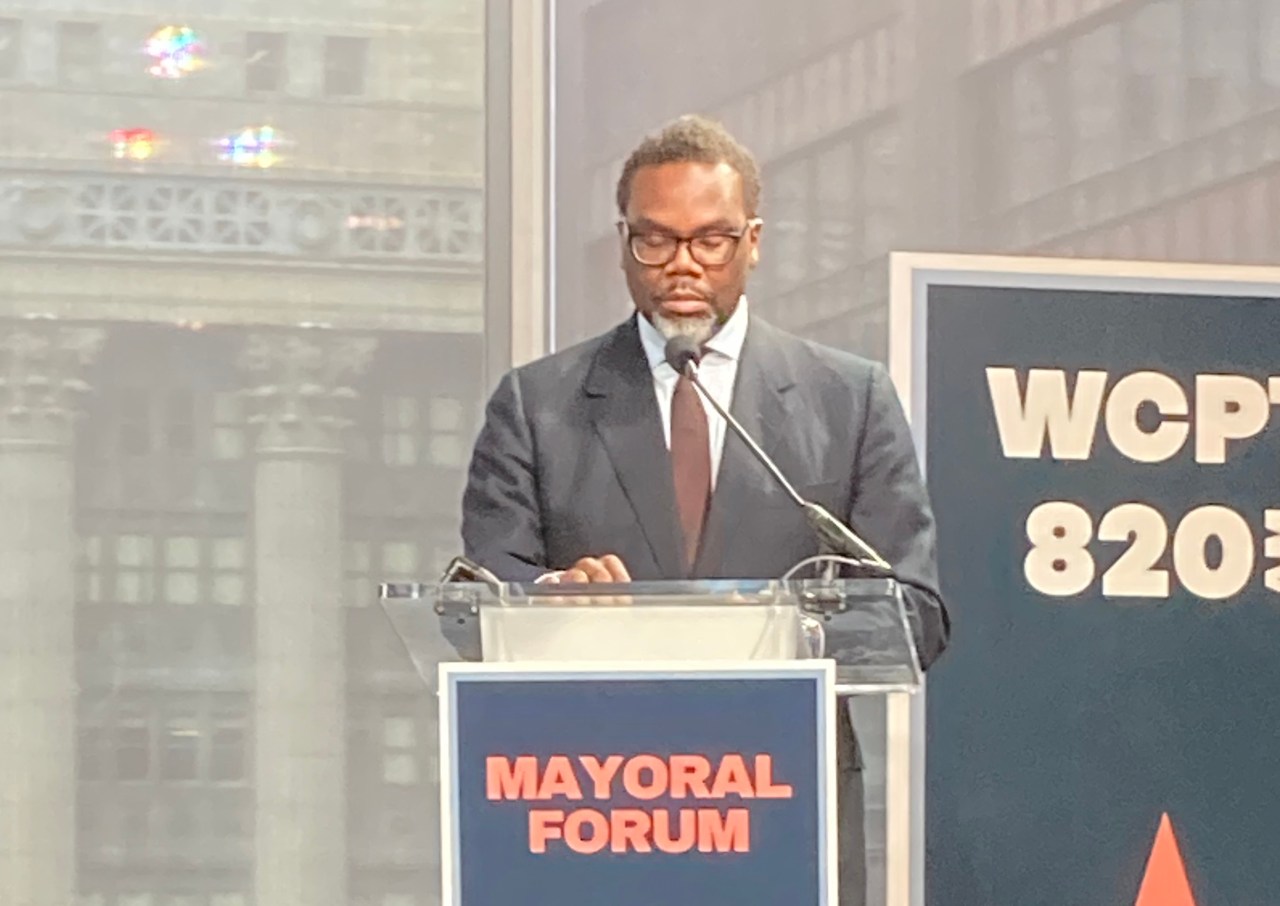 Johnson was next. "The reason why public transportation is less safe... is because it's unreliable," he said, adding that he and his family rely on transit, and many Chicago workers feel unsafe on the system. He called for building more dedicated bus lanes to relieve traffic congestion and make service more dependable. The commissioner added that all levels of government need to be "more collaborative" to create a world-class regional transportation system.
Johnson cited Cook County's success in bringing Metra and Pace to the table to create the Fair Transit South Cook pilot, which lowered fares on South Side Metra lines and increased connecting Pace bus service, "especially in the dead zone [south of] 95th Street," but noted that CTA, which the Chicago mayor controls, did not cooperate with the plan, spearheaded by the Lightfoot's 2019 mayoral rival county president Toni Preckwinkle. "Under my administration, the CTA will be at the table."
Lori Lightfoot
Lightfoot protested that "The CTA is always at the table. That's mandated by state law... and I am a big believer in regionalism." She said that in response to concerns from residents and the transit worker unions, policing of the transit system was increased last year, along with the increase in unarmed security personnel and K-9 units stations at turnstiles. "The problems [on the 'L'] begin with someone jumping the fare."
The mayor noted that the tax-increment financing district to help fund the south Red Line extension, originally proposed under the Richard J. Daley administration, passed "under my watch." She added that "we also have to expand on the alternative modes of transportation, stating that her administration has installed more bike lanes that any previous administration, as well as launching a public e-scooter program, and officials are currently looking at setting up charging stations for electric cars. "So we have to think holistically about what public transportation means."
Chuy Garcia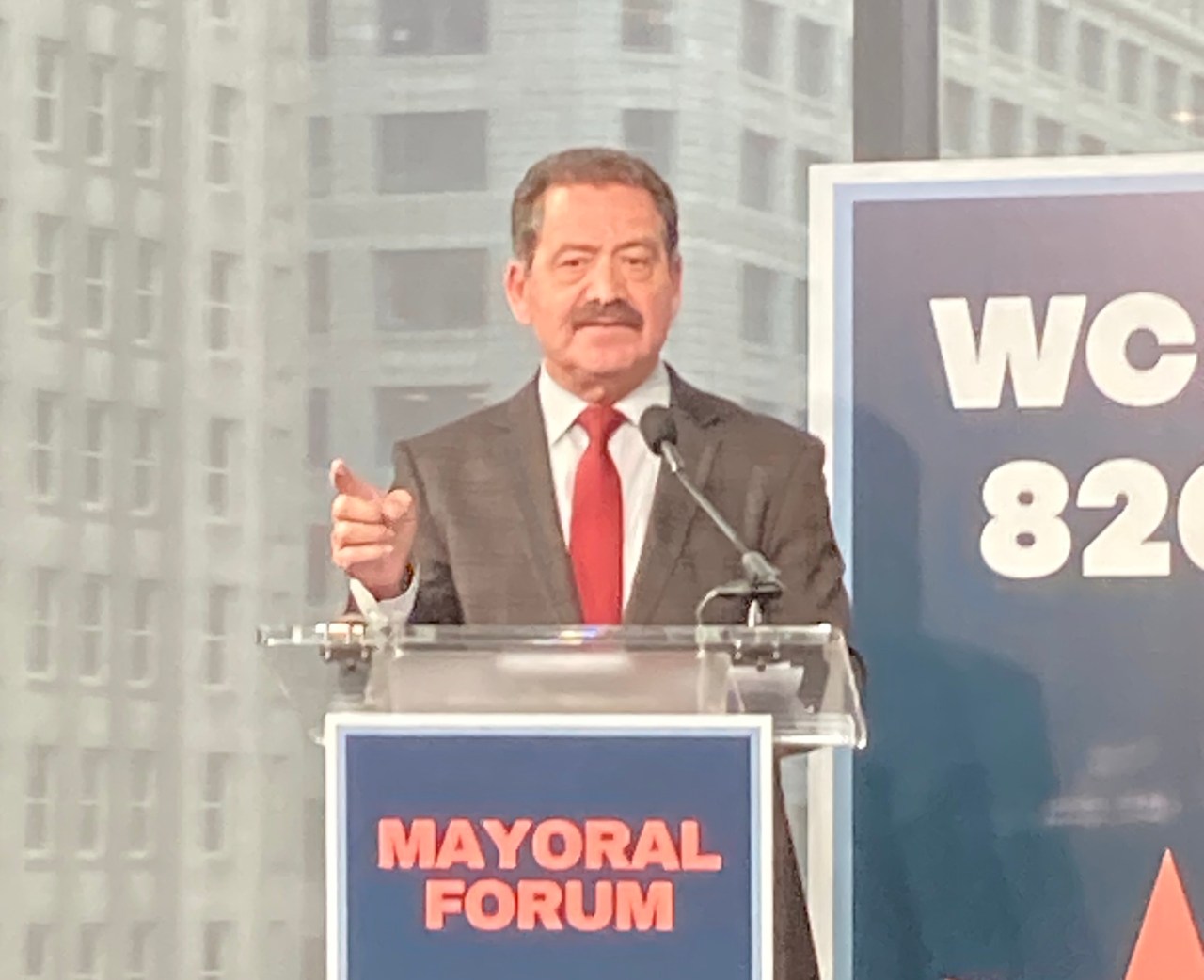 Garcia called federal aid for local transit "the elephant in the room" that kept CTA and Metra functioning during the pandemic, when ridership plummeted, citing $1.9 billion in grants to the city. "We need safe, clean, reliable public transportation, and I would hold those agencies accountable, because their act needs to be cleaned up. People tell me stories about how the buses and the trains smell, what people are smoking, what people are doing... That is keeping our ridership low."
Garcia added that he wants to convene the three transit agencies plus the Regional Transportation Authority, which oversees their funding, to discuss ridership and remote work trends, and what measures can be taken to address to address the looming fiscal cliff for local public transportation. He said his role as a member of the Congressional Transportation and Infrastructure Committee and cofounder of the Future of Transportation Caucus gives him the experience needed to come up with solutions.
Paul Vallas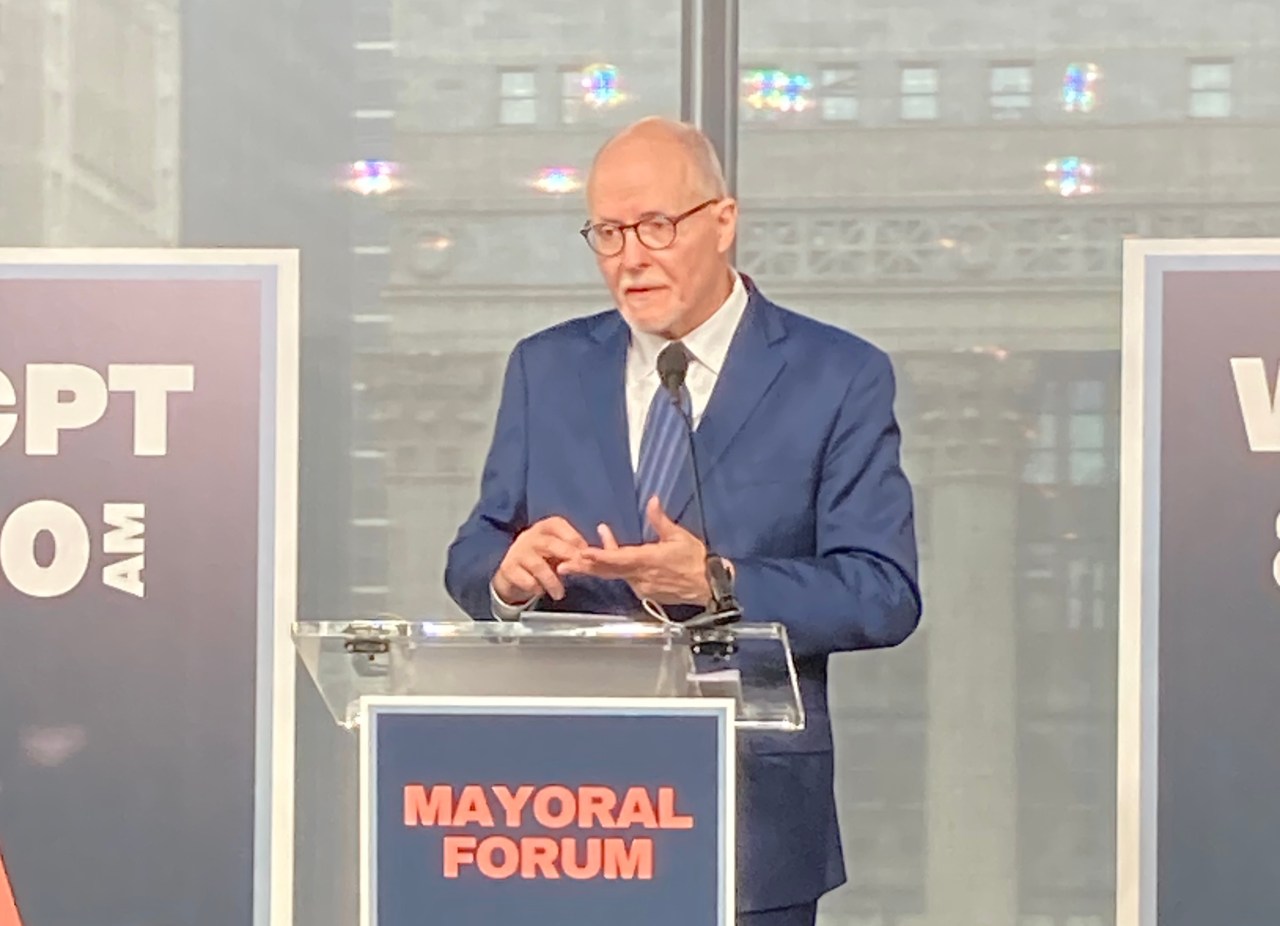 Vallas blamed the CTA's depressed ridership on "crime, crime, crime." He noted that the private security guards don't have the power to make arrests, and guessed that they're making something near the $15 minimum wage without benefits. Vallas argued that the money used for unarmed patrols could be used to deploy 300 more police officers in the system. "You need a transit unit of about 500 police officers who can walk the platforms, who can be at the stations, who can ride the trains, like they do in New York." The Chicago Police Department already has a Public Transportation Section – it's not clear if he's calling for an independent transit police department.
Vallas cited a statistic, that he apparently gleaned from an anti-transit article on the right-wing website Wirepoints, that in 2021 CTA farebox revenue only accounted for 18 percent of the operating budget. (By Illinois law, it's supposed to cover half that cost.) "When COVID [funding] is done, they're going to be facing a catastrophic financial crisis." He concluded that addressing the issue "begins and ends with public safety, not only for the riders, but also for the workers."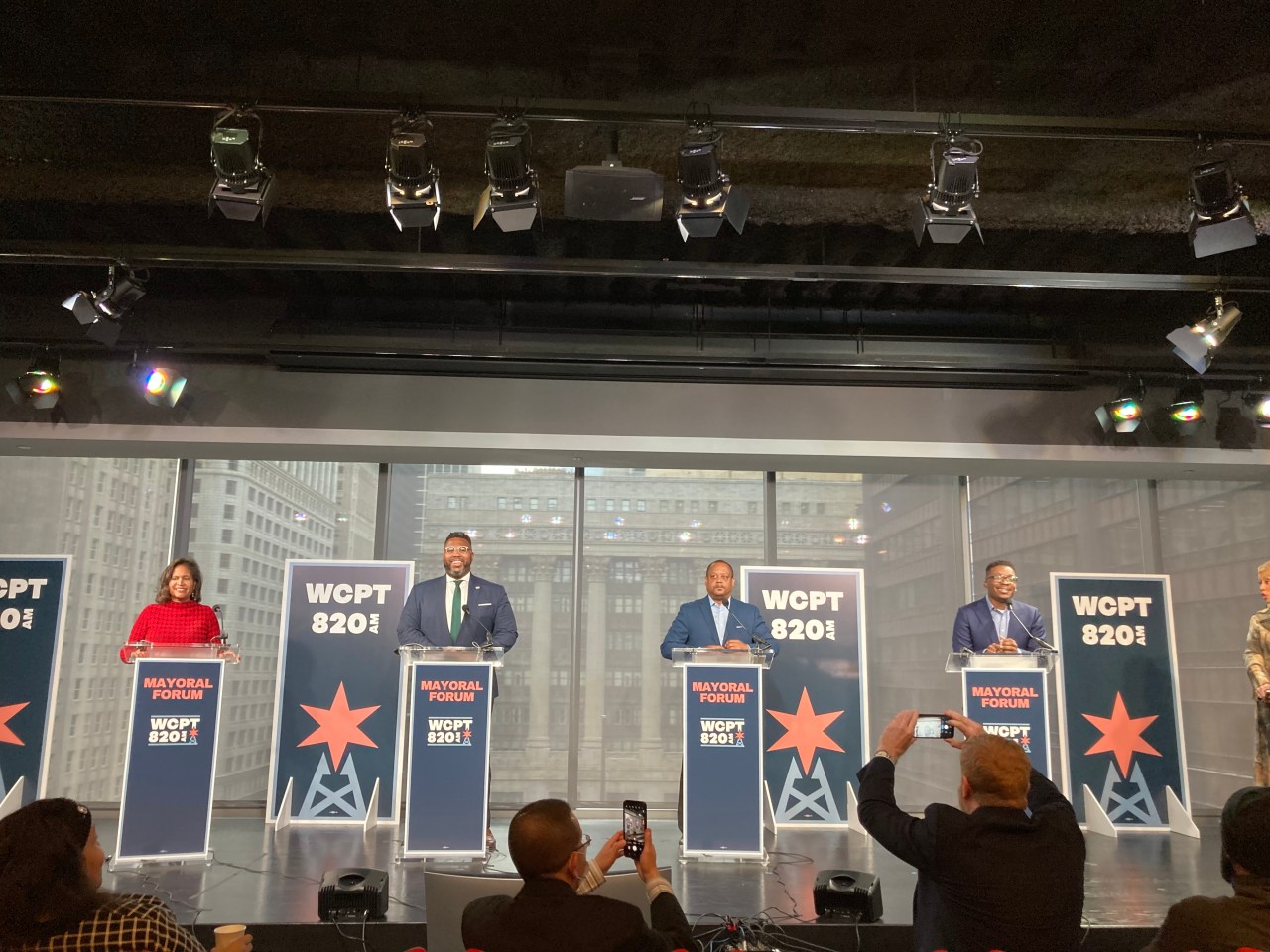 The second half of the forum featured the "dark horse" candidates who haven't done as well in the polls or fundraising: Ald. Sophia King (4th), state representative Kam Buckner (26th), Ald. Roderick Sawyer (6th), and entrepreneur and activist Ja'Mal Green. In contrast to the first segment, each candidate was presented with a unique question about improving CTA.
Ja'Mal Green
Green was asked if he would increase the police or security presence on the system. He responded that in addition to addressing the root causes of crime through social programs, he has a plan to deploy "peacekeepers" to patrol the trains. He called for declaring a "state of emergency" on transit "to free up dollars," adding that he wants to send social workers on the trains "to get people off who really need services... and make sure that they have the housing and the mental health, and substance abuse that they need. Right now the CTA is a mobile homeless shelter."
"It stinks on CTA right now," Green added. "It smells like urine." He said reliability issues need to be addressed through hiring more operators to fill shifts. "We need to make sure our [transit] workers feel valued," he said, calling for free college tuition and home-buying assistance for them. Green concluded by calling for firing CTA leadership.
Kam Buckner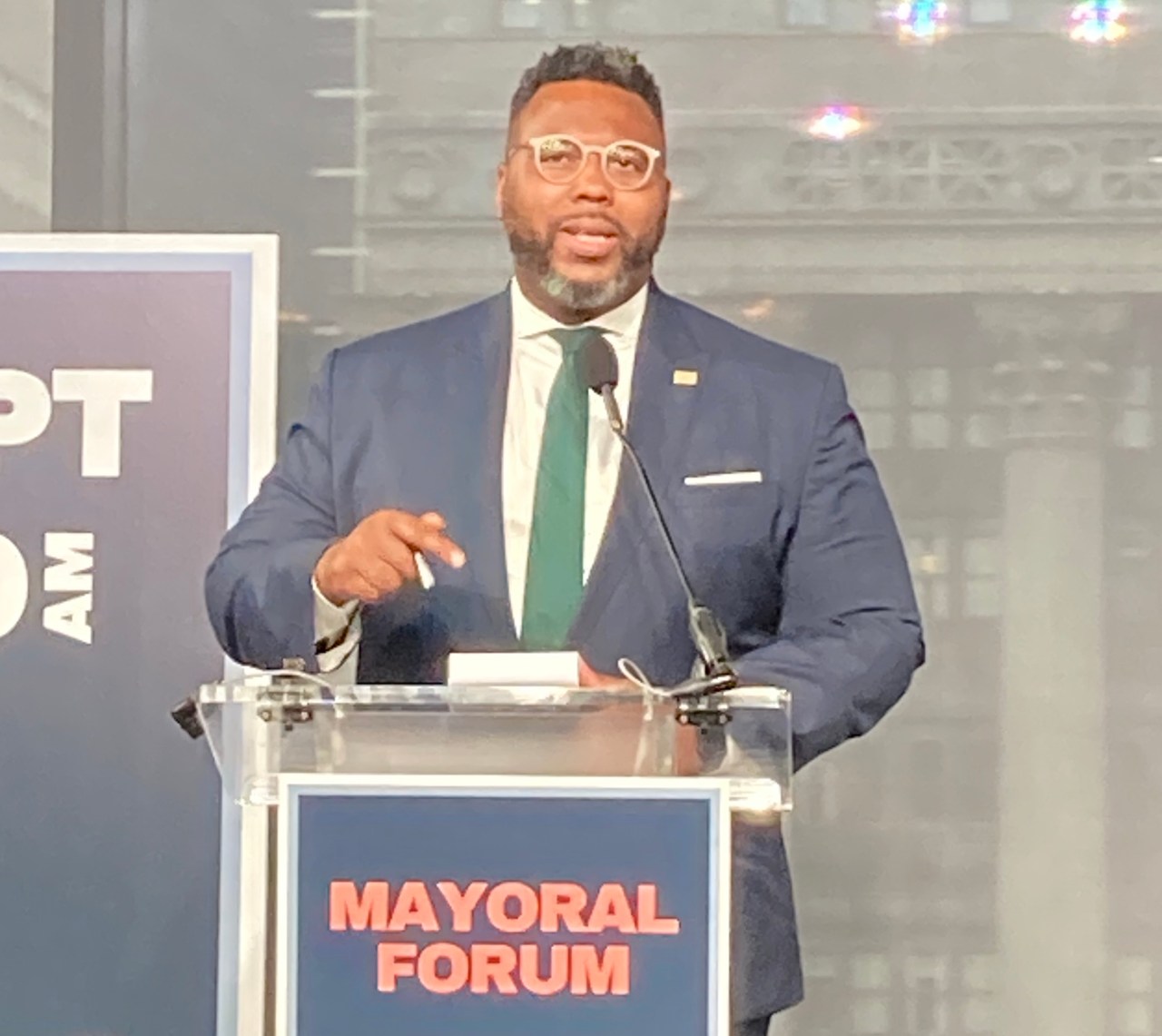 Host Joan Esposito noted that Buckner's platform calls for two 'L' line extensions, a new Metra Line, a fully electric bus fleet, and real-time surveillance. "Considering the CTA cannot even reach its pre-COVID functionality, how do you expect to implement all these policies?"
"Reliability," the state rep responded. "When the CTA is reliable, when it's clean, when it's safe, when it's accessible, people use it, and when people use it, it works better." He added that he took the Red Line downtown today. (Buckner, who had said he doesn't drive, pleaded guilty last year to driving drunk in 2019, after previously pleading guilty to DUI for a 2010 incident.)
Buckner argued argued that the CTA isn't under-resourced, but rather it's poorly managed. He called for coordinating security cameras, and better cooperation with the other two transit agencies. He voiced support for bus rapid transit on arterial streets like Western and Ashland avenues, which was previously proposed by the city, but shelved after opposition from some drivers and merchants. "We are leaving so much on the table."
Sophia King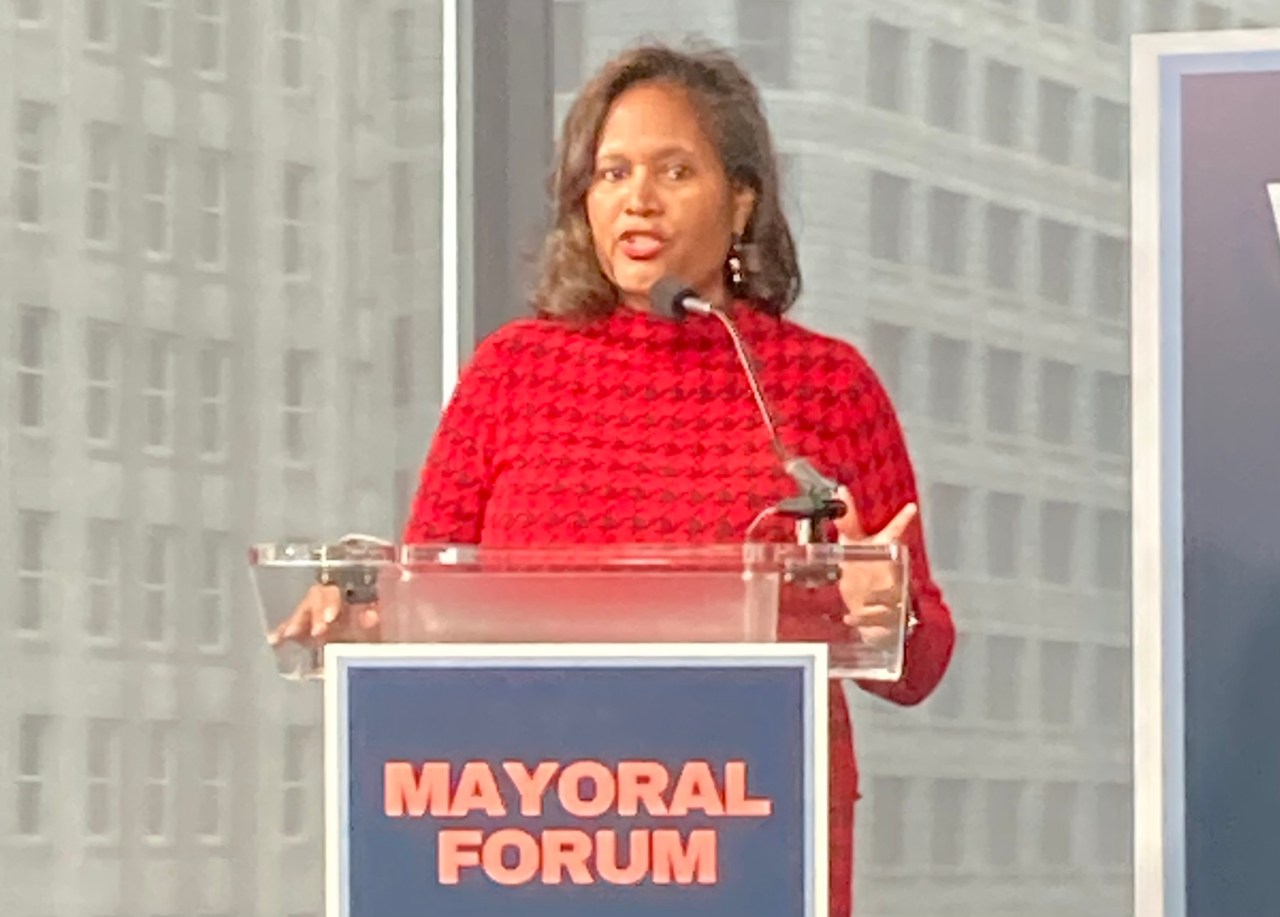 Esposito noted that in a recent WBEZ survey of 2,000 residents, smoking was one of the most common complaints about the CTA. She asked King how she would address this and other nuisance and cleanliness issues.
King acknowledged those problems, and then pivoted to arguing, in contrast to Buckner, that more financial resources are needed for local transit, and a "a regional approach" is needed to get more federal dollars, citing cities like New York and Boston as best practices. "We got $29 million for electric buses in this city. Boston got, like, $109 million. New York got close to $200 million. Because the federal government sees our separate [transit] entities as fighting against each other."
Roderick Sawyer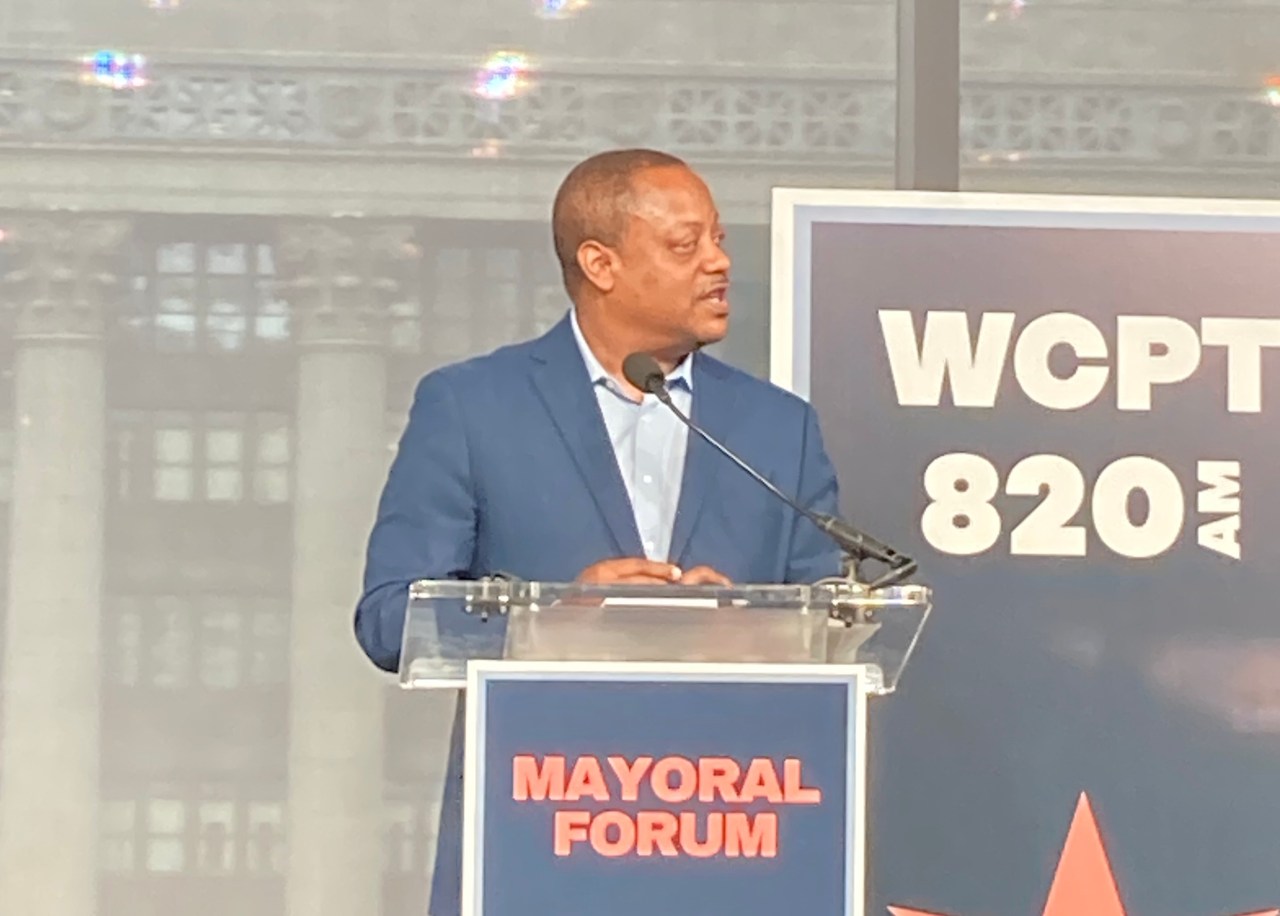 Sawyer was asked about the infuriating "ghost run" problem, where scheduled buses and trains appear on Transit Tracker and navigation app screens, only to disappear because there's no one available to staff them. The alder responded, "We want to make sure that when you look at your phone or your smart tablet or whatever, and it says that a train or a bus is going to be there, it's [going] to be there, come on."
Sawyer argued that exorcising ghost runs "starts with making sure that the upper-echelon leadership is letting the others in the department know that this is an important thing, that you will have consequences for putting on the schedule ghost buses and ghost trains." He seemed a little unclear on the concept of what actually causes the problem, namely staffing shortages.
In addition to editing Streetsblog Chicago, John writes about transportation and other topics for additional local publications. A Chicagoan since 1989, he enjoys exploring the city on foot, bike, bus, and 'L' train.
Stay in touch
Sign up for our free newsletter