Chicago Policy
Deconstructing the Chicago Tribune's speed camera backlash article
5:44 PM CST on March 1, 2021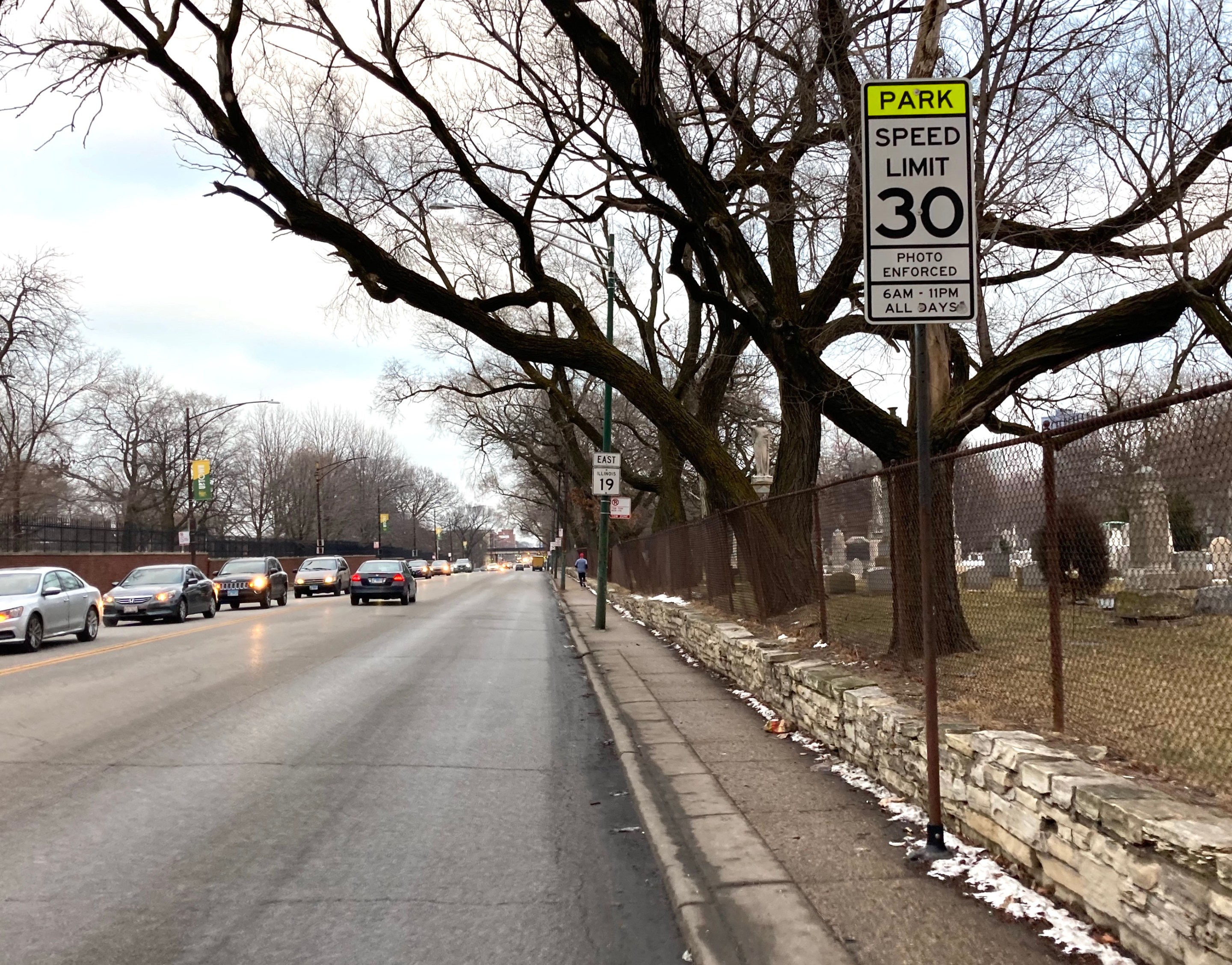 Streetsblog Chicago has generally been a strong advocate for automated traffic enforcement, which, when implemented strategically and equitably, has been shown to reduce serious and fatal crashes (more on that later), while reducing the potential for racially-biased traffic enforcement by police officers.
However, we didn't endorse Mayor Lori Lightfoot's plan to lower the threshold for speed camera tickets from the previous 10 mph down to 6 mph, which passed last November. It was a tough call, but our thinking was that the pandemic, when many people are already financially struggling, isn't a good time to start issuing citations for relatively minor offenses.
Moreover, the move was such a transparent effort by the mayor to find revenue to plug Chicago's budget hole that we feared it would inspire a new backlash against automated enforcement. There have already been serious efforts to ban the technology in Illinois.
But since the 6 mph ticketing threshold is now in effect, with $35 tickets being issued for violations from 6 to 10 mph over the limit as of today, I'm hoping that we'll see a further reduction in serious and deadly crashes, without the new tickets placing an undue burden on lower-income and working class Chicagoans. Moreover, Streetsblog Chicago will continue to do what we've always done, debunking inaccurate and misleading info about automated enforcement.
On Friday the Chicago Tribune helped shift the backlash against the speed cam policy into a higher gear with a new piece by John Byrne titled "Chicago's new 6 mph speeding ticket rules start Monday, and they're looking lucrative for city." It continues the paper's longtime policy of slanted coverage arguing that automated enforcement has few safety benefits and is unfair to drivers who speed.
"Mayor Lori Lightfoot's new stricter speed camera rules start Monday and, if the early warnings are any indication, they're looking expensive for Chicago drivers," Byrne writes. He bases that statement on the fact that in January during the first week that the city began issuing warning notices to people speeding by 6-9 mph, 52,498 warnings were mailed out. (Before the new rule was implemented, people going exactly 10 mph over the limit were fined $35, and faster violators got $100 tickets.)
"Over a full year, such numbers would work out to over 2.7 million $35 tickets, with total revenue to the city of $95.5 million," Byrne extrapolates. But projecting ticket revenue for a year based on that first week of warnings is just silly.
That week was a period when most Chicagoans had no idea that the new rule was in effect. Now that the city has begun mailing warnings and tickets, along with the current media blitz over the issue, the number of drivers who are aware of the policy has surely been skyrocketing, meaning that a much higher percentage of motorists will choose not to speed by more than 5 mph when passing the cams. (And, hey, it's a great idea to not speed by more than 5 mph anywhere in the city.)
While I'm also skeptical that the new speed cam rule would have been proposed, let alone passed, had there not been a dire need to fill the city's $1.2 billion budget hole, the city did have a compelling argument for cracking down on speeders. Total on-street Chicago traffic deaths spiked from 96 in 2019, to 139 last year, a 45 percent increase. The rise in fatalities can be attributed in part to the documented increase in speeding in our city during the COVID-19 pandemic, when fewer people have been driving and the roads are less congested, inducing speeding.
Moreover, relatively minor changes in speed can make a big differences in crash outcomes. Studies show that while pedestrians struck at 20 mph almost always survive, and those struck at 30 mph have a roughly 50/50 chance of survival, those struck at 40 mph almost always die.
Byrne's article downplays the importance of addressing the traffic violence epidemic and the possible benefits of stricter enforcement while focusing on the on the potential for ticket revenue. His article also implies that the cameras have little safety benefit. For example, he notes that while former mayor Rahm Emanuel pitched the speed camera program as something to protect kids traveling to and from schools and parks, "many of the cameras were only tenuously connected to Chicago Park District and Chicago Public Schools properties."
While speed cameras should be installed anywhere dangerous speeding is a problem, unfortunately Emanuel used a "think of the children" argument to get the program legalized in Springfield. As a result, the state law only allows the cams to be installed in Child Safety Zones within an eighth of a mile of a school or park. But while schools and parks may not have been the main motivation for some of the camera locations, in basically all cases the cams were installed in locations with a high rate of speeding and crashes.
For example, Challenger Park located just east of Graceland Cemetery, is often cited by speed camera critics as being a bogus location for the cams because the park is narrow, relatively low-traffic green space, basically a glorified dog run. However, as you can see in the crash map below, the eighth-mile zone around the park saw many traffic crashes before the cameras were installed. It was ranked the 54th worst for safety out of 1,400 Child Safety Zones across the city.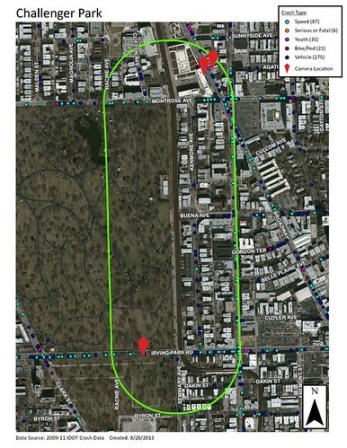 "Chicago's red-light cameras also have drawn blowback from officials and activists who argue they do little to make intersections safe," Byrne writes.
In reality, Chicago's speed and red light cameras have been shown to have significantly reduced violations and serious crashes. After the Chicago Department of Transportation installed the city's first 51 speed cameras several years ago, the number of speeding cars observed by the cams fell by an average of 43 percent. At some locations, the number of speeders dropped as much as 99 percent.
A Northwestern University Transportation Center study of Chicago's red light camera program released in March 2017 found that the cameras have had significant safety benefits, resulting in a ten-percent drop in injury crashes, including a 19-percent drop T-bone and/or turning crashes, which are more likely to result in serious injuries than other types of collisions. The report also noted a "spillover effect" that is leading to less red light running at intersections that don't have the cams.
All told, it's clear that Chicago's traffic cam program is saving lives. And while the pandemic wasn't a good time to start ticketing drivers for going 6 mph over the speed limit, there's reason to be optimistic that the safety benefits of automated enforcement will increase under the new rule.
But as long as the Trib keeps publishing biased articles against automated enforcement, we'll keep responding to them.
In addition to editing Streetsblog Chicago, John writes about transportation and other topics for additional local publications. A Chicagoan since 1989, he enjoys exploring the city on foot, bike, bus, and 'L' train.
Stay in touch
Sign up for our free newsletter