Bus Transit
Why Is CTA Enabling a Transit-Shaming Campaign to Lure Millennials to Wisconsin?
4:29 PM CST on January 11, 2018
The CTA is a good public transportation system, at least by U.S. standards. But sometimes it seems like the transit agency should go into therapy to get to the root of its self-loathing issues.
Witness the recent ads for Lyft on Chicago bus shelters reading "Can't Stop, Won't Stop," implying that you're foolish for riding the bus when a (polluting, congestion-causing, transit-cannibalizing) ride-hailing car could get you there faster. Or the placards that were displayed on the side of CTA buses a few years ago advertising a Wi-Fi network that said something to the effect of "Unlike this bus, which is slow because it makes so many stops, our service is fast."
Granted, the CTA should speed up its bus service by reducing the typical number of stops per mile from eight to four and other timesaving strategies like dedicated lanes, transit-friendly stoplights, and prepaid boarding. But in the interest of raising ad revenue the CTA has sold space to advertisers who ridicule its service, which is counterproductive to raising fare box revenue.
Now the transit agency is enabling a new $1 million marketing campaign from the Wisconsin Economic Development Corporation that takes CTA-shaming to the next level by portraying an 'L' commute as a soul-crushing waste of time. As reported by the Chicago Tribune's Robert Channick this morning, the corporation, a public-private agency created in 2011 by transit-hating Wisconsin governor Scott Walker, is trying to convince Chicago millennials to move across the Cheddar Curtain. The ad blitz promises young people a better quality of life in the Badger State due to it lower housing prices, natural beauty, and wealth of outdoor recreational opportunities.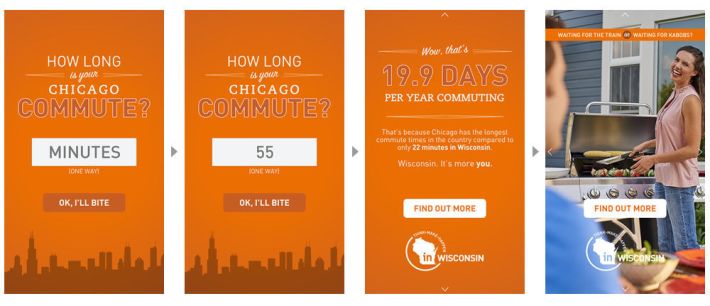 That's all fair game, but the campaign's attacks on the CTA go below the belt. A video spot shows zombie-like young people looking depressed and yawning on a drearily lit 'L' car. "An hour commute or an hour with friends? In Wisconsin the average commute is less than 22 minutes," says the voiceover. The spot then cuts to images of happy millennials paddle boarding on a river in Milwaukee, drinking beer on a terrace above Madison's Lake Monona, mountain biking through the woods, and kayaking. "So you'll have more time to do the things you love. Wisconsin. It's more you."
One display ad states that Chicago has the longest commute times in the country and asks Chicagoans if they'd rather be "waiting for a train or waiting for kabobs" at a barbecue. Another one shows glum-looking straphangers juxtaposed with people playing beach volleyball, asking "Bump elbows or bump on the court?" The message is clear: Public transportation is a drag, and you can avoid it if you move north of the border.
Bike Federation of Wisconsin director Dave Schlabowske confirmed that, unfortunately, it generally is so easy to drive in Wisconsin, including Milwaukee, where he lives, that just about everybody who can afford to commute by car does so. "Parking is often free in Milwaukee, and also easy to find. People downtown will literally drive four-to-six blocks to go to a meeting or for lunch rather than walk." Obviously that's not a good thing for air quality or public health.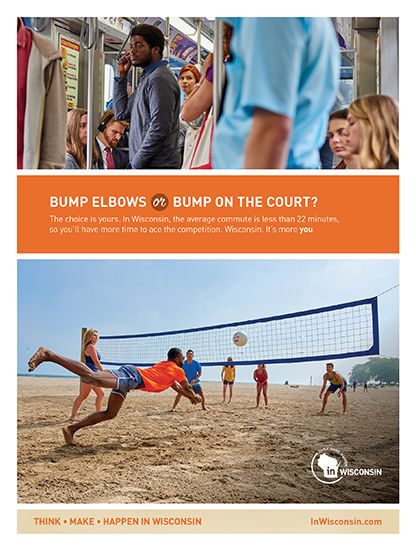 But while the average Chicago commute may be longer than a typical drive to work in Wisconsin, a recent study found that Windy City commutes are less stressful than those in other cities thanks to our relatively robust CTA and Metra networks. In contrast, Wisconsin has no rapid transit, and Governor Walker seems intent on making sure it stays that way.
Personally, I'd much rather relax on a train while listening to music, reading a book, or catching up on emails than deal with a stressful, potentially dangerous car commute. And then there's Chicago's Divvy bike-share system, which offers a fun, healthy public transportation option with 6,000 bikes. That's almost twice the cycles-to-residents ratio as Milwaukee's Bublr network, which has only 750 bikes.
The really perplexing thing is that the CTA is being complicit in this Chicago-bashing media campaign by posting the ads on 15 Brown Line cars, starting this week. The Tribune notes that this train route, which runs between Albany Park and the Loop through mostly affluent, majority-white North Side communities, is one of the few 'L' lines that doesn't serve the South or West Sides.
Chicago Transit Authority, why are you collaborating with an ad campaign that suggests that, as would-be O'Hare Express builder Elon Musk has said, public transportation "sucks"? While Chicagoans like to complain about transit service, in general we are very glad that your extensive network of buses and trains exists. We love you CTA, but you need to learn to love yourself.
Update 1/12 1:15 PM: CTA spokesman Jon Kaplan provided the statement below about CTA ad policy, including the statement that the WEDC ads "do not disparage CTA or transit, but instead promote Wisconsin." While it's obvious from the images and text above that this ad campaign does, in fact disparage the CTA and transit in general, it may be the case that the particular ads displayed on the Brown Line don't mention or portray the CTA but instead focus on other issues, such as housing affordability. So far the CTA hasn't responded to my requests for the images that are being displayed on its trains. I'd appreciate it if any Brown Line riders could snap photos of these and share them with us via social media or email: jgreenfield[at]streetsblog.org. Thanks.
Update 1/12 4:15 PM: Thanks to this photo tweeted by Streetsblog Chicago reader Aaron Meyer, we have confirmation that the CTA is running WEDC ads that disparage transit within the 'L' system, even though the CTA isn't required by law to do so.
Statement from CTA spokesman Jon Kaplan regarding ad policy
"The purpose of advertising on CTA trains, buses, rail stations, bus stops or other CTA property is to generate revenue to benefit the transit system and help keep our fares low.  We ensure that ads are always to be done in a manner that preserves the safety and comfort of CTA customers.
Acceptance of advertisement does not constitute CTA's endorsement of any product or service.
CTA's advertising guidelines accept three types of ads: Commercial/promotional; government ads; and public service announcements from government or 501c3 non-profits that relate to health, welfare or education.
We have well-defined guidelines that prohibit ads for products, services or activities that are illegal, as well as ads that are untruthful, misleading, disparaging, degrading or ridicule people based on race, color, sex, age, religion, disability, national origin, ancestry, sexual orientation, marital or paternal status, military discharge status or source of income. We also prohibit political and public issue advertisements and mature content (including the depiction of nudity or sexual content).
If ads meet our guidelines, we accept them.
In the case of this particular advertisement, these ads do not disparage CTA or transit, but instead promote Wisconsin.
In 2013, CTA's ad policy was amended to more clearly define the type of advertising that CTA will accept. Here is a link to the CTA's advertising guidelines on our website."
In addition to editing Streetsblog Chicago, John writes about transportation and other topics for additional local publications. A Chicagoan since 1989, he enjoys exploring the city on foot, bike, bus, and 'L' train.
Stay in touch
Sign up for our free newsletter