Bus Transit
Since CTA Is Raising Fares, It Should Improve Service and Make Payment More Equitable
11:44 AM CST on November 27, 2017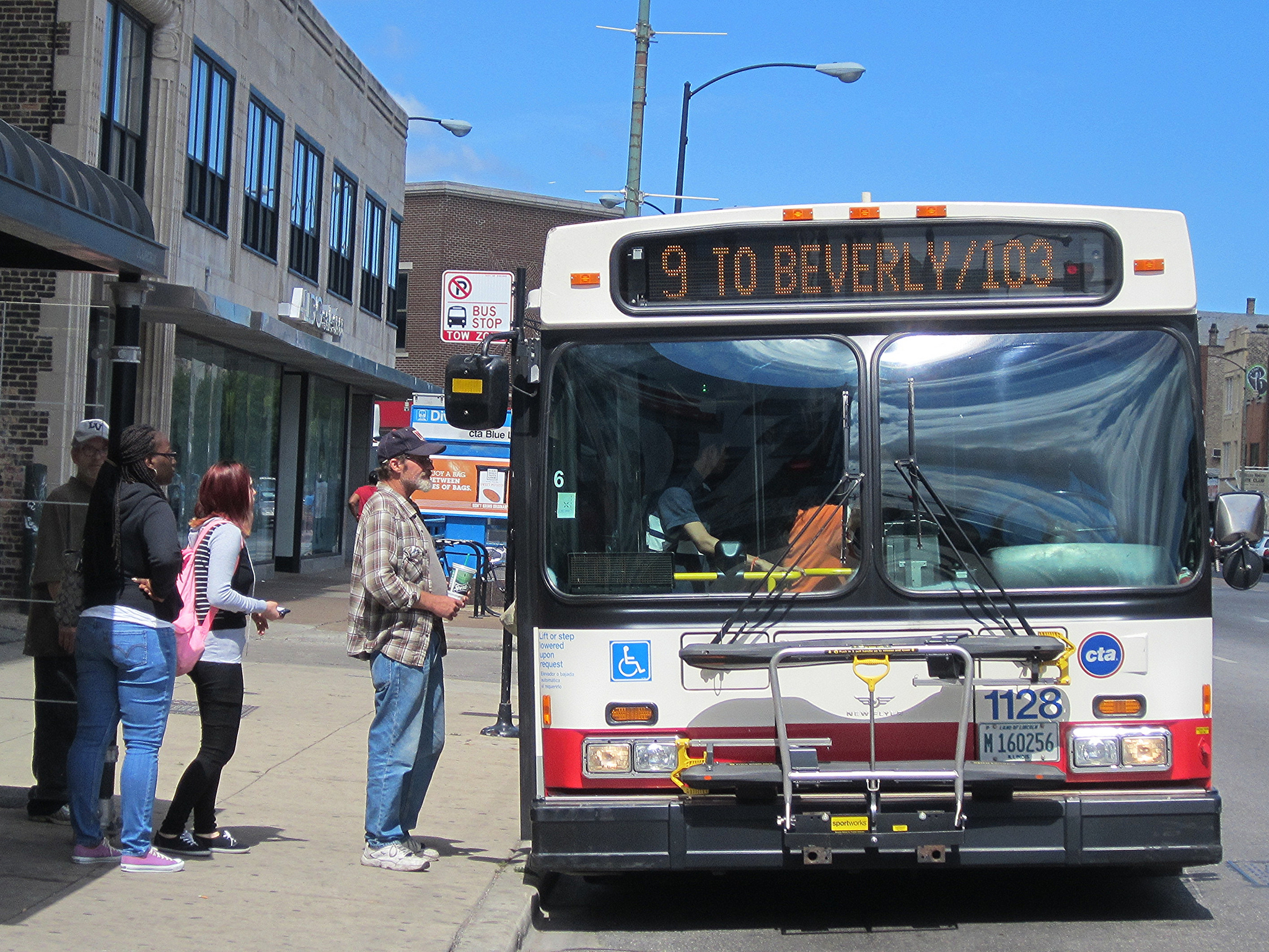 [Streetsblog Chicago editor John Greenfield publishes a weekly transportation column in the Chicago Reader. We syndicate the column on Streetsblog after it comes out online.]
Note: This story was filed before last week's announcement that the CTA will be raising its regular fares by a quarter, starting on January 7.
Since 2009, regular CTA fares have held steady at $2.25 for a train trip and $2 for a bus ride while all other major U.S. transit systems have raised their rates, but it looks like that's about to change.
The writing was on the wall after November 8, when Leanne Redden, head of the Regional Transportation Authority, wrote CTA president Dorval Carter, arguing that the CTA needs a fare hike to plug its budget gap and avoid major service cuts. Last summer's Illinois budget deal included a 2 percent sales tax surcharge and a 10 percent reduction in state funding for the three transit agencies, exacerbated by lackluster sales tax growth. This led Pace and Metra to announce this month that they'll be raising fares in 2018, and the CTA will be losing some $33 million in revenue.
Redden warned that if a balanced CTA budget isn't approved by February 1, it will trigger mandatory withholding of 25 percent of RTA operations funding, about $360 million a year, leading to a huge reduction in CTA service. "None of us wants to go down that path," she wrote.
In the wake of the letter, Mayor Rahm Emanuel hasn't ruled out raising fares as a budget solution. However, he told the Tribune that "everything's on the table but one thing: There will be no service cuts."
As of November 17, the CTA was hoping to announce its final 2018 budget Thanksgiving week, according to spokeswoman Irene Ferradaz.
Carter hasn't said how big a fare hike might be needed, but even a 25-cent increase could tip the scales for some customers, who might turn to other affordable options like Uber Pool, Lyft Line, or Divvy as an alternative. The CTA hasn't released projections on the potential ridership impactt of a fare hike ("It's too early to deal with hypotheticals until the budget is released," Ferradaz said."), but if the numbers drop significantly revenues will take a hit.
Moreover, an extra quarter per ride adds up to about $120 a year for daily round-trip commuters, a nontrivial expense for working-class Chicagoans and a real hardship for some impoverished residents.
Therefore, transit advocates say that if raising fares is inevitable, the CTA should, first, take steps to improve service, to help prevent ridership bleeding, and, second, adopt a more equitable payment policy to soften the blow for lower-income folks.
"State legislators should never have let things get to this point," says the Active Transportation Alliance's governmental relations director Kyle Whitehead. "Transit cuts . . . are unacceptable given the proven economic, environmental, and public health benefits of public transit."
Things may not be completely hopeless, however. Earlier this month Active Trans released a report, "Speeding Up Chicago Buses," with proposals to boost CTA bus ridership, which could help offset any losses stemming from a fare hike. Bus use has dropped by 21 percent since the Great Recession hit in 2008, a slump the group blames on reduced bus speeds due to increased traffic congestion and competition from ride hailing.
The study focuses on six of the busiest routes in the system, all with high potential for improvements: #4 Cottage Grove, #8 Halsted, #53 Pulaski, #66 Chicago, #79 79th, and #80 Irving Park. It outlines several relatively low-cost short-term strategies to shorten travel times, which could mitigate a potential ridership slump due to the fare increase.
These include building more car-free bus lanes (which already exist on the downtown Loop Link corridor and the South Side's Jeffery Jump route) and enforcing them with traffic cameras. Transit-friendly stoplights shorten reds or extends greens to help buses travel more efficiently—the city is currently implementing this technology on Western and Ashland. And prepaid, all-door boarding can reduce "dwell time" at bus stops.
Whitehead adds that elected officials should look into establishing discounted fares for low-income residents, similar to what currently exists for seniors, students, and people with disabilities.
Center for Neighborhood Technology director Scott Bernstein argues that the CTA can add value for riders and raise additional revenue to prevent future hikes or cuts by upping its real estate game. The city's recently passed TOD ordinance, for transit which eliminates the usual car-parking requirements for new construction near train stops, has led to a boom in upscale residential development along North Side el lines, but he says Chicago needs more affordable housing near stations, which would grow ridership.
He adds that renting CTA properties to more useful types of retail, such as grocery stores and pharmacies could help make stations "destinations, not just origins." For example, more than 2,500 people have signed an online petition asking the CTA to rent out new retail space at Uptown's Wilson station, currently under renovation, to the upcoming Chicago Market food co-op.
Streetsblog's Steven Vance has floated a couple other proposals to make CTA fare policy more equitable in the event of a hike. Currently, customers who buy a single-ride paper ticket at el stations pay $3, a 75-cent surcharge over the fare with a Ventra card. Moreover, unlike card holders, riders who pay cash to board a bus have to pay the full fare again if they transfer to a train. Therefore more aggressive marketing of Ventra to boost enrollment could save money for riders who make the switch.
Vance adds that the CTA should implement fare capping so that customers who pay as they go for multiple rides on a single day never spend more than the price of a one-day pass, currently $10. This would be helpful for lower-income riders who don't want to invest a Hamilton on a pass for fear that they might not get their money's worth.
Under this scenario the day passes would no longer offer a cost savings, but they would still be handy for visitors who don't want to purchase a permanent Ventra card, as well as for nonprofits that buy passes in bulk to distribute to clients. London, which was the first major city to implement fare capping, uses the same fare-card concessionaire as Chicago, Cubic Transportation Systems, so it wouldn't be hard for Ventra to adopt this system.
If a CTA fare hike is in our future, how about some sugar in the form of service and equity improvements to help the medicine go down?
In addition to editing Streetsblog Chicago, John writes about transportation and other topics for additional local publications. A Chicagoan since 1989, he enjoys exploring the city on foot, bike, bus, and 'L' train.
Stay in touch
Sign up for our free newsletter