Bus Transit
Don't You Forget About Me: Lots of Changes Proposed to North Shore Bus Service
12:25 AM CDT on October 3, 2017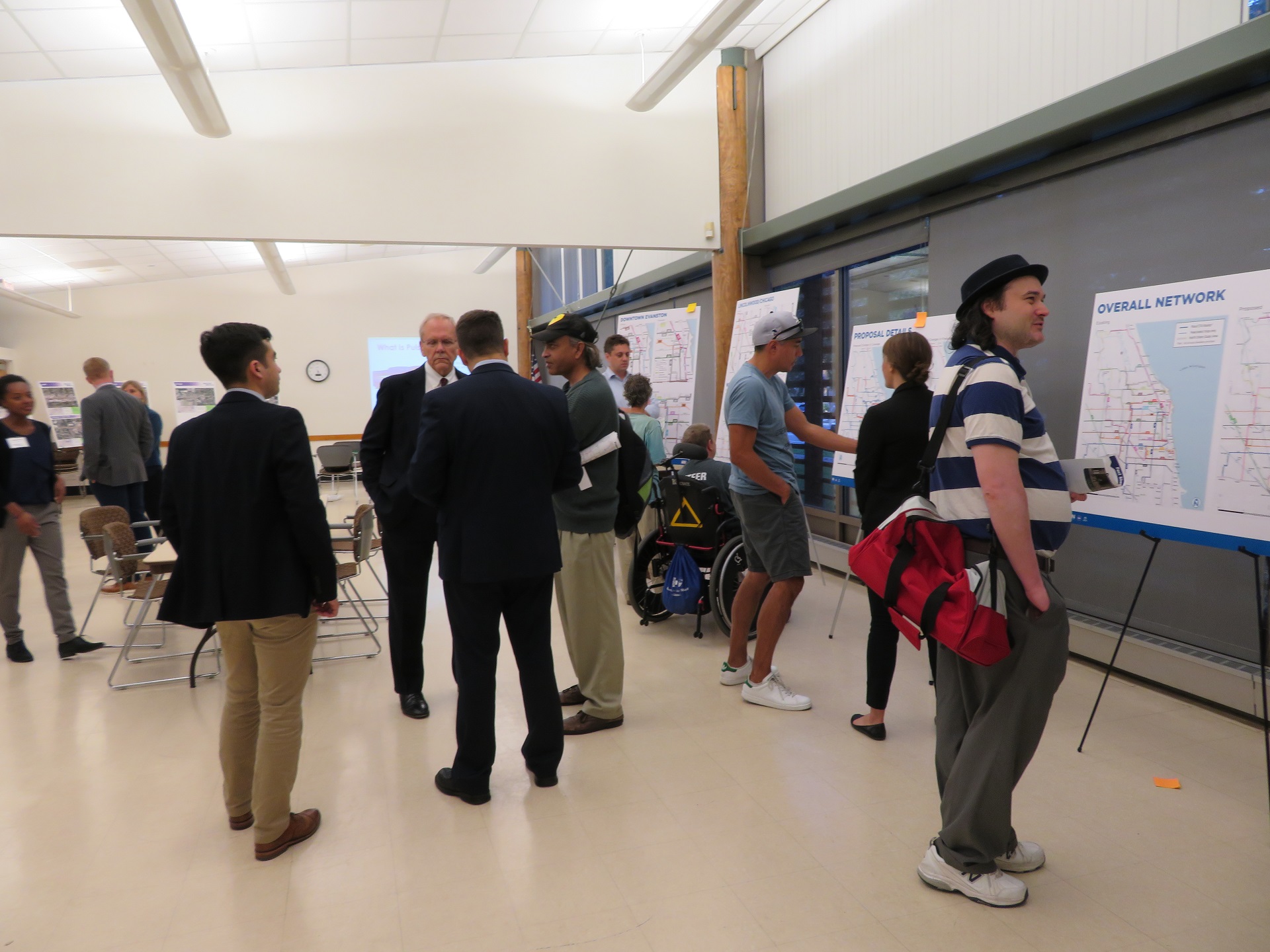 Pace Suburban Bus and the CTA have teamed up to study bus service on the Chicago region's North Shore, the setting of countless John Hughes teen comedies. The objectives of the North Shore Transit Service Coordination Plan and Market Analysis are to improve bus service and coordination in the area by studying existing travel demands and reviewing new developments in the region to improve, or modify service. Also, the planners hope to increase the market for public transit through the better service and by making new connections.
The plan covers the area approximately bounded by Devon Avenue on the south, Lake Avenue (located just north of the Wilmette's Baha'i House of Worship) on the north, Lake Michigan on the East and the Edens Expressway (Interstate 94) on the west. This area includes all of Chicago's Rogers Park community area and Evanston, as well as the majority of the West Ridge community area and Skokie, Lincolnwood and Wilmette.
While the plan primarily covers bus service this area, it will have a ripple effect on service in the surrounding suburbs as well as other portions of the Far North and Northwest sides of Chicago, where some of these routes end or begin.
A steering committee composed of municipal staff and representatives from key agencies has been meeting throughout the duration of the project to discuss short and long term improvement goals, community outreach strategies, technical details, performance and service alternatives. There were also two public recent open houses where riders and residents could share their compliments and concerns as well as learn more about the project. (Two other open houses were previously held, bringing the total number of hearings to four.)  
The first recent meeting was held at the Skokie Public Library on September 18 and the second was held at the Levy Senior Center in Evanston in conjunction with Pace's Pulse express bus planning meeting for the Dempster route. The presentation and proposed service changes were developed with the help of consulting firm Nelson-Nygaard.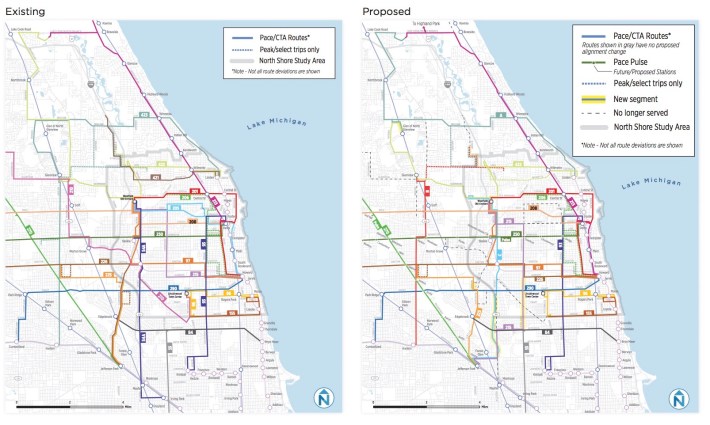 Here are some of the proposed bus service changes that were discussed at the open house in Evanston. Some bus routes with lower ridership were proposed to be eliminated and replaced by new segments on existing routes or by creating a new route from scratch. Also general changes to service hours and frequency were proposed based on demand and ridership statistics.
Evanston and Skokie would see the most significant service changes. The CTA bus route #205 Chicago/Golf which currently operates on weekdays from AM to PM rush hours between the Howard CTA Station and the Skokie courthouse will be eliminated and replaced with new segments on existing routes.
The segment along Chicago Avenue between downtown Evanston and Howard Street will be replaced by an extension to Pace route #213 Green Bay Road which currently originates from the Davis CTA Station in downtown Evanston and makes alternating trips to either the Northbrook Court shopping center or the Highland Park Metra station.
The segment along Golf Road between Old Orchard Mall in Skokie and Dodge Avenue in Evanston will be replaced by a rerouted Pace #208 Golf Road bus which currently runs along Church Street between Skokie Boulevard and the Davis CTA Station. The complete route will continue to run between Downtown Evanston and the Northwest Transportation Center in Schaumburg near Woodfield Mall.
CTA bus route #206 Evanston Circulator, which operates during weekday rush hours between Central/Crawford on the city's northwest side and the Howard CTA Station just over the southern border in Rogers Park, helps get students to and from Evanston Township High School at Church/Dodge. This route will be restructured to more efficiently serve school bell times.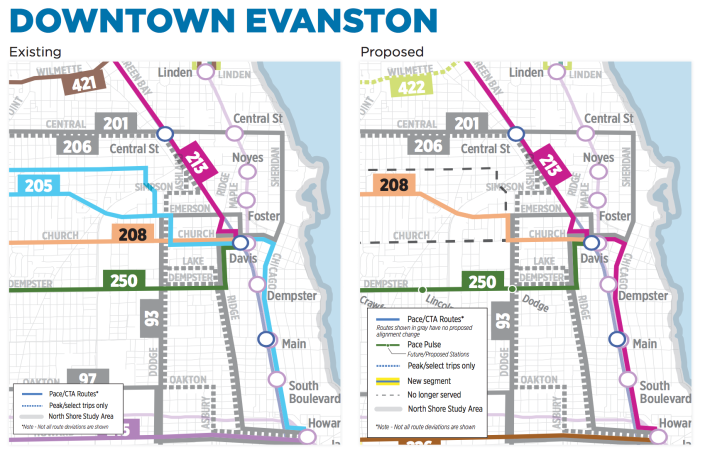 Pace route #215 Crawford Howard which runs between Old Orchard Mall and the Howard station via Golf, Crawford and Howard, would be significantly changed. The proposed route would instead run between Old Orchard Mall and the Jefferson Park Transit Center via Skokie Boulevard and Church over to Crawford and then all the way down to Pulaski/Peterson on the Northwest Side, and then take Peterson, Cicero, Foster and Milwaukee to Jefferson Park. This would provide a better north-south link between Skokie and the Northwest Side by filling in missing gaps in service between the city and the Touhy Avenue corridor where there is regular Pace bus service and two major shopping centers, Lincolnwood Town Center and Village Crossing in Skokie/Niles. Similar gaps can also be filled between the northern part of Skokie near Old Orchard Mall and the southern end along Touhy.
The #226 Oakton Street Pace bus route would also see significant changes. Instead of running between Jefferson Park and Oakton/Elmhurst in Des Plaines, the route would instead serve the Howard station by continuing east on Oakton to Crawford and then down to Howard. This would be good if the hours of service were increased from weekday AM to PM rush as well as weekend service to better serve the stores like Jewel-Osco and Target at the Evanston Center at Howard/Kedzie in Evanston. However, there would be a loss of a direct connection between Jefferson Park and Village Crossing as well as downtown Skokie by eliminating routing along Central Avenue/Niles Center Road.
RTA spokeswoman Maggie Daly Skogsbakken had the following to say about the change:
In this proposed plan, Village Crossing would still be served from downtown Skokie. Yes, the direct "one seat ride" connection from downtown Skokie to Village Crossing would be eliminated via Route 226, but Village Crossing would still be accessible via the proposed Route C and a transfer to Route 290 which runs very frequently all day in this area. Additionally, Route 225 would provide expanded service hours as well as be realigned to provide a more direct connection to the Village Crossing area by operating on Touhy Avenue and Central Street in Niles and provide a direct connection from the Jefferson Park Transit Center. Both routes 225 and 226 have improved frequency in this proposal.
The CTA bus route #54A North Cicero Skokie Boulevard which runs between the Skokie Courthouse and the Irving Park Blue Line Station primarily via Skokie Boulevard/Cicero Avenue would be replaced by a new route. The new route would continue to run along Skokie Boulevard between Old Orchard Mall and Touhy Avenue, however from here it will run express along the Edens Expressway (Interstate 94) to Foster Avenue and then over to Jefferson Park. The biggest improvement would be faster service to and from the Blue Line as well as the addition of service between AM and PM rush hours on weekdays. Rogers Park and West Ridge would see no changes except for a few Pace bus route re-configurations to and from the Howard stop, mentioned above.
The Village of Lincolnwood would also benefit from the changes to routes 215 and 54A mentioned above. The only reduction in service would also affect the area would be the discontinuation of Pace bus Route 210 Lincoln Avenue which operates between the Lincolnwood Town Center and Glenbrook Hospital in Glenview due to low ridership and limited weekday service.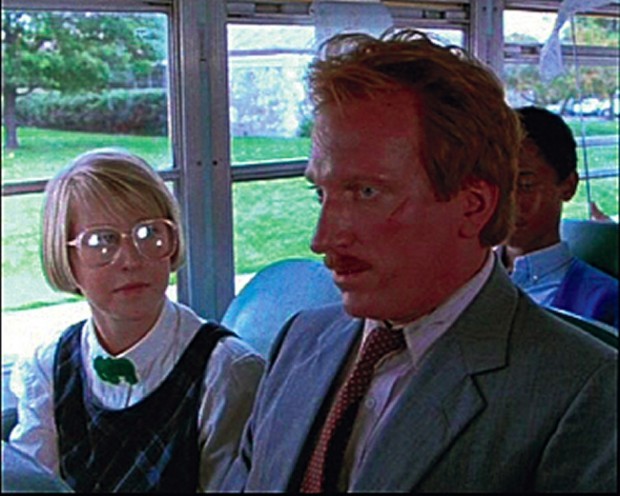 Wilmette would have little to no changes in service except the elimination of Pace bus route 421 Wilmette Avenue which runs during weekday rush hour between the Linden CTA Station and the Village of Northfield serving New Trier West High School and Loyola Academy. Service will be replaced by special school trips along Pace routes #422 and #423 to and from Linden. This will result in the loss of a dedicated commuter connection to and from the Metra Union Pacific North Line and CTA Purple Line Stations in Wilmette.
Service in the nearby Villages of Glenview, Northbrook, Northfield and Winnetka will also be affected by the changes to routes 422 and 423 which provide weekday service from morning to early evening. Pace route #422 Linden-Glenview-Northbrook Court currently runs between Linden and Northbrook Court via Lake Avenue in Wilmette, with intermediate stops at Old Orchard Mall and the Glenview Amtrak/Metra Station in Downtown Glenview. The route will now only run between Linden and the Glen Town Center in Glenview.
Pace bus Route 423 Linden-The Glen-Harlem which runs between the Linden Purple Line and the Harlem/Higgins Blue Line stations via Sheridan and Willow Roads as well as Harlem Avenue with and intermediate stop at the Glenview Amtrak/Metra Station will be split into two new routes. One will run only between Downtown Glenview and the Harlem Blue Line Station and the other will run between Linden and Northbrook Court via Sheridan and Willow to The Glen and then up to Northbrook Court from there. These new routes could be better since they would eliminate some of the long weaving routes along different corridors.                   

The North Shore Coordination Plan could be a mixed bag. A bus service improvement for some could involve a loss for others. Hopefully decision makers can reach a balance between service cuts and improvements. 
Stay in touch
Sign up for our free newsletter