Bicycling
Wicker Park Planner and Mom to Alderman Hopkins: No More Bike Crackdowns
2:17 PM CST on February 3, 2017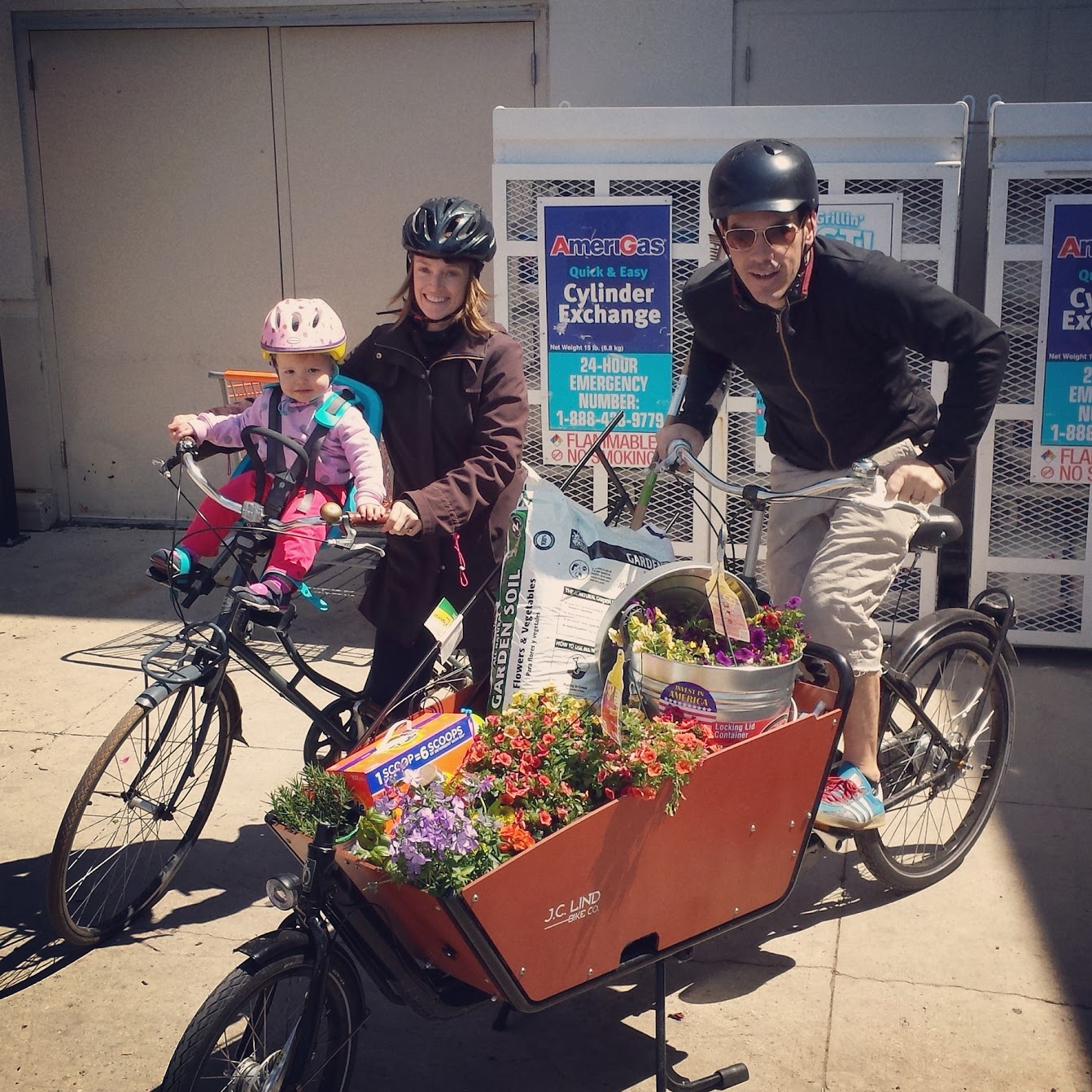 Update 5/30/18, 2:15 PM: Today Alderman Hopkins provided documentation that indicates that he asked the 14th Police District to hold a targeted enforcement event on January 19, 2017, to ticket motorists for dangerous driving, but the police took it upon themselves to focus on ticketing bicyclists instead. Read the full story, including the correspondence from Hopkins, on this Twitter thread. 
On the morning of Thursday, January 19, six to eight Chicago police officers wrote many tickets to bicyclists at Wicker Park's busy North/Damen/Milwaukee intersection. In particular, they seemed to be ticketing a technically illegal -- but safe and widespread – maneuver by downtown-bound cyclists on Milwaukee.
It's common for riders heading southeast on Milwaukee to cross North Avenue in the west leg of the intersection while pedestrians in the nearby parallel crosswalk have a walk signal, but traffic on Milwaukee has a red. After crossing North this way, these cyclists typically wait in front of a Starbucks, holding onto the nearby guard rail or placing a foot on the curb, until the next signal phase, when Milwaukee gets a green light. Doing this means you have a shorter distance to travel across the intersection once you have the green. Until somebody comes up with a better name, let's call this maneuver "The Six Corners Shuffle."
[Yes, I know that "Six Corners" is often used to refer to the Irving Park/Cicero/Milwaukee shopping district in Portage Park, but this term can be used for any six-way intersection where this move works, such as Grand/Halsted/Milwaukee. Anybody know if this works at the Portage Park six-way?]
Here's a video Steven Vance shot yesterday morning of a modified version of the Six Corners Shuffle. In this example, the cyclist crossed to the Starbucks (black railing) while Milwaukee had a red, but the light changed to green once she passed by the coffee shop, so he continued through the intersection without stopping.
Although Police News Affairs told me this was a routine targeted enforcement event that wasn't ordered by an alderman, an assistant to 2nd Ward Alderman Brian Hopkins said Hopkins had requested the sting on both bike riders and motorists in response to complaints about both cyclist and driver behavior. However, while there were many reports of cyclists being ticketed, I haven't heard of any motorists getting cited.
On the contrary, local resident Chris Morales told me he was at the intersection that morning and saw drivers obstructing traffic and failing to yield to pedestrians without being stopped by police. In fairness, it's possible that the alderman requested that both cyclists and drivers who broke laws be ticketed, but the police chose to focus on bike riders.
Bike commuters who were ticketed for the aforementioned "Idaho stop" received citations for running a red, which carries a fine of $50 to $200, and cannot be contested or paid online or at a payment office, which means they were required to show up for a court date. Chris Bushell, who was busted for doing the Six Corners Shuffle, told me his ticket was dismissed at Traffic Court this morning, seemingly on a technicality with how the citation was written, but the the experience still wasted an hour of his time.
In response to the Hopkins-ordered crackdown and other ward transportation and planning issues, local urban planner and mother Lindsay Bayley sent an open letter to the alderman this week. In the letter she notes that she voted for him in his first election but "if this trajectory continues, I would not be able to support your re-election campaign."
"The cops probably could have ticketed a majority of drivers for using cell phones at the light, but they didn't," she wrote regarding the ticketing sting. "Instead of targeting actual dangerous behavior, they focused on people riding bikes – people who are reducing your local parking needs and bringing more money to local businesses."
Bayley noted that Milwaukee Avenue in Wicker Park is one of the worst stretches for cycling along one of the country's most heavily traveled bike routes. "From doorings by [motorists in] parked cars, distracted drivers, construction blockades, and pedestrians jumping out from between cars, it is quite harrowing for a daily commuter," she wrote. "Sometimes, cyclists take actions, such as crossing before the cars to make the ride safer for themselves. Harassing people on bikes is no way to build community."
A better alternative for both improving safety and generating revenue for the city, Bayley writes, would be to target dangerous driving behavior. She offers to send a video of the Honore / Elk Grove intersection where she lives, a few blocks southeast of North and Damen, where she says few drivers come to a complete stop if there isn't someone directly in front of their car.
Bayley floats the idea of additional traffic camera enforcement in the neighborhood, and notes that in some U.K. cities undercover bike cops stop reckless or distracted drivers and explain why their actions are harmful. "The safety benefits of these efforts expand to all cyclists, because drivers don't know if the person on the bike might be a cop," she says.
She says that she often sees the mother of Lisa Kuivinen, an art student who was fatally struck on her bike this summer by a right-turning truck driver who failed to yield, kneeling with a rosary by the "ghost bike" memorial to her daughter at the Milwaukee/Racine crash site.
She lives in the suburbs but is out there day and night, several times a week, and has been since her only child was run over and killed by a truck driver. I stopped to talk with her one night and she said she is praying for her daughter, she is praying for the truck driver, and she is praying for the safety of all the people riding their bikes in Chicago. I hope we can honor her daughter and work to make our streets safer.
Elsewhere in the letter, Bayley takes the alderman to task for rejecting a parking-free development at the Fifth-Third Bank site, 1209 North Milwaukee, adjacent to the Division Blue Line station. "A development built for residents who walk, bike and use transit will increase the human population, which we all agree is beneficial, while not adding an equal amount of automobiles," she notes.
She also urges the alderman to further engage with the Wicker Park Chamber of Commerce and Special Service Area, which promote sustainable transportation and transit-oriented development, and not to let the anti-density Wicker Park Committee have undue influence on his decisions. "We need more people and safer options for getting around, not larger homes and more parking," she notes. Here's hoping that Alderman Hopkins gets the message.
Read Bayley's full letter here.
Did you appreciate this post? Consider making a donation through our PublicGood site.
In addition to editing Streetsblog Chicago, John writes about transportation and other topics for additional local publications. A Chicagoan since 1989, he enjoys exploring the city on foot, bike, bus, and 'L' train.
Stay in touch
Sign up for our free newsletter