Bicycling
Manor Greenway Could Become City's Best By Cutting Cut-Through Motorists
1:40 PM CDT on June 21, 2016
Last week, the Chicago Department of Transportation revealed its proposal to connect riverfront paths, reduce cut through traffic, and make it safer to walk and bike along streets in the Ravenswood Manor neighborhood. CDOT developed the plan for a "neighborhood greenway" between Horner Park and Ronan Park along the north branch of the Chicago River over the past two years, at the request of 33rd Ward Alder Deb Mell, and the Transportation Action Committee she started.
I've been a member of the TAC since its beginning, and I know the plan well. While I wasn't able to attend the meeting, I think that Patty Wetli's article in DNAinfo thoroughly captured the concerns people have.
The project was initiated because there's a gap between two riverfront trails in Horner and Ronan Parks, and Ravenswood Manor residents have been complaining about cut-through traffic, motorists who roll past stop signs, and speeding, for decades. The neighborhood greenway plan includes redesigning a handful of intersections, laying down a short multi-use paths to connect the parks to the streets, and pilot what would be a pioneering traffic diverter.
Homes abut the river in Ravenswood Manor, so there is no public space along the river on which to build a trail. The neighborhood greenway  would be an on-street connection.
On the project's south end, CDOT would build a small path in the park so people in the park could reach the start of the on-street route at the intersection of Montrose Ave. and Manor Ave. To create a safer crossing here, CDOT would build a concrete island with two waiting areas, one for people using the route, and another for people walking on the sidewalk. This way, people can cross one direction of traffic at a time. The island blocks left turns from Manor Ave. onto Montrose Ave. and left turns from Montrose Ave. to Manor Ave. would use a dedicated lane. CDOT would build a raised crosswalk across Manor Ave. to slow incoming motorists.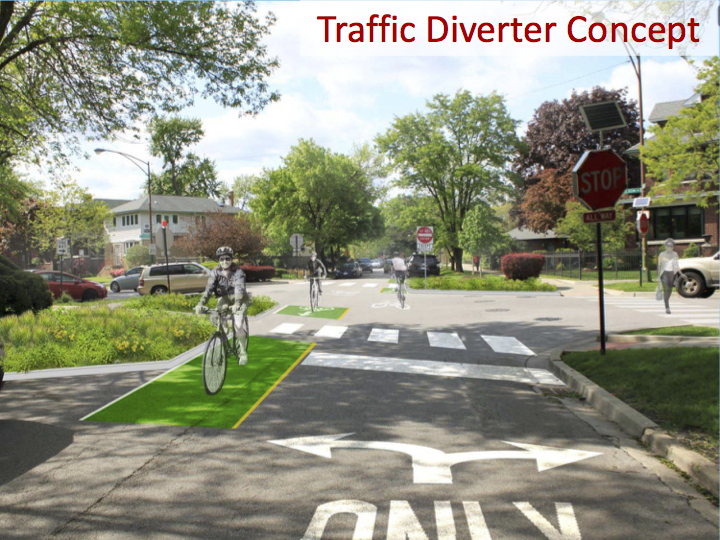 On the north end, CDOT proposed building a new, short trail on an extended parkway along Lawrence between Manor Ave. and the Ronan Park entrance. A traffic island that's nearly identically to the one at Montrose would offer a safe waiting area for people to cross in two-stages. There would be another raised crosswalk here at the entry of the neighborhood greenway.
The neighborhood greenway's on-street route would be the city's third. The first was installed on Berteau Avenue in Lakeview in 2014, and the second, albeit without any infrastructure changes, was built on Wood Street in Wicker Park.
The best way to increase safety for people walking and biking on neighborhood greenways is to limit speed and reduce the number of cars. Manor Ave.'s speed limit is already 20 m.p.h. but residents had said it was common to see people driving faster. The neighborhood's many families, a park and a ballet school, all mean that lots of children are crossing Manor Ave.
CDOT plans to change the shape of some of the intersections, using infrastructure to enforce this speed limit. Curb extensions at three intersections along the route would narrow the roadway, reducing drivers' speeds and shortening the crosswalk distance.
At the five-way intersection of Manor, Mozart, and Wilson, CDOT will test for three months this fall the effects of prohibiting drivers on Manor from continuing straight by using temporary barricades.
The TAC has spent the plurality of our time discussing traffic diversions. Preventing turns would have the greatest impact, not only on reducing cut-through traffic, but could possibly increase traffic on surrounding streets, while changing how some residents might have to drive to their houses.
Carol Maher, who lives a few blocks from Horner Park and is an active member of both the TAC and the People of East Albany Park block club, attended the meeting and told Mell after, "The evening went much better than I expected and I think that was due to the great outreach and planning that went into the event." CDOT has worked with the TAC, Ravenswood Manor Improvement Association, and the Horner Park Advisory Council up to this point.
Maher is retired and started running errands by bike soon after the TAC began. She said that the two new entry points, at Montrose and Lawrence, will mean "greater bike access" but she's concerned that the additional people cycling on this route will still encounter a lot of car traffic in a very narrow space. "Yes, we'll all be going slower, but it is really, really, really tight [on Manor between Wilson and Eastwood] when there is one lane of parking and two lanes of autos and bikes."
Dave Smith, a planner for CDOT's bike program, knows how much some residents are skeptical or opposed to this change, and has analyzed some of the effects of a diversion, including changes in travel time for residents on some blocks.
Even though some residents may experience changes in how they navigate the neighborhood in their car, it seems that the goal of reducing traffic volumes, speed, and creating a low-stress street for residents to ride bikes on is finally in sight. The analysis showed an increase in travel time for some residents' routes, but no change in others.
The analysis validates concerns that other streets will have an increase in traffic when people avoid Manor Ave., but the analysis was limited to a small geography and assumed drivers didn't travel any further than Francisco Ave. or Sacramento Ave. to get around the diverter at Manor Ave.
In the DNAinfo article, Wetli quoted TAC member Jake Peters as saying "he was on board with the diversion solely as a test." He explained to me that the data CDOT collects before, during, and after the test "will guide us towards what the real problem is," instead of having to rely on "conjecture and personal anecdotes."
He said that a good outcome is where "traffic counts show decreased total traffic traveling through the neighborhood, and a balancing of traffic levels across multiple neighborhood streets." Peters said he questions if traffic on Manor is the cause of problems people express, or a symptom of situations nearby, like how it disrupts the grid, or that there's a network of one-way streets. Peters said the volume of drivers isn't so much the problem. "The only thing that has to leave is speed."
The transportation department's proposal for traffic calming has a higher chance of success this time. I've been attending meetings since the beginning and I've perceived Mell and her staff, including previous chief of staff Dana Fritz and current project manager Jeff Sobczyk, have a greater respect for sustainable transportation than what I understand about much of the rest of the City Council.
There's time between now and when CDOT is able to obtain federal funding for the project to fix minor details. One example is that the width of the island opening should be wide enough for people cycling together to wait for a clearing in traffic side-by-side, while a third person passes in the opposite direction. CDOT should also angle the edge of the curb ramps so cyclists can make a smooth, not right-angle, turn into the park trails.
Mell is collecting feedback via a private new email address, manorgreenway@gmail.com, and CDOT via cdotbikes@cityofchicago.org. Mell posted CDOT's presentation. There will also be a TAC meeting on Thursday, June 30, at 6:30 p.m. at the Horner Park Fieldhouse, second floor conference room.
Transportation planner and advocate. Steven also created Chicago Cityscape, a site that tracks neighborhood developments across the city.
Stay in touch
Sign up for our free newsletter