Chicago
Yellow Journalism: Tribune Panics Over "Risky" Stoplight Timing
7:45 PM CST on December 23, 2014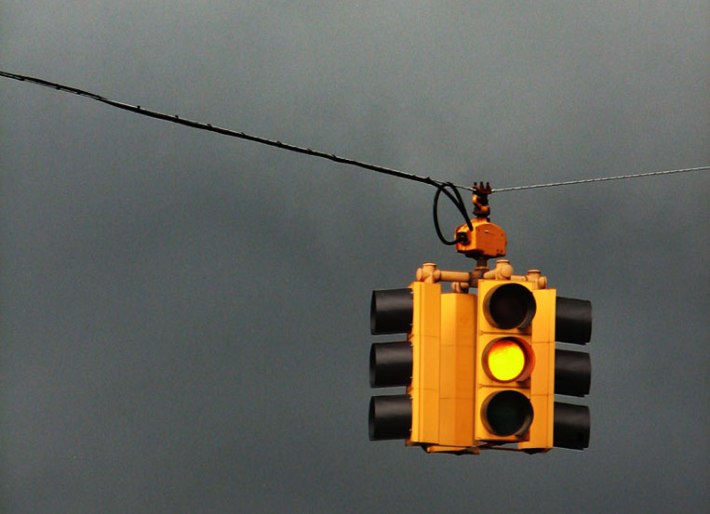 Day in and day out for at least 30 years (and perhaps for almost a century), over 3,000 stoplights all across Chicago have whirred through tens of millions of cycles the exact same way: green, then yellow for three seconds, then red. Yet today, this three second cycle was suddenly declared a public safety emergency, with the Tribune's front page fomenting panic about the crisis posed by "risky" and "too short" yellow phases.
The Tribune, of course, has long pursued a vendetta against the automated enforcement of red lights in Chicago, consistently whining about a program that penalizes criminals who blow through stoplights with deadly consequences. In its newest episode, the newspaper assembled a cadre of experts to inveigh against the long-established three second yellow phase, and arguing for a few tenths of a second more leeway. (This isn't the first time the Tribune has zeroed in on fractions of seconds in arguing against enforcement.) Drivers, it seems, feel as if they've been "ambushed" by yellow lights that work exactly the same way they've worked for decades.
One example the Tribune cites approvingly is Maryland, where a 2004 law lengthened the minimum yellow signal phase to 3.5 seconds. Yet the story there was all about political perception, rather than engineering standards. Frank Murphy from Baltimore's transportation department told the Tribune, "The reason the law was passed was because it was represented that there was an ambush situation, when yellow lights were set so low – even though they had always been set at three seconds previously."
True, some recent engineering guidance recommends that cities assume that drivers are usually speeding when approaching traffic signals, and such formulas find Chicago's yellow signals to be on the short side. For example, Institute of Transportation Engineers' formula recommends that for situations like a citywide standard (where actual travel speeds can't be observed), adding 7 mph to the speed limit across the board -- thus assuming that drivers citywide are traveling at 37 mph.
Moving forward with that assumption would endorse and enable speeding, which is a far cry from the Chicago Department of Transportation's recent push to eliminate all fatalities from our streets. David Zavattero is head of traffic safety programs at CDOT, and oversees the red light camera program. He said that Chicago uses a three second yellow light because "we don't believe it is a safe environment to be [in], basing your signal timing on a 40 mph vehicle traveling through the intersection." Plus, Chicago's citywide three second phase has a long history: The federal government's Manual on Uniform Traffic Control Devices first recommended a three second minimum back in 1935, and continues to do so today.
The main takeaway from the Tribune's roundup of how different cities time yellow lights is that there's no single rule for signal timing. (In fact, there are even competing definitive guidebooks.) A study from the Transportation Research Board about yellow light timing [PDF] concluded that nearly every city calculates signal times differently, and even the ITE's formula ultimately leaves final decisions to local authorities. That formula recommends a 3.2 second yellow phase given Chicago's citywide 30 mph speed limit -- but that 0.2 second difference is literally less than a blink of an eye.
Several studies have indeed concluded that increasing the yellow light duration can reduce crashes, although neither ITE and MUTCD have yet issued official guidance to that end. It's encouraging, then, that CDOT commissioner Rebekah Scheinfeld is open to using different standards and assumptions for timing traffic signals, and for operating red light cameras.
In a perfect world, CDOT could meet every transportation engineering standard, and the city could replace its antiquated mechanical traffic lights -- almost 85 percent of which can't be reprogrammed remotely. With just a few mouse clicks, new computerized signals could adjust yellow light phases for the speed limits of various streets, create widespread signal priority for buses, give bicyclists priority on "spoke routes" with "green waves," and use signals to keep people from speeding on dangerous streets. In that perfect world, all crosswalks would be brightly zebra-striped, all corridors would have bike facilities, all 'L' stations would be wheelchair-accessible, and all bridges would be structurally sound.
We, of course, don't live in that perfect world. Of all the battles to pick to get there, it's odd that the Tribune should fixate on the lowly yellow lights that we all take for granted.
Updated on December 24, 2014 with additional information from CDOT and clarifications regarding MUTCD compliance,  the ITE formula, signal interconnects, and historical background.
Note to readers: Streetsblog will resume publication on Friday. Have a great holiday.
Transportation planner and advocate. Steven also created Chicago Cityscape, a site that tracks neighborhood developments across the city.
Stay in touch
Sign up for our free newsletter