Beyond Chicagoland
Oil-Laden Freight Trains Delaying Amtrak, Commuter Trains Across U.S.
11:03 AM CDT on August 14, 2014
Oil production is booming across North America, as new technologies make it possible to extract liquid crude oil from sources like the Bakken shale oil field in North Dakota and Montana, or Alberta's tar sands. The ever-increasing volume of crude oil mined in remote Great Plains locations often finds its way to refineries via "rolling pipelines" – freight trains that tow a million barrels of oil around the United States every day. Production of Bakken crude has tripled over the past three years, and 79 percent of it is shipped out by rail.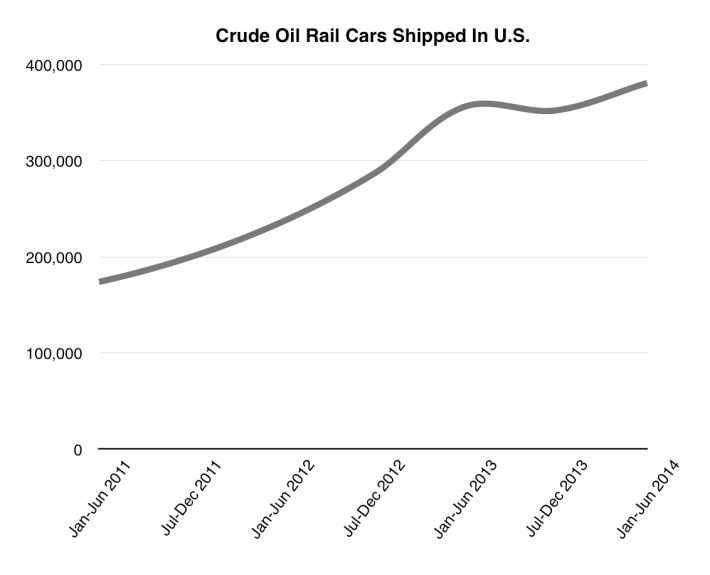 The resulting sharp increase in rail traffic doesn't just threaten communities along the line that are unprepared for their explosive cargo -- a threat that the US Department of Transportation recently issued new rules to address. Growing freight volumes are also delaying millions of passengers aboard Amtrak or commuter trains, most of which share tracks with ever more freight trains. Nationwide, the number of delayed Amtrak trains has increased by almost 75 percent. As Tanya Snyder reported yesterday, that results from a court ruling that left Amtrak powerless against freight train interference. Around Chicago, hub of the continent's railroad network, delays have multiplied on the region's busiest commuter rail line – a Metra line operated by BNSF, which is also North Dakota's biggest freight hauler.
The American Association of Railroads reported an 8.5 percent increase year-to-date in the number of American freight trains carrying oil across the country, and a 9.1 percent increase reported from Canadian trains. Since 2011, the number of cars of crude oil shipped nationwide has doubled.
Oil is having a particularly heavy impact on rail operations along certain companies' lines, and none more so than BNSF. Its transcontinental trunk line spans North Dakota, and its branches serve 21 of North Dakota's 25 oil-producing counties. As a result, BNSF hauled more than 500,000 barrels of crude oil in 2013, "up from practically none" just four years ago, NPR reported.
The boom has strained what used to be isolated stretches of railroad. Amtrak's daily Empire Builder train spans the country's northern tier, from Chicago to Seattle and Portland via North Dakota and Montana, using BNSF's Great Northern route almost all of the way. "The Builder" now has the dubious double distinction of being both the most popular of Amtrak's transcontinental routes and its most delayed route nationwide, arriving on time about once a week. Delays have become so routine that Amtrak recently padded its schedule by three hours. BNSF's quarterly report [PDF] shows growing volumes across all business lines, but notes that increased industrial shipments in the second quarter of 2014 are "primarily due to increased shipments of petroleum products [and] frac sand."
Derrick James, Amtrak director of government affairs for the Midwest, told Streetsblog that national on-time performance has seen "a dramatic decline," dropping "from 80 percent in February 2013 to 55 percent through April 2014." James said that as reliability has dropped, ridership on both long-distance and short-distance lines has also dropped by 4.9 percent.
Amtrak "conductors produce delay reports," James points out, "and these delay reports pinpoint a dramatic increase in rail traffic -- especially trains connected with hydraulic fracturing, sand trains and oil trains." On the Empire Builder in particular, Amtrak conductors cite "train interference" as the principal cause of delays.
Before the recent boom, BNSF caused fewer delays than the average railroad, according to a USDOT review of on-time performance from 2002-2007 [PDF]. The Empire Builder then was one of Amtrak's star performers, running on time 75 percent of the time in 2007.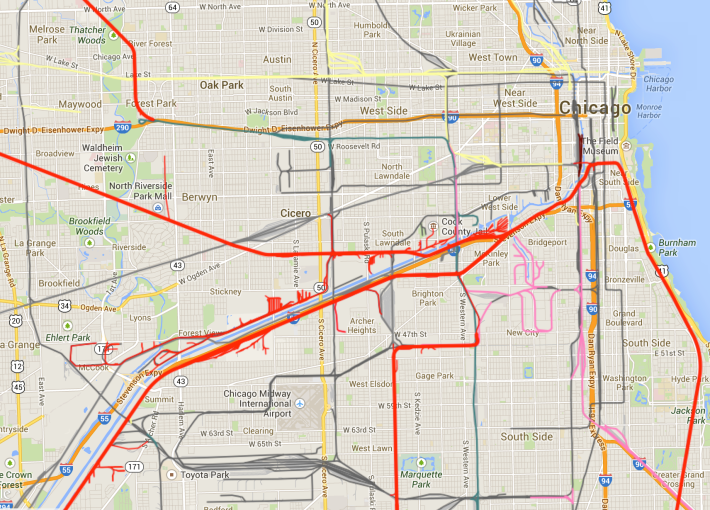 Like Amtrak trains, commuter trains across the U.S. largely run on tracks owned by freight railroad companies, and commuters are also getting stuck in the oily mud. The delays are especially evident around Chicago, where the western and eastern railroad networks meet. For example, BNSF brings crude oil from the Great Plains to Chicago, where it gets transferred to Canadian National or Union Pacific trains bound for Texas or Louisiana refineries.
A recent report in the Chicago Tribune found that BNSF runs 18 to 30 oil trains through Cook and DuPage counties daily, far more than the five to seven that second-place Canadian National runs. (The railroads initially refused to share those figures with the media, saying that only firefighters needed to know -- even though mile-long freight trains aren't easy to hide.)
BNSF also operates commuter trains along the same tracks, under contract to Metra, the regional commuter rail agency. It's Metra's busiest line, carrying 67,400 passengers each weekday from Chicago's west suburbs, like Aurora and Naperville [PDF], through dense city neighborhoods like Pilsen, and into downtown Chicago.
Metra's busiest line is also now seeing more delays than its other lines. In May, the BNSF line was the least punctual of all 11 lines, with just 82.2 percent of trains arriving on time [PDF] -- well below the system average of 94.5 percent. May's performance wasn't a fluke: the BNSF line also turned in the worst performance among lines in April [PDF], and third worst from January through May. Just as with BNSF's national performance, this is a huge decline from prior years: More than 95 percent of trains arrived on time in 2012 and 2013.
In the first few months of 2014, the BNSF line had 7 times more late rush-hour trains than in the same period in previous years -- 156 late trains between January and May, versus an average of 22.6 over the previous five years. January's storms did delay dozens of trains across the Metra system, but no other train line had even one-third as many delayed trains. Even off-peak trains, which run less aggressive schedules, were delayed 4 times more often than usual in the first part of 2014.
Union Pacific, the other major freight hauler that also operates trains for Metra, has managed to run closer to schedule so far in 2014. Yet even though it operates three lines, only one of those -- the UP-West line -- is regularly shared with freight trains, and that line is delayed more often than its counterparts. Still, its performance during the January polar vortex was better than the BNSF line by over 7 percentage points.
Only two other Metra lines match the BNSF line's dismal on-time performance this year: the Heritage Corridor to Joliet and the North Central Service to Antioch. Both lines are operated directly by Metra, mostly along tracks owned by Canadian National [PDF]. CN has also seen a surge in oil shipments: Through August 9, CN is carrying 15.4 percent more carloads of petroleum products than in the same period last year, and CN's recent corporate reports have similarly highlighted increases in crude oil and frac sand across its binational network.
In response, BNSF points out that freight volumes are up across the board. In the first half of 2014, BNSF's total freight volume increased by 3 percent, and the "industrial products" category (including petroleum and drilling operations) accounted for only 19 percent of the overall volume increase. BNSF also has promised to spend about $1 billion to improve the Northern Corridor's capacity for both freight and passenger trains, including adding new tracks and sidings and refurbishing worn tracks.
Yet it's apparent that the freight railroads may not be honoring their pledge to give priority to passenger trains. A law passed in 2008 gave Amtrak some recourse if freight railroads delayed passenger trains on their tracks – and Amtrak then enjoyed a few years of significantly improved punctuality. However, the freight railroads sued to block that law, and its ultimate fate rests with a forthcoming Supreme Court hearing.
Metra, by contrast, could wield greater authority over the freight railroads. "There's no incentive for on-time performance" in Metra's current contracts with BNSF and UP, CEO Don Orseno told the Illinois General Assembly earlier this year. Renegotiated contracts with the operating railroads could include performance goals or penalties, and demand accountability for delayed trains.
Transportation planner and advocate. Steven also created Chicago Cityscape, a site that tracks neighborhood developments across the city.
Read More:
Stay in touch
Sign up for our free newsletter