Streetsblog Chicago
Taking the Pulse of Pace's new Evanston-to-O'Hare Dempster "Arterial Rapid Transit" bus
It's now possible to travel between Northwestern University and the airport with far fewer stops and transit signal priority, but for starters it's only on Sundays.
4:29 PM CDT on August 14, 2023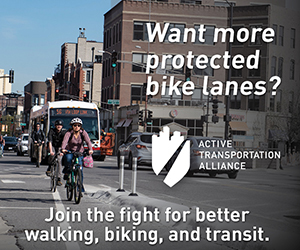 The Pulse Dempster Line, Pace's second "Arterial Rapid Transit" bus route, quietly launched on Sunday, August 13 – sort of.
The ART lines are something between a traditional express bus and full-fledged bus raid transit. They feature station-style stops spaced further apart than typical bus stops, and while there are no dedicated lanes, the buses will benefit from transit signal priority. Pace is working to implement Pulse lines on some of its busiest corridors, supplementing rather than completely replacing the traditional Pace fixed routes that have been around for decades. 
The first ART route, the Pulse Milwaukee Line, launched around this time of year in 2019 along the stretch of Route 270 between Chicago's Jefferson Park Transit Center and Golf Mill Shopping Center in Niles. Pulse Milwaukee replaced Route 270's Jefferson Park to Golf Mill trips (the majority of the trips), while Route 270 trips further northwest to Glenbrook Hospital trips continued as before.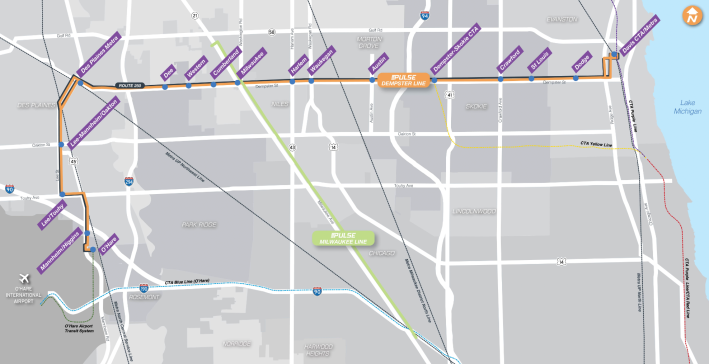 Pulse Dempster will follow the existing Route 250, which largely serves Dempster Street between Evanston and downtown Des Plaines before turning south to serve the O'Hare Multi-Modal Facility. Route 250 currently runs every 20-30 minutes on weekdays and every 30-60 minutes on weekdays (the headways get longer in the evening). Pulse Dempster will run every 15-20 minutes, while Route 250 will run every 30 minutes during rush hours and every sixty minutes the rest of the time. While Pulse Dempster will run until 1:00 AM, the way Route 250 currently does, the pared-down Route 250 will stop running around 10:00 PM. 
For now, Pace is only running Pulse Dempster/Route 250 buses on their new schedules on Sundays as a "sneak peek" at the new service. Things will fully transition once all of the Pulse stations are finished, which is expected to happen by late fall.
The service changes
Route 250 has been a major intermodal connector. It stops at Metra's Union Pacific North line's Davis Street station in downtown Evanston; the CTA Yellow Line's Dempster stop in Skokie, the UP-N's downtown Des Plaines station; and the aforementioned O'Hare Multi-Modal Facility. At the OMMF, riders can transfer to the Airport Transit System, Metra's North Central Service Line's O'Hare Transfer station, and several intercity bus services. Pulse Dempster riders can transfer to the Pulse Milwaukee Line at the Dempster/Milwaukee station.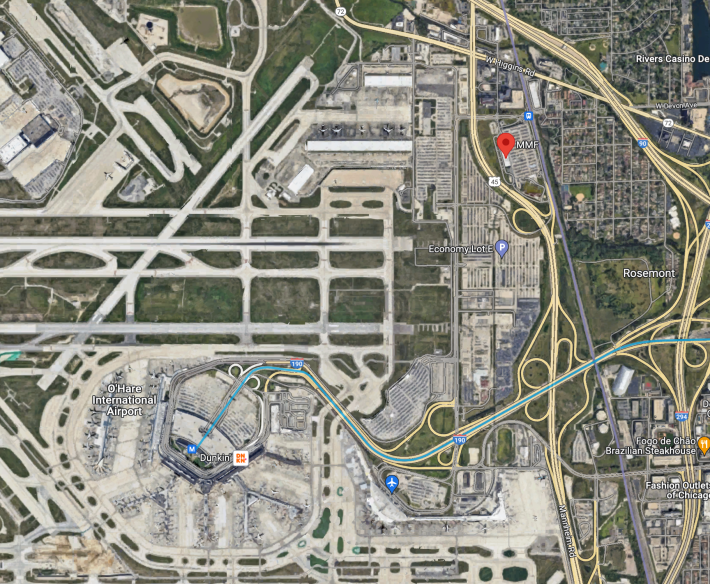 I've been taking Route 250 (mostly between Dempster-Skokie and Des Plaines) since I attended college in the early aughts. I've experienced it during the thickest of traffic jams, and at the height of the COVID-19 pandemic, when there were relatively few drivers on the road.
I took the Pulse Dempster Line yesterday during its opening. As with Pulse Milwaukee when it launched, Pulse Dempster operators are under orders to show some flexibility as passengers adjust, and are permitted to pick customers up and drop them off at non-Pulse posted stops. The drivers on the buses I rode tried their best to explain what was going on and answer riders' questions.
There was some inevitable confusion. For example, a passenger who wanted to transfer to Pulse Milwaukee didn't pull the cord signaling the driver to stop, because he assumed that the bus would stop at all stations, the way a train would. Pulse buses don't do that. If you want the bus to stop for you to board, you need to be visible on the platform, and if you want to disembark you need to pull the cord. 
Another source of confusion was that Pace occasionally ran buses in Pulse wrap on the traditional Route 250 before the ART launch. Pace spokesperson Maggie Daly Skogsbakken said the agency decided that since it already had the buses prior to the launch, it made no sense not to use them, and it ran them on future Pulse lines to "prepare" riders for the service to come. In situations like this, the buses had "Route 250" on the route designation sign on the outside of the bus above the windshield. Yesterday all the Dempster ART buses had "Pulse Dempster Line" designation signs.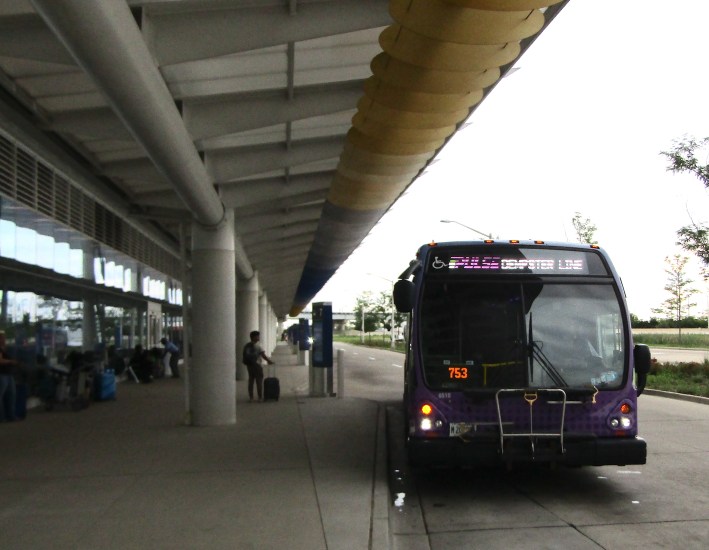 However, yesterday the buses didn't always have the correct trip endpoint displayed on the destination sign, located to the left of the front door.
Since some of the Pulse Dempster stations are not finished yet, the ART buses picked up and dropped off riders at the existing stops. At such locations, Pace attached temporary purple "Pulse Dempster" signs to the bus stop pole. 
Riders using Dempster-Skokie Yellow Line station are in for a major adjustment. [If you visit this station, I highly recommend stopping by Kaufman's Bagel & Delicatessen, just east at 4905 Dempster. -JG]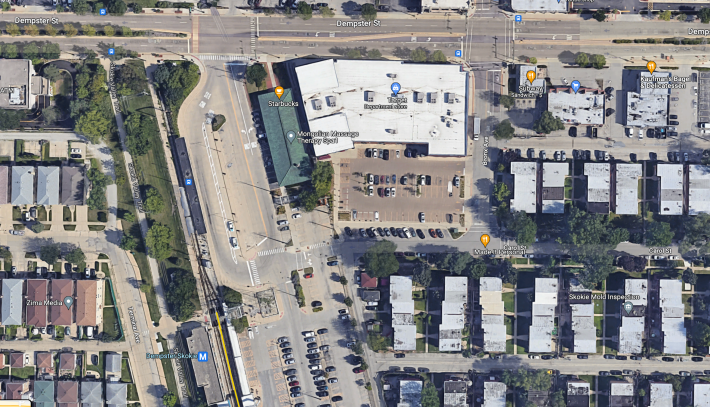 Route 250, like most bus lines serving the 'L' station, pulls into the park-n-ride, providing a fairly straightforward connection. Pulse Dempster buses, on the other hand, are simply stopping directly on Dempster as a timesaving measure, Daly Skogsbakken said.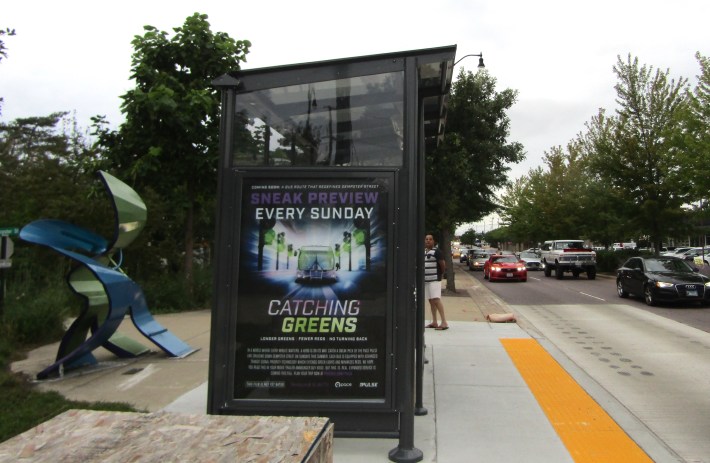 The eastbound Pulse stop, which is located west of the park-n-ride entrance, is already finished. But the westbound station on the north side of Dempster still has a ways to go, so the westbound buses pick up and drop off passengers at a temporary bus stop.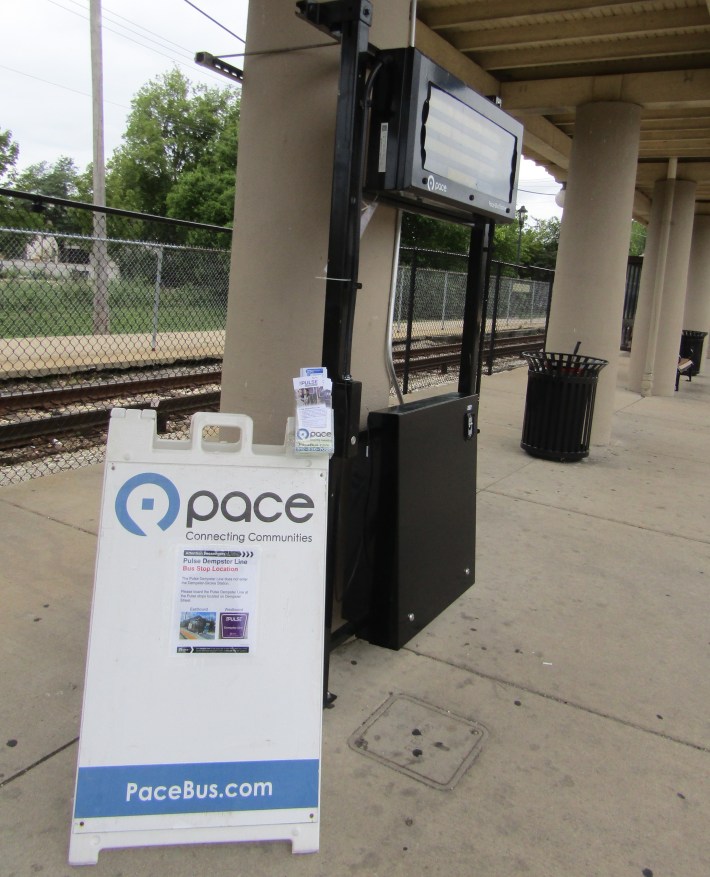 Yesterday Pace had a sandwich board set up where Route 250 stops at the Yellow Line's park-n-ride explaining the new arrangement of two different kinds of stops for the two different bus lines. But there is no explanation of the new setup at the eastbound Pulse station or the temporary westbound Pulse stop. There is a sidewalk from the eastbound ART stop to the 'L' station, but it's not labeled.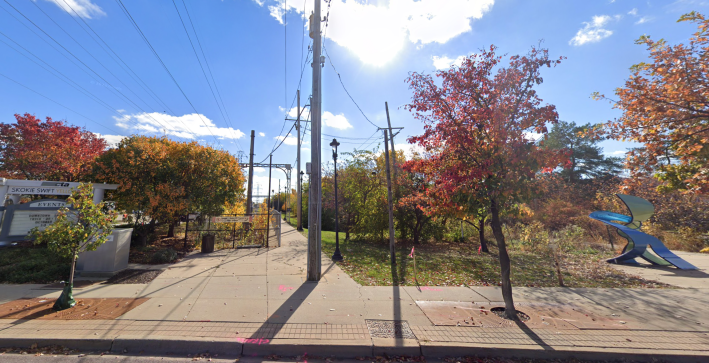 So, unless you already know the layout of the Yellow Line stop, you may not realize how to transfer from the Pulse bus to the train. Why not install a "To the Yellow Line" wayfinding sign for pedestrians to clear things up?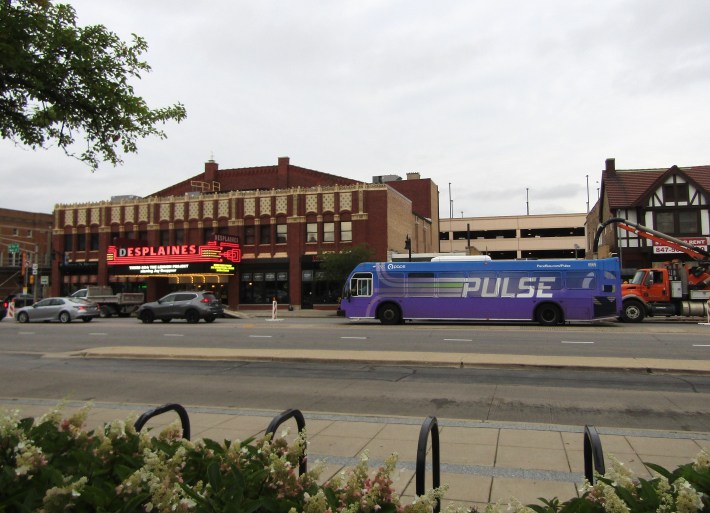 When I was at Metra's downtown Des Plaines Union Pacific-Northwest Line station yesterday, a Pace transit ambassador gave me a handout outlining the ART bus service basics and a printout with the location of the Pulse stations. He explained that riders who used to board buses across the street would now have to board them at the newly built Pulse station a block east. That wouldn't be immediately obvious to anyone trying to make that transfer, and that extra block walk to the new bus might be a deterrent to using it.
The ribbon-cutting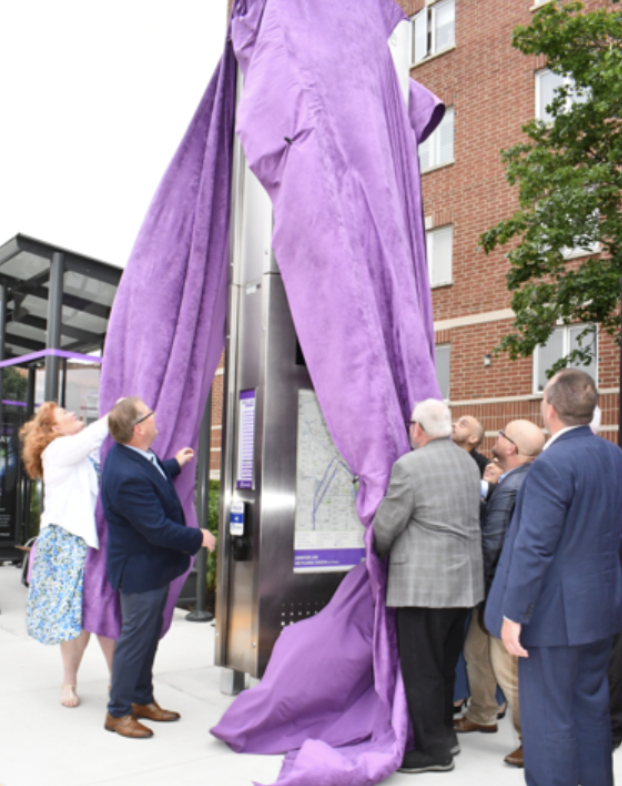 Last Wednesday, August 9, Pace officials and local elected officials gathered at the aforementioned Des Plaines station to celebrate the launch of the Pulse Dempster Line. 
Chris Canning, who represents the North Shore suburbs on the Pace board, said that he expects the new service to drive economic investment. "Investment in transit infrastructure, like we see here today, spurs economic growth by creating immediate jobs and, in the long-term, increasing safe and reliable access to employment, shopping, dining, and entertainment while saving passengers money with an affordable and environmentally friendly transportation option."
State Sen. Lauren Murphy (D-28), whose district includes Des Plaines, described Pulse Dempster as "a fabulous opportunity to help move people quickly throughout the northwest suburbs. I'm really proud to work with Pace, proud to see how they interconnect with communities and other transportation systems."
"The Pace Pulse Dempster line will improve the lives of Des Plaines residents and beyond. With multiple stops for this line within our city limits, we are excited about the opportunity for more efficient trips around town and to O'Hare," said Des Plaines Mayor Andrew Goczkowski.
Read more about the Pulse Dempster Line project on the Pace website.
Postscript by John Greenfield, editor
Pace's two Arterial Rapid Transit routes are certainly a step in the right direction towards making Chicagoland more transit-friendly. But it would be great if our region could finally roll out honest-to-goodness bus rapid transit, with prepaid boarding to reduce bus "dwell time" at the stations, and camera-enforced bus-only lanes, so transit riders don't get stuck in traffic jams created by single-occupant vehicle drivers. Peer cities like New York and LA have been doing this for years. Why can't we?
Did you appreciate this post? Please consider making a tax-deductible donation.
Stay in touch
Sign up for our free newsletter