Chicago Suburbs
The Metra-Union Pacific cold war is over. What does that mean for commuters?
4:47 PM CDT on April 7, 2023
Following Union Pacific Railroad's long, bitter stalemate with the Metra commuter rail system, which included Union Pacific refusing to have its conductors collect fares on the Metra lines it operated, a peace treaty has been reached. On March 30 UP announced it had started the process of transferring its Chicago area commuter rail operations to Metra.
Union Pacific currently operates Metra's Union Pacific North, Union Pacific Northwest, and Union Pacific West lines under contract with the commuter system. But UP made no secret of wanting to get out of the commuter rail business – something that Metra resisted. The grudge match resulted in multiple lawsuits, with the court eventually siding with Union Pacific.
According to a Union Pacific press release, Metra will take over UP's responsibilities for staffing, operating, and maintaining the trains, and Union Pacific employees currently responsible for handling those duties will become Metra employees. The transition will begin in the third quarter of 2023, with Metra fully taking over service by winter/early spring of 2024.
Both Union Pacific and Metra described the transfer as "seamless," but there are still a few issues that need to be sort out, including how Metra will use currently Union Pacific-owned rail yards, what happens with the Union Pacific-owned Metra stations, and some of the legal intricacies involved in transferring employees from one company to another.
Union Pacific vs. Metra
Today, Metra lines can be divided into three types. Four lines, BNSF and the Union Pacific Lines, are owned and operated by the freight railroads. Metra owns the four "district" lines – Metra Electric District, Rock Island District, Milwaukee District North and Milwaukee District West – outright. With the remaining three lines – Heritage Corridor, North Central Service and SouthWest Service – Metra runs the trains, but freight railroads own the tracks.
Union Pacific inherited the service agreement after it bought the Chicago & North Western Railroad in 1995. Since then, Metra and Union Pacific extended and occasionally amended the purchase of service agreement. The most recent agreement was signed in 2016 and was scheduled to expire on February 29, 2020.
On December 5, 2019, Union Pacific filed a lawsuit against Metra. The freight railroad wanted the new agreement "under which Metra would assume responsibility for directly operating its commuter routes" and "Union Pacific would continue to maintain the track and coordinate train movement across its lines."
"The goal is to provide a smooth transition; ensuring riders continue experiencing safe and efficient service," Union Pacific stated. "The Services Transfer will allow Union Pacific to focus on moving customers' goods in and out of Chicago and across the nation. With the direct management of additional employees and equipment, Union Pacific believes Metra has the potential to realize financial savings and other benefits."
Metra argued that Union Pacific was still under Chicago & North Western's common carrier obligations, which required it to provide freight and passenger service to the general public at a reasonable rate and to obtain permission from the federal government to discontinue service. UP argued that changes in railroading since the early 1970s rendered any obligations it had moot – and it filed a lawsuit to clear that up.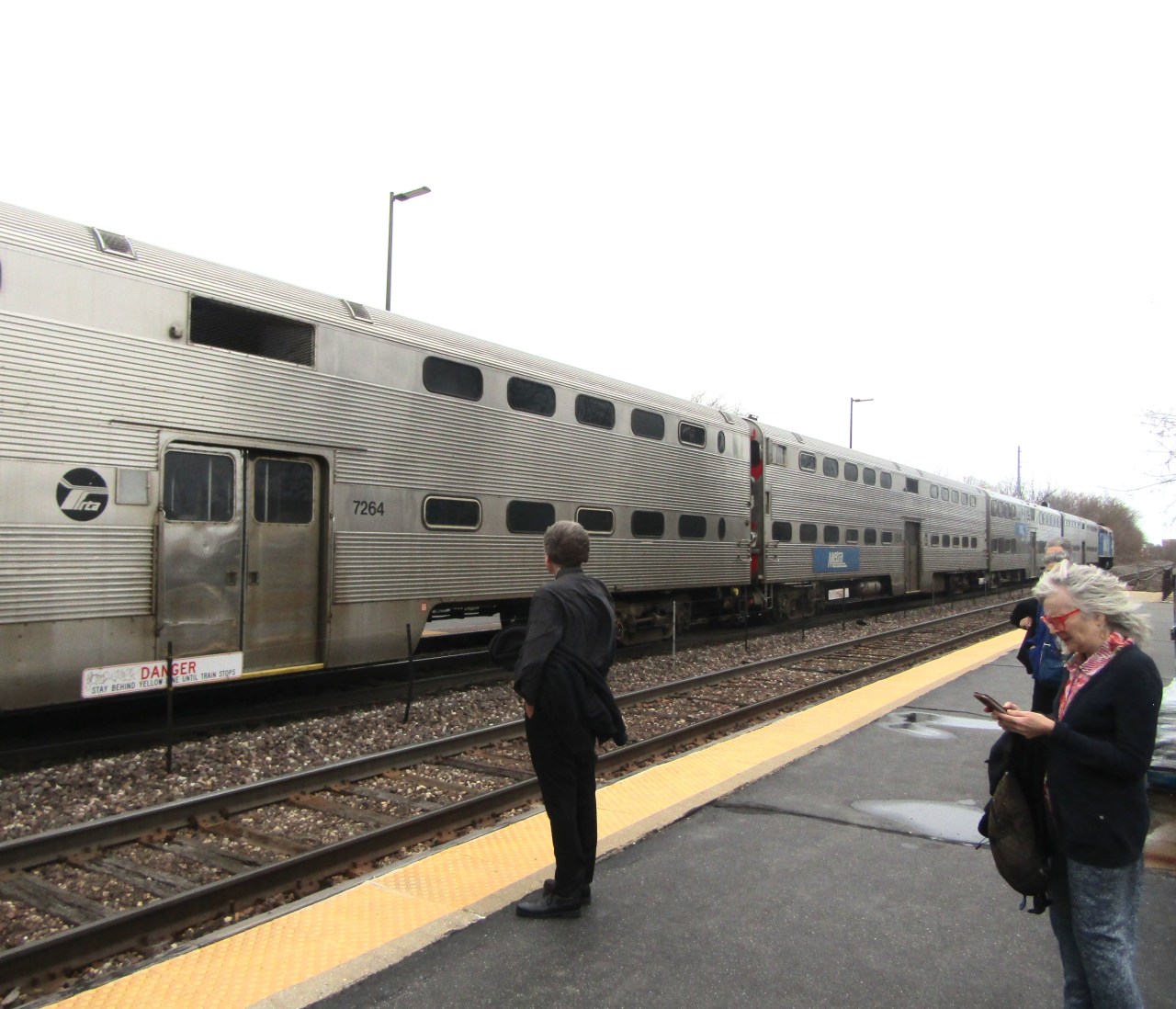 In a subsequent statement, Union Pacific emphasized that it "does not use its own employees to operate or maintain passenger operations anywhere in the 23 states where we operate" and that the new arrangement would simply bring Chicago area in line with how Union Pacific operates elsewhere.
The legal proceedings continued as the COVID-19 pandemic hit Chicago in March 2020, and Metra stopped having conductors collect fares to reduce the employees' exposure to the virus. But when Metra had its own conductors resume checking fares in June 2020, Union Pacific declined to follow suit with the conductors on the lines it ran, claiming it was concerned about their safety. At the time, an industry insider told Streetsblog UP was actually trying to pressure Metra into letting the freight railroad out of its contract. Whatever the case was, since these were Union Pacific employees, there was nothing Metra could do about it.
In October 2020, Metra filed a lawsuit to try to force Union Pacific to resume onboard fare collection, arguing that it constituted a breach of contract. The railroad company brought back fare collection in June 2021, citing the growing COVID vaccination rates.
On September 23, 2021, federal judge Jorge L. Alanso ruled in Union Pacific's favor, finding that it had no common carrier obligations.
What the transfer means for Metra commuters
Metra spokesperson Michael Gillis told Streetsblog that service transfer negotiations have been ongoing since the fall of 2022. He explained that the two entities are also discussing legal and real estate aspects on the separate "track." "It is anticipated that those negotiations will be resolved after many of the logistical aspects of the transfer have been completed," he said.
Conflict between passenger and freight trains is an issue everywhere except MED (where they use separate tracks). Metra's on-time performance reports show that those conflicts increase as the number of freight trains increase, regardless of who owns the tracks and operates trains. While Union Pacific Northwest and North lines have relatively few freight trains, the West line is a busy freight line.
Gillis said that Union Pacific will dispatch all trains, and that Metra doesn't expect the fact that Union Pacific will no longer be operating the commuter trains to be a problem. "Our mutual goal is to implement a safe, efficient transfer of operations with no disruption to service on the three lines," he said. "Union Pacific will still dispatch the lines and there will still be a similar mix of freight trains and passenger trains; we will still expect UP to facilitate our schedules."
Another issue is what happens to the train stations that are still owned by the Union Pacific. In the fall of 2021, the railroad announced that it was considering a deal to sell 41 stations it owned across the three lines to a developer, but it gave all of the municipalities where the stations are located to buy them first.
Gillis said that only two municipalities took Union Pacific up on its offer, and the railroad still owns the remaining stations. He emphasized that "under our current agreement with UP, any UP property sale may not impair commuter services." Gillis said that many specifics, including how Metra will use the Union Pacific-owned rail yards the railroad currently uses to store and maintain the trains, will be decided as part of the "second track" negotiations.
As for Union Pacific engineers, conductors, maintenance technicians and other employees working in commuter operations, the two railroads' labor relation teams are currently working out the details of the transition. But in general Union Pacific employees will get a choice as to whether they want to stay on with the freight railroad, or move to Metra. "[Union Pacific] employees will be provided an opportunity to pursue employment with Metra in accordance with agreements Metra negotiates with the unions," Gillis said.
Stay in touch
Sign up for our free newsletter