Chicago Policy
What if the mayoral candidates' transportation platforms were literally CTA platforms?
2:22 AM CST on February 7, 2023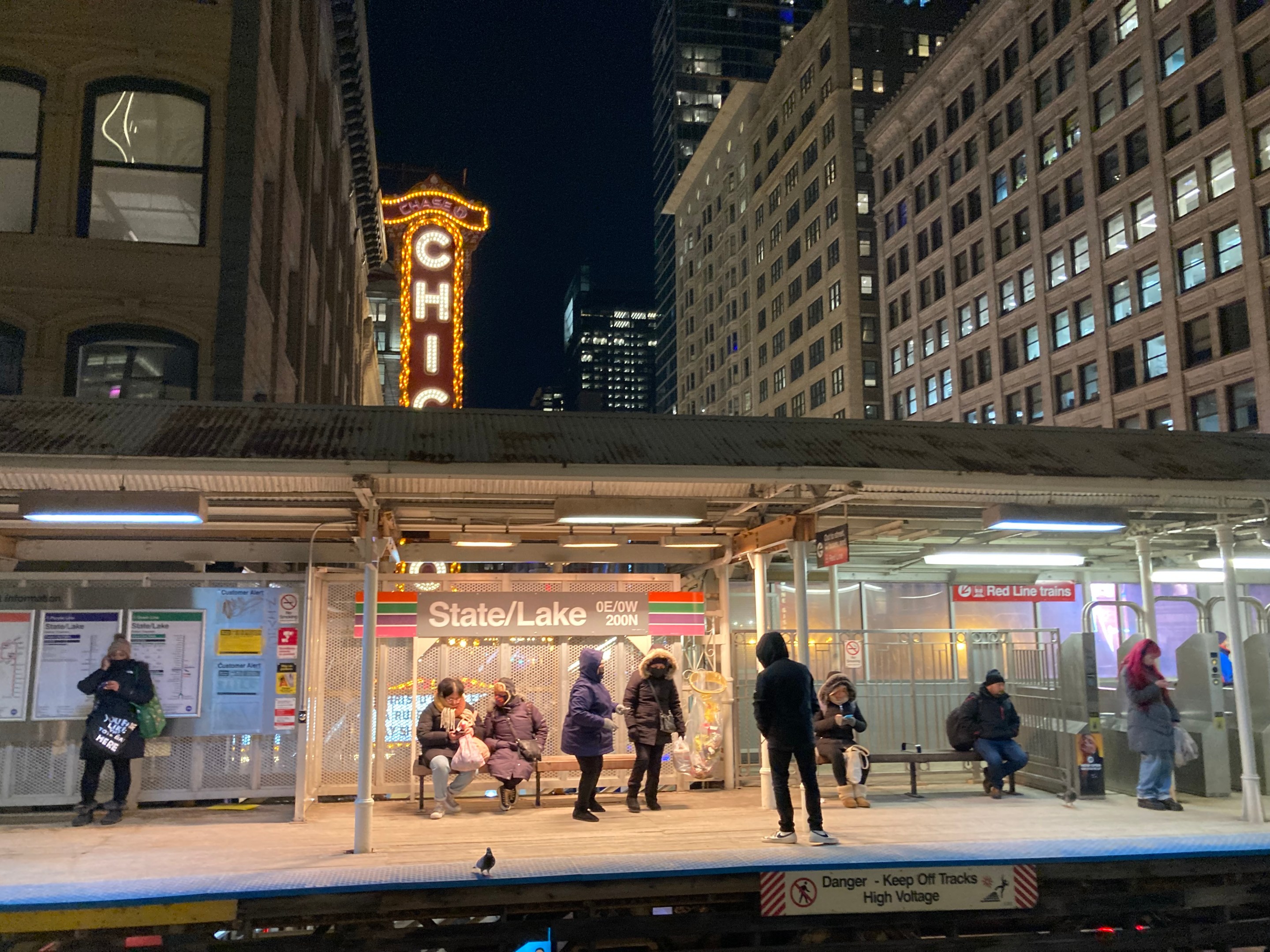 This article solely reflects the opinions of its author, and does not represent an exhortation to vote for any candidate.
Some of the nine Chicago mayoral candidates have released transportation platforms. But if their platforms were literally CTA station platforms, which ones would they be?
Update 2/15/23, 2:30 PM: After the publication of this piece, some of the candidates released more details on their transportation positions, which author Jacob Peters commented about on twitter. Here are some of Jacob's new assessments of the hopeful's platforms:
February 10: Update: Rep. Jesus "Chuy" Garcia has an actual transit platform now. It is the longest and the most detailed. However, it still relies on "considering" "exploring" and "advocating" on far too many topics and is scant on details on implementing policy goals. [I'm designating it as] Howard Terminal and Bus Transfer. It's functional, a major upgrade to a subpar existing condition, but doesn't rock the boat, and never commits to the most transformative elements that would create immediate impact at upgrading capacity and creating a fully transit oriented center. We know the barriers to equitable transit-oriented development at stations surrounded by highway exit ramps and car-oriented industrial uses; fare integration and reduced fares; congestion pricing and bus only lanes; etc. This plan sits at the verge of being transformative, but hedges its bets.
Like the Howard Terminal, which still requires turn backs S of the station that cross Red Line tracks, has all bus transfers outside of the paid fare zone (which causes boarding bottlenecks when trains arrive), is adjacent to a huge strip mall, & has a massive parking garage.4/4 pic.twitter.com/PF98anjhuM

— Jacob Peters (@ArchiJake) February 10, 2023
February 11: Commissioner Brandon Johnson released a more detailed and specific revision to his previous transportation platform yesterday. These details have made it harder to categorize his platform, so it took me a bit more time to sort it out, but I think I got it:
Clark/Lake

It serves almost every line, it's intertwined w/ a sometimes flawed but aspirational government structure, & it has the potential to be a truly world class facility. It still can be confusing if you're unfamiliar w/ its layout, but it makes definitive connections.2/3 pic.twitter.com/zLUcqWhWIf

— Jacob Peters (@ArchiJake) February 11, 2023
I can honestly say that we have four great mayoral transit platforms. Now I just need someone else to update theirs and convince me they are Roosevelt [Station], since that is the other one I was weighing whether to denote Brandon's platform as.
Here are Jacob's previous assessments of the candidates' platforms.
Kam Buckner's platform is the Wilson Red/Purple Line station: A complete, comprehensive, accessible, and modern platform.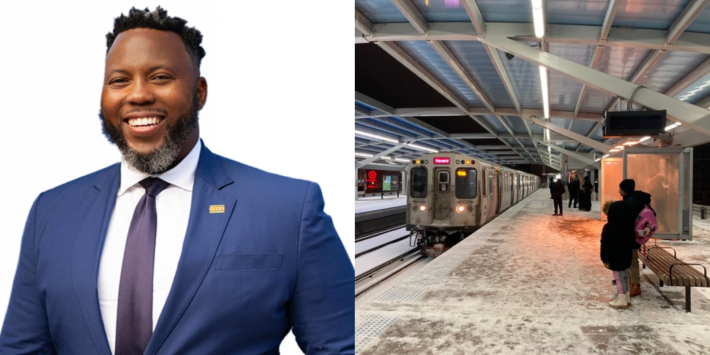 Kam Buckner probably has the most comprehensive transportation platform of all the candidates. From endorsing the Bike Grid, to calling for exploring new rail expansion projects and revisiting some that have gone unrealized, he has made transportation a central theme of his campaign, and it shows in the amount of detail he gets down to in his multiple page platform. When he talks about the issue it seems that he understands not just what needs to be done now, but what has to be set up for the future, much like the structure at the Wilson station that can accommodate platform extensions to handle ten-car car trains.
Ja'Mal Green's platform is the Washington/Wabash station: It looks good, but a lot of the bells and whistles just aren't necessary, or practical for anyone who rides the system regularly.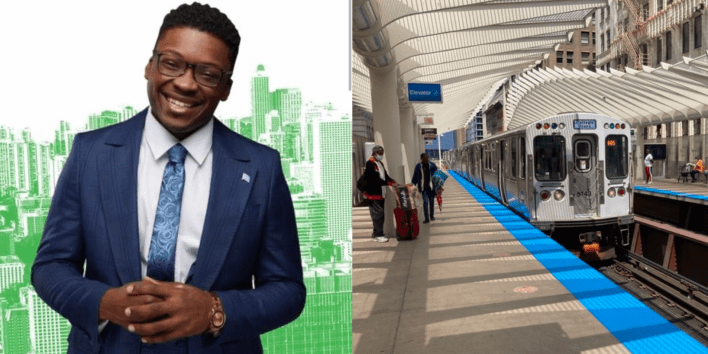 Ja'Mal Green's platform is full of all of the best practices proposals for how to address the operational and social issues that the CTA has been experiencing over the past few years. Then he mentions some things like an Express Blue Line Train to O'Hare that are distractions from an otherwise solid plan. During the Safe Streets 4 All Transit That Works Forum, Green mentioned he would like to create social service kiosks at every platform. A proposal that seems less effective than his other proposal to deploy social workers to do case management on trains and platforms.
Jesús "Chuy" Garcia's platform is the (under construction) Damen Green Line station: It's under construction and we won't really know what it looks like for years.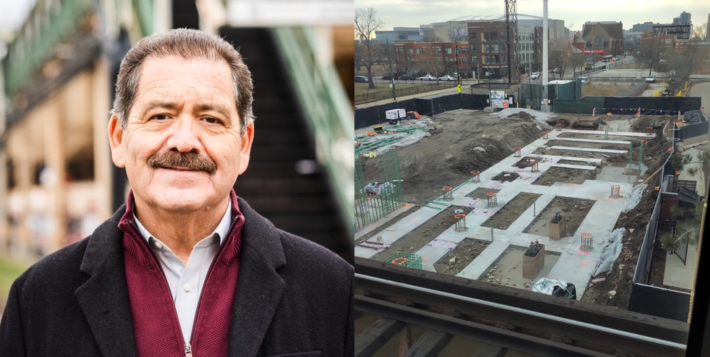 Garcia does not have a dedicated transportation platform on his website, but his actions in congress and his comments at the Safe Streets for All forum flesh out a record and stance that are pretty much boilerplate progressive talking points. The issue is that he also ran a 2015 campaign that was relatively conservative regarding transportation. His pivot to oppose the city's Ashland Avenue bus rapid transit proposal was the nail in the coffin for what might've been Chicago's first non-radial rapid transit line. Like the Damen Green Line renderings, we can imagine that his policies as a member of the Congressional Future of Transportation Caucus (including support for BRT funding) will translate to a transformative improvement. However, like the long-delayed Damen Green Line stop, his platform is way overdue and we'd expect a lot more progress and clarity on what to expect and when.
Brandon Johnson's platform is the Belmont Blue Line station and bus transfer: It looks great, but is missing key details on further inspection. Updates have been announced but an actual plan has not been presented publicly yet.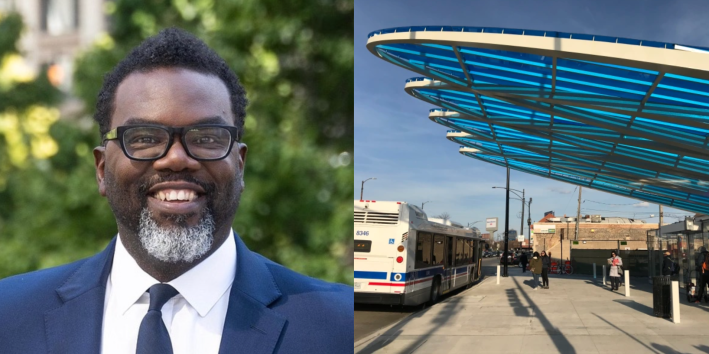 Brandon Johnson's social studies teacher background shines through in the way that his platform explains how interrelated transportation is to other city issues. He says all the right things, although he comes short of endorsing specific plans in many instances, although he has been rumored to support these initiatives. His Metra suburban surcharge idea was a swing and a miss, although he has been rumored to be eliminating that proposal from his platform, but has not made an announcement publicly. Like the Belmont Blue Line wheelchair accessibility upgrade project, we're waiting on the details, but it sounds great.
Sophia King's platform is the Cermak-McCormick Place Green Line station: It's sleek and modern, but hemmed in by systemic constraints that have merely been worked around.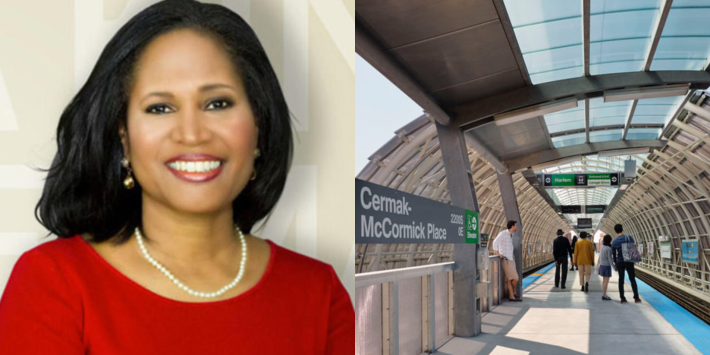 King does not have a transportation platform on her website (only a "plan for safety and justice") but her actions in city council and her comments at the Safe Streets 4 All Transit That Works Forum flesh out a record and stance that are pretty standard progressive talking points about improving and modernizing. The issue ends up being that these upgrades are undermined by catering to drivers, those who benefit the most from the status quo. Examples of her car-centric leadership style include an effort to water down the Drexel Boulevard bike lanes, and slow-walking the installation of a protected bike lane on Polk Street She mentioned a regional approach to transit, but it turned out she was simply talking about the three transit agencies collaborating to secure more federal funding, rather than her proposing to dismantle the silos that prevent Chicagoland from having a true regional transit approach. Workarounds can make for beautiful stations, but in the end the constraints are still there preventing the additional service users need.
Lori Lightfoot's platform is the 95th/Dan Ryan Red Line terminal: It's solid, looked modern in renderings and photo ops, but not forward thinking in practice yet. It cost a ton and it's hard to believe its full potential will ever be realized due to how long the existing improvements took.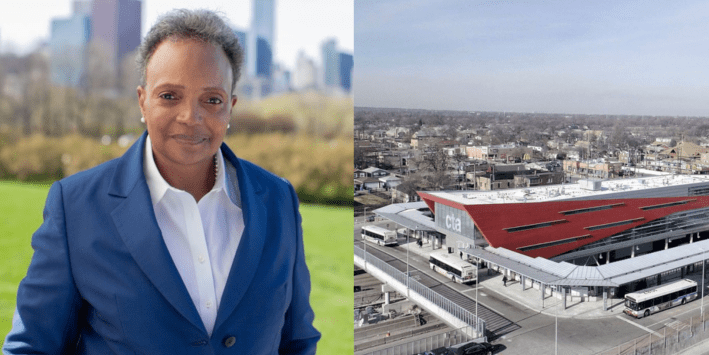 Mayor Lightfoot's transportation record is very clear in what has and has not been done. Many were sold on the ambitious transformative vision that she presented in her campaign and the big promises made. While there has been undeniable progress, there have been many missteps along the way, with many initiatives scaled back, watered down, or rolled back entirely. Like the 95th Street terminal, her platform seems like a whole lot of effort for less functional benefit than was advertised. She doesn't have a transportation platform as much as a record she directs people to on her website.
Roderick Sawyer's platform is the Garfield Green Line station: It looks good, but it's not really all that different from what was there before.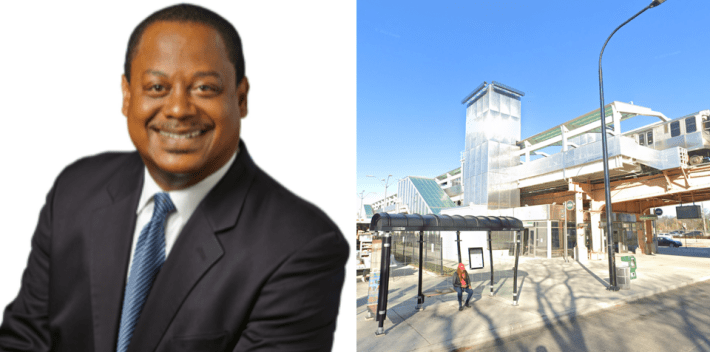 Roderick Sawyer does not have a transportation platform on his website (only an "economic development plan"), but his actions in the City Council and his comments at the recent Safe Streets for All candidates forum flesh out a record and stance that are pretty much business as usual. He's supported striping paint-only bike lanes in his ward, clamored for more transit-oriented development around stations, and endorsed citywide ordinances for speeding up buses. Those just don't paint a picture of a future that would be much different from our present. It's kind of like how the Garfield Green Line stop is a modest upgrade from what it had been, but it wasn't that bad of a station to begin with, and the new one doesn't stand out compared to other new station projects of the past decade.
Paul Vallas's platform is the (nonexistent) Division Brown Line station: It's based on expert advice, but unlikely to get funding to make it a reality until it's something that more rich white people want.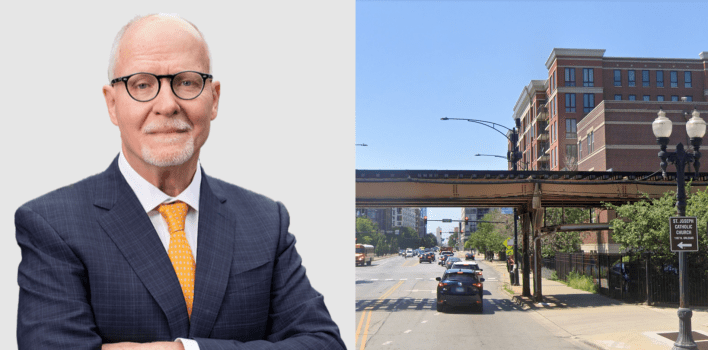 Paul Vallas has unveiled a "New Burnham Plan for Chicago" but conspicuously absent was any mention of transportation. During the Safe Streets for All forum, Vallas said he's not an expert on sustainable transportation and that he would turn to experts to lead on the subject. However, if a an issue is not mentioned in your plan, then you haven't consulted an expert. Moreover, it's likely that whatever solutions transportation experts suggest for improving the city, it's likely they will be back-burnered in favor of the policing-heavy approach Vallas is claiming is the solution to Chicago's and the CTA's woes. Like the Division Brown Line station that has been promised for decades, major transportation improvements aren't likely to happen under a Vallas administration until a critical mass of affluent white folks start start pushing for it.
Willie Wilson's platform is the (shuttered) Racine Green Line station in Englewood: There's no functioning platform at that location (although residents are trying to reopen it), but he probably thinks there is because he hasn't been paying attention since the 1980s.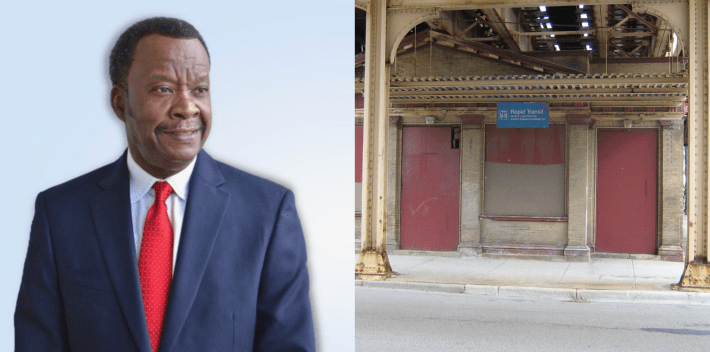 Willie Wilson does not have a transportation platform on his website, nor does he have an actual platform with specifics about any other topic. Unlike the other candidates he doesn't have a political record to reference, or precise comments on transportation matters. The closest we got to that was him saying that he recently rode transit for the first time in four decades and was surprised to find out there weren't conductors on the CTA, and that he would bring them back. We'd probably have to inform him that the Racine Green Line station closed 29 years ago.
Did you appreciate this article? Please consider making a tax-deductible donation to help fund Streetsblog Chicago's next year of publication. Thanks!
Stay in touch
Sign up for our free newsletter