Events
Two Chicago moms creating cycling community
6:16 PM CST on November 21, 2022
I first became aware of the idea of a bike bus through a video of hundreds of children biking in Barcelona coming across my Twitter timeline. For those unfamiliar, a bike bus typically involves a mass of children biking to school with a few adult chaperones providing some safety and of course organization. As time went on, a few people would occasionally tag me and ask me if anything like that was being organized in Chicago. I didn't know of anyone and was more familiar with the bike buses Chicago, Bike Grid Now organizes. I recently became aware of the efforts of Christina Hayford and Rebecca Resman in their respective neighborhoods.
Christina lives in Lakeview East and Rebecca (of Chicago Family Biking) lives in Roscoe Village. I reached out to these two women to learn more about their experience and their dreams surrounding children and biking within Chicago.
Christina Hayford: I think there's so much power in parents advocating for safe bike infrastructure, especially regarding children. It really changes people's perspectives when they see parents and their children riding. There are also the people who think we're putting our kids in danger but a lot of my fire for this work really started after the recent deaths of children killed [due to traffic violence]. It's also been interesting experiencing near misses that were caused by other parents. I'm just astounded by how little situational awareness some of the drivers have- there are kids everywhere and there's hardly any adjustment in their driving to reflect that. I recently had to jump in front of a car to prevent a parent and child from being hit as they walked across the street.
Courtney Cobbs: Yeah, I remember riding in Evanston some time ago and this woman came up behind me and started honking at me, telling me to move over. She was like, "I need to pick up my kids!!" I thought," Wow, it's ironic that she's part of why kids aren't safe to transport themselves to school."
CH: It's very much about flipping the script; taking away the idea that the safety is within the car. Safety should be walking and biking because cars are not safe. I think I live in a unique place where the focus is on walkability and transit; many people move here in order to live in a walkable neighborhood and be close to transit. A lot of families in the area don't have cars. At my child's school, 90% of the students live in the area. Many live within a mile of the school and it's so interesting to see some people use a car for such a short trip. There's also a robust percentage of parents who walk their children to and from school.
CC: What's the biking scene like at the school?
CH: There's a very healthy amount of parents and kiddos who bike. I think we could have more if the school had more bike parking. I've talked with a decent amount of parents who said they tried biking with their children but were inconvenienced by the lack of bike parking which resulted in them needing to carry their child's bike home. I was working with the bike parking manager at the Chicago Dept. of Transportation and he was really excited to install a bike corral. CDOT was willing to essentially give the corral to the school free of charge but due to the local alderman objecting to its installation, it never happened.
Ironically, the greenway where the school is located is most dangerous at school pick up and drop off because of all the drivers parking within it. I don't use it when I'm taking my child to and from school. I would love to see a protected bike lane along the greenway.
CC: Yeah, it's really sad many of our greenways have so much room for improvement. Can you tell me how the bike bus got started?
CH: The bike bus started informally. There was a small group of us who realized we were biking to Nettlehorse around the same time. We started setting up times to ride to school once a week. That eventually led us to formalize things and we now have a bike bus that happens every Friday. We plan to expand in the spring. We've had some folks that are south of our route who mentioned wanting to have their own start-off point.
I would really love to see some institutional support from the school. We don't get featured in the school newsletter. It's really grassroots.
CC: What are some of the challenges you've experienced?
CH: We're sort of arterially blocked. We're close to Belmont and Halsted.
CC: The fact that there's so much planning for a one-mile bike ride really highlights just how much work needs to be done to make our streets safe for children.
CH: Yeah. I really want children in the city to experience the joy of riding in the streets with their friends. I don't want them to feel like they're limited to the sidewalk or the trail. When talking to my friends, they recognize that their children love it- the kids feel independent, happy, and confident. They tend to only get that through Kidical Mass and bike buses are a way to allow children to experience that joy and safety more often. A lot of parents can't ride with their kids. It tends to require both parents and a huge amount of trust in your surroundings.
CC: That's the thing. Children can have all the training and yet it only takes one reckless, inattentive, or hostile driver to threaten everyone's safety.
CH: I think the movement has gained so much excitement- globally. I think it's important that Chicago becomes part of it. I've lived in Portland and I recognize the difference in infrastructure. I'm more familiar with an area that had a lot of single-family homes where many of the residents biked and were cognizant of the presence of people biking. We don't really have that culture here in Chicago.
CC: I think advocacy by parents is so important. In talks with my alder, Maria Hadden in 49th, she's mentioned that parents need cars in order to transport their children. Meanwhile, there are a number of parents I see in my area transporting their children by bike. I think it's important for alders to hear from parents who want safe bike infrastructure.
CH: We know that the streets aren't safe for kids. Children should be able to make mistakes without it resulting in death. Children should be able to safely and independently cross the street without fear. We need protection in so many ways-the people need that, not cars. We should be focusing on people. The bike bus is our own form of protest. I don't know if other people see it that way.
CC: I also think a lot of elected officials can't translate those emails, "I need to be able to drive my kid around" into "We need safe streets for kids so that they don't need to be driven around." They aren't asking the deeper question of, "Why do you feel the need to drive your child around?" Instead, they have a windshield bias and see the car as the default and see transit and biking as impractical for people with children. It's a lost opportunity to think more critically and see the need for more investment in transit and biking.
CH: This reminds me of an article I came across that explored the consequences of people buying larger cars for "safety" reasons that have resulted in higher pedestrian deaths.
I think my crew can be kind of annoying. We're really concerned about cars idling. We've been going up to cars and asking people to turn their engines off. There's even a "no idling" sign at the school but people still idle. The air quality around schools is so poor around pick up and drop off time because of vehicle fumes.
CC: What are your dreams for children in Chicago in regard to safe streets?
CH: I just want more children to be able to experience the joy of riding a bike. I want more parents to be able to experience the fruitful conversations you can have with your child when they're not experiencing the city closed off in a car.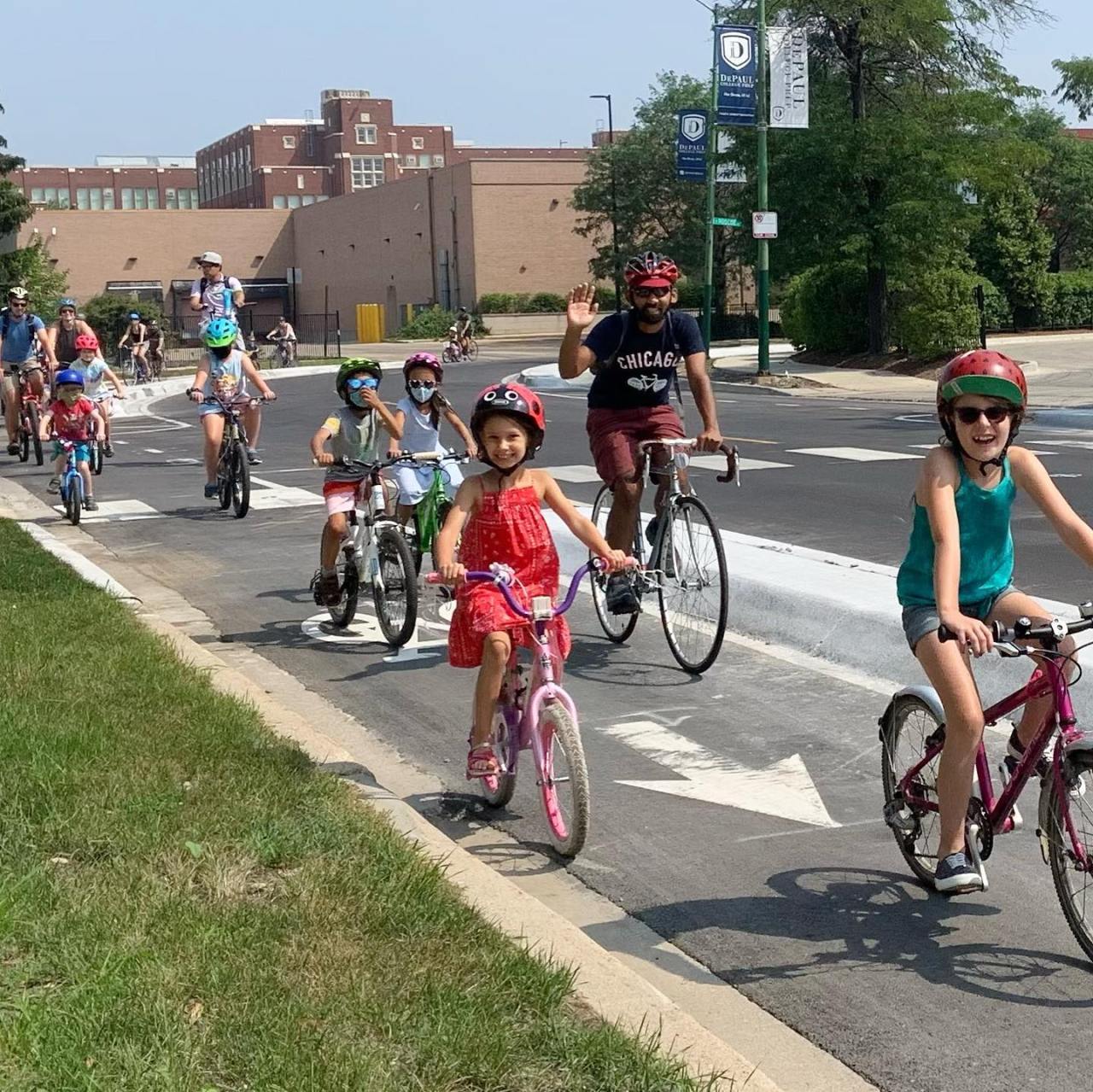 It wasn't surprising to hear Rebecca Resman's name come up surrounding the topic of bike buses in Chicago. Rebecca is the founder of the group Chicago Family Biking, a group for parents who bike within the Chicagoland area. Rebecca started off our chat by informing me of the Bike Walk Education in Schools Act passed in Illinois in 2018. This required K-8 schools to provide walking and biking safety education. School-based education around walking and biking varies from school to school. Chicago Family Biking provides an avenue for parents interested in conducting bike buses to meet other interested parents and connect to resources for conducting child-friendly rides.
Rebecca Resman: Bike buses that are happening in Chicago are not Chicago Family Biking events. We lift up and support those who are planning and leading efforts at their school.
I organize a weekly bike bus for my children's school. I made a map and provided different entry points for the ride. I think in order for bike buses to be successful, it has to be tied to a specific school. Pre-COVID we were working on training for parents to organize a Bike to School event. We have plans to update our resources on the website in the next year.
CC: Do you envision leading trainings for people? I imagine this could help expand the capacity for more bike buses.
RR: Yes. We've done this in the past. We plan to make organizing bigger rides a larger focus in future training. I can say that consistency, strong communication and leadership between the school and the parental volunteers, and teacher involvement is the recipe for success. Kids light up like Christmas trees when their teachers join a ride.
CC: What are your dreams for this issue more broadly?
RR: Part of Chicago's Family Biking's mission is to empower families to bike. Biking to school is such an important part of that. We believe that our streets should be safe for children and everyone. The more visibility of families riding on our streets, the safer our streets will be. Ultimately I'd love for there to be better infrastructure in place so that families are safe when they're riding to school. My ultimate dream is to see more families to try biking and fewer families to choose to drive when biking is an option. I want more children to find bike joy as earlier as possible. Ultimately, I'd love to see a behavioral change from drivers. A better and bolder commitment to safe bike infrastructure from elected officials is also needed.
I don't want to see this current generation be the last generation to have memories of independently riding a bike.
Stay in touch
Sign up for our free newsletter