Bicycling
Are Police Racial Profiling Black Bike-Share Users in an Effort to Recover Stolen Divvies?
3:50 PM CDT on August 20, 2018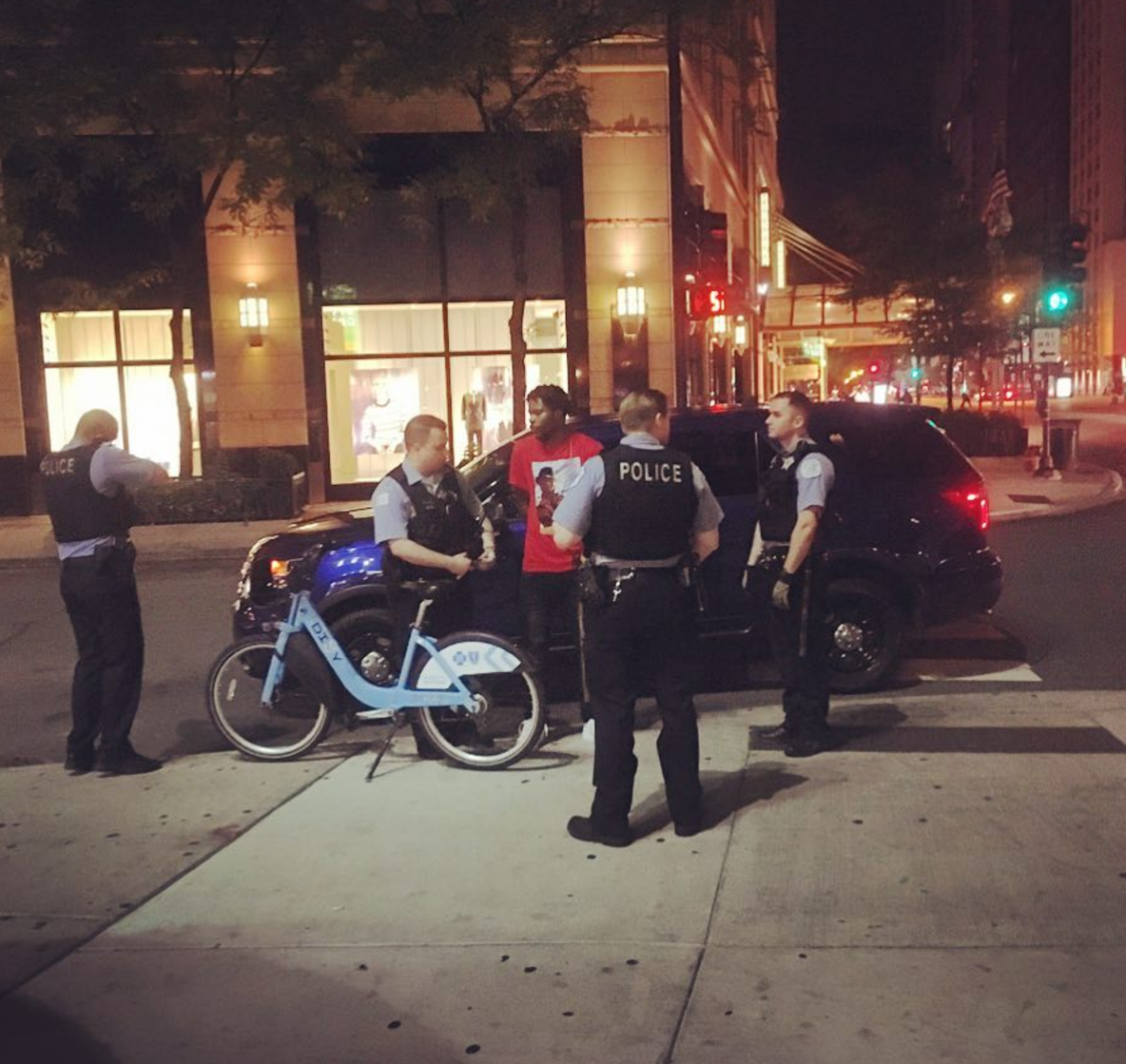 The Chicago Police Department recently acknowledged that exponentially higher rates of bike ticketing in some Black and Latino communities are due to officers using "broken widows"-style bike enforcement as a strategy to conduct searches for contraband.
Now the recent arrest of a Divvy rider near the Magnificent Mile raises the question of whether officers are singling out men of color on bike-share for similar zero-tolerance enforcement in other parts of town, possibly in response to a rash of Divvy thefts this summer.
It's common to see Divvy riders of various races riding on sidewalks downtown or on the Near North Side. That's understandable, since many streets in the area are dangerous places to bike, with heavy and/or high-speed motor vehicle traffic. Sidewalk riding is generally illegal for people 12 or older in Chicago, and it makes sense for officers to stop and possibly ticket people doing so in a reckless manner that endangers pedestrians. However, I've never heard of police pulling over, let alone handcuffing and searching, a Divvy rider for sidewalk riding until now.
Eboni Senai Hawkins, a research analyst who formerly led Chicago's chapter of the African-American bike group Red Bike and Green, said she witnessed such an incident last Saturday night at about 11:10 p.m. near Chicago Avenue and Rush Street. "Steps from the Mag Mile, 2 then 4 police officers stop this young Black man for 'riding a bicycle on the sidewalk,'" she posted on Instagram. "They put him in handcuffs immediately, take his phone, search his pockets, demand identification… They ask him how he rented the @divvybikes he was riding. They inspect the bike and make calls about the bike's serial number. They eventually take him away in a police car." She advised other Black men to avoid renting Divvy bikes, and to be sure to follow the letter of the law if they do use them, so as to avoid being harassed by the police.
The CPD confirmed the arrest. "A 22-year-old male was arrested after officers observed him riding a bicycle on the sidewalk [eastbound] on Chicago Ave from State St., in violation of MCC 9-52-020," wrote officer Patrick McGinnis from Police News Affairs. (According to that ordinance, riding a bike on the sidewalk is legal when done to access a bike-share station.) "Further investigation revealed the Divvy bike he was riding had been removed without payment from the dock at Roosevelt and Indiana earlier that afternoon. The offender was charged with one misdemeanor count of Theft of Lost/Mislaid property." The man has a court date on September 18 at 9 a.m. at Branch 29 of the Cook Country Circuit Court, 2452 West Belmont.
A Divvy representative I contacted on July 12 acknowledged that the system has recently had theft problems and said the company is on top of the issue. "In response to a recent series of thefts of bikes from stations, we're… retrofitting all of our docks with stronger, more tamper-proof lock mechanisms." According to a July 30 post on the blog CWB Chicago, which tracks local crime, officers arrested and charged 40 people with possession of stolen Divvies that month alone. (Update 8/20/18, 10:30 PM: According to a post today on CWB Chicago, there have over 120 adults were arrested and charged for possession of a stolen Divvy since July 1.)
While I have recently seen a person riding a Divvy with the logos painted over, and witnessed what seemed to be an attempted theft from a station, the high number of arrests was puzzling. Were that many people really spotted riding doctored cycles, or caught in the act of yanking a bike out of a dock? If not, how did the police know that all those people were riding or holding stolen bikes?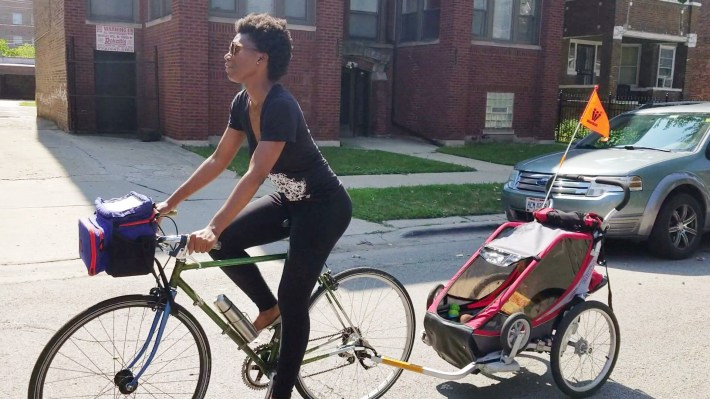 Saturday's incident suggests a possible answer. It may be the case that police are stopping Divvy riders for infractions like non-reckless sidewalk riding that they'd otherwise ignore, as a strategy to find stolen Divvies. The fact that police wrote 397 bike tickets in North Lawndale last year, according to a Chicago Tribune report, while only writing five in Lincoln Park, lends credence to Senai Hawkins' claim that last Saturday police pulled over, cuffed, and searched the cyclist, and checked to see if his cycle was stolen, due to his skin color.
"There are people riding Divvies on the sidewalk all the time in this area, so they stopped this person because of how he looked: a young Black man with his hair in [dread]locks," she told me, adding that the cyclist was wearing a t-shirt, jeans, and sneakers. Senai Hawkins said shortly after the arrest she saw four other people in similar outfits illegally riding Divvies across the nearby plaza by the Old Water Tower, including two white people and two Black men. She warned the African Americans to be careful not to break bike rules to avoid being stopped.
Senai Hawkins said she's confident that a young white man riding a Divvy in the same manner as the man who was arrested would have gotten off with just a warning. She argued that police targeting Black men on bike-share cycles is an unacceptable response to the system's theft problem. "In no way is it OK for the Chicago police to be deployed to enforce [a crackdown in response to] the fact that Divvy has a technology issue."
Divvy and the Chicago Department of Transportation, which sets bike-share policy, did not immediately respond to requests for comment.
"Active Trans strongly condemns any use of traffic enforcement to target specific members of our communities," said the advocacy group's advocacy director Jim Merrell in response to the news of the arrest.
Meanwhile, residents are questioning whether Divvy is moving quickly enough to retrofit its docks with more secure locking mechanisms, which would help eliminate the need for police to recover stolen bikes. Earlier this month Streetsblog reader Kevin Monahan recounted a recent conversation he had with a Divvy worker who was servicing a station. "The employee nicely explained that, unfortunately, the reality is that there is no such upgrade as far as they are aware of," Monahan said. "They said that they were surprised by what they read in the press about such an anti-theft upgrade because, as far as they know, there's been no internal messaging about this among staff."
When I asked Divvy spokeswoman Lindsay Silk Kremenak about that story on August 8, she replied, "Sorry for any confusion, but that employee wouldn't be privy to information regarding updates on the retrofit. We're still continuing to move through docks with the retrofit as fast as we can." She said she couldn't provide an ETA for the completion of the security upgrades.'
Update 8/29/18: In the wake of a CWB Chicago post critiquing our coverage of the Divvy enforcement issue, we've been getting an influx of trolling comments from fans of the anonymous crime blog. To simplifying comment moderation, I've closed the comment sections for our earlier articles on the subject (CWB doesn't have comment sections.) Feel free to weigh in on our article responding to the CWB post, but please do so in a reasonably civil manner.

In addition to editing Streetsblog Chicago, John writes about transportation and other topics for additional local publications. A Chicagoan since 1989, he enjoys exploring the city on foot, bike, bus, and 'L' train.
Read More:
Stay in touch
Sign up for our free newsletter