Bus Transit
CTA and Metra Headaches Are Making Transit a Less Viable Option on the Far SW Side
5:17 PM CDT on August 17, 2018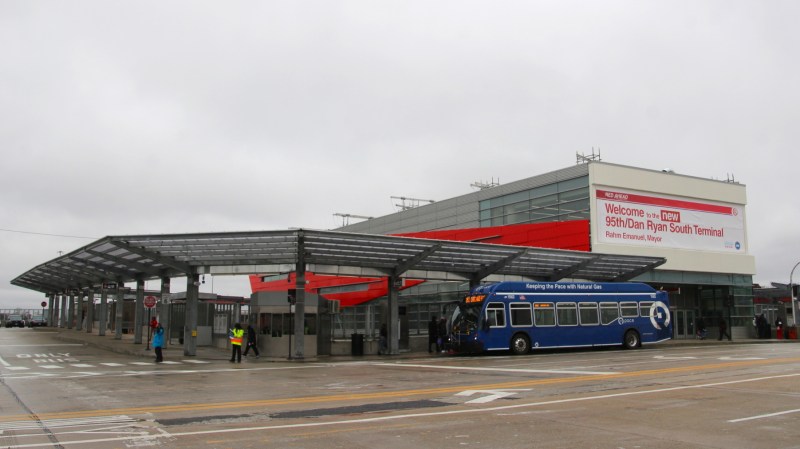 In the 12 years I've lived in Beverly, the public transit picture in the area has evolved. With construction progressing on the new 95th St. Red Line station, I thought it was worth reaching out to learn how CTA and Pace had decided to configure bus stop locations in the final station layout.
Westbound CTA #95 95th Street and Pace Route 381 – 95th Street buses were assigned to the same stop at the station for a few years before construction. Since both buses travel between the station and Western Avenue, commuters traveling to destinations along that stretch could get on whichever bus arrived at the station first. This solved a problem caused by these buses previously having stops on opposite sides of the Dan Ryan Expressway, before the Transit app or video monitors in the station showing arrival times existed.
However, after the station is completed the westbound #95 stop will be located on the north side of 95th Street, by the future north terminal. (The old station house was recently demolished and passengers are currently boarding trains from the new south terminal. Once the new north terminal opens, the two facilities will be connected by a sky bridge over six-lane 95th Street.) The westbound Route 381 stop will be on the south side of 95th by the south terminal. That means you will no longer have the option of waiting at the same stop to catch whichever westbound bus comes first.
Currently there are temporary bus stops for the #95 and Route 381 buses on the east side of the south terminal, on opposite sides of State Street. The temporary #95 stop is on the west side of State, next to the terminal, and the Route 381 stop is on the east side of the street.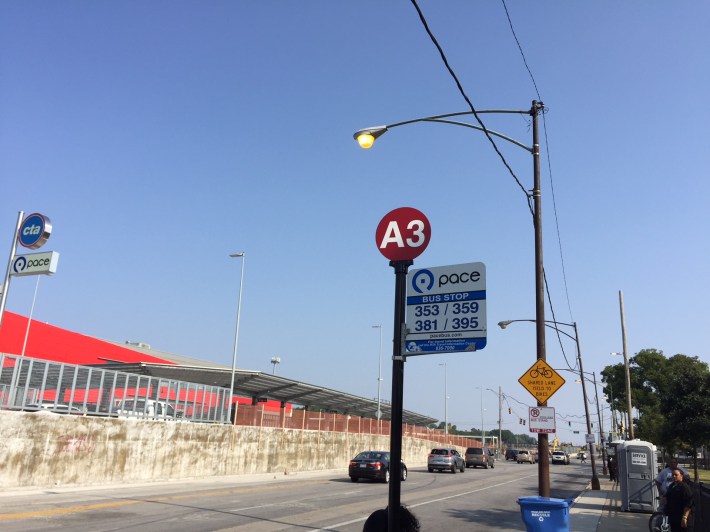 I wrote the CTA to ask if they would consider consolidating the two bus stops on 95th again after the station rehab is complete. "We took a look at the plans to see if there was a feasible option for making these routes adjacent, and considered a number of alternative options," a CTA spokesperson responded via email. "After taking [your] comment into consideration, we determined that the [new] layout best served the needs of the majority of customers… There will be additional signage and screens that show real-time information at each stop and throughout the terminal to minimize confusion."
Whoever wrote that response has obviously never tried to catch a westbound 95th Street  bus at this station. Their tone-deaf answer fails to take rider needs into account, especially those of people with disabilities or folks traveling with small children. The Transit app and the CTA Bus Tracker monitors sometimes show "phantom buses," indicating that a bus is about to arrive when there actually isn't one nearby, which adds to the problem.
Picture yourself at the 95th station looking at a Bus Tracker monitor or at the Transit app on your phone. It lists the next Route 381 bus arriving in five minutes and the next #95 in 7 minutes. You go to the 381 stop. At two or three minutes to arrival time, that 381 bus vanishes from the arrival list, which now shows the next 381 arriving in 30 minutes. The next 95 arrives in two minutes, not enough time to allow for going to the upper level of the station, crossing 95th via the sky bridge and going down to street level to reach the #95 stop. You miss the #95 and end up waiting 20 minutes or more for the next one.
I experienced a version of this recently, when a Route 381 bus vanished from the Bus Tracker, and I missed the next #95 because the stop was on the other side of State Street. That cost me an extra 20 minutes of waiting time for the next bus – and this was during the evening rush. Missing the next bus was a common problem in the days before the #95 and Route 381 buses assigned to the same stop. Having more monitors in the station showing arrival times will not solve this problem.
At a minimum, these stops need to be on same side of 95th Street. I understand that managing traffic flow for 11 CTA and five Pace routes, plus intercity buses, is complex. However, CTA's planned bus stop configuration is the worst possible situation for passengers transferring from red line or other buses to the #95 or Route 381. It will result in missed connections for many riders, causing preventable delays in arriving at their destinations. More time spent waiting at a bus stop also creates personal security issues for customers, particularly female, elderly, and disabled riders, especially at night.
Meanwhile, Metra ticket prices have risen each of the last three years due to state transit funding cuts (CTA fare also rose by a quarter this year for the same reason), making it increasingly unaffordable to many people, while Metra service has been getting worse. So having reliable CTA and Pace service is more important than ever.
With fewer Metra Rock Island Line runs available, CTA and Pace service is crucial, even for Far South Siders who can afford the higher Metra fares. On weeknights after rush hour, the Rock Island runs at 75-90 minute intervals. On weekends, there are 2-3 hour gaps between trains. In addition, at the Rock Island's downtown terminal at LaSalle Street, a lengthy construction project is making the facility more difficult and unpleasant to use.
The overall quality of Rock Island service has taken a steep dive in the past five years, and whether or not transit access is convenient and reliable has a big impact on whether a neighborhood is considered a desirable place to live. It's already having an effect in the 19th Ward, where I live.
I have met singles and couples in their 20s and 30s, mostly from other parts of the city, who moved to Beverly or Morgan Park in recent years partly because they valued the ability to conveniently walk, bike, and take transit to where they need to go. A number of them have left because Metra, CTA and Pace have failed to provide service that would allow them to enjoy activities downtown and in other parts of the city without requiring a lot of driving or extremely long transit trips. This is critical during non-commute hours, especially on weekends.
In the last few years, Metra has become increasingly stingy with the number of available, open cars on off-peak trains. Many off-peak trains now have only one open car. If that car is overcrowded or there are too many passengers to allow all who need ADA space to use it, the two conductors (each is supposed to cover up to two open cars) often refuse to open a second car so that people who don't need ADA space can move to accommodate those who do. As a result, Metra is losing potential passengers, whether or not they need ADA accommodations. This practice, combined with skyrocketing fares, frequent delays and reduced service frequency, has alienated many people.
If you identify with these problems, you have probably experienced some version of them. Perhaps they are eroding your quality of life and ability to get things done. Maybe they drove you to give up on transit and spend more time in cars, whether you are driving or taxing taxis or ride-share. When transit doesn't feel reliable or becomes so unpleasant that it doesn't seem like an option anymore, we all lose. We have less time for what we want to do, more congestion, road rage and air pollution, and less money in our pockets because we end up spending more to get where we're going.
You may have specific issues that are different from the ones I described above, but I'm sure you have some. We need to fight for better transit, not give up and become part of the car-dependency problem. Please write to your alderman, state senator and state representative, Cook County commissioner, and Metra, the CTA, and Pace. Reach out to Chicago mayoral candidates and tell them that better transit matters to you. I know that all of this is a lot to ask, but we have a lot to lose if transit gets worse instead of better.

Stay in touch
Sign up for our free newsletter