Beyond Chicagoland
Aldermen: Free-Floating Car-Share Would Reduce Parking
3:28 PM CST on January 26, 2018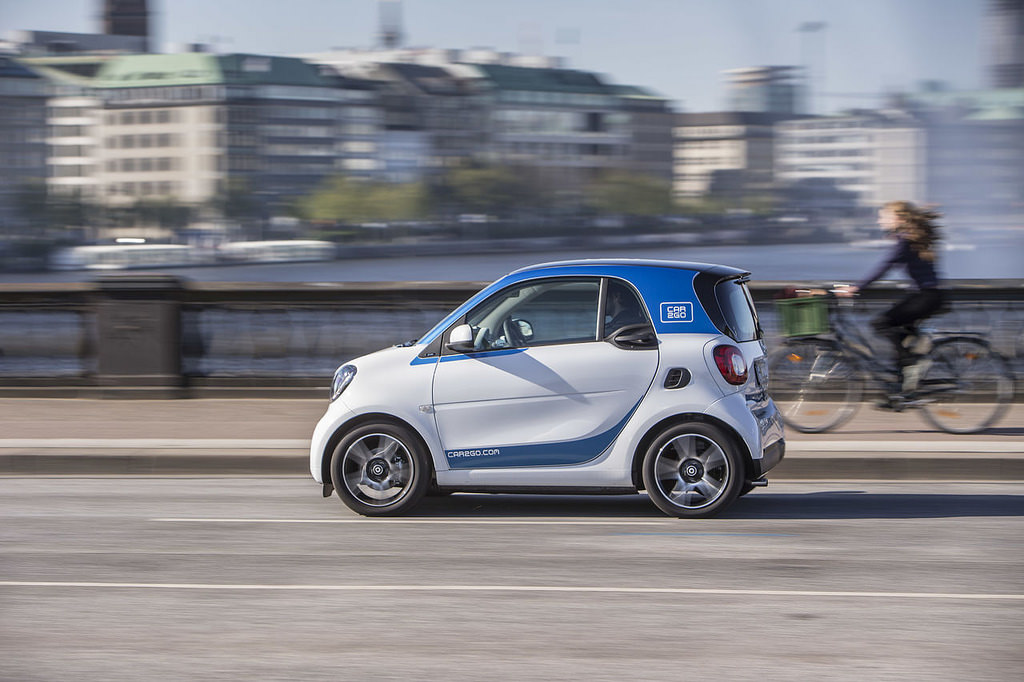 [Streetsblog Chicago editor John Greenfield publishes a weekly transportation column in the Chicago Reader. We syndicate the column on Streetsblog Chicago after it comes out online.]
The downsides of ride-hailing services like Lyft and Uber are well-documented. Studies show that in addition to decimating the taxi industry, they've increased traffic congestion and cannibalized transit use. The City Council was wise when it voted last November to pass a new fee on ride-hailing trips, with the additional money going to fund CTA infrastructure.
Now near-northwest-side alderman Joe Moreno (First Ward) wants to bring another form of car sharing to town, called "point-to-point" or "free-floating" car share, which allows members to check out vehicles parked on the street and leave them at their own destinations. Last month Moreno introduced an ordinance to pilot the technology across a broad swath of Chicago, from Foster to 63rd Street.
Research shows that, in contrast to Uber and Lyft, the new network could result in less driving and fewer total cars on the road. But Moreno's proposal is proving controversial with some of his City Hall colleagues, who fear the shared cars would gobble up precious parking spots in their wards.
Traditional car share—which involves vehicles parked in reserved spaces on private lots to which they must be returned when the trip is over—has been around for years in Chicago. Zipcar has 500-plus vehicles stationed all over the city and near suburbs, while Maven has a few dozen cars downtown and on the near north side.
Old-school car share can be handy for stocking up on groceries or picking up furniture from Craigslist, or as a convenient way to rent a vehicle for a day trip. But it's not practical for, say, hauling music gear to a gig, since you'd be charged for the hours you're hanging out at the club. Nor does it work as a first- or last-mile solution to or from a train station during the wee hours or in nasty weather, when the bus, Divvy bike share, or walking may not be practical or appealing.
Uber and Lyft work well in these situations, but free-floating car share is another option that's been around for years. The leading point-to-point company, Car2go, was founded in Germany in 2008 and now operates in 11 U.S. and Canadian cities. Users locate the vehicles via a smartphone app (Car2go is known for its pint-size, two-seater Smart cars but recently began offering Mercedes sedans and SUVs as well) and park them for free at any legal metered or unmetered curbside spot at the end of the trip.
In some cities, Car2go pays a flat fee per vehicle. In other cities, the company pays only for the time its vehicles take up metered and residential spots, calculated using GPS data. For example, Car2go recently paid a flat fee of $2,340 per vehicle for a year of parking in Washington, D.C. But after switching to the latter payment method in the District, the company paid an average of $108 per month per vehicle, 45 percent less than before.
Point-to-point is cheaper for customers than ride hailing: the District's Car2go rates start at $15 per hour, including gas. It's also more convenient if you're making multiple stops, and you don't have to make small talk with a driver, which is great for misanthropes.
And then there are the environmental and congestion advantages. A 2016 UC Berkeley study of some 10,000 Car2go members found that each shared car took up to 11 private vehicles off the road, adding up to a whopping 28,000 fewer cars. The researchers also estimated that Car2go was eliminating at least six to 12 million—and possibly as many as 21 to 37 million—miles that would otherwise be driven in private vehicles.
So why doesn't Chicago have point-to-point yet? Blame our much-despised parking meter contract, which requires the city to compensate the concessionaire for any lost meter revenue, complicating any deal that might be made with a free-floating car-share provider. That said, Moreno thinks it's time to give point-to-point a spin: "We're moving towards a society that relies less and less on our own personal vehicles," he says, noting the popularity of Lyft, Uber, and Divvy.
Moreno's ordinance would establish a nine-month test of free-floating car share, starting this spring. The vendor would be allowed to establish a fleet of 500 vehicles within a service area roughly bounded by Lake Michigan, Foster Avenue, and 63rd Street, with a western border of Central Park Avenue, Western Avenue, or Halsted Street, depending on the neighborhood. The service area would exclude the 43rd Ward (largely made up of Lincoln Park) and the 44th Ward (mostly comprising Lakeview)—more on that in a bit.
Chicago Department of Transportation spokesman Mike Claffey says it's worth exploring whether point-to-point can take personal cars off the road here, and the new ordinance would require the vendor to share trip data with the City Council to help gauge its impact on congestion, air quality, and parking. Claffey says that in addition to paying the city a yet-to-be-determined fee for the use of curbside space, the point-to-point vendor would be required to hash out a system for paying standard meter rates to parking concessionaire Chicago Parking Meters. Because the cost to the point-to-point vendor would be more expensive than in other cities, the ordinance would cut the vendor some slack by reducing the city's usual convenience fee added to electronic payments.
Since Car2go is the largest free-floating car share in the U.S., it's the most obvious contender for the pilot. "Chicago has a good transit system, dense development, relatively low rates of vehicle ownership, and the Divvy system," says eastern regional director Josh Moskowitz. "Those are all the boxes we want to check when evaluating new cities we want to operate in."
The Active Transportation Alliance endorsed the test in a blog post last month, citing the possible congestion mitigation and air quality benefits, although the group emphasized that the city should drop the pilot if these perks don't materialize. Active Trans added that officials should also consider earmarking revenue from the service to fund walking, biking, and transit infrastructure.
Likewise, Sharon Feigon, who founded Chicago's now-defunct I-GO car-sharing service and now heads the locally based Shared-Use Mobility Center think tank, gave her blessing. "Chicago should have all kinds of options for getting around without owning a car, and this adds to the mix."
However, Moreno says he's gotten pushback from a few aldermen who are concerned that the free-floating cars will create a parking crunch in their wards. That's why Lincoln Park's Michele Smith (43rd) and Lakeview's Tom Tunney (44th) have nixed the trial in their wards. Near-south-side alderman Pat Dowell (Third) is also a skeptic.
Smith, who says she plans to vote against the ordinance, characterized the use of public parking by a private company as an unfair subsidy, and questioned whether the city would get fair compensation. "These guys are just trying to get a leg up," she says. But her biggest concern is the potential impact on street parking in her dense district. She sent me links to several articles from other cities with residents opining that Car2go has made parking scarcer. "To my mind this will increase commuting pressure, not alleviate it," she says.
But wouldn't a new travel option benefit Lincoln Park's many car-free residents? "People who don't own cars in my community are very well served by public transportation," Smith responds.
Smith's focus on preserving parking for personal cars is shortsighted, says ex-CDOT chief Gabe Klein, who previously served as transportation czar for Washington, D.C., where he helped write that city's permit for Car2go. "Curbside space is valuable, and warehousing private vehicles is one of the worst uses for it, but if you can get ten people to give up a car and use a shared vehicle instead, that's something that's worth supporting."
Moreno says there will be in-depth briefing sessions for aldermen in the next few weeks, and the council will vote on the ordinance in March or April. He doesn't blame his colleagues for being apprehensive about point-to-point. "It's kind of like how ride hailing seemed weird to people at first—'You're going to jump in a stranger's car?'—but now everybody's doing it."
In addition to editing Streetsblog Chicago, John writes about transportation and other topics for additional local publications. A Chicagoan since 1989, he enjoys exploring the city on foot, bike, bus, and 'L' train.
Stay in touch
Sign up for our free newsletter